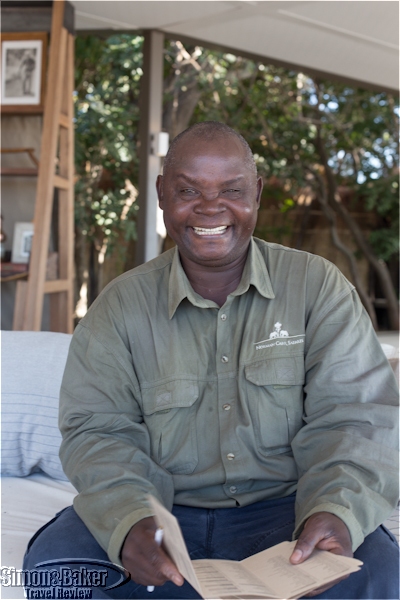 We would certainly return and highly recommend Chinzombo to our friends and family seeking a contemporary safari experience.
Overall Impression
When we visited Chinzombo it had just reopened in June 2013, after many years of closure, as a luxury bush camp with six riverfront tents. Meals, beverages and safari activities were included in the daily fees. Geared toward those just dipping their toes into the world of safari and not quite ready to commit to a more remote bush camp experience, the luxury camp offered many of the perks of exclusive accommodations alongside optimal game viewing next to the Luangwa River in Zambia.
We arrived at Chinzombo by traversing the Luangwa River in a small boat, watched by some disconcertingly large crocodiles sunbathing on the river bank. As we crossed the water, we had our first view of the camp's attractive main bar and dining area, and six luxury villas spread apart in a grove of trees on a bluff above the river. The architecture had a modern feel, with gray and cream steel frames, wooden decks and open fronts facing the river. The decor paid homage to local safari history with authentic luggage trunks, field chairs, brass and leather fittings and in the bar area some paraphernalia belonging to the late Norman Carr. The main area was open, airy and comfortable against the backdrop of beautiful natural surroundings.
The river was a wonderful feature during our stay. Our open-fronted tent allowed us to view, from the comfort of our bed, the first morning sunlight hit the opposite riverbank. We enjoyed watching hippos, impalas and other animals come down to the water's edge for their first drink of the day. We also spent a lot of time observing hippos from the circular comfortable couch in the common bar and dining area, which had a magnificent view perched above the river. We found hippos hilarious as they jostled and grunted at each other like grumpy old men.
The food at the camp was consistently fresh, delicious and prepared well, from breakfast eggs cooked over an open fire pit to tasty a la carte dinners served with South African wines in the evening. Most of the fruits and vegetables came from a community garden, which helped support the local economy, or from the garden of the of Norman Carr Safaris Kapani Lodge.
Our camp hosts Findlay and Wendy Hunter were exceptional. They were open and friendly with a knack for conversation, which helped guests quickly shift from strangers to friends. We appreciated their efforts, especially since all guests sat at the same table during evening meals. They were so personable that at times it felt as if they were hosting a really fun house-warming party. At the same time they were professional and accommodating, ensuring that all of our needs were met.
Overall, Chinzombo felt more like a modern high-end premier service boutique tent hotel, than a traditional safari camp. This doesn't mean that it was missing great game viewing and quality safari guides, or that it detracted from the fact we were in the African Bush. Watching hippos walk through the camp and hearing elephants make trumpet-like sounds close to our tent were vivid reminders that we were in the Zambian bush. We liked the camp's modern design. Creature comforts such as a lovely selection of South African wines, brand new accommodations with state of the art cooling systems, a private deck with plunge pool, and oversized bath tub where we enjoyed hot bubble baths while looking onto the Luangwa River made us feel pampered. Adding to its charm was the rich history of Norman Carr's legacy of wildlife conservation, which was integrated into the Chinzombo tented camp experience. We would certainly return and highly recommend Chinzombo to our friends and family seeking a contemporary safari experience.
Children
Yes. For guests with children too young to go on safari walks in the national park, Chinzombo offered safari walks, with a guide and scout, on their private land just behind the tents.
Class Of Accommodation Luxury oriented tented camp
Connectivity The prepaid Wi-Fi in our room ran out once during our stay. It was reinstated immediately. There were plans to upgrade to a non-prepaid service. The common dining and bar area also had hi-speed Wi-Fi.
General Managers Findlay and Wendy Hunter.
Handicapped Access There were ramps leading to the front door of every tent as well as in the camp common areas. Showers and toilets were big enough for wheelchairs.
Length Of Stay Three nights
Location The camp was located on the bank of the Luangwa River, on private land opposite the South Luangwa National Park, Zambia. We arrived on the national park side of the river at the end of a game drive from a previous lodge and were ferried across. Travelers arriving directly to the camp from Lusaka would have to take an hour flight to Mfuwe Airport.
Managed The managing director of Norman Carr Safaris was Dave Wilson.
Owned Norman Carr Safaris, co-owned by Thierry Dalais (main investor) and Adrian Carr (the son of Norman Carr).
Pets No pets were allowed
Size The camp was on a 60-acre private reserve with Luangwa River frontage. There were six tents that could accommodate two people each, and one family tent that could house up to five people. There were 17 employees at the camp.
Year Opened And Date Of Most Recent Renovation Opened in June 2013
Lobby And Common Areas
An open bar and dining area, 10 by 25 meters large, looked out over the Luangwa River. The décor was contemporary safari camp style featuring local natural materials such as copper, and leather fittings. Next to the bar, there was a display of Norman Carr books, large photographs and trunks from the original bush safari camps, adding a historic flair to the camp. A dominant feature of the dining area was the observation deck, which extended out towards the edge of the river. It had a plush circular couch and fire pit. The floors in the main area and the tents looked like contemporary grey-toned wooden floors, but were made of Composite, an ecofriendly material made of recycled plastic and wood. The infrastructure of the camp was built with sustainably sourced or recycled materials. We liked the ambiance of the common areas and appreciated them as a space to relax and enjoy the natural environment.
There were some minor details that needed to be worked out since the camp had just opened two weeks prior to our arrival. An example was that the public bathroom was not yet open in the common area. However, based on the quality service and dedication of the staff we're confident that such little kinks will be worked out in no time at all.
Bathroom
Our tent had an open floor plan. The bathroom was towards the end of the rectangular space rather than in a dedicated room. The area, about five square meters large
,
consisted of a stand-alone shower, water closet, free standing slipper bathtub and double-basin sink section with large mirrors. The oversized bathtub was notable, as it was situated in the middle of the bathroom area and offered fantastic views out onto the Luangwa River. Upon request the staff would run a bath for us. They timed it so that by the time we got back to our tent after finishing sundowners in the bar, the bath water was hot and full of bubbles. We consistently had hot water for showers and baths throughout our stay. The toilet area was discretely curtained off at the very end of the space, though being fabric it wasn't as private as a walled in toilet room.
Room We stayed in the southernmost tent, Number One, about a two minute walk from the dining and bar area. The tent was about 10 meters from the next unit, situated roughly 10 meters from a five meter-high embankment looking over the river. We were free to walk back and forth along the landscaped gravel path from our tent to the main area during the day, but were escorted at night. Our tent had a deck with couches and four loungers, as well as a private plunge pool. As with the dining area, the décor was contemporary safari. The interior space was about 14 meters by 11 meters. The room had tent like canvas walls over a steel frame, as well as walls made of dried grass.
The color scheme and fittings were light grey, brown, white and copper, all reminiscent of a safari camp with modern touches. Our space was comfortable and relaxing thanks to soothing colors and a thoughtfully designed interior. For lighting, there was a low energy desk lamp, bed lamps, and four main lights, one of which was encased in a beautiful copper lamp shade. The front of the tent was open (though we kept the mosquito net in place). The bed itself was what management referred to as a two and three quarter size, with Egyptian cotton sheets, a bed cover made of raw linen, and synthetic down pillows. We liked the two hot water bottles the staff placed in our bed during turn down service each night. It was a welcome amenity given the chilly African winter nights.
The room included a modern, quiet and energy efficient Evening Breeze cooling system mounted above the bed which lowered the temperature by five to seven degrees without requiring full air conditioning. If greater cooling was required, standard air conditioning could be used also. We never used the cooling system since we visited during Zambia's winter. In addition to the bed, there was a mini-fridge, wooden desk and chair, a shelving and storage unit with plenty of space for clothes and toiletries, an upholstered plush chair, and a round cushioned bench.
Meals
The food was delicious, and it seemed at times we were being continuously fed. Breakfasts were served on the common area deck overlooking the river. Toast and our style of eggs were cooked over an open fire. There was a good selection of cereals, spreads, fruit and yoghurt. There was also a wide variety of coffees available, which guests could also make for themselves if they desired, using a Nespresso machine.
Lunches were fresh and tasty buffets, with a selection of meats, salads (such as lentil, rainbow, cabbage, mango), homemade bread and a variety of oils, dressings and chutneys. Just before leaving for afternoon safari drives, we were served tea and cakes. Dinner was a la carte, typically a choice of three dishes each night (one of which was vegetarian), plus several dessert options. Dishes served while we were there included risotto or chicken liver pate starters, chicken curry, and tilapia in banana leaf with chopped tomatoes in sweet sauce. For dessert there were a number of options such as chocolate or cheese cake and whipped cream. The complimentary house wines were South African and went well with the meals. The staff offered us snacks and beverages during the safari drives. Although the staff invited us to dine on the deck of our tent, we chose to join the other guests in the dining area.
Meals were prepared fresh each day by Jason Njobvu, the head chef, and his team. He had trained with Norman Carr Safaris and received annual training opportunities. We enjoyed the diversity of dishes.
Amenities
All food, bar drinks, house wines, game viewing activities and transportation to and from Mfuwe Airport were included in the nightly accommodation fees. In room amenities included complimentary whiskey, raw linen bathrobes, slippers, mosquito spray, blow dryer, and electronic safe. The mini-fridge had complimentary bottled water, soft drinks and beer. Chinzombo offered complimentary daily laundry service. A form had to be filled out for specific laundering needs. The 700 milliliter bottles of shampoo and shower gel were made by Whimsical in Lusaka.
Facilities The bar common area had a small collection of books, mostly safari titles, available to guests. In the future, the camp planned to add exercise and yoga areas.
Pool Our tent had a plunge pool that was 6 by 3 meters wide.
Activities
Chinzombo offered a number of activities, including day and night game drives and walking safaris in the South Luangwa National Park, cultural and local village tours, tours to a local community garden, and a visit to Tribal Textiles, an outdoor market where textiles and products by local artists were sold.
We went on morning and night game drives aboard a new open Land Rover as well as a morning walking tour. There were two full-time safari guides at the camp, Shaddy Nkoma and Abraham Banda. Both had years of guiding experience including many years of working with the famed Norman Carr. Shaddy was our personal guide for gaming activities during our stay.
Upon our request, we visited the Kapani School Project, a local school that Norm Carr Safari had been supporting since the 1980s. Relying on funds raised from guests, they had sponsored the education of hundreds of children. We enjoyed our brief visit, especially talking to one of the teachers who explained how the school had expanded over the years thanks to the donations brought by the company. We also visited an innovative community garden aimed at deterring poaching by generating income for local residents. The garden gave away free fruit and vegetable seedlings to local farmers. After learning how to harvest them, the farmers would sell their produce to local safari lodges, including Norman Carr Safaris. We were impressed to hear that the project provided sufficient income for 300 farmers.
Game viewing: We were the only guests on our safari excursions, accompanied by Shaddy and Luis, an armed scout. Shaddy answered any questions we had during the drives while Luis kept a lookout for animals. They both had exceptional eyesight, spotting animals at incredible distances. Shaddy's easy going personality made him approachable and the safari outings enjoyable. We perceived a sense of family among the staff. The owners referred to Shaddy as "Uncle Shaddy" and such a familiarity set a nice tone for our safari excursions.
My favorite walking safari while in Zambia was during my stay at Chinzombo. Shaddy, Luis and I entered the South Luangwa National Park around 8 a.m. With a water bottle in hand Shaddy clearly explained safety rules during our walk. We came across zebras, giraffes, impalas and elephants within an hour of the walk. Seeing those animals on foot was such a different experience compared to the safari drive from the previous day. It left me with a much better appreciation of the landscape and wildlife than I had before the walk. When we returned to the car, Shaddy, offered us hot tea, coffee and mid-morning cakes.
Though we saw a lot of game, we didn't see the larger predators such as leopards and lions. On one of the days, Shaddy had spotted a leopard with an impala in its mouth while driving alone back to camp. He rushed to pick us up so we could see the leopard. Even though she was gone by the time we drove back, we appreciated Shaddy's efforts. We were told that viewing is a lot better during the dry season, when animals are forced to stay close to the river and can be watched from the camp. At the end of the night drive, we pulled up to a scenic spot near the river where the staff served sundowners including alcoholic and nonalcoholic beverages and some savory snacks. It was an enjoyable way to watch the sun set.
During our safari outings we saw: African elephant, African buffalo, greater kudu, common waterbuck, impala, puku, bushbuck, hippopotamus, spotted hyena, large spotted genet, crawshay's zebra, thornicroft's giraffe, four-toed elephant shrew, tree squirrel, slender mongoose, warthog, yellow baboon, and vervet monkey.
In terms of birds, we saw: bateleur, African fish eagle, martial eagle, hooded vulture, lappet-faced vulture, white-backed vulture, cattle egret, Egyptian goose, spur-winged goose, hamerkop, black-headed heron, grey heron, African sacred ibis, hadeda ibis, openbill, African spoonbill, marabou stork, saddle-billed stork, wooly-necked stork, yellow-billed stork, African Jacana, white-crowned lapwing, helmeted guineafowl, red-necked spurfowl, Swainson's spurfowl, little bee-eater, white-fronted bee-eater, lilac-breasted roller, African grey hornbill, red-billed hornbill, cape turtle dove, emerald-spotted wood dove, laughing dove, red-eyed dove, grey go-away bird, square-tailed night jar, African palm swift, tropical boubou, red-billed oxpecker, yellow-billed oxpecker, greater blue-eared starling, Meve's starling, arrow-marked babbler, redbilled firefinch, blue waxbill, white-browed sparrow-weaver and red-billed buffalo weaver.
Other
The camp had 220 volt electricity, as well as a back-up generator system. They had to use the generator once during our stay. It was a quiet and seamless transition. As guests, it did not affect us at all. The tents had diverse electrical outlets that could accommodate British three prong plugs or American two-prong plugs.
The water was filtered and we were able to brush our teeth using sink water. They offered us bottled water as well mainly because if we poured water in a bottle, the minerals in the water turned it a slightly pink hue.
Since its inception, Norman Carr Safaris strived to be at the forefront of safari innovation. In their early years, they were among the first in the Luangwa Valley to offer safari camps, walking safaris, and to integrate community-based projects into their operation. In more recent times, they were the first to include a Zambian female guide. Fast forward to Chinzombo, which was constructed in such a way to minimize its green footprint. The infrastructure was built with recycled materials. The rooftop of the bar and dining area was built so that it would collect rainwater, and the insulation panels were designed to reduce the need for cooling and heating systems.
Cleanliness
Excellent
Date Of Visit June 2013
Reviewers Article by Laura Scheiber
Photos by Matthew James Harris
Service The service was excellent. Our hosts, Wendy and Findlay, were young, energetic and engaging, always striving to ensure everything was to our liking. They responded immediately if there were any issues. Waiters were attentive and cleaning staff were fast, efficient and thorough. Our tent was pristine every time we returned to it. The porters who walked us from the bar and dining area to our tent each night took their job of protecting us from hippos and elephants seriously. They also had had years of experience working in more remote bush camps, which made us feel safe since they knew the bush well. There was a night guard, who stood about 30 feet from our tent throughout the evening. Staff received formal training on an annual basis through certified short courses, as well as refresher courses for chefs, waiters, housekeepers, guides, and trainee guides.
Would You Stay Again? Yes
Contact Information
Address:
Norman Carr Safaris
Kapani Lodge
PO Box 100
Mfuwe, Eastern Province
Zambia
Phone:
Website:
Email: