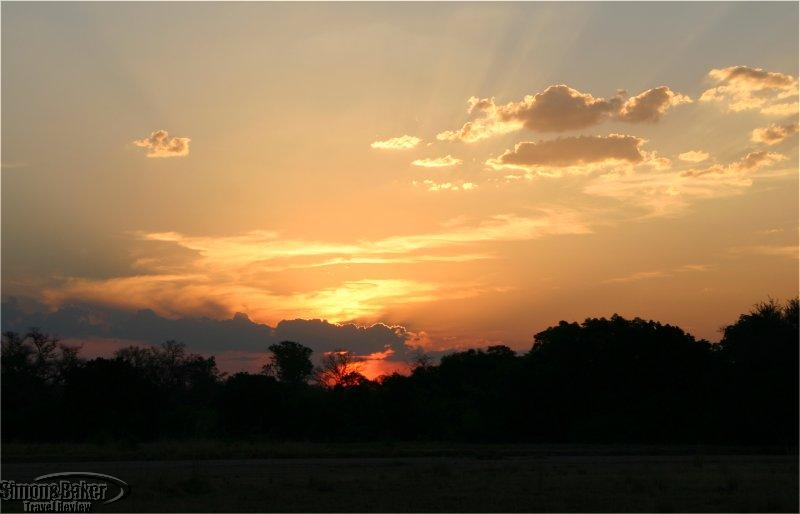 Although it is in a fairly remote, undeveloped region in Zambia, we felt it was worth the extra effort to get there.
This property is under new management and closed for renovation
Overall Impression
The common areas at the Chichele Presidential Lodge were beautifully appointed, combining European flair with classic African design. They were open, airy spaces overlooking the African bush that undulates over rolling hills finally giving way to a river in the distance. Chichele is located on a hilltop above the Luangwa river bottoms, which are teaming with wildlife. Evening meals were exceptional, served out under the stars on a patio situated near the swimming pool. The patio provided a quiet, private, and intimate setting. We especially enjoyed the candle light dinner for two with a dedicated waiter who served our table only. On our second night, the evening meal was an excellent
Bra
i (barbeque) served at a banquet style table. The service was attentive, helpful and gracious.
Decorated in an elegant Victorian style, the rooms at Chichele were understated and romantic.
There was air conditioning in our room, which was a nice way to escape the sometimes oppressive heat during the day. The rooms, of a solid walled construction, were more sound proof than traditional tented bush camps, providing a quiet place where we could get a good night's sleep.
Even though the Lodge is located in a wilderness region of a national park, we still had many modern amenities like utility power, a refrigerator, hair dryer and air conditioning. South Luangwa National Park stands out as a wonderful game-viewing destination. Although it is in a fairly remote, undeveloped region in Zambia, we felt it was worth the extra effort to get there.
Class Of Accommodation
Elegant Victorian style lodges built along the edge of the hillside, each giving guests a private panoramic view.
General Managers Deon and Cyrstal Cuyler
Handicapped Access No. But Chichele was located on the ground level and the lodge was willing to accommodate handicapped individuals by providing staff assistance.
Length Of Stay Two nights
Location In the South Luangwa National Park, Zambia. The closest town is Mfuwe and the closest large town is Chipata. The distance from Mfuwe airport to the lodge was approximately 45 kilometers.
Owned And Managed Star of Africa Ltd.
Size There were 10 elegant Victorian rooms called lodges that accommodate up to 20 guests on the 20 acre property. The Chichele property is located inside the park boundaries of the South Luangwa National Park, a 9050 square kilometer park. The lodge has 30 employees.
Year Opened-Renovated Chichele opened in 1960 as a presidential lodge. It was later sold as a hotel. The most recent renovation was in 1998.
Lobby And Common Areas The style was colonial with traditional African art. Common areas had masks, skulls and paintings on the walls. We noticed that some of the art prints hanging on the walls were from local wild life artists.
Bathroom
The bathroom had his and hers sinks, a toilet, a bath tub and a separate shower with a glass door and a white tiled interior. There was a bath tub with a small table next to it with soaps, shampoo, and towels. One wall had wildlife art prints of local birds.
Room We stayed in room #10, which faced the side of the lodge with the entrance. Our room was 30 feet by 20 feet (600 square feet). The floor of our room was terracotta colored concrete. The room colors were soft brown and tan. There were two air conditioning units. The construction of the room had a very solid feel and provided a cool and quiet sanctuary where we escaped the heat of the day.
Furniture, mostly of dark hardwoods, included: Two double beds with mosquito netting; a bedside table with two lamps; a small hanging clothes closet; two luggage tables, a sitting area with two chairs, and a small table with a brandy service and a lamp; a dressing table with two lamps, hair dryer and mirror; and a refrigerator with tea and coffee makers. Our small porch had two chairs and a small table. It looked out on a wildlife plains area where animals would occasionally walk by.
Food
Meal times varied somewhat depending on game drive times. All meals were table d'hôte with a wide selection of dishes. Meal venues varied from the luxurious in-door dining room to the scenic verandahs and
boma
(open) area outside. Port and cigars were served after dinner. The three meals a day included soft drinks, beers, selected imported wines, spirits and cigars.
Continental breakfast consisted of tea or coffee, toast made of homemade bread, fresh juice, breakfast cereals, and homemade muffins. At the continental breakfast waiters served drinks.
Lunch was buffet style. We enjoyed spaghetti and meatballs, beets, homemade bread, sliced beef, ham, quail, sliced cheese, pasta, vegetable salad with cheese and olives, and shima (ground corn) during our stay. For dinner we had tomato basil soup, dinga (sable), pork chops, baked potato (scalloped potatoes), green beans, butternut squash, and caramel cream custard.
Amenities
Our room had a hot water maker, tea, coffee, creamer, sugar, tea cups with spoons, glasses, a refrigerator stocked with Sprite, Coca Cola, Fanta Orange, and bottled water, bathrobes, slippers, shampoo, hand lotion, bar soap, soft soap (generic), hair dryer, candle with matches, and a bottle of brandy with clean glasses. Included were ground airport transfers to and from Mfuwe International Airport, three meals a day, two game viewing activities per day, park entry fees, soft drinks, beers, selected imported wines, spirits and cigars.
Facilities Amenities included an outdoor swimming pool, a curio shop, and conference facilities.
Pool The outdoor swimming pool was 30 by 15 feet wide and 4 to 5 feet deep. The water was clean. Water for the pool and shower was pumped from bore holes (well water) and contained natural mineral salts. There were lounge chairs and umbrellas along one side of the pool.
Game Viewing
We participated in two game drives per day. On our morning game drives we would stop for a short break; on evening game drives we would stop for sundown drinks and to watch the sunset. Our guide was very knowledgeable, courteous and helpful throughout. During the day we had one guide who drove the vehicle, and on the evening drives we had an additional spotter who would operate a spotlight. Thanks to the South Luangwa National Park's abundance of wildlife we found the game viewing really exciting.
Animals we saw: Genet, civet, pennant winged night jar, water dikkop, scrub hare, blacksmith plover, spar winged goose, double banded san grouse, lions, wart hogs, hooded vulture, water bottle bird, white-tailed mongoose, spotted hyena, porcupine, white-bellied stork (Abdim Stork), puku, impala, white-backed vulture, white-hooded vulture, lappet faced vulture, slender mongoose, giraffe, thorny croft, African spoonbill, sand pipers, bushbaby, brown house snake, elephant, tawny eagle, saddle billed stork, bushbuck, black hooded heron, Crawshay's zebras a subspecies of Burchell zebras, and African spoonbills
Activities Chichele offered a broad range of game drives in the South Luangwa National Park using open 4 x 4 vehicles. Each vehicle was driven by a qualified certified guide. The lodge was full during our visit due to a conference, but we were the only guests in our game drive vehicle. Night drives using spotlights enabled us to see nocturnal animals. Game walks were conducted by a guide and an armed national parks scout.
Curio Shop
The curio shop was located just off the main lobby. There were African fabrics, African wildlife books, clothes, and travel supplies like sunscreen
Children under six years were only accepted by prior arrangement with management.
The rooms ran on utility power. Our room had 220 VAC power at 50 Hz with NW-135C adapters. It was possible to access the Internet via satellite after 5 p.m. using a lodge computer in the main office.
Check-In-Check-Out
Easy
Cleanliness Excellent
Date Of Last Visit November 2005
Reviewers Article by Chester Godsy
Photos by Joni Johnson-Godsy
Would You Stay Again? Yes
Contact Information
IMPORTANT:
NOTE
We have been informed that this property has changed ownership.
Address:
Star of Africa
Postnet Box 218
Private Bag E891 Manda Hills
Lusaka, Zambia
Phone:
+260 (1) 271366, 271508, 271509
Fax:
Website:
Email: