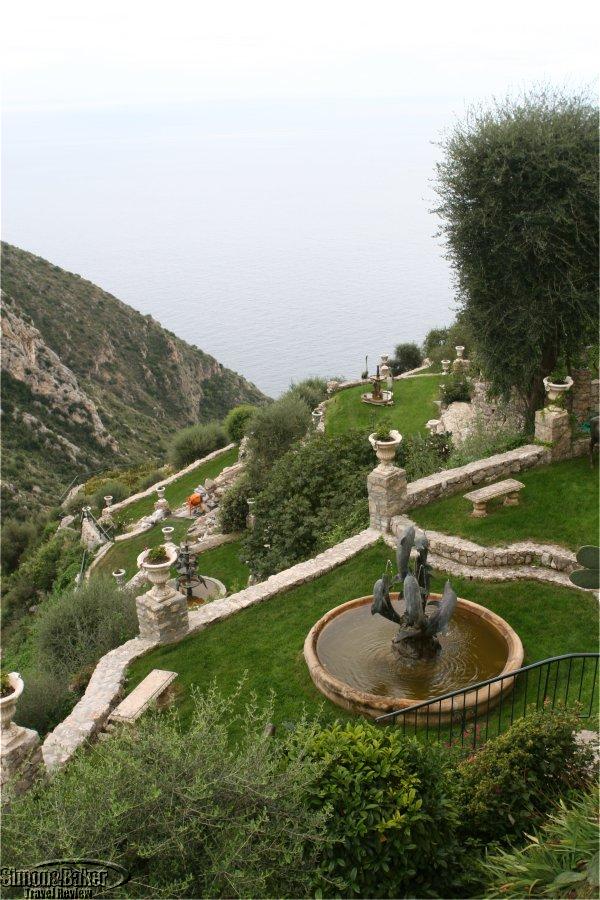 Should we be celebrating a special occasion while in the Eze area again, we will consider the Chateau de la Chevre d'Or among our top options.
Overall Impression
Though we were well fed aboard our luxury yacht while cruising from Italy to Spain, we were celebrating a special occasion and longed to find a memorable setting. We sought to book something in Monaco where our ship was moored but as luck would have it the restaurant of our choice was closed that day. After consulting several sources including the yacht's resident gourmet (and
Maitre d'Hotel
) we decided on the Chateau de la Chevre d'Or (in English, the castle of the golden goat). Thanks to very able last minute maneuvering from Chritine at our ship's concierge desk, a most accommodating French lady, we found ourselves sipping perfectly chilled champagne on the terrace of the restaurant a scant three hours after requesting the reservations.
An amiable cab driver picked us up at the Monaco dock and drove us up the scenic road to the foot of the picturesque historic village of Eze. From there we made our way on foot meandering along the narrow cobblestone streets to the top, where we discovered a garden with breathtaking views of the coast. The castle was on a short street near one of the main roads of the town. We were slightly disappointed to discover everyone sharing the terrace with us was from our yacht and everyone we saw in the small dining room seemed to be a foreign tourist. Our only neighbors, at the table on our left, were two boomers from Texas and in the far corner there was a large and rowdy table whose occupants were speaking, sometimes loudly, in English.
We loved the Château de la Chèvre d'Or's hillside setting reached by walking through quaint old streets in the village of Eze, the superb view of Cap Ferrat, the Cap d'Antibes and the Gulf of Saint Tropez area from the restaurant and the opportunity to enjoy drinks and appetizers on the well positioned outdoor water facing terrace. We appreciated the staffs' accommodating attitude and willingness to speak English. Should we be celebrating a special occasion while in the Eze area again, we will consider the Chateau de la Chevre d'Or among our top options.
About The Executive Chef
Philippe Labbe last hung his apron at Château de Bagnols where he honed his culinary skill to earn his first Michelin star. Prior to that he spent six years at the Plaza Athenee
https://www.simonandbaker.com/plaza_athen.html
in Paris as sous chef. He also worked at the Restaurant Les Crayères (Reims)
https://www.simonandbaker.com/le_crayeres.html
, Le Moulin des Mougins (Mougins), La Belle Otéro (Cannes), and the Hotel Martinez (Cannes).
Executive Chef Philippe Labbe
Handicapped Access No. It was necessary to negotiate steep old style stairs to reach the dining room, restroom and common areas.
Head Sommelier Philippe Magne
Location In the medieval village of Eze, France. A short drive from Monaco.
Opened-Renovated The restaurant opened in 1953. The most recent renovation was in 2004 when the décor and kitchen were redone. Future renovations are scheduled to take place every two years.
Owned The Château de la Chèvre d'Or was owned by SA Hostellerie du Château de la Chèvre d'Or, which is owned by an Iranian private investor.
Pastry chef Cedric Campanella
Restaurant Manager Thérèse Blay
Size The 70-square meter restaurant could accommodate 65 guests in its main dining room. A secondary dining room with additional seating for 34 guests in a space of 40 square meters.
Type Of Restaurant Gourmet French
DÉCor-Ambiance Although the castle was medieval, baroque design prevailed throughout the restaurant. The most notable "decorative" item was the splendid views of Monte Carlo, Cap Ferrat, Cap d'Antibes, St. Tropez and the Mediterranean Sea. . The cherry woodwork on the walls added warmth to the dining room. The ceiling was adorned with engraved glass, with motifs from the Belle Epoque.
Cellars Wine And Alcoholic Beverage Selection
In spite of a healthy wine list, there was a limited selection of affordable wines.
Meal Guy Charlemagne Rose and a 1999 St. Emilion Southard. We had the Menu Saveurs, Seneurs, Couleurs , a fixed price menu: Le Foie Gras de Canard du Sud-Ouest, Le feuillant de jambon de truffe noire, compotée de figues du pays et gressini épicé; Les Noix de Saint Jacques, Poêlées en croûte, ragoût de cèpes et réduit de jus, Irish de cèpes a la crème mousseuse de jambon; La pintade Elevee en Bresse, Le suprême truffé d'herbes entre chair et peau, endives meunières rôties aux raisins secs et polenta aux truffes di Alba; La Poire Williams, Caramélisée sur un fin Kouign Amann, crème glacée au lait caramélise, réduction de cacao, verrine de passe crassane surprise en granité « Eric Bordelet .»
Special Menus There was an 85 euro lunch menu (120 euros with wine) and a six-course dinner menu for 168 euros.
Other
With the arrival of its new chef, the restaurant obtained the highly coveted Michelin two star rating in 2003.
Reservations required The restaurant recommended booking a table a week in advance, especially for weekends and dinner.
Date Of Review
October 2005
Reviewers Article by Elena del Valle
Photographs by Gary Cox
Service The service was classic French, attentive, efficient and very exacting.
Would You Dine There Again-Recommend It? Yes
Contact Information
Address:
Phone:
Fax:
Website:
Email: