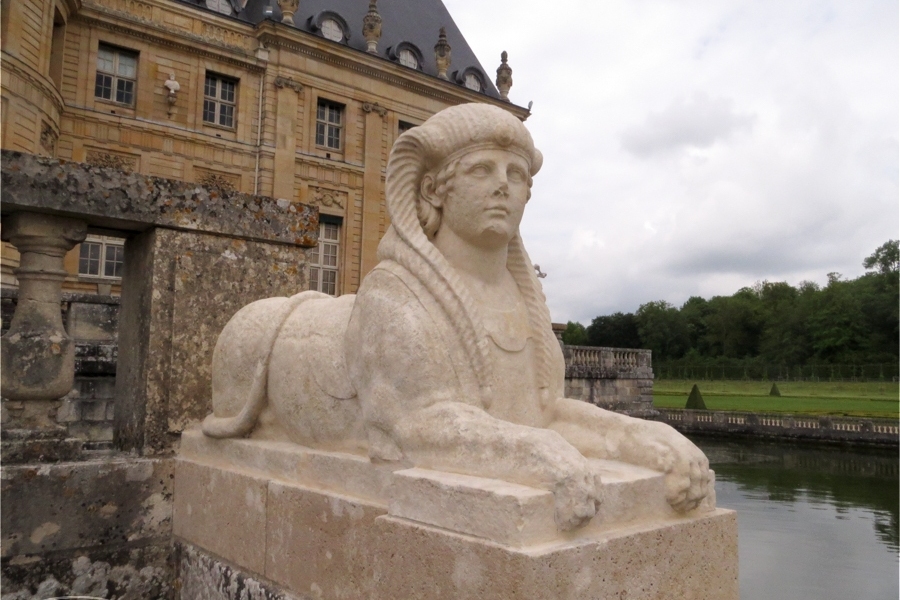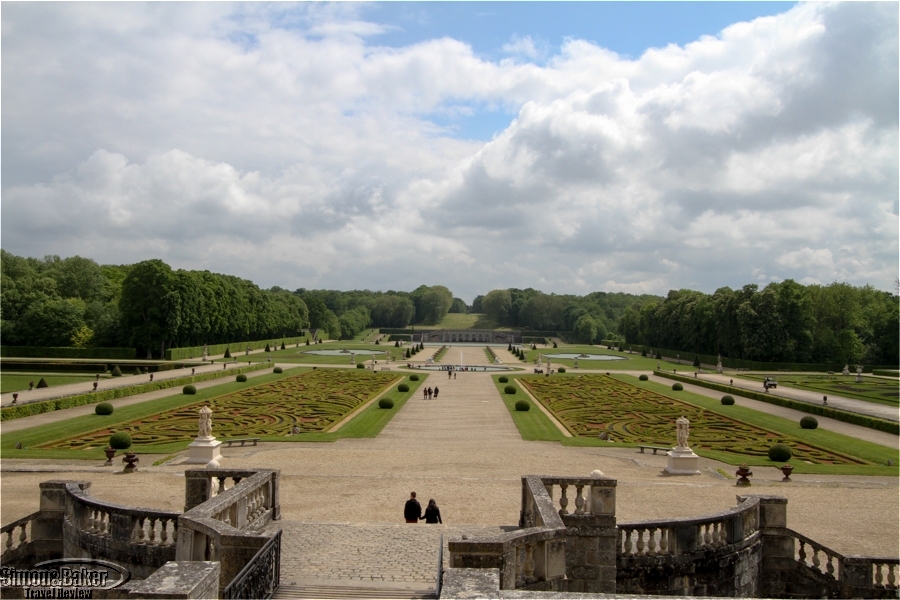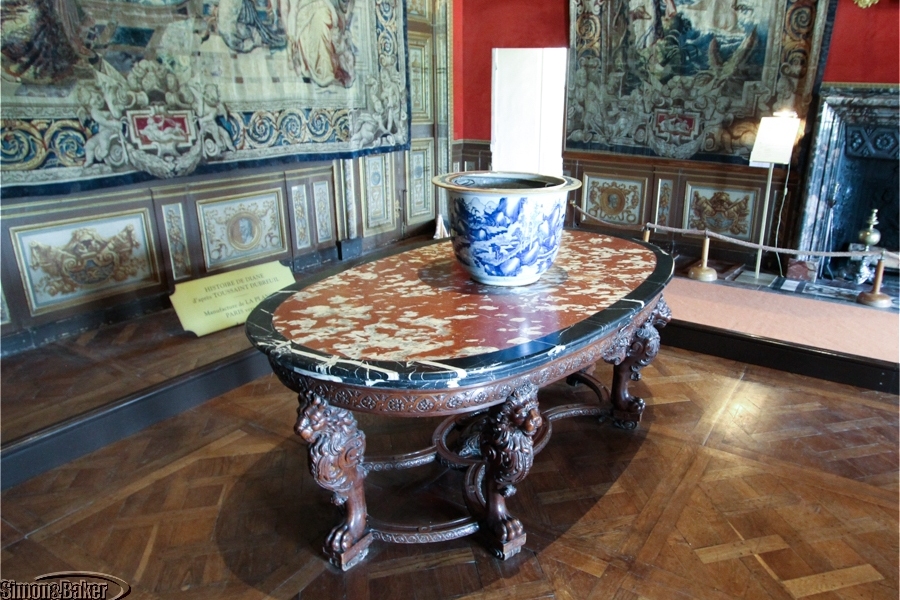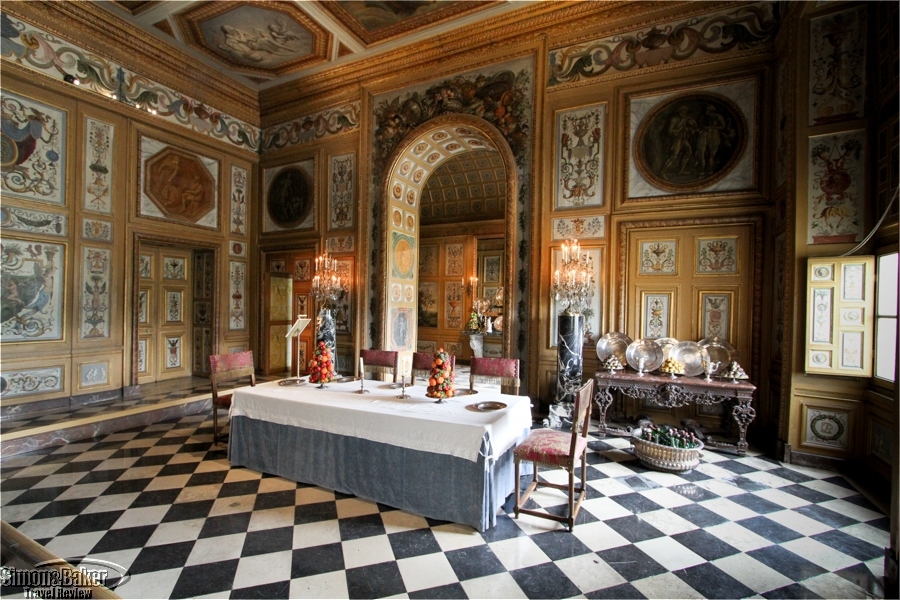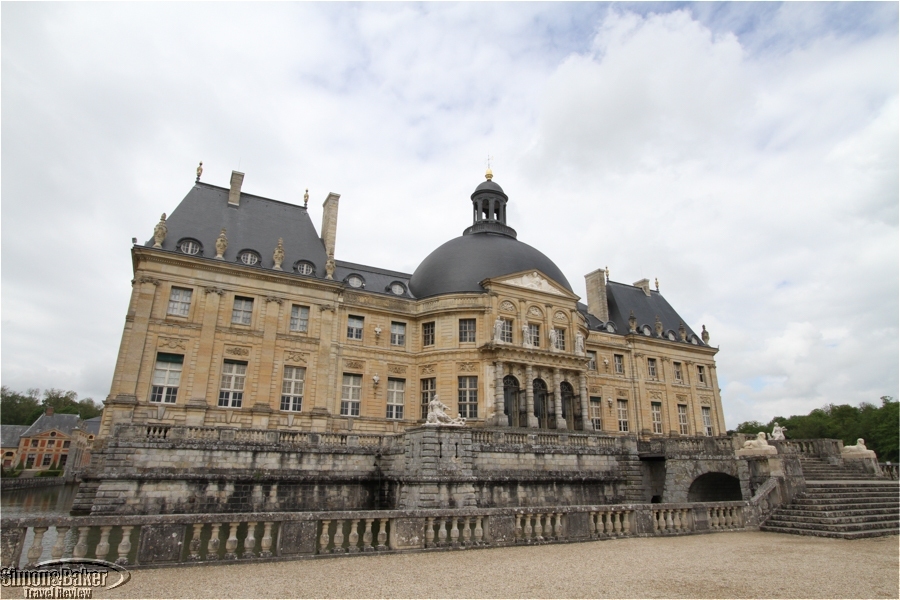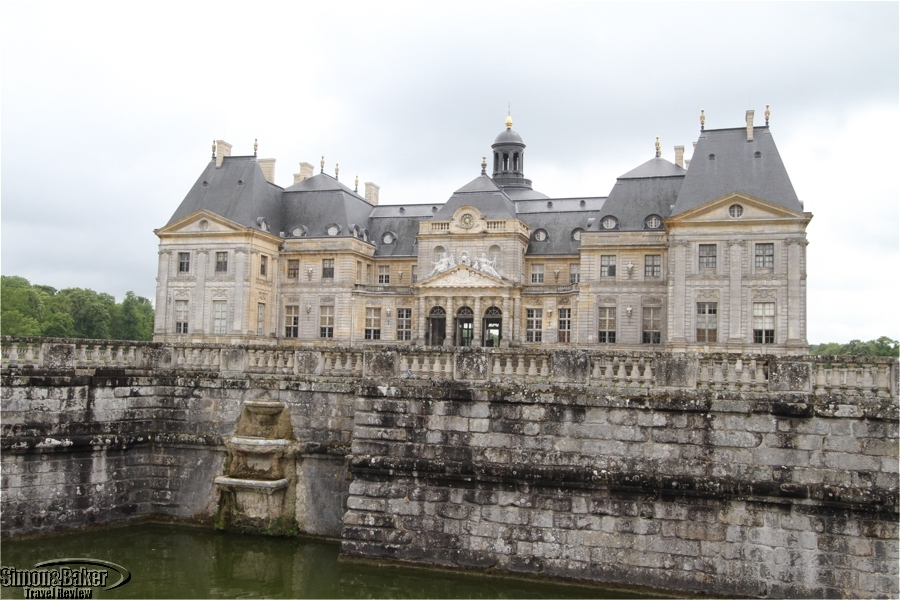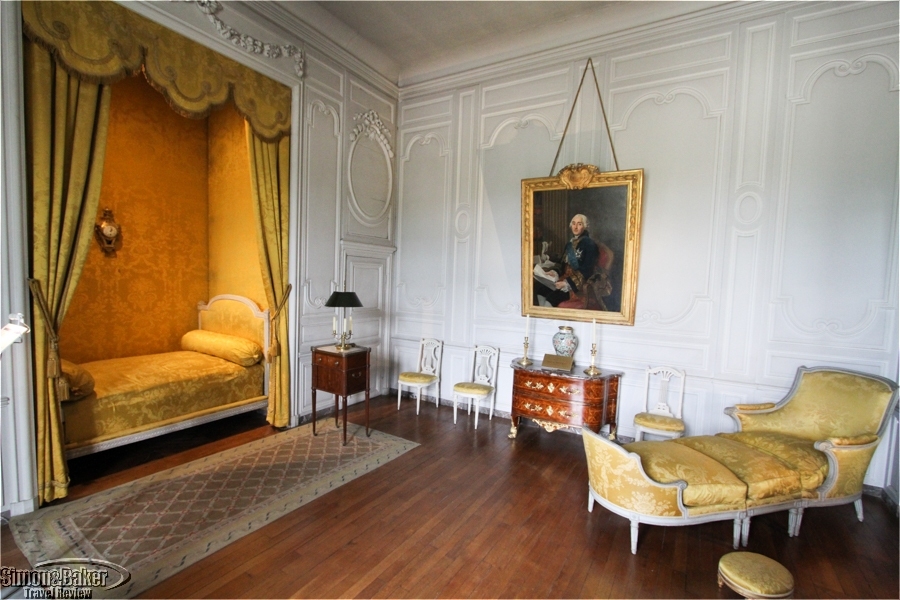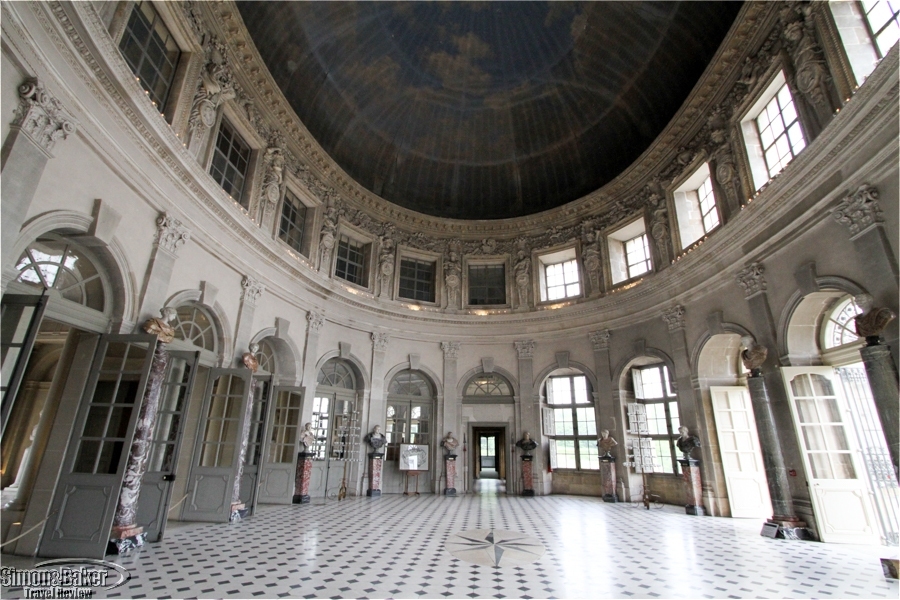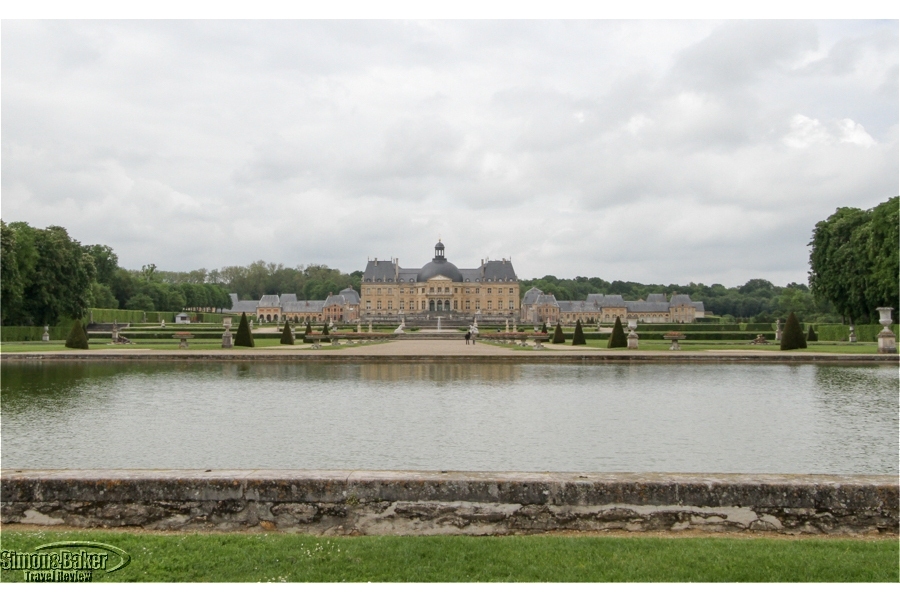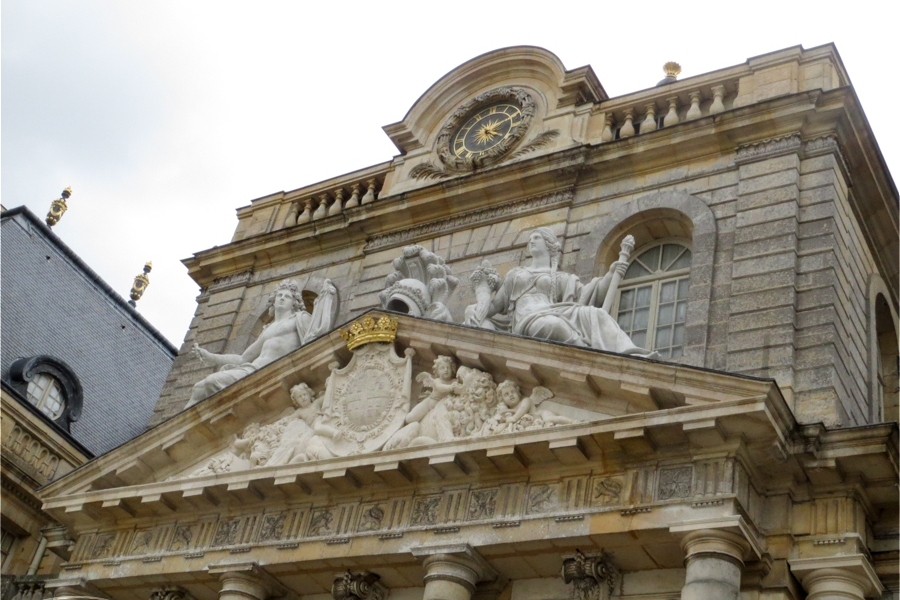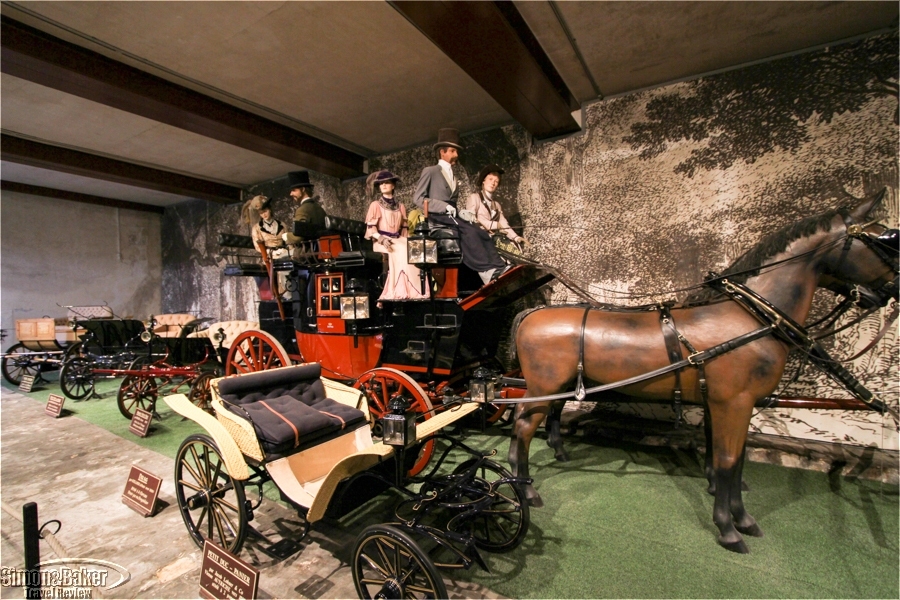 Château Vaux-le-Vicomte, a private estate open to visitors near Paris, France, was extraordinary for its historic character and timeless beauty even when compared with grand former royal residences.
Overall Impression
Château Vaux-le-Vicomte, a private estate open to visitors near Paris, France, was extraordinary for its historic character and timeless beauty even when compared with grand former royal residences. Named for the confluence of two valleys in the region it made a distinct splash in history. Despite the years elapsed since its heyday it retained harmony, and a luxurious dignified residential air accomplished via a painstaking labor of love and abundant renovations over many decades.
The weather was less than ideal during our spring visit. Rainy, chilly and cloudy conditions predominated that day. The overcast dark gray skies and wet grounds lent a dull pallor to the estate that made it seem somewhat sad and joyless. Also, in lieu of the guided tour we had planned our indoor exploration was truncated and the foul weather forced us to rush through our self-guided golf cart visit of the grounds.
On the plus side, the estate which welcomed some 300,000 visitors a year was especially quiet, and we had an opportunity to meet and chat briefly with Alexandre de Vogüé, one of owners and an affable host. Following his enthusiastic discussion about Vaux-le-Vicomte I realized that while for visitors the property was a French chateau of historic significance (it cost the family 1.3 million euros a year to maintain and restore the chateau and gardens) for him and his family it was their ancestral home and legacy. As of this writing, Patrice and Cristina de Vogüé live in the château's outbuildings. From our brief time with Alexandre de Vogüé I got the impression that running the property as a thriving enterprise that welcomed tourists was a duty and a privilege. As we drove away, I felt a bit nostalgic and hopeful that I might return to see more of the chateau as well as its famous candle lit event on another occasion. Should I find myself in the vicinity of Château de Vaux-le-Vicomte in the future I hope to return at the first opportunity.
Audio Tours
Audioguides were available in nine languages.
Average Duration of Visit The property staff recommended 90 minutes for an average visit for adults, including time in the château and garden. I would have lingered longer had our schedule allowed it.
Children The property welcomed children of all ages.
Established It was it founded in 1661 as a private property. In 1968, it opened as a tourist attraction.
Handicapped Access There was a special entrance for handicapped visitors and reduced admission price. Although staff were able to carry visitors with mobility problems to the ground floor (separated from the arrival floor by several steps) due to the number of stairs it was not possible for them to tour the first floor. A visit of the garden was accessible for handicapped visitors who rented electric cars.
Location In the town of Maincy and 6 kilometers from Melun in the Seine-et-Marne Department (www.turisme77.co.uk and www.paris-whatelse.com) near Paris, France
Number of Employees 70
Open The attraction was open for visitors most of the year, with the exception of part of November and January to the end of March.
Owned-Managed The Vogüé Family
Size The 72 meter long by 33 meter wide château, part of a 500 hectare property, had three floors and a viewing dome. About 300,000 visitors explored the property, which had 100 rooms, each year.
Transportation From Paris we took a train to a nearby town and from there we made our way by car to Maincy.
Description
Around 65 percent of the château, including the western outbuildings housing the restaurant, gift shop and Carriage Museum we visited, was open to visitors without guides. From the original furnishings only two marble tables, in the Grande Chambre Carrée, remained. Over the years, most of the furniture was taken for Versailles or other châteaux. Present day furniture consisted mainly of period pieces bought by the current owners of the château, and some reproductions. Although we ran out of time it was possible, for a supplementary fee of 3 euros, to climb to the dome through a series of stairs to admire the three-hundred-sixty degree view from the top of the roof.
Four main characteristics made the property special. Some experts considered the château the seminal expression of the Jardin à la Française or French formal garden, the French aesthetic of formal gardens that swept Europe in the 17th century. Beginning in 1641, Nicolas Fouquet hired renowned landscape gardener André Le Nôtre to work on his estate. He used the latest technical, scientific and artistic knowledge of his era.
Second, many believe the château was the inspiration for the château Louis XIV had built in Versailles. Such assumptions are supported because king Louis XIV employed the same artists that created the château de Vaux-le-Vicomte for his new residence at Versailles and the style of both was said to be very similar.
Exceptionally, the Château de Vaux-le-Vicomte was created from scratch by three renown artists of the time, Le Nôtre, Charles Le Brun, and Louis Le Vau, who collaborated in its construction. Finally, the estate has been the property of four successive families, having never belonged to the government.
In addition, the paintings and mural decorations from Le Brun are a representation of the Early Versailles Style, one of few remaining in France from the 17th century. The different works of art, acquired by the estate, were also of an exceptional value, according to a spokesperson.
The most notable room in the property, a spokesperson explained, might be the king's bedroom with exceptionally detailed golden decorations and lavish trompe-l'oeil. Although the room was made to host the king he never spent the night there.
Restaurant We had lunch onsite at Le Relais de l'Ecureuil, the family oriented self-service restaurant with capacity for up to 250. On Saturday nights dinner was available at restaurant Les Charmilles, which could accommodate 150. Some of the ingredients were fresh and local and the meals were prepared by a chef and a pastry chef.
Souvenir Shop According to a property spokesperson, the property had "one of the most beautiful château gift shop(s) in France." Among the souvenirs for sale were books, including some written by members of the Vogüé family, gifts for children such as costumes and games, jewelry, leather work, tapestries, home goods, and gourmet products like estate honey. Most of the products were Vaux-le-Vicomte branded or made for Vaux-le-Vicomte, such as Petrusse scarfs.
Tours Every Saturday and Sunday from March to November the property offered tours. There were also guided tours and tours in costumes for children during October and April holidays. Private or group visits were available in some foreign languages.
Month of Visit
May 2016
Reviewers
Article by Elena del Valle
Photos by Gary Cox
Would You Visit This Attraction Again Yes
Contact Information
Address:

Château de Vaux-le-Vicomte
77950 Maincy
France

Phone:
Website:
Email: