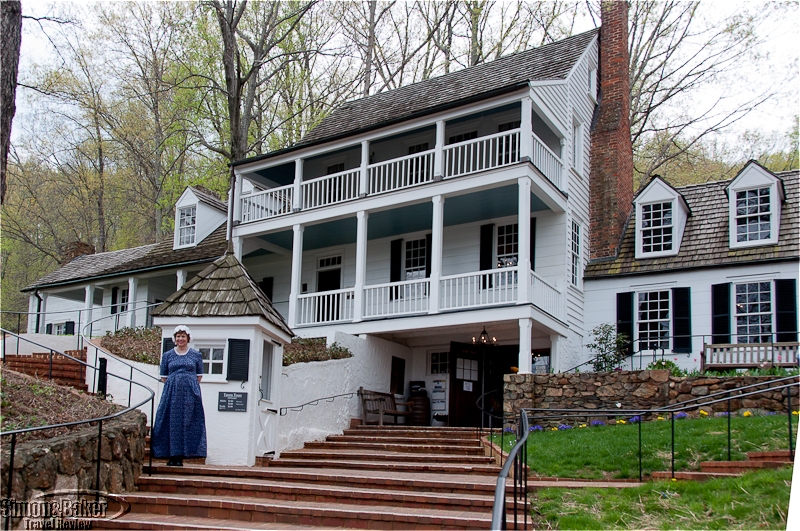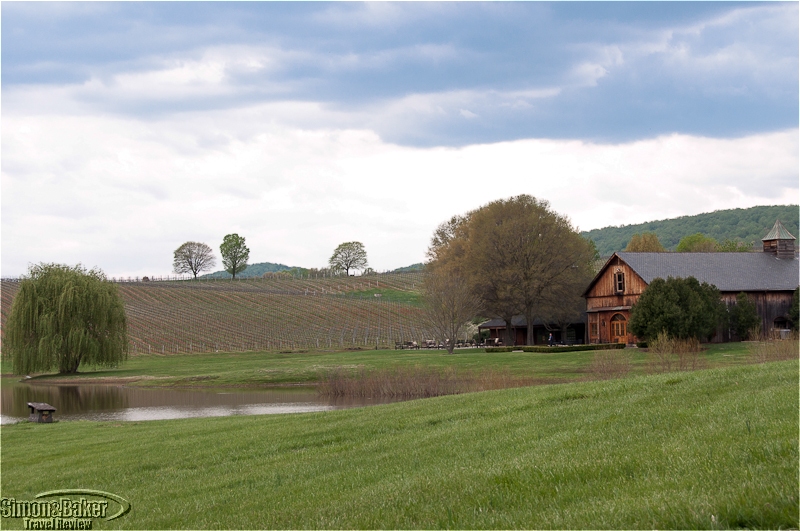 But it was a sufficient introduction to convince me that I would return at the first opportunity.
Overall Impression
Set against the serene backdrop of the rolling hills of Central Virginia's Blue Ridge Mountains, Charlottesville was a gracious historic small town of 43,000 inhabitants nestled in picture perfect natural surroundings, and a vibrant city with multiple personalities. Formed by royal charter in 1762 on the trade route between Richmond and the Great Appalachian Valley, Charlottesville is best known for its historic significance as the home of Thomas Jefferson. Recognized as one of the most important figures of the American Revolution, the man who penned the Declaration of Independence and the third President of the United States, Jefferson left his indelible mark on the city. In addition to Monticello, his "little mountain" home, he also conceived and designed the University of Virginia, in the neoclassical (also referred to as Jeffersonian) style. Both are now UNESCO World Heritage Sites. Today, Monticello attracts half a million visitors annually. The University of Virginia welcomes over 23,000 students, and contributes significantly to the cultural vitality of the area.
In spite of repeated attempts, Jefferson never succeeded in coaxing vineyards to thrive around Monticello. However, in the later part of the 20th century growers began a concerted effort to revisit his vision to develop the Central Virginia vineyard. Today, there are more than 25 boutique wineries, along with a couple of larger ones in the greater Charlottesville area alone, and in the past decade they have begun producing vintages that hold their own on the international stage. These wineries welcome visitors from around the country as they make their way along the bucolic vistas along what has become known as the Monticello Wine Trail.
Central Virginia has been home to artisans and artists since early settlers brought their skills and traditions of craftsmanship to the area. Over the past two centuries they have developed into a thriving artistic community of potters, weavers, glass artists, painters, woodcarvers and other artists of varying media. Their creations can be admired in individual studios scattered along the Monticello Artisan Trail as well as in downtown galleries. Whether historic, artistic or natural, the "trails" were enjoyable itineraries that took me along charming country roads on a treasure hunt for the best the greater Charlottesville area had to offer.
It was my first visit to this lovely corner of Virginia. With the wealth of appealing options vying for my time, my four day schedule felt woefully inadequate to discover the many faces of historically and culturally rich Charlottesville. But it was a sufficient introduction to convince me that I would return at the first opportunity.
Cost Of Visiting
Reasonable
Currency United States dollar
Electrical Current 120 Volt
How To Get There Most major United States and many international carriers provided daily scheduled flights to nearby Washington Dulles International Airport and Richmond International Airport. A few regional carriers also served Charlottesville-Albemarle Airport, eight miles north of the center of town. For rail travelers, there was an Amtrak station, Charlottesville Union Station, in the center of the city.
Location In central Virginia, 115 miles (185 kilometers) southwest of Washington, D.C. and 70 miles (110 kilometers) northwest of Richmond, Virginia.
Technology Reliable high speed WiFi connectivity was widely available. Cell phone reception was excellent wherever I went in the city, but erratic in the far reaches of the rural areas.
Time GMT/UTC minus five hours (e.g. U.S. Eastern Time)
Transportation With its wealth of attractions within a 20 mile (32 kilometer) radius of the city, a car was necessary to get around.
Shopping And Souvenirs Notable local shopping included Jefferson related memorabilia, wines from nearby vineyards and a wide range of art and craft offerings by local artists and artisans. There were also a number of antique and Americana shops.
Tourism Highlights
Downtown Mall
The Downtown Mall, an eight block pedestrian tree shaded walkway, ran through the center of Charlottesville. It was a favorite meeting spot for locals as well as tourists. Once the town's main street, it was now lined with restored historic brick buildings that housed antique shops, art galleries, restaurants, pubs, café terraces and all manners of fashion boutiques. At the end of the mall, the Freedom of Expression Wall was a long slab of black granite where passersby were encouraged to scroll their thoughts (in chalk).
Michie&Rsquo;S Tavern Established in 1784 by Scotsman Thomas Michie (pronounced Mickey) the tavern provided food and lodging to travelers until the mid-1800s and served as a social center to the local community. Moved 17 miles from its original site in 1928 and restored to its original design, this Historic Virginia Landmark was only half a mile from Monticello. It recreated an experience of 18th century tavern life through self-guided tours of its small museum and its Southern style buffet of fried chicken, hickory-smoked pulled pork, black eyed peas, and corn bread served on pewter platters by a staff in period calico dresses.
Monticello Artisan Trail The scenic country roads of the wine trail were also dotted with many of the artist studios and remote galleries of the artisan trail, too many to do them justice in a single visit. There were a few memorable stops. Perched high on a secluded ridge at the very end of a narrow country lane on the outskirts of Charlottesville, art dealer Lyn Bolen Warren's gallery Les Yeux du Monde (French for eyes of the world) would have merited a detour if only for its interesting sculpture like structure by local architect W.G. Clark and its panoramic views of the Central Virginia hills. However, once inside the contents upstaged the building. The main floor housed an extensive temporary exhibit space. At the time of my visit, it showcased the recent works of American painter Trisha Orr. Equally interesting was the mezzanine studio of Bolen's husband, painter Russ Warren, which I was also invited to visit.
My next stop took me to the Virginia Clay Studio where ceramic artist Paula Brown Steely created spectacular one of a kind equine themed pieces. In nearby Earlyville, I enjoyed meeting Suzanne Crane in her Mud Dauber Pottery studio. Crane created striking wheel thrown stoneware vessels impressed with local vegetation then glazed in brilliant jewel tone colors. The next day, I spent part of a fascinating evening at the downtown Glass Palette studio of Cara DiMassimo. Originally intending to be a painter, DeMassimo discovered her medium in glass. Each one of her unique creations, whether glass sculpture, dishware or jewelry was is a vivid piece of modern art.
The Monticello Wine Trail In 1984, the counties surrounding Monticello were designated the Monticello Viticultural Area (AVA) in recognition of the region's nascent wine industry. When I was in the area, the Monticello Wine Trail boasted of the largest concentration of wineries in Virginia, 30 in all within 25 miles (40 kilometers) of Charlottesville. I visited several of their welcoming tasting rooms featuring wines that ranged from interesting to excellent.
My two favorites were Jefferson Vineyards and the Glass House Winery. Planted in the early 1980s on the site of Jefferson's original experiment just a stone's throw away from Monticello, Jefferson Vineyards was a small production winery owned for three generations by the Woodwards, a family of dedicated vintners. It offered a number of excellent varietals including Pinot Gris, Viognier and Merlot, as well as award winning Meritage and Estate Reserve wines.
The Glass House Winery was a tiny artisanal vineyard started in 2006 and opened in 2010 in Free Union, in the foothills of the Blue Ridge Mountains just outside Charlottesville. In addition to light varietals it produced a variety of notable blended wines, such as a full bodied Italian style Barbera and their unusual Meglio del Sesso, a dessert wine made with Norton, Cabernet Franc and real chocolate. Visitors were welcome to bring a picnic and linger in the large tropical greenhouse adjoining the tasting room.
University Of Virginia Charlottesville is home to the University of Virginia, Jefferson's "academical village" with its historic campus of neoclassical buildings. At the heart of it was the famous Rotunda designed by Jefferson.
Presidential Homes
The Charlottesville area was home to three of America's Founding Fathers who also became Presidents of the United States: Thomas Jefferson, James Monroe and James Madison. Their homes, Monticello, Ash Lawn Highland and Montpelier were open to visitors. With its quasi-palatial grandeur, manicured setting and meticulously curated exhibits, Monticello, Jefferson's "essay in architecture" felt more like more like a museum than a home. The extensive guided visit of the first floor was supported by a narrative that articulated the importance of the property as the core of Jefferson's world and focused on his achievements not only as a towering public figure of his time, but also as a Renaissance man.
Nearby Ash Lawn-Highland, James Monroe's home and surrounding estate, had retained the ambiance of a working plantation. The refurbished house filled with the Monroe's American and French furnishings (acquired when Monroe was ambassador to France) was representative of the family's private life. A short drive farther James Madison's Montpelier, recently restored to its original neoclassical style sat in a 2,750 acre (1,113 hectare) estate of pristine farmland, meadows and paddocks. The visit of the newly reconstituted interiors offered an insight of the lives and accomplishments of James and Dolley Madison. I especially appreciated the opportunity to visit the second floor library where Madison is said to have spend several months studying past forms of governments and pondering the guiding principles for a representative democracy, which would become the American Constitution.
Date Of Visit
April 2014
Reviewers Article and photos by Josette King
Would You Visit Again? Yes