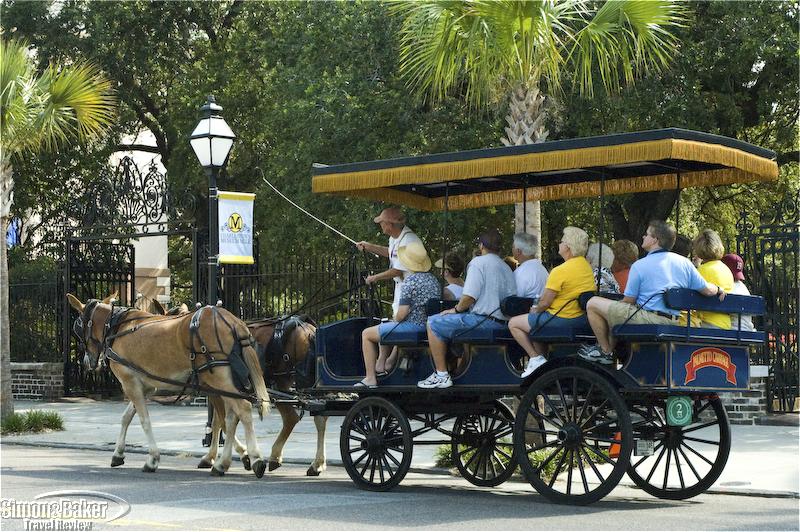 But while I regretted to leave so soon, I understood that for me from now on, a visit to Charleston would merely be a prelude to the next.
Overall Impression
One of America's oldest cities, Charleston has been considered by some the historical and cultural capital of the American South. Founded in the late 17th century in a natural harbor of the Atlantic coast, this southern-most English settlement soon developed into a hub of the Atlantic trade for the southern colonies. As the community grew, so did the cultural and social aspirations of its elite of wealthy merchants and planters. They commissioned grand public buildings as well as stately homes for their families. Although early settlers came mainly from England, colonial Charleston attracted a variety of ethnic and religious groups drawn to the developing seaport. Irish, Scottish, French and Germans arrivals brought with them several Protestant denominations, as well as Catholicism and Judaism.
In addition to its remarkable secular architecture, Charleston became known as The Holy City for the abundance of church steeples that punctuate the city's low skyline to this day. These architectural gems have been meticulously preserved to form the Historic Downtown District. This one-and-three-quarter square mile (four-and-a-half square kilometers) of diverse neighborhoods where the romance of the antebellum South comes alive at every turn along streets shaded with palmetto trees and moss-draped oaks draws four million visitors a year.
But there is more to Charleston than the charm and mellow patina of a bygone age, or its legendary southern hospitality, or its famous Low Country cuisine rich in shrimps, crabs, oysters and fish freshly harvested off-shore. For classical music aficionados, the city was propelled to international attention in 1977 when Pulitzer Prize winning composer Gian Carlo Menotti selected Charleston as the New World counterpart to Spoleto, Italy, for his annual Festival del Due Mondi (Festival of the Two Worlds). Each year, for 17 days beginning in late May, Spoleto Festival USA draws thousands of visitors who fill Charleston's theaters, churches and other performing art spaces to enjoy world-class performances of opera, dance, chamber, symphonic, choral and jazz music.
In late September the two-week long MOJA Arts Festival has firmly established itself over the past quarter of a century as one of South Carolina's major cultural projects. MOJA (Swahili for "one") celebrates the many African-American and Caribbean contributions to western and world cultures with visual arts, dance, theater, classical music, jazz and gospel concerts as well as traditional crafts, ethnic foods and children's activities.
This was my first visit to this venerable southern grande dame . With so many options vying for my attention, my four-day schedule felt like a woefully short introduction to the many faces of the historically and culturally rich city. But while I regretted to leave so soon, I understood that for me from now on, a visit to Charleston would merely be a prelude to the next.
Cost Of Visiting
Reasonable to high
Currency U.S. Dollar
Electrical Current 120 Volt
How To Get There Charleston International Airport was located 9 miles (14 kilometers) northwest of the city. Most major U.S. carriers, including American, Continental, Delta, United and Northwest Airlines provided daily scheduled flights from their respective regional hubs. Transportation from the airport to the center of town was via taxi. Public shuttle were also available and departed every 15 to 20 minutes with stops on request at downtown hotels. For rail travelers, there was an AMTRAK station in North Charleston, 10 miles (15 kilometers) from the Historic Downtown District.
Location At mid-point of South Carolina's Atlantic coastline, on a peninsula at the junction of the Ashley and Cooper rivers.
Technology High speed internet connectivity was widely available. Cell phone reception was excellent wherever I went in the city.
Time GMY/UTC minus five hours (e.g. U.S. Eastern Time)
Transportation In the city, most tourist attractions were located within reasonable walking distance. Charleston Area Regional Transportation Authority (CARTA) offered transportation between historic downtown attractions and hotels with shuttle trolleys known as Downtown Area Shuttle (DASH). The greater Charleston urban area was served by scheduled buses, most of which were equipped with bicycle racks as part of CARTA's Rack & Ride initiative.
Shopping And Souvenirs
The Old City Market was an ideal place to shop for souvenirs. Stretched across four covered buildings from Meeting to East Bay streets, it housed hundreds of vendors selling everything from local art, jewelry, clothing and furnishing to foodstuff and the famous sweetgrass baskets that have been a Charleston tradition for three centuries. The art of basket-weaving was introduced to the area by slaves brought there from West Africa, with the tradition passed from one generation of women to the next. It is considered one of the oldest crafts of African origin in America today.
I also enjoyed browsing along King Street with its handsome brick storefronts filled with high-end antique shops, fine art galleries and designer boutiques.
Tourism Highlights With the Historic Downtown District alone boasting some 3,000 historic sites, buildings and museums, and several Civil War island sites within eyesight of the waterfront, highlights became a matter of individual preferences. These were a few of mine:
Arthur Ravenel Jr. Bridge
Open in 2005 to replace two antiquated nearby bridges, the Arthur Ravenel, Jr. Bridge was at the time of this writing the largest cable-stayed suspension bridge in the Americas. The total structure was two-and-a-half-miles (four kilometers) in length with its main span stretching 1,546 feet (471 meters), supported by a pair of 575 foot (175 meter) high towers strung with 128 individual cables that suspend the deck 187 feet (57 meters) above the river. It linked downtown Charleston to suburban Mount Pleasant with eight traffic lanes and a 12-foot lane overlooking Charleston Harbor and the ocean, shared by pedestrians and cyclists.
Fort Sumter Built on a two-and-a-half acre (10,000 square meters) man-made shoal near the inlet to Charleston Harbor, Fort Sumter saw the first engagement of the Civil War when Confederate artillery fired on the federal fort on April 12, 1861.The Fort was reduced to rubble during the Civil War. It became a National Monument in 1948, administered by the National Park Service of the U.S. Department of the Interior. It was accessible only by tour boats. Spirit Line offered daily morning and afternoon guided cruises to the site, departing from Liberty Square in downtown Charleston where the visitors' information center provided informational exhibits about the fort. The 45 minute cruise to the site also afforded spectacular views of the Charleston shoreline and the new Arthur Ravenel, Jr. Bridge that straddles the Cooper River a short distance upstream.
Gibbes Museum Open to the public since 1902, the Gibbes Museum of Art housed an extensive collection of American works, focusing mainly on Charleston and Southern artists and subjects. On display were a number of 19th century canvases by Charleston-born William Aiken Walker, depicting the lives of emancipated slaves in the post-Reconstruction era and some vibrant watercolors by Alice Ravenel Huger Smith, an early 20th century leader of Charleston's artistic renaissance. The Gibbes Museum of Art was at 135 Meeting Street.
Museum Mile In the heart of the city, an easily walkable one-mile section of Meeting Street offered the highest concentration of cultural sites. Known as Museum Mile, it comprised six museums, five major historic houses (including the National Historic Landmark Nathaniel Russell House and the 1772 Hayward-Washington House, town-home of Revolutionary War patriot and signer of the Declaration of Independence Thomas Heyward, Jr.), ten places of worship and six historic buildings, including the Charleston Country Courthouse and City Hall.
Saint Michael'S Episcopal Church Located at 80 Meeting Street, this National Historic Landmark was the oldest church in Charleston and considered one of the finest examples of colonial churches in America. Its distinctive 185 foot steeple (56 meters) was used as an observation post and navigational landmark during the Revolutionary and Civil wars. The giant classical portico was a late nineteenth century replica of the original one that was seriously damaged in the 1886 earthquake. The church's interior had retained its traditional 18th century English design with a three-sided second story gallery.
Carriage Tour
After exploring of the Museum Mile, I headed two blocks East to a big red barn on Guinart Street, the starting point for the Palmetto Company mule-drawn carriage tours (mules are well adapted to the heat and have long been the beast of burden of choice in the South). The open, fringed-top carriages could comfortably carry up to twelve passengers. Our destination was The Battery at the southern tip of the peninsula where the Cooper River meets the harbor. During our one-hour, thirty-block ride, our knowledgeable driver-guide and his two good-tempered beasts took us on a journey back in time to some of the most picturesque areas of the city.
We meandered along the cobbled streets of the French Quarter to East Bay Street where we paused to admire a colorful string of pastel-colored 18th century Georgian townhouses known as Rainbow Row. From there we continued on to East Battery Street with its line of towering waterfront mansions that still bear witness to Charleston's heydays. The homes ranged in origins from early 19th to early 20th century, in a variety of styles from Italian Renaissance and Greek Revival to Art Deco. From their roof tops, Charlestonians witnessed the firing on Fort Sumter that sparked the Civil war. Our guide pointed out number 9 East Battery, where the remains of a confederate canon were still embedded in a dormer room (the canon exploded and a piece of it landed on the house). The carriage ride was a relaxing way to discover great swaths of the city and identify points of special interests to be revisited at leisure.
Date Of Last Visit
July 2008
Reviewers Article and photographs by Josette King
Would You Visit Again? Yes