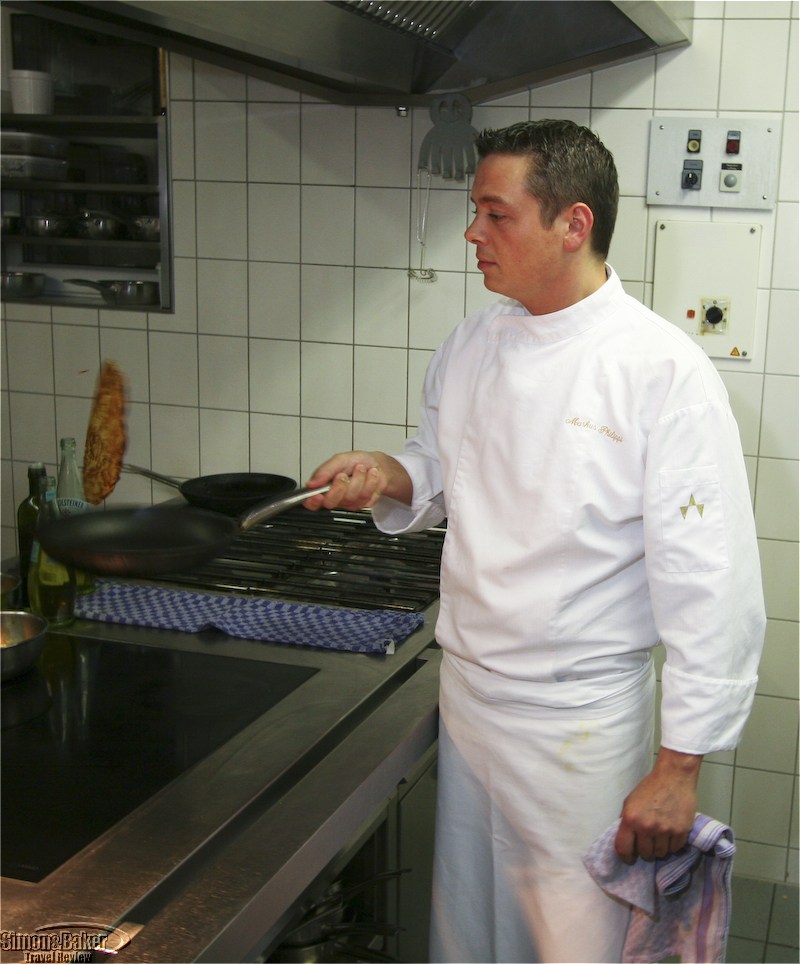 We look forward to revisiting this tiny gem in the south of Germany.
Overall Impression
A young and enthusiastic chef whose love for and ability with fish and seafood were evident made this restaurant stand out. Our romantic window side table faced Lake Constance, allowing us a sunset view of the lake and, in the distance, the lights of nearby towns across the lake in Switzerland. A single white rose in full bloom and a tall white candle were the sole adornments on our round table, allowing us to focus our attention on the parade of pretty dishes and handsome dinnerware the staff served us. Small touches like a moist towel to cleanse our hands before beginning the meal, a diversity of pre and post meal palate teasers and the staff's enthusiastic attitude enhanced our dinner experience.
From the finger food at the beginning to the post dessert tiny bites every item of our four-course Fish Menu was perfectly prepared, delicious and a great value. Although we had originally thought to try the eight-course Tasting Menu, on the confident recommendation of restaurant manager we switched to the Fish Menu that included Rouget with caviar, a delectable langoustine dish, and halibut with cauliflower, and were delighted with it. Congratulations to Executive Chef Markus Philippi and the team at Casala for an excellent meal. We look forward to revisiting this tiny gem in the south of Germany.
About The Executive Chef
He was born in Bensheim, Germany in 1979. Prior to joining Casala and the Residenz Hotel, Markus Philippi worked at Gasthaus zum Schwanen in Lorsch, Hotel Restaurant Silberberg and Hotel Traube Tonbach in Baiersbronn, Luftwaffenausbildungsregiment III in Germersheim, Bundeswehrbetreuungsverein in Canada, Hotel Vier Jahreszeiten, Restaurant Haerlin in Hamburg, Restaurant Schwarzwaldstube with Harald Wohlfahrt in Baiersbronn, Restaurant Wielandshöhe with Vincent Klink in Stuttgart, and Restaurant Vila Joya with Dieter Koschina in Galé, Portugal.
Executive Chef Markus Philippi
Handicapped Access There was a handicapped friendly entrance and an elevator.
Location Within the Romantik Hotel Residenz am See in the village of Meersburg in southern Germany
Manager And Sommelier Jens Leutelt held both jobs. His experience included work at Hotel Schloss Vellberg, Panoramahotel in Waldenburg, Altes Amtshaus in Ailringen, and im Sudhaus an der Kunsthalle Würth.
Opened-Renovated The most recent renovation took place in 2002
Owned and managed Manfred Lang, a chef and pastry chef in his own right, owned and managed the hotel. He had experience in German and foreign properties including Switzerland, Kenya, and Hong Kong.
Pastry Chef Alexandra Lang was born in Villingen in Schwenningen, Germany. In addition to her work at Casala she had experience at Wald & Schlosshotel Friedrichsruhe, Zweiflingen; Restaurant Jöhri´s Talvo, St. Moritz in Switzerland; Restaurant Wielandshöhe, Stuttgart-Degerloch; Traube Tonbach Restaurant Schwarzwaldstube, Baiersbronn; and Capella Schloßhotel Velden, Restaurant Schloßstern, Velden in Austria.
Size The dining room occupied 50 square meters and had space for up to 20 guests. A manager, two waitresses and five apprentices shared their time with the more informal hotel restaurant next door.
Type Of Restaurant A gourmet restaurant serving Mediterranean, modern European, fish and seafood dishes.
DÉCor-Ambiance The design style was Mediterranean "friendly" with marble floors, flowers, oil paintings, large mirrors and modern sculpture accents. The uncluttered dining room faced Lake Constance and at night we could see the lights of villages and towns across the water. In addition to a single white flower in the center, a khaki table cloth, Wilkens silver silverware, handsome dinnerware and glassware, and comfortable leather armchairs made our table complete.
Cellars Wine And Alcoholic Beverage Selection
The restaurant had 300 types of wine, approximately 150 whites and 150 reds with a large selection of Lake Constance regional wines as well as some international selections from Spain, Austria, Australia, and France. There were also whiskies, cognacs and regional after dinner drinks.
Special Menus There was a four course Fish Menu for 75 euros, a three course Fish Menu for 62 euros, an eight course Tasting Menu for 130 euros and a five course Tasting Menu for 95 euros.
Meal
On the restaurant manager's recommendation we selected the Casala Fish Menu in lieu of the longer Tasting Menu and were delighted. We had a glass each of non vintage Ruinart champagne accompanied by a handful of palate teasers: candied nuts, curried popcorn, black sausage tart (a favorite), and cumin flavored breadsticks, vegetable ice cream cones, passionfruit marshmallow, and cotton candy with Asian spices. Soon a delicious medley of cucumbers and salmon "caneloni" followed by breaded frog legs with garlic puree and tomato base arrived. We had a choice of four types of bread with olive oil or butter; and could add one of four seasonings (black salt, chili, salt flakes and pepper) to our dishes from a tray a server left at our table.
The Fishmenu consisted of Roasted red mullet with Osietra caviar, Scampi manteled with kataifi – dugh On salad of asia noodles. That alone would have been worth a drive. The langoustines were perfectly prepared, having barely grazed the skillet, and served with a light ginger sauce. They were wrapped in kataifi dough, a form of shredded phyllo dough, and the salad was joyously light. There was also Atlantic halibut with macadamia nut and cauliflower, and Curd cheese ginger soufflé with rhubarb.
We relied on Jens Leutelt to assist us with the wine selection and asked to sample local wines whenever possible. He obliged us and even included one from a winery that was 2 kilometers away from the restaurant. Dinner was served with the following wines: 2007 Meersburger Sängerhalde, Chardonnay and Grauburgunder, Weingut Aufricht, and Baden / Bodensee.
Date Of Review
March 2009
Reviewers Article by Elena del Valle
Photos by Gary Cox
Service Staff were attentive and customer oriented. We were well served during the entire meal and lacked nothing even though the restaurant was full.
Would You Dine Eat There Again-Recommend It? Yes
Contact Information
Address:
Uferpromenade 11
D-88709 Meersburg
Germany
Phone:
Fax:
Website:
Email: