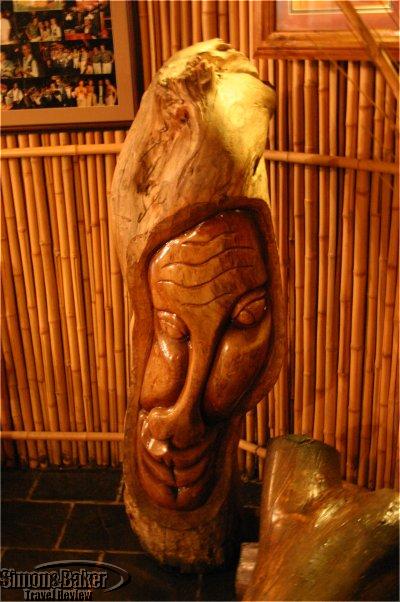 We look forward to visiting Carnivore again.
Overall Impression
: Carnivore, a large yet welcoming restaurant able to seat more than 500 diners, was a must-stop for the game and meat lovers among us. During our visits, we enjoyed some of the greatest selection of game meats we have found in an urban restaurant anywhere. T he centerpiece of the restaurant was a large circular fire area with 52 spits and a 5.3 meter diameter extractor fan. It was there that expert cooks charcoal grilled our food to perfection.
In addition to lamb, beef, pork, ribs and sausages, Carnivore offered venison. Some of the game meat dishes available included crocodile, waterbuck, wildebeest, giraffe, impala, elephant, ostrich, hippo, warthog, hartebeest, buffalo, blesbuck, eland, sable and kudu. Plentiful and tasty dishes including vegetarian selections, a pleasant bustling ambiance and efficient service combined to make our meal worth remembering. We look forward to visiting Carnivore again.
About The Chef
Zimbawe-born Chef Ncube always wanted to be a chef. He joined Carnivore in 1995. Later, the restaurant sent him to the Christina Martin School of Cooking in Durban for two years, from which he emerged able to enhance his chosen career.
Chef Mark Ncube
Location On the outskirts of Johannesburg , next to the Misty Hills Country Hotel. On the edge of the Kromdraai Conservancy in the artistically oriented Crocodile Ramble.
Opened 1993
Owned Recreation Africa Leisure Industries
Restaurant Manager Graham Shipway
Size Seated up to 550 guests
Type Of Food : Grilled meats
Style Of DÉCor Contemporary with African accents. There were original sculptures from Adam Madebe from Zimbabwe .
Food
: Following bread, soup of the day and salad appetizers, several waiters brought us a series of hot-off-the-grill game meats skewered on Masaai swords. There was a selection of meat sauces, traditional "pap" and baked potatoes.
Special Menus-Pricing : Lunch 125 rands for all you can eat menu including honey baked bread, soup, six salads and meats. A similar selection was available for dinner for 145 rands.
Specialties : Game meats
Wine And Spirits Details : There was a selection of South African wines and mixed cocktails including a lip-smacking sweet drink made with lemon, lime and vodka.
Conference Facilities-Private Meeting Rooms
There were 12 conference rooms on the premises at the Misty Hills Country Hotel, which was owned by the same company as Carnivore.
Other Carnivore was on the outskirts of Johannesburg . Though it was a bit of a trek, once we arrived and found a spot in the crowded guarded parking lot, we were happy we had made the drive. We prefer to go for lunch rather than braving the dark roads at night. Carnivore was the recipient of the July 2004 Hello Johannesburger recognition.
Ease Of Reserving
: Advance reservations advisable on weekends
Latest Visit-Date Of Review June 2004
Service Servers were efficient and able to cut a slice from the swords according to our request (well done, rare, etc.).
Would You Dine There Again? Yes
Contact Information
Address:
"Muldersdrift Estate"
69 Drift Boulevard
Muldersdrift 1747, Gauteng
Private Bag 1
Republic of South Africa
Phone:
(011) 950-6061/6000
Toll free (ZA) 0800 600 892
Fax:
Website:
Email: