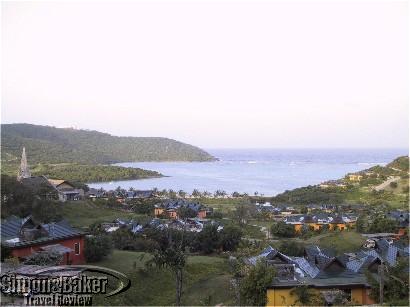 I will look forward to news when they reopen November 2003.
Overall Conclusion When I was there, Carenage Bay offered an extraordinary setting, fabulous beaches, golf, and many activities to keep us busy. We chose to just relax and enjoy the setting and outstanding service. If they were open, I would visited them last year and this year too. I will look forward to news when they reopen November 2003.
Class Of Accommodation
: Five stars
Length Of Stay: one week (could have stayed a month)
Location In the Eastern Caribbean, approximately 1,600 miles southeast of Miami
Ownership-Management Managed by Rosewood. Will reopen under new management
Restaurants Main poolside restaurant serves all meals buffet and a la carte. As island food goes and taking into account that absolutely everything has to be imported, I found the Carenage to serve excellent food. The prices are reasonable when you take into account the circumstances. The service at all the restaurants was outstanding. One morning I left an item at the table, and when I returned a short while later to ask about it, it was waiting for me. We particularly enjoyed the starlit, toes-in-the-sand beach barbeque. Note that the advance purchase option for the meals is an excellent value compared to a la carte purchase once on the island.
There were also some special events during the week, such as a rum tasting (not fabulous, but a good try) and a daily tea with excellent little pastries and sandwiches. It was fun to sit and enjoy the tea after an day on the beach prior to going up to get dressed for dinner. The French restaurant (open only a few nights) boasted the finest selection of Champagnes in the Caribbean and the casino opened downstairs after dinner for a few hours.
Size 172 accommodations peppered on a hill overlooking the bay
Telephone
Year Opened-Renovated The property had just opened under Rosewood Management in 2001 at the time of our visit, and has been closed for renovation since 2002, due to reopen in late 2003.
Lobby And Common Areas Lovely open air tropical/European resort décor characterize the open reception and common areas. Many small touches and custom features stand out.
Bathrooms
Our bathroom matched the bedroom in comfort and luxury. I especially enjoyed the option of a separate shower and bathtub. Decorated with Italian tile and marble with European fixtures.
Rooms Though the hotel sits on a beachfront property, the rooms are a distance from the beach. Though our room was a golf cart ride away from the main areas of the resort, it offered a stunning view of the village and beach from the porch and room itself. The room was beautifully decorated with a harmonious combination of white, terracotta and wicker and wrought iron furniture. In addition to the large mosquito net covered bed, there was a wicker table and matching chairs, a dresser, and wet bar. A large closet included a safe. The air conditioning worked the room into cold tundra in just a few minutes. We found the furniture was prettier to look at than to sit on. A golf cart, necessary to get around the village, was included with the room.
Amenities
Quality toiletries, in-room safe, golf cart, daily fruit basket (decent quality); towels, water and fruit supplied at the beach
Facilities Three restaurants (open alternating days and requiring reservations) and a café; four bars; room service; casino (open limited days, times); large swimming pool; tennis courts; ping-pong; health center and spa (including sauna, steam bath); air conditioned sundry shop and golf and resort clothing boutique (upscale merchandise).
The recreation facilities included a workout room at the spa, board games, books and equipment that could be checked out, bicycles and other fun items.
Spa Our package included two massage visits to the spa, and we enjoyed them so much that we returned frequently for additional services. The personnel were skilled and the facility clean and full service. The fitness center was fairly small, but adequate and the available to all guests with no additional fee.
Pool And-Or Beach
Visitors can make use of two beautiful beaches on the property. We were offered access to additional secluded beaches by prior arrangement. During our visit, one of the beaches had an seaweed problem so it was not in use. The other gorgeous swimming pool like beach was popular though not over crowded. It was one of the prettiest beaches I have enjoyed. Lounge chairs and umbrellas were scattered across the beach. Each chair included a flag guests could raise to request bottled water or place an order from the adjacent bar/restaurant. The nearby bathrooms were clean and convenient.
The pool for the property was quite large and included nice lounging areas, a bar in the center with stools so you could sit in the water and enjoy a cocktail. Towel service, chilled water and poolside food service were all excellent. Floats were provided to allow casual relaxing in the pool.
Watersports: PADI dive center, snorkel equipment, motorized catamaran day sailing and charter fishing available.
Conference Facilities
Not reviewed, but there were meeting rooms available.
Other Except for the two or three hotels on the island, there is little to see on Canouan and that is part of the magic that allowed us to relax. There are so many activities available (see amenities) including a rum making demonstration, high tea in the afternoon, and a high speed Internet connection/TV lounge. Taking into account the location, I would rate this as one of my favorite resort stays.
Check-In-Check-Out Process Ease
Check-in and checkout was island normal with staff that could have been more knowledgeable and efficient.
Cleanliness Excellent
Date Of Review August 2001
Ease Of Reserving A Room Through third party (American Express Travel Services)
Overall Service Excellent!
Would You Stay There Again YES