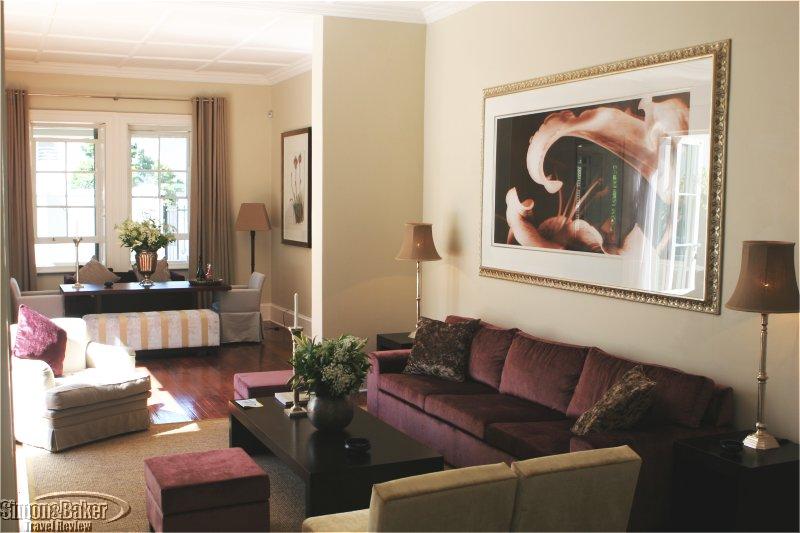 The Cape Cadogan Owner's Villa, a delightful oasis for visitors who appreciate the intimate and welcoming advantages of a small luxury property and treasure their privacy, will be at the top of my short list in Cape Town.
Overall Impression
This small family owned luxury property located in the heart of Cape Town was a jewel. Renovated from a home that had fallen into hard times, the property was carefully spruced up and decorated to accent its assets. The 200 square meter Owner's Villa, my favorite part of the property, was a two-story one bedroom villa next to the main building. Downstairs, it had its own entrance, social area, fully equipped kitchen, private plunge pool, entertainment center, high speed Internet access and terrace. Upstairs, there were comfortable and attractive sleeping quarters for a couple. Someone dedicated much time and care to ensure Villa guests a good looking, roomy and well appointed place to retreat from the city's excitement while remaining within easy reach of all the Cape Town fun.
What I liked the most were the quiet accommodations with privacy, subtly chic and luxurious yet comfortable. Other highlights included friendly and helpful staff; spacious and bright interiors with lots of space for guests; a well equipped kitchen for cooking enthusiasts and extended stays; a sound system and two televisions (upstairs and downstairs); and my favorite feature for staying in touch with work and family life at all hours, complimentary high speed Internet access.
Although an in-house restaurant or bistro would have been fabulous, there were plenty of dining options within a short walk or taxi ride. The hotel was centrally located and within a few minutes cab drive of most of the city's attractions like Table Mountain and the Waterfront. The Cape Cadogan Owner's Villa, a delightful oasis for visitors who appreciate the intimate and welcoming advantages of a small luxury property and treasure their privacy, will be at the top of my short list in Cape Town.
Class Of Accommodation
Luxury boutique hotel
Concierge Yusuf Mussa
Connectivity There was high speed ADSL via a cable connection in the kitchen. To take advantage of it, I sat my notebook computer on the kitchen counter.
General Manager Liesl Briedenhann
Handicapped Access No. There were steps to enter and to access the upstairs bedroom.
Length Of Stay Two nights
Location In the Gardens neighborhood in central Cape Town
Owned Robert More
Pets Allowed No
Size There were 12 rooms, 8 Deluxe and 4 Luxury suites, and the Owner's Villa. There were 15 employees.
Year Opened-Renovated The hotel opened in 2004. The Owners Villa was refurbished and opened in September 2006.
Lobby And Common Areas
The interior design, described as Bohemian Chic, was by David Strauss. It was characterized by subdued silver gray, burgundy and khaki colors, velour like fabrics and comfortably stylish furniture. It had smooth stained pine wood floors downstairs and light laminate flooring upstairs. Open spaces, high ceilings, ample sunlight and oyster colored walls lent the rooms an open and spacious feel. The living space downstairs had a dining area with seating for seven. Next to it there was a living room with a large cloth sofa, several chairs, and a rug. There were wood tables and two gas fireplaces with oversize mirrors from The Framing Company in the dining and living rooms. Attractive fresh white flower arrangements graced the tables in each of the three downstairs areas.
There was an entertainment center in the living area with a satellite flat screen Sansui TV, and Pioneer DVD/CD player. Conveniently, there were wireless phones in the kitchen and the bedroom.
The kitchen was modern and well appointed featuring an island and counter with two stools. Attractive polished concrete flooring allowed easy cleaning in case of spills. Counter tops were of white corian. Large appliances included Defy refrigerator/freezer, Samsung microwave oven and Balay stove and conventional oven with a fan. In a corner, there was a small table with two chairs for quick meals. For larger groups, there were settings for eight people. The refrigerator was stocked with soft drinks, beer, mineral water, juice, white wine, cheese and multi-grain bread. Between the dining and living room and next to the kitchen there were four doors leading to the walled porch.
The Cape Cadogan was originally a double-storied Georgian farmhouse that was "Victorianised" in 1912 and declared a National Monument in 1984. The Cape Cadogan decorative style was themed on Oscar Wilde, the famous author renowned for his bohemian lifestyle during the later part of the 19th century. His legacy of wit, flamboyance and creative genius, the hotel's decorators say, is well known. Perhaps lesser known are The Great Aesthete's strong views on decorating. He condemned the fake and dreary while praising artisans and crafters.
The Cape Cadogan strived for lightness as the ultimate luxury to create an uncluttered, crisp, clean and tranquil environment. The Villa accomplishes just that. The decorators also added contrast: "balance of old with new, sophistication with simplicity, city vibe with serenity and contemporary design with craftsmanship of days gone by." Details enhance the feeling of light like sheer white curtains to soften the outside pillars on the patio; cushions in metallic grey studded with tiny mirrors to reflect more light; as well as fresh lilies, chandeliers, crystal, contemporary and antique mirrors, framed etchings of Victorian ladies and white linen. Artwork was mainly by South African Marion Geiger.
Bathroom
Twin Stone Cast stone sinks on pedestals lent the bathroom a distinctive look. The bathtub was separated from the bedroom by the thinnest of gossamer curtains. An extra large, partially glazed, glass divided the bathtub and shower, the bedroom and bathroom. Behind the bathtub, there was a spacious door less shower. Large beige marble tiles on the shower walls and the sinks added soft character to the room.
Room From the entrance hallway, sixteen steps led upstairs to a second floor white themed bedroom with an open design. It had a queen bed and two matching night tables. There was a large closet and vanity with stool. The bathtub was integrated into the room, only two steps from the bed. There was a remote controlled air conditioner, flat screen TV and DVD player and electronic safe in the closet. A large window and the bathroom windows invited natural light making the room bright from early morning to sunset. Double French doors led to a pretty rectangular bathroom. Glazed glass behind the bathtub divided the bedroom and bathroom.
Food And Restaurants Breakfast, served between 7:30 and 9:30 a.m., consisted of yogurt, cereal, bread, muffins, toast, fruit, cold cuts, and cheese. There were also made to order eggs with sides such as bacon, sausage, tomatoes, salmon and mushrooms.
Amenities
Charlotte Rhys toiletries including scented bath salts, shampoo, and body gel. There was also complimentary port and sherry and delicious Belgium liqueur chocolates in the evening.
Facilities Owner's Villa guests were invited to use the hotel's facilities including the breakfast room, lounge, library including courtesy computer with high speed access to the Internet and pool deck.
Pool The Owner's Villa had a private plunge pool, 6 square meters and 1.5m deep, with a waterfall feature. The chilly water was refreshing even on a blistering Cape Town noon.
Other The hotel was one of seven favorite Travel & Leisure USA Cape Town Hideaways, June 2006. It also received the 2006 Decorex Designer Hotel Award.
Cleanliness
Excellent
Date Of Review November 2006
ReviewersArticle and Photos by Elena del Valle
Would You Stay There Again? Yes
Contact Information
Address:
The Cape Cadogan
Boutique Hotel
5 Upper Union Street
Tamboerskloof
Cape Town, 8001
South Africa
Phone:
Fax:
Website:
Email: