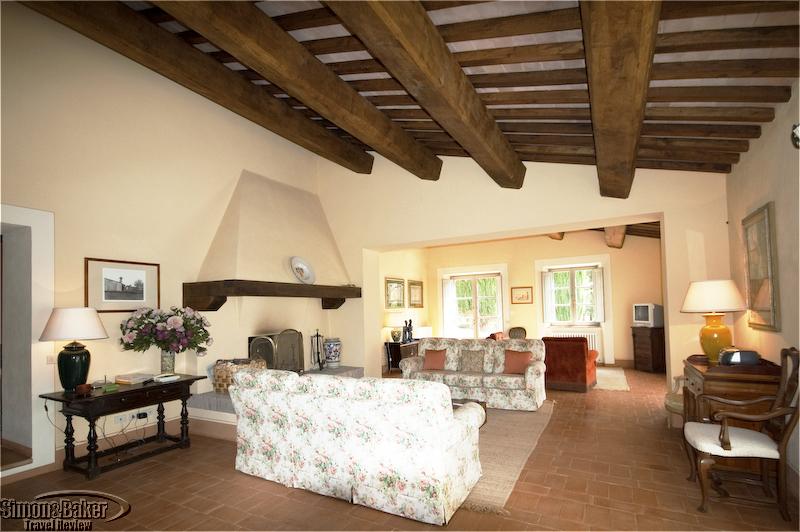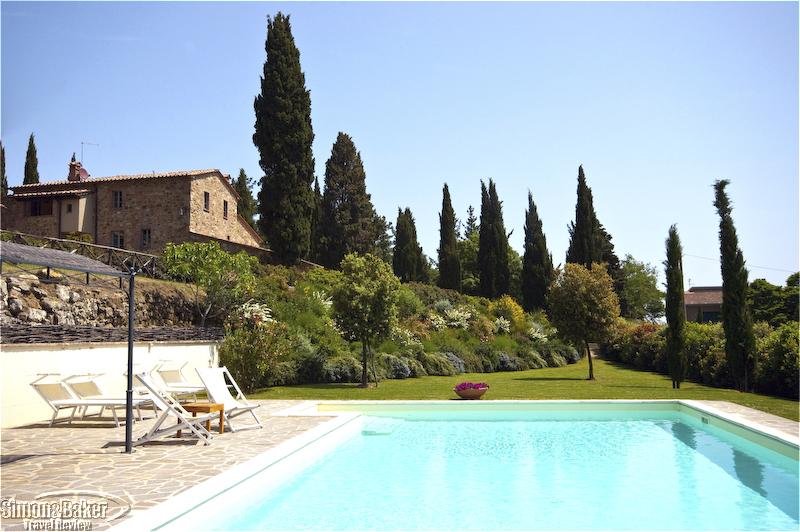 A secluded villa with all modern conveyances in the timeless pastoral beauty of the southern Tuscan countryside, surrounded by some of most vaunted artistic and historic sites in Italy and the warmest hospitality from owners and staff.
Overall Impression
Le Capanne was a short two-hour drive from Florence, and a world away. The magic began to unfold with the last mile of our journey, as we started up the narrow, intermittently paved country road to Camporsevoli. It meandered steeply upward, each turn revealing more spectacular views of the valley below, a rolling landscape of vineyards and olive groves punctuated by centuries-old farmhouses. Soon a discrete wooden sign announced Le Capanne; an unassuming name (
capanne
is Italian for shacks) for this superb $2.5 million fieldstone villa perched on five acres (two hectares) of beautifully landscaped grounds. It turned out to be merely an allusion to the humble origins of the villa. Le Capanne was for centuries one of the many farmsteads on the 500-acre (200 hectare) hillside Camporsevoli Estate. It was only recently restored into a five-bedroom rustic beauty with an inviting country Tuscan décor and the latest comforts and conveniences, including satellite TV, WiFi and a large swimming pool. The housekeepers, Francisco and Maria, were on hand to welcome us and ensure we were happily settled in.
Le Capanne's multi-level floor plan followed the slope of the land to offer from several areas of the house a panoramic view of the valley to the south and west and the distant hills beyond. The lowest of the three levels held the main living area including a double living room, a long country-style dining room that could comfortably accommodate 10 guests, and a large farmhouse kitchen appointed with gourmet appliances. All three rooms opened onto a flagstone terrace that circled the façade, for unhindered indoor/outdoor living. An interior staircase led to the main entrance foyer and upper floor bedroom suites. Each bedroom featured its own bath and walk-in closet. The top floor could be closed off from the lower part of the house, with its own entrance from the upper level. In addition to its oversize master bedroom, it featured a foyer that doubled as a small study, a family room with fireplace and a fully appointed galley kitchen. The overall layout of the villa kept each suite private, making the property ideal for multi-family or multi-generation vacations.
For us, Le Capanne was a delightful bucolic setting for a girlfriends' retreat. After one hectic week exploring the architectural and artistic treasures of Florence and the constant bustle of city life, Le Capanne was a relaxing base from where we could visit, at our leisure, the magnificent medieval towns and villages of southern Tuscany. Siena, Assisi, Montepulciano, San Casciano di Bagni, Montalcino and other famous local landmarks were within one hour's drive via country roads filled with the eye-popping scenery of the Chianti and Val d'Orcia. An unexpected pleasure of our memorable stay was the most generous hospitality from the owners of the property, Marchese and Marchesa Grossi di Camporsevoli. Their family had owned the estate since the end of the seventeenth century, and they still maintained their own country residence in the private hilltop hamlet of Camporsevoli, a short distance up the road from Le Capanne. They and their daughter Valentina were there on the weekend of our arrival. They graciously welcomed us with a dinner invitation. Later in the week, the ever-charming Valentina returned to Camporsevoli where we joined her in the Grossis kitchen for an interactive Tuscan cuisine demonstration followed by a sumptuous lunch of our own creation.
A secluded villa with all modern conveyances in the timeless pastoral beauty of the southern Tuscan countryside, surrounded by some of most vaunted artistic and historic sites in Italy and the warmest hospitality from owners and staff; what more could we ask for? The chance to return – soon!
Class Of Accommodation
Private luxury villa
Connectivity Complimentary wireless Internet connectivity was operational in most of the house. Because of the thickness of the walls, there were a few dead spots that we soon learned to avoid. The house had a wired phone connection. Communications costs were the responsibility of the guests. Cell phone reception was operational but erratic.
Handicapped Access The lower level bedroom was wheelchair friendly. It featured its own ramp entrance and wheelchair accessible shower. With only one step to the living room, dinning room and kitchen, an access ramp could be made available by previous arrangement.
Length Of Stay Seven nights
Location Camporsevoli was located in the southernmost part of Tuscany on the border with Umbria and Lazio in Italy. It was 80 miles (130 kilometers) or a 90-minute drive from Florence and 100 miles (160 kilometers) from Rome.
Managed Valentina Grossi Orzalesi
Owned Marchese Pierfrancesco and Marchesa Elena Grossi di Camporsevoli
Size The 5,000 square foot (460 square meter) villa was built on three levels on two-and-a half acres of cypress-shaded lawns. Common areas included living and dining rooms and kitchen on the lower level, a large entrance foyer on the center level and a family room on the third level. The five bedroom suites, each with its private bath, were distributed along all three levels.
Year Open-Renovated Le Capanne is a 17 th Century farmstead, fully restored and open for guests in 2006.
DÉCor
The house was decorated in traditional Tuscan country style, with unpretentious and superbly comfortable rustic furniture, hand-hewn beamed ceilings and painted plastered walls throughout. All common areas floors and stairs were terracotta while the bedrooms had hardwood floors.
Lobby And Common Areas The soaring front entrance archway with glass French doors opened onto a cathedral ceiling foyer. On the opposite wall two built-in concrete credenzas flanked the door to one of the bedrooms. On the left wall, a half flight of stairs led to the upper-level bedrooms, while another went to the lower level of the house. On the right wall, an antique sideboard completed the décor.
In the living room, a large floor-to-ceiling wood-burning fireplace was framed by two large sofas covered in cabbage rose print chintz on a cream background. They sat on a pale woven rug, on either side of a rectangular coffee table. Next to the fireplace, a black wood writing desk held a parchment-shaded table lamp. Several intimate seating arrangements were scattered around the room; two occasional chairs flanked an oriental bureau holding a golden-glazed ginger jar lamp. On the far side of the living room two overstuffed armchairs covered in flame-colored velvet faced a small television set. Wall hangings were a mixture of framed watercolor landscapes and antique maps. On the façade wall, two sets of triple glass doors opened onto the flagstone terrace and the lawn beyond.
A wooden dining room set for 10 with caned seat chairs sat on a deep green rectangular rug. At the far end of the room a glass-fronted sideboard held the dining china and glassware. The long 160 square foot (15 square meter) farmhouse kitchen with its peach-colored plaster walls featured a state-of-the-art five-burner gas cook-top and large oven, an impressive array of utensils and small appliances and large dishwasher. But it was its counter-height fireplace for indoor wood grilling that immediately seduced my cook's heart. The dining room and kitchen opened onto a thatch-shaded terrace with a round teak dining table and 10 matching chairs. We took all our meals there to make the most of the lovely country atmosphere and the stunning views. Next to the terrace, a stone staircase bordered by a lush herb garden led to the back of the house and a laundry room with a washing machine, dryer and a large folding wire rack for those who preferred sun-dried laundry. The sprawling lawn was dotted with tall cypress trees that swayed softly in the breeze, and provided shade for several teak lounge chairs randomly clustered about.
On the upper level, the family room seating area surrounded a raised-hearth fireplace and flat panel television. It included a striped peach and beige loveseat, two armchairs covered in peach and green floral chintz, and a small coffee table. Against the opposite wall an armoire held games and an assortments of art books and fiction. A round table dressed in a deep green tablecloth and four wooden dining chairs completed the room's furnishing. From the dining area a wooden door opened to the exterior stairs of the suite's private entrance. There were two doorways in the interior walls, one accessed a galley kitchen equipped with a four-burner cook top and oven, microwave oven and under-counter refrigerator; the other led to the foyer of the suite and the master bedroom. An interior staircase accessed the lower levels of the house.
Bathrooms
Each bathroom included a floor rack holding two sets of thick white bath towels, a bidet and a water-saving commode. The bathrooms of the two lower suites (cream and green) had free-standing sinks and shower stalls. The three upper suites (yellow, peach and blue) had large marble-topped vanities and deep, roomy bathtubs as well as showers. My spacious 80 square foot (seven-and-a-half square meter) bathroom opened to the east. It was filled with sunshine and the call of birds in the nearby cypress trees to make my morning shower an idyllic start of the day.
Rooms The five bedrooms had private baths and walk-in closets (or large storage armoires, as was the case for the handicapped bedroom on the lower level and the upper level master suite). All had plaster walls painted in colors unique to each suite. Each bedroom furnishings included a luggage rack, a bureau and two occasional wooden chairs. The beds were flanked with bedside tables holding reading lamps. The lower level bedroom was cream with a deep gold bedspread and tufted headboard for its queen-size bed. On the next level, the bedroom off the foyer was pale green. Its twin beds had headboards upholstered in green and white pinstripe and pale green toile coverlets. Half a flight up from the entrance foyer, there were two bedrooms on either side of a small hallway.
One was my 425 square foot (40 square meter) master bedroom overlooking the garden and swimming pool. It had pale yellow walls that matched the yellow and mint green plaid upholstery on the headboard and coverlet of its king-size bed. Buttercup yellow throw rugs looked especially attractive against dark highly-polished wooden floors. On the opposite wall to the bed there was an antique writing desk with a matching wooden chair. My room was a cool and serene retreat to gather my thoughts after a long day of sightseeing. Across the hallway, the peach room featured twin beds with black wrought iron headboard and quilted bedspreads in a bold plaid of peach, melon and raspberry colors. The top floor pale blue master bedroom featured high vaulted ceiling, white throw rugs on dark wooden floors and twin front windows overlooking the valley. Its king-size bed had a dark wooden headboard and a white quilted bedspread dotted with blue cornflowers.
Amenities
Upon arrival on a late Saturday afternoon, we were especially pleased to find the refrigerator and pantry thoughtfully stocked with all basics, including milk, bread, coffee, tea, jam, butter, rice, pasta, a jar of pasta sauce, several two-liter bottles of drinking water and even two bottles of local wine.
In addition to the generous supply of bath towels, bathroom amenities included house brand individual size soap, shampoo, conditioner and bath gel and a hand-held hairdryers in each bathroom.
Pool The rectangular swimming pool was 20 foot by 40 foot (six meter by 12 meter) with a constant depth of five feet (1.5 meters). Next to the pool a large flagstone terrace, partially shaded by a thatched roof, held six beach chairs and four directors chairs in gleaming white wood and canvas, and two teak occasional tables.
Other
Because I prefer fresh country air to air-conditioning whenever possible, I was especially delighted with Le Capanne. The restoration of the property respected the original structure, including the preservation of the villa's two-foot (60 centimeter) thick stone outer walls, and windows that provided cross-ventilation to ensure the villa remained comfortably cool at all times. Although there were floor fans in every rooms "just in case," none were ever needed during our stay.
In addition to the owners' warm welcome and many thoughtful attentions, Valentina, who was also the founder and manager of One Step Closer, an established luxury tour company in Florence, was available to organize or recommend out-of-the-ordinary activities for us. She arranged a private visit to Altesino, a highly regarded boutique winery in Montalcino, including a tasting luncheon of their famed Brunello and Rosso di Montalcino wines. I remember the day as one of the most enjoyable of my entire stay.
Cleanliness
Excellent
Date Of Review May 2009
Reviewers Article and photos by Josette King
Service There was twice-weekly housekeeping service. The service was outstanding.
Francesco and Maria, the villa's housekeepers couldn't have been more pleasant. Francesco came by each day for pool and grounds maintenance. He never failed to check in with us to inquire of any request we may have.
Would You Stay There Again? Yes
Contact Information
Address:

Tenuta di Camporsevoli
53040 Le Piazze
Cetona (Siena)
Italy

Phone:
Website:
Email: