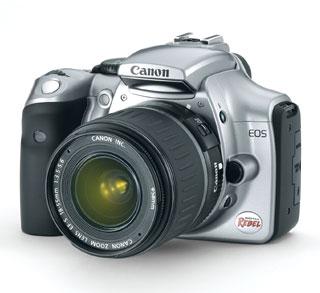 In summary, we were pleased with Canon lens compatibility, camera speed, low light performance, image quality, battery performance, and ease of use.
Overall Impression
We have tried a number of digital cameras and none of them met our standards for use on one of our trips. Our standards have been based on using Canon 35mm SLRs . We were looking for a digital camera, which would address our complaints thus far. The Canon Digital Rebel met this bill and exceeded our expectations in several areas.
The Canon Digital Rebel is a compact lightweight digital SLR camera with 6.3 Megapixals , high speed, 7 point AF, and 12 shooting modes. The Digital Rebel was compatible with all the Canon lenses we had already purchased and used in the past on our Canon SLR 35 mm Elans , and Canon SLR 35 mm Rebel cameras. The Digital Rebel produced a 1.6x lens multiplier while using all of our existing lenses. This benefit can be achieved because the digital CMOS image sensor in the Digital Rebel is more closely positioned to the lenses than in a 35 mm film camera. The 1.6x multiplier came in very handy for longer shots, and gave us our best overall auto focus performance with our largest lenses.
The Digital Rebel had a set of operator friendly controls very similar to our other Canon camera controls that we have grown accustomed to. This meant we didn't have to re-learn a whole new set of controls to use the camera; a big plus for those who are technically challenged and already familiar with Canon's Rebel camera controls.
Our Digital Rebel came with a rechargeable battery and a battery charger rated for 120-240 VAC @ 50-60 Hz Power. Using power connector adapters we were able to recharge our batteries in all locations. We purchased an extra battery so that we would not run out during periods of extensive picture taking. A battery would typically last one day, which would amount to around 250-500 pictures. While we used the LCD display screen a fair amount to review photos in the field, we normally left the display off, to save battery power. The type of lens we used also made a big difference in the battery life. As a general rule, the bigger the lens, the more power necessary. Our largest lens (a Canon EF 100-400mm) drained the battery down much faster than the smaller lenses.
One of the pleasant surprises was how well this camera performed in low or natural light without a flash. We give the built-in flash with its focus light assist a good rating (a good rating for a built-in flash). The flash mode lacks any exposure compensation on this camera. The auto focus, which performed quite well, also continued to work in low light or night settings (with the built-in popup flash and focus assist).
We like to take pictures of wildlife. To get good pictures of wildlife it's important to have a camera that will respond very quickly because wild animals are not apt to stop to pose for a picture. Our Digital Rebel has internal high-speed cache memory to hold pictures when they are first taken. Then the camera moves the images from high-speed cache memory to compact flash card memory. We took rapid-fire pictures for 4 to 12 images (depending on which picture mode we selected); when the cache memory became full the camera slowed down. The camera moves pictures from the cache to the compact flash module as quickly as it can. Purchasing faster compact flash memory can result in some performance increase. However Canon doesn't publish exact figures on these speeds so it is hard to talk about specifics. We purchased Kingston CF/512-S 512 MB professional speed compact flash memory modules for use with our camera. In comparison to this, a 35 mm SLR film camera will shoot at its full rated speed until it runs out of film; it's necessary to plan for reload/rewind time prior to taking pictures again.
We cropped some digital images where the subject was a little too far away; then we re-cropped the images using Photoshop on our home computers. We found the Digital Rebel had a slightly less dynamic color range than our 35 mm film cameras. To make prints from our pictures we took the images to our local photo retailer who printed excellent photos off the standard CD we gave him.
We highly recommend this camera to our friends who have grown accustomed to the performance of 35 mm SLR film cameras and want a digital camera. In summary, we were pleased with Canon lens compatibility, camera speed, low light performance, image quality, battery performance, and ease of use.
Battery
:
One Lithium ion rechargeable battery. Included a battery charger rated for 120-240 VAC @ 50-60 Hz
Colors Sliver and Black
Made In Made in Taiwan
Manufacturer-Distributor Canon U.S.A. , Inc.
Retail Price $999
Size (W x H x D): 5.6 x 3.9 x 2.9 in. / 142 x 99 x 72.4mm
Type Of Product Digital SLR Camera AF/AE
Warranty 90 day limited warranty
Weight 19.7 oz
Written By CAG
Features 6.3 Megapixals , high speed, 7 point AF, 12 shooting modes, compact, lightweight body, direct print capability, compatible with more than 50 EF lenses, EF-S lens and most EX series speedlites .
Other
Operating Temperature: 0 – 40 deg C ( 32 – 104 deg F)
Operating Humidity Range : 85% or less
Recording Medium: Type I and II CF memory cards
Compatible Lenses: Canon EF including EF-S lenses. ( focal length conversion factor is equivalent to approximately 1.6x compared to 35 mm format.
Lens Mount: Canon EF mount
Type: High sensitivity, high resolution, single plate, color CMOS
Pixels: Approximately 6.3 mega pixels
Aspect Ratio: 2:3 (vertical: horizontal)
Color Filter System: RGB primary color filter
Recording Medium: Type I and II CF memory cards
Image Formats: JPEG and RAW, Exif 2.2 compliant
File Sizes:
Country(S) Tested
South Africa , Botswana , Zambia , and USA
Date Of Review March 2005
Number Of Days Tested 300
Would You Use This Product Again? Yes
Contact Information
Address:
Canon U.S.A. , Inc.
One Canon Plaza
Lake Success , NY 11042
Phone:
Fax:
Website:
Email: