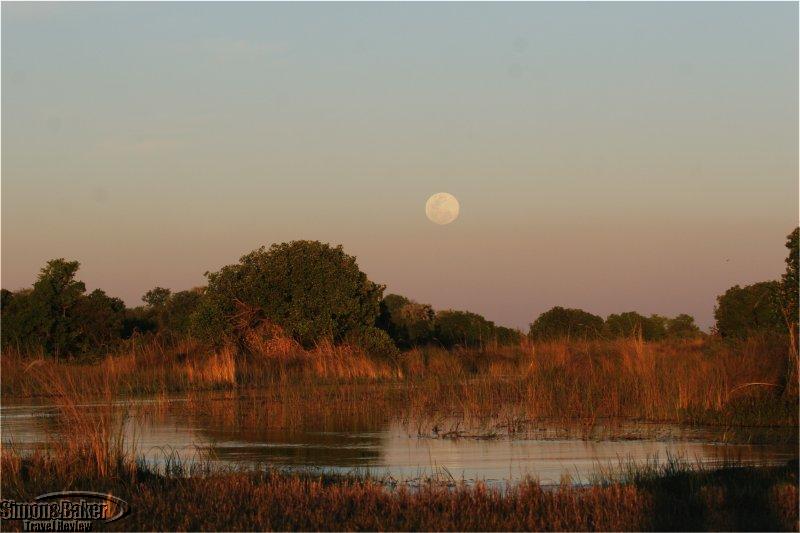 We especially enjoyed table and fireside chats with fellow international guests and spending time and learning from "John" Odumetsi, our guide who grew up and lived most of his life in the area before it was developed into a tourism destination. His upbeat, positive can-do style and passion for the Delta led us discover its many treasures and appreciate what life was like in the not too distant past when it was necessary to travel 14 days by mokoro to reach the nearest town.
Overall Impression
Our first impression of Camp Okavango was colored by the positive comments we had heard from fellow travelers before arriving there. Whenever we mentioned to someone we were headed to Camp Okavango their faces would light up in a smile. They would tell us how much they had enjoyed their stay and send their regards to Rob and Tammy, the Camp managers. We arrived at Camp Okavango following one of the bumpiest bush plane flights we've ever had, hot and nauseous not to mention shaky. Rob's quiet and concerned welcome was priceless. Our introduction to the Camp was beneath the huge mangoosteen tree that was the heart of the one square kilometer island based Camp. Under its shade we enjoyed pleasant moments of contemplation, conversation and excellent bird watching. Thanks to a water feature at the base of the tree many birds congregated and nested there.
Camp Okavango was a wonderful place to relax had we chosen to give up an activity and just sleep in or spend the afternoon luxuriating with a book on the hammock or on a lounge chair by the plunge pool. Animal sounds, especially birdsong, were everywhere and there were plenty of activities to keep us busy. Our first afternoon we went for a motorboat ride among the papyrus and common reeds of the Okavango Delta; the following morning we went for a four hour walk on a nearby island. In the afternoon we went for a fabulous mokoro (type of canoe) ride. We lingered over the sunset colored with rich shades of orange and maroon. Minutes later, we were transported by the full moon rise set against a mauve and pale yellow sky of the Delta. That late afternoon and dusk ride we experienced the magical beauty and serenity of the Okavango Delta that so many before us have described.
We valued the Camp's atmosphere focused on "birding, peace and tranquility," the efficient and smiling staff, the option to relax or participate in bird watching and some game viewing on foot or by boat, the close-to-nature yet comfortable tents with teak floors and en suite bathrooms and the luxurious honeymoon suite built to the strict specifications of Jesie Neal, the American woman who established the Camp in 1980. We especially enjoyed table and fireside chats with fellow international guests and spending time and learning from "John" Odumetsi, our guide who grew up and lived most of his life in the area before it was developed into a tourism destination. His upbeat, positive can-do style and passion for the Delta led us discover its many treasures and appreciate what life was like in the not too distant past when it was necessary to travel 14 days by mokoro to reach the nearest town.
Class Of Accommodation
Luxury tents and one honeymoon suite
Handicapped Access Although the conditions were not ideal, the Camp had hosted handicapped guests in the past. Enquire directly with the camp for layout and other relevant details.
Length Of Stay Two nights
Location In the central Delta on Naxargara Island, about 30 minutes by bush plane from Maun .
Managed Desert & Delta Safaris, a 100 percent subsidiary of Chobe Holdings Ltd.
Managers Rob Van Tonder and Tammy Cronk who took charge of Camp Okavango in February of 2005 shared management duties. Rob looked after guides, activities, maintenance and the grounds while Tammy's responsibilities included food services, guest relations, housekeeping and finances.
Owned Chobe Holdings Limited owns the leases on the Camp. The current lease expires in 2012 with the option to renew through the tender process. Chobe Holdings Limited, a long established, Botswana public company listed on the Botswana Stock Exchange, owned and operated six luxury safari lodges including this one. All of the lodges were in locations within the northern National Parks and the Okavango Delta. Desert & Delta Safaris also owned a fleet of eight light aircraft, which enabled convenient booking (though bumpy flights) for guests to each lodge with regular connections to Livingstone, Victoria Falls and Maun.
Size The Camp, situated on a three square kilometer island, occupied about one third of the island. It could house 24 guests in 11 tents and one honeymoon suite with a staff of 28 and 3 managers. The leased area is five hectares in size.
Year Opened-Recent Renovation The first building, now the honeymoon suite, was erected in 1980. The Camp opened in 1998. Renovations were ongoing.
Lobby And Common Areas There was a casual and comfortable feel to the furnishings. Seats were cushioned and large enough to accommodate guests of various sizes. There was a blending of classic safari and contemporary African decorative styles. A covered bar and lounge area offered sheltered comfort. During the summer, the large and comfy seats under the mangoosteen tree beckoned us as did the nearby hammock and plunge pool.
Bathrooms
The bathroom in our tent was connected to the rest of the tent by a zippered door. Inside, the teak floor was smooth and cool to walk on. A toilet occupied the far left corner next to a "window;" it faced a second "window" and a wicker chair on the opposite corner. There was a sink with separate faucets for hot and cold water and a khaki colored stone tile countertop. The same tile covered the adjacent spacious shower stall which was separated from the sink by a long see-through glass. A towel rack was steps away from the door-less shower.
In the suite, wooden steps led down to the sunken black and white tile bathroom. The walls were of black ceramic tile. There was also a black sink and black toilet bowl. White floors and a mirrored and well lit ceiling softened the look. A claw foot bathtub drew our attention (the water looked brown when we filled the tub to remind us we were in Africa after all) and across from it an there was an enclosed shower stall. A screened window looked out onto a private enclosed area.
Rooms
We had an opportunity to experience the two types of accommodations available in the Camp. Our tented suite (No. 8) took up about 30 square meters of space. It was set on teak floors inside a wide zippered tent. Twin beds with double pillows and night tables (including battery operated lamps that remained on even when the generator was switched off at night) were on one side. A desk and companion armless chair occupied the corner nearest the zippered entrance. A dresser and armoire took up the remaining space. The furniture was made of teak and yellowwood. Outside the zippered entrance we had a small open deck with two director's chairs and a table. It was a pleasant place to spend time during the cooler moments of the day. We appreciated the comfort and closeness to nature the tent afforded us. It was wonderful to hear the bird chatter in the early morning, see the antelope in the distance and quietly watch a naughty bull elephant that chose the middle of the night to feed near our tent.
The 75-square meter thatched roof honeymoon suite was designed to be the home in Africa of a wealthy American woman who first decided to live on the island 25 years before our visit. It was remarkable to think of the time and effort required to build it, especially since almost everything had to be brought by boat (as of this writing trucks cannot reach this part of the Delta). Three steps led to the broad glass door entrance. Inside, there was wood everywhere. Teak floors and yellow stink wood and teak furniture set the backdrop of the room. With the exception of a white wall in the living area, nearly every other wall was of, or covered with, wood. Mirrored tiles accented and brightened the back wall of the bedroom and a small wall behind the dining area.
There was a living area with a gray cloth sofa, a gray patterned armchair and matching large foot stool and a wood coffee table. There were three handsome bird themed watercolors (fish eagle, a giant eagle owl and secretary bird) by S. Santilhano from 1994 and 1995 in the living and dining areas of the suite. To the right on the living area, there was a small dining table and wet bar. To the left, a wide partly open shelf separated the bedroom from the rest of the suite. A double bed, nostalgic looking with the mosquito net at night, occupied the center of the bedroom. A night table and lamp stood to either side of the bed. A small stool rested at the foot of the bed and a green cloth armchair was in a corner. There were oriental style throw rugs in the living area and on either side of the bed. Two slow moving fans gave the room a tropical feel. Although it was very warm in the early evening and darker than we would have liked (we shut the wood shutters to keep the insects out), overall we found the room spacious and comfortable, a wonderful place to spend time between activities and to relax.
Food The Camp's three chefs had an average of eight years of experience and held hospitality and tourism certificates from the Botswana Technical College. They were able to cater to special requests such as Atkins and gluten and sugar free diets. Having none of those requirements ourselves we enjoyed the full range of meal options. Following are some of the dishes we sampled: yummy custard, tuna and tomato bruschetta for tea; delicately chilled cucumber soup, lamb stew (a favorite), hake fish, roast potatoes, warm carrots, warm sweet peas, green salad, cheese platter selections and cheesecake with strawberry filling for dessert. For breakfast (at 6 a.m.) we had cereal, yogurt, toast, muffin, coffee and tea options. Brunch was served when we returned from our morning activities (around 11 a.m.): made to order eggs, bacon, pork sausage, spinach, green and Waldorf salads, macaroni and cheese, cheese selections and fruit salad. Dinner was served following the evening activities.
Amenities
House brand shampoo, soap and body gel. We found two cotton bath robes in our tent. Complimentary bottled water was available on request. There was also filtered water in a thermos pitcher in our tent (we drank plenty of filtered water without any ill effects) and in the honeymoon suite. Additionally, there were bottles of mosquito repellent and bug spray in the tent and suite.
Facilities There was an open area with comfy armchairs near the mangoosteen tree, bar, fireside open area or boma , dining room, dock area, plunge pool and treetop hide which was one of our favorite places in the Camp along with the mangoosteen tree.
Pool There was a 6-square meter (3 x 2) large and 1.5 meter deep plunge pool in the garden. Three wood armchairs, four lounge chairs, one umbrella and ample tree shade invited us to linger every time we walked by.
Game
Our guide, "John" Odumetsi knew the island and neighboring areas like the palm of his hand. He led us on foot and boat without hesitation through papyrus channels and open fields to charming finds. With his guidance and unerring senses we stood feet away from three male giraffes while they fed hungrily on acacia leaves. We stood undetected near a large heard of buffalos while they munched, walked and napped through the plain on their way to water. Standing so close to these wild animals was a special treat as they are very shy and don't usually tolerate humans nearby.
We also saw: kudu, red lechwe, elephant, hippopotamus, bush squirrel, wart hog, vervet monkeys, Nile crocodiles, and reed frog. Birds: blackcollared barbet, bluecheeked, carmine and whitefronted bee-eaters, redeyed bulbul, blackbacked cisticola, reed cormorant, darter, redeyed dove, bateleur eagle, paradise flycatchers, redbilled francolin, helmeted guineafowl, purple heron, redbilled woodhoopoe, African jacana, malachite, pied and woodland kingfishers, black korhaan, grey lourie, Angola pita, blacksmith plover, secretary bird, longtailed shrike, greyheaded sparrow, and redshouldered widow.
Activities Since Camp Okavango lay on an island; the only activities available were bird watching (anywhere in the Camp), motorboat rides along the Delta channel, guided walks on a nearby island which was reached by motorboat, and noiseless mokoro rides along the shallow areas of the water, a memorable experience.
Curio Shop
Items we noticed were the locally made baskets and carved miniature mokoros (Botswana canoes), jewelry, t-shirts and books.
Other The Camp ran on generators. This meant at night when the generators were switched off, the only light in our tent and suite came from battery operated bedside lamps.
Check-In-Check-Out
A short safety briefing was all that was required to check in
Cleanliness Excellent
Date Of Last Visit November 2005
Reviewers © 2006 Simon and Baker, Inc.
Article by Elena del Valle
Photographs by Gary Cox
Service There was twice daily room service. Staff, some of whom had limited English skills, were pleasant and knowledgeable.
Would You Stay Again? Yes
Contact Information
Address:
Desert & Delta Safaris
Private Bag 310 Maun
Botswana
Phone:
Fax:
Address:
Desert & Delta Safari Lodges
Reservations and marketing
P.O. Box 13055
Bryanston, 2074
Phone:
+27 11 706 0861/2
463 2996
Fax:
+27 11 706 0863
086 654 5155
Website:
Email: