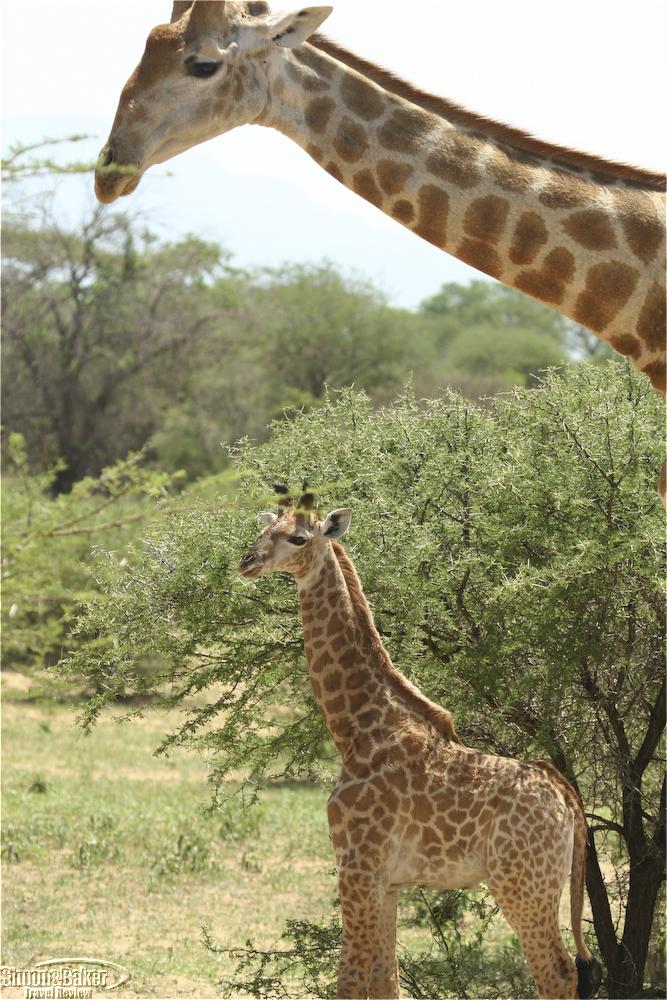 I will recommend the property to friends interested in a close encounter of the elephant kind within a Big Five game viewing setting.
Overall Impression
This little camp, part of the Relais and Chateaux group, will stand out in my memory for bringing us close up and personal with an elephant herd like no other we had encountered before. It was named for Jabulani, the youngest of the adult elephants, who was rescued from certain and slow death when he was three months old. Humans took pity on him after he got stuck in the mud. His elephant family couldn't get him out and abandoned him. Jabulani's journey to survival and young adulthood was arduous for him and his saviors; and eventually led to the establishment of Camp Jabulani and the further rescue of a group of adult elephants from Zimbabwe.
The pretty property was part of the 14,000 hectare Kapama Game Reserve where the Hoedspruit Endangered Species Centre was located. While at Camp Jabulani, we had an opportunity to visit its facilities and see the many rescued animals, including regular and king cheetahs, five species of vultures, wild dogs and caracal, the center housed. We were particularly thrilled to "meet" Sheeba, an ambassador cheetah at the center that would sometimes welcome human visitors, two at a time, to feed and pet her for a couple of minutes. Although I had seen cheetahs close up before, feeding Sheeba and being able to pet her was a new and unexpected experience.
Our two-night stay at the property was a whirlwind. We went on two memorable elephant back rides, including one at night; watched the elephant family, babies and all, bathing and being put to "bed;" and spent a morning visiting the nearby endangered species center. When we weren't game viewing or with the animals, we were in our luxury suite or enjoying one of Chef Rudolf Van Den Berg's scrumptious and attractively presented meals. Our stay at Camp Jabulani was outstanding and worth repeating, although next time we would remain there three nights for a more leisurely stay. I will recommend the property to friends interested in a close encounter of the elephant kind within a Big Five game viewing setting.
Class Of Accommodation
Luxury lodge with partly tented suites
Connectivity There was WiFi Internet access and a laptop computer for guest use in the lobby area. To take advantage of the connection I would bring my laptop computer in between activities and download emails directly to my email account. That was the only access point so I had to be brief in case other guests wanted to go online.
Handicapped Access The property welcomed handicapped guests
Length Of Stay Two nights
Location In the Kapama Private Game Reserve near Hoedspruit, South Africa
Managed Carl and Elsie Olen
Owned Lente and Adine Roode
Size There were six suites and 120 staff in the 100 hectare property located within the 14,000 hectare Kapama Game Reserve.
Year Opened-Renovated The camp was opened in 2002. In 2008, the suites underwent a soft refurbishment and in 2009, the gym was renovated. At the time of this writing, a family suite, the Zindoga Presidential Suite, was under construction.
Lobby And Common Areas The design concept was to bring together rich textures of organic elements to "create a harmonious and pleasing balance between designer and authentic" and "an open flow of light and air allow for a communion with the African bush without forsaking optimum comfort." There were paintings by South African artists and antiques from Paul Kruger's house had been incorporated into the camp. Design elements included woods, crystal glasses, and a silver service.
Bathroom The bathroom area was located on the left side of the room. It housed a large wood closet with shelves, hanging space and an electronic safe. There was a large rectangular cow stool, twin washbasins set on a wood vanity with a marble top and a small wood framed mirror. The light was provided by two recessed lights set on a natural strip of wood that hung from the ceiling. Behind the vanity there was a second natural wood piece, a stylized wood screen, small wood shelf and a large stone bathtub with a built-in wood rail. A wood towel rack filled with white towels occupied the corner. The water closet was on the opposite corner of the room next to the closet. Just past the vanity and sinks, there was an attractive glass enclosed shower.
Room
We reached our handsome 90 square meter suite (Number Four – Munyati) after crossing the property suspension bridge over a dry river bed and turning at the second entrance down the dirt path. A sliding wood door led to a shady cool interior. The first thing we noticed was the wood floor and tall thatched roof with beams. Once inside, there was an entrance hallway with a table and a view of the room through the gauzy mosquito netting of the bed. To the right of the entrance there was a living area with a stone fireplace. A wood credenza occupied one wall. It housed a minibar refrigerator, coffee and tea service and several shelves of books. In the center of the living area there were two armchairs, a zebra rug, a small wood table, a small bush facing wood desk and an armless chair. On closer inspection we realized the walls and windows were of canvas. Summer days can get quite hot in South Africa so we were thankful for the suite's rotating upright fan and air conditioning.
The center of the room was taken up by two single beds set together. They were framed by matching wood glass covered night tables. At night, the staff draped mosquito netting over them. After the turn down service we found small keepsakes on our night tables, next to the matching wood lamps. In case we needed to make a call, which we did, there was a telephone on one of the night tables. On one side of the bed there was an animal skin rug and armless chair. At the base of the bed there was a rectangular chest where extra pillows and blankets were kept.
Across from the bed, sliding wood framed doors and screen doors led to a bush facing open terrace with wood floors, two lounge chairs with pool towels, a metal and glass table, two armless metal and wicker chairs, and a plunge pool. It was an inviting area.
Food And Restaurants Chef Rudolf Van Den Bert was attentive and prepared delicious meals.
Amenities
There were Charlotte Rhys soaps, 200 milliliter shampoo, conditioner and shower gel, and a shower cap. There were also bath salts, and house brand body lotion and shower gel. We were pleased to discover our minibar was filled with cold beverages and a Toblerone chocolate bar. There was also a fruit bowl, small can of Pringles potato chips and coffee and tea service.
Facilities A dining room, lounge area, tea terrace, 90 square meter workout area and 30 square meter spa section.
Fitness Center And Spa There was one therapist at the property.
Pool Our suite had a meter and a half deep plunge pool on the deck facing the bush.
Game Viewing
Our guide and driver was Donie (there was no tracker), a friendly and knowledgeable young man with excellent spotting abilities. Animal viewings were plentiful from our slightly aged open Land Rover with a canvas top. The afternoon we arrived we were offered the opportunity to ride elephants, visit the Hoesdpruit Endangered Species Center (HESC) the following morning, and watch the elephants play and swim in the water hole the following day at 1 p.m. The following morning we were also invited to go for a second hour long elephant back ride immediately following sunset. We all agreed to the proposed activities.
The first afternoon we went on an hour long elephant ride from the camp to a water hole where we had afternoon snacks and sparkling South African wine and beverages. Each person was assigned one of the male elephants (although each elephant was capable of carrying two passengers and a groom since the camp was half full we each had a private ride). My elephant for that ride was Jabulani and his handler that day was Clifford. After a brief explanation by Paul, who was in charge of the elephants, we had an opportunity to feed Jabulani in his trunk and mouth. I also fed him directly in his mouth. We climbed aboard the elephants with the help of a metal contraption that allowed us to reach the top of the elephants and set off single file into the bush. The 70 kilogram saddle had stirrups and cloth straps to hold on to during the mostly gentle ride. Jabulani was rather playful and stopped to feed many times along the way. He was, I found out as we began the ride, the lead elephant so we headed the elephant line. Once we completed the elephant ride, we had cocktails, and went on a game drive during which we spotted many animals.
The following morning after breakfast we drove an hour, during which we enjoyed game viewing, to the Hoedspruit Endangered Species Centre (HESC). On our arrival we watched a video about the center and how and why it was established before departing on a tour of the center on our own Land Rover. Although Donie remained our driver and guide, two centre staff members, Claudia and Andre, were on hand to highlight aspects of the tour, answer questions and assist. After browsing in the gift shop and buying a cup of coffee at the snack shop we departed at 12:15.
A 45-minute drive saw us at the water hole just in time for the arrival of the elephant herd for their daily bathing. It was a treat to sit quietly in our vehicles or closer to the water hole in the sun and watch the majestic pachyderms play, spray, roll, fall and splash their way around. They didn't seem to mind our proximity and we were delighted to be so close that we could see them easily and hear their elephant sounds clearly.
That evening, after sunset cocktails, we set off on a second elephant ride. Gary rode Mupfuri I rode Sebakwe during the sunset walk. Riding at night was even more enchanting than riding in the afternoon. Although we each had a flashlight, it was more pleasant to ride under the light of the moon and listen to the soft padding of elephant feet and the sounds of the bush around us. Occasionally we could see antelopes and night creatures along the way. Because we were riding the elephants instead of walking the bush animals remained calm and closer than they would have otherwise.
Animals we saw during our game drives (not at the centre): male lion, hare, black backed jackal, giraffe, duiker, lesser bush baby, impala, wildebeest, nyala, elephant, warthog, guinea fowl, buffalo, terrapin, kudu, rhino, waterbuck, and hippo. Birds we saw: brown hooded king fisher, yellow beaked hawk, dark chanting goshawk, yellow and red billed hornbills, thick knee African darter, African ibis, blue heron, emerald spotted dove, African hoopoe, and glossy starling.
Other
Camp Jabulani welcomed children12 years of age and older. The visit to the Hoedspruit Endangered Species Centre took up the morning between driving time there and back and the 90-minute visit.
The property was recognized with Amarula Best 100 Retreats 2008 Winner of The Leading Eco Retreat in Africa; Amarula Best 100 Retreats 2008 Second Place: Best Retreat in Africa; Amarula Best 100 Retreats 2008 Second Place: The Ultimate in African Cuisine; and AA Travel Guides and American Express Accommodation Awards 2008 Gold Achiever.
Cleanliness
Excellent
Date Of Review November 2008
Reviewers Article by Elena del Valle
Photographs by Gary Cox
Service The staff members we met were efficient and polite. In addition to the camp managers and cleaning staff, we met a handful of the staff members including Obert, our pleasant server; Chef Rudolf Van Den Bert, who was always around to share the meal's menu and chat with us; Paul, the knowledgeable elephant handler, and his assistant.
Would You Stay There Again? Yes
Contact Information
Kapama Private Game
Reserve
On R40 between Hoedspruit
and Klaserie
Limpopo Province
South Africa
Phone:
Fax:
Website: