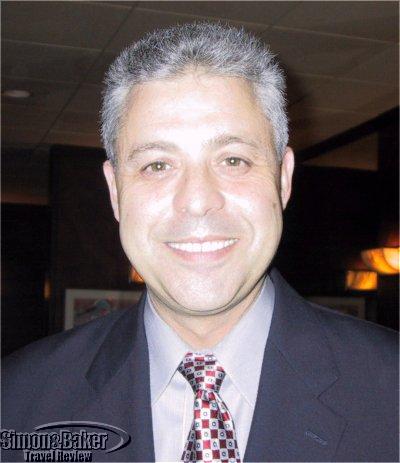 We wish them many more years of continued success and look forward to more of their fine cuisine in the future.
Overall Impression
Dinner at this long famous Houston restaurant was full of eclectic culinary surprises, satisfying and savory at once. In spite of a busy full house the Tuesday night we were there, the servers were attentive, circumspect and efficient. Many in the crowded restaurant appeared to be regulars. Our meal was a crescendo of flavors from mild crab to zesty red fish, concluding with a tasty and perfectly prepared lamb and later a lemon themed dessert.
The ideal place for a fun get together, Café Annie was full of joyful diners in a celebratory like atmosphere. With delicious, inventive fare, excellent service and a lively ambiance, it is no wonder Café Annie celebrates its 25 anniversary in 2005. We wish them many more years of continued success and look forward to more of their fine cuisine in the future.
About The Chef
Robert is a self-trained chef whose first cooking job was at Cafe Annie. He studied to be a biochemist and has a Ph.D. from the University of California at Riverside .
Assistant And Pastry Chefs Clinton Davis and Elliott Kelly
Executive Chef-Partner Robert Del Grande
Handicapped Access The main dining room was wheelchair accessible
Location In the Uptown District, five miles from downtown Houston
Opened 1980 and renovated in 1989
Owner Schiller Del Grande Restaurant Group (Robert and Mimi Del Grande)
Restaurant Managers Jose Calze, Jose Perez and Mimi Del Grande
Size Capacity for 120 guests
Type Of Cuisine Regional and southwestern cuisine
Wine Steward Jose Calze
Style Of DÉCor One of the owner's sisters, Candice Schiller decorated the interiors in a c ontemporary style. Notable features included large and beautiful fresh flower arrangements, original artwork including an ethnic mural on the back wall painted by Geri Moore , marble floors, art deco style lamps and a high ceiling. Local artist Eduardo Alcozer was responsible for several oil paintings.
Special Menus
Tasting menus needed to be requested at least a full day in advance so the restaurant could secure specialty items and consider allergies or other requests. The average cost was $150 per person including wine pairings.
Wine And Spirits Details Cafe Annie featured 1,000 wine varieties with a total of 13,000 bottles. Bottles were stored in a basement cellar as well as well as the signature Wine Room, which was located on the second floor and could accommodate up to 16 guests. An extensive variety of liquor was also available, including some artisanal tequilas.
Food Dinner began with scrumptious Gulf Crab Meat Tostaditas accompanied by brut Delamotte Champagne . Next we were served melt-in-your-mouth Rare Bluefin Tuna with Shaved Roasted Beets with wonderfully paired Drylan's 2003 Sauvignon Blanc " Marlborough ." It was followed by delicate and memorable Texas Farm Raised Red Fish over Tamale with a Mole Sauce and an Ambroise, Bertrand 2002 Bourgogne Blanc Chardonnay. Wood Grilled Lamb with Smoked Walnut & Chipotle and a Chile Relish Casa Castillo 2002 Monestrell "Jumilla." We finished the fabulous meal with Carmel Custard & Lemon Variation made with lemon sorbet, lemon meringue tart and pastry with mascarpone cheese filling and lemon flavoring and a smooth Bernardins 2002 Muscat de Beaumes de Venise
Conference-Meeting Rooms
Inaddition to the Wine Room, Café Annie featured two function spaces. Overlooking the bustling dining room below, the upstairs Ventana Room could accommodate up to 25 people. French doors fashioned a charming entry point to the space, which featured custom carpeting, mahogany beams, plus wainscoting topped by a matching cap rail. The largest of Cafe Annie's private venues, the dramatic Sapele Room could accommodate 50. Named for the stunning Sapele African mahogany paneling used throughout, the function area boasted carpeting in a baroque design, two walls of ornately framed mirrors and a marble and brass bar.
Other Recent Café Annie recognitions included: Guest Chefs James Beard Awards Reception, 2003, Best Bar Menu, CitySearch 2004, Outstanding Restaurant, Mobil Travel Guide, 2003, Top Restaurant in Houston, Zagat, 2000, 2001/2002 and 2003. The company that owned Café Annie when we visited also owed Bar Annie, Houston's first restaurant-within-a-restaurant at a fine dining establishment; Rio Ranch, a venue for rustic Texas cowboy cuisine; Taco Milagro, known for hand-made Mexican food; and the sporty Cafe Express, an early pioneer of fast casual dining (which we enjoyed on several occasions). The restaurant welcomed diners with special needs, such as vegan or vegetarian diets.
Date Of Most Recent Visit
October 2004
Service Service staff were efficient, service oriented and friendly. From refreshing our napkins after a moments absence from the table to clearing dishes immediately after we finished a course. A number of touches such as offering to substitute a hot dish for one without the sauce after it was served the wrong way (we were able to eat around the sauce and the exchange was unnecessary) to noticing our wine preferences ensured our comfort and enjoyment of the meal.
Would You Dine There Again? Yes
Contact Information
Address:
Cafe Annie
1728 Post Oak Boulevard
Houston , TX
Phone:
Website:
Email: