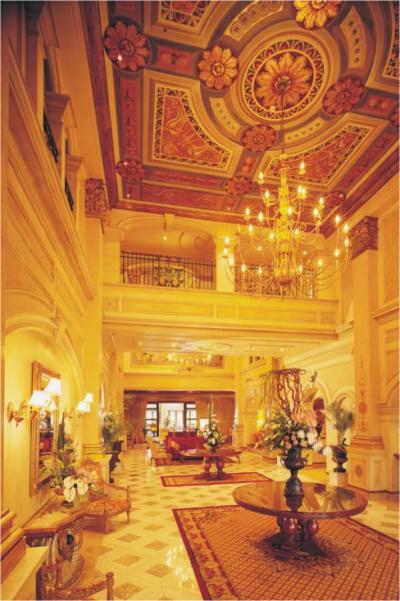 It offered numerous options including a smoke free hall and private rooms for high stakes players.
Overall Impression
Once again we were pleased with the Emperor at Caesars Gauteng, part of a large 1.3 billion rand hotel and entertainment complex. Its location near Johannesburg International Airport , Italian Empire décor, gate and hotel security, quiet and elegant style and welcoming staff were a winning combination for us. An added bonus was the access to a health club, spa, casino, and exhibition and business center in the adjacent Emperor complex.
We appreciated the service-centered attitude and luxury oriented facilities. The spa was well equipped and offered a broad menu of treatments. We enjoyed a visit to the large casino, which in spite of the weekend was pleasant to be in. It offered numerous options including a smoke free hall and private rooms for high stakes players.
Class Of Accommodation
5 star (awarded by the South African government)
Concierge Wanda Els
General Manager Non-Gaming Operations Jegie Padmanathan
Handicapped Access Two rooms designed for disabled guests; incised room numbers on all doors for the sight impaired.
Hotel Operations Manager Simone Lobetti
Length Of Stay One night
Location Outside Johannesburg , near the Johannesburg International Airport
Managed Global Resorts SA and Park Place Entertainment Corporation
Owned A joint venture between South African casino resort developer and operator Global Resorts SA (Pty) Ltd, the South African black economic empowerment consortium Marang ( East Rand ) Gaming Investments and Las Vegas based Caesars Entertainment Inc, the largest casino resort operator in the world and owner and operator of the Caesars Palace in Las Vegas .
Size 196 rooms and suites
Year Opened-Renovated Opened October 2000
Lobby And Common Areas : Project interior designers Lionel Levin & Partners developed a Roman style grand ambiance based on the design scheme conceptualized by Global Resorts Ernie Joubert and formulated by Paul Steelman of Las Vegas . Public areas including the lobby, spa, and restaurant featured classic Italian style frescoes, marble statues and other decorative touches reminiscent of the golden era enriched with deep sienna, cream and other "Roman" colors. All sculptures, capitals, cornices, carpets, furniture, light fittings and artwork were especially designed and manufactured for Caesars Gauteng.
Bathroom
: Our marble bathroom was spacious, comfortable and pretty. It included a Jacuzzi bathtub, a double sink vanity, toilet and shower.
Room Our Executive Room was spacious (approximately 800 square feet between the bedroom and adjacent living area) and comfortable. It included a bedroom and large bathroom as well as a separate sitting area. The bedroom included a small desk next to the modern television; a king size bed with a night table on each side; two small closets; and a safe in one of the closets.
The sitting area featured a small sofa, coffee table and chair, a well-supplied wet bar, an entertainment center and half bathroom.
Food And Restaurants We enjoyed plentiful and well-served meals at Aurelia's, the on site gourmet restaurant. For those in a lazy mood there was also room service. The adjacent convention complex offered other dining options including Asian, African, Italian, snacks and fast foods.
Amenities
Emperor brand toiletries including foam bath, shampoo, body lotion, two bath robes and slippers, and a sewing kit.
Facilities Aurelia's, a fine dining restaurant and cocktail lounge, spa, exercise room (admission fee required), swimming pool with an adjacent bar, Garden Chapel, and two tennis courts in the hotel.
The adjacent complex housed: A convention complex; business center; second hotel (Senator); several restaurants, food court, and casino. There was also a shopping area with a sky ceiling similar to the one at the Caesars complex in Las Vegas .
Pool There was an outdoor pool though it was a bit chilly to enjoy it during our winter visit.
Spa Off ered saunas, steam baths, Vichy and Swiss showers, massages and relaxation therapies and a well equipped gymnasium/aerobics room. We were a bit disappointed with the sport massage, which left us sore for several days. The steam room and shower facilities were spotless and the staff helpful and accommodating.
Casino We particularly liked the segregated smoking areas of the 24-hour 'Vegas style casino. Designated smoking areas were separate from the main open casino hall and included a glass-enclosed section in the center of the casino. Features included: 1,500 slot machines, 50 gaming tables with poker, Black Jack, Midi Punto Banco, and American Roulette. There were also traditional reel slots, multi-line video slots and simulated horse racing games.
Conference Facilities
Meeting rooms ranging in capacity from 30 to 3,000 were available in the Caesars Gauteng complex where the hotel was housed.
Other A regular airport shuttle made the Hotel a five-minute convenient ride from the Johannesburg International Airport . For those concerned about safety in crime-ridden Johannesburg , there were well-armed security guards at the entrance gates for the complex. In addition, there were guards round the clock in the hotel lobby. We felt safe inside the complex.
Our only disappointment was that we were only able to access the Internet via the business center in the complex, where we paid for by-the-minute computer services. The Emperor only offered Internet access to guests who had a local provider account.
Check-In-Check-Out Process Ease
Excellent
Cleanliness Excellent
Date Of Last Visit April 2004
Would You Stay Again? Yes
Contact Information
Address:
64 Jones Road
Kempton Park
South Africa
P O Box 956
Kempton Park 1620
Phone:
Fax:
Website:
Email: