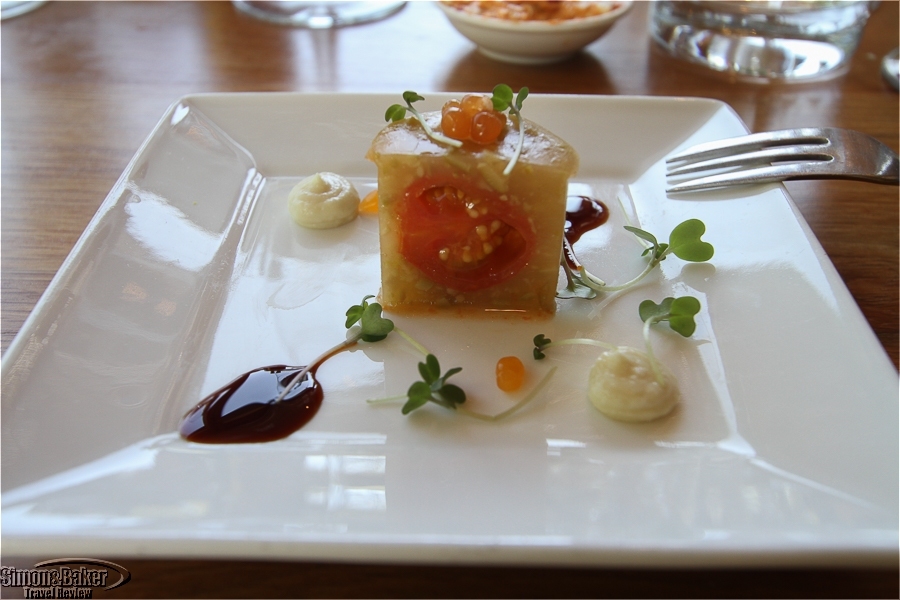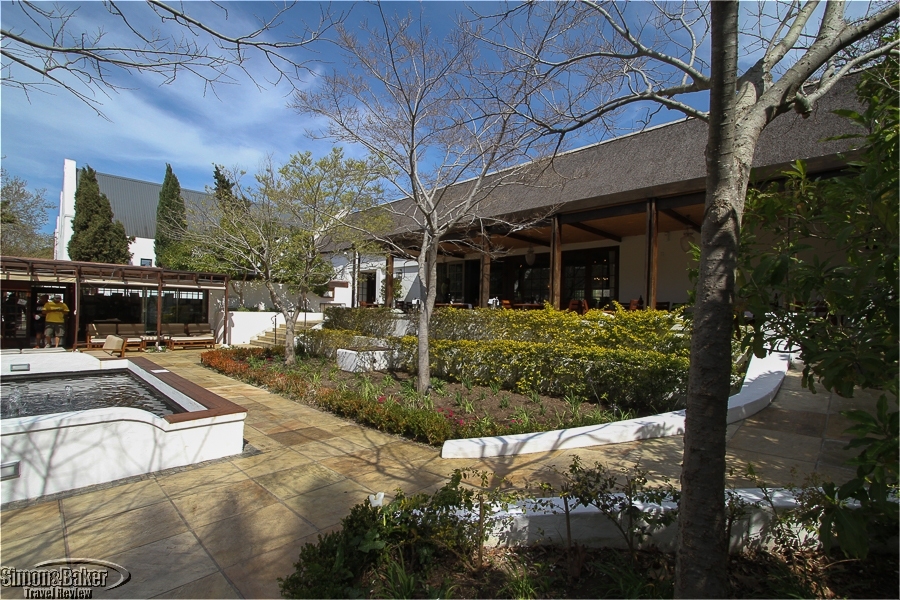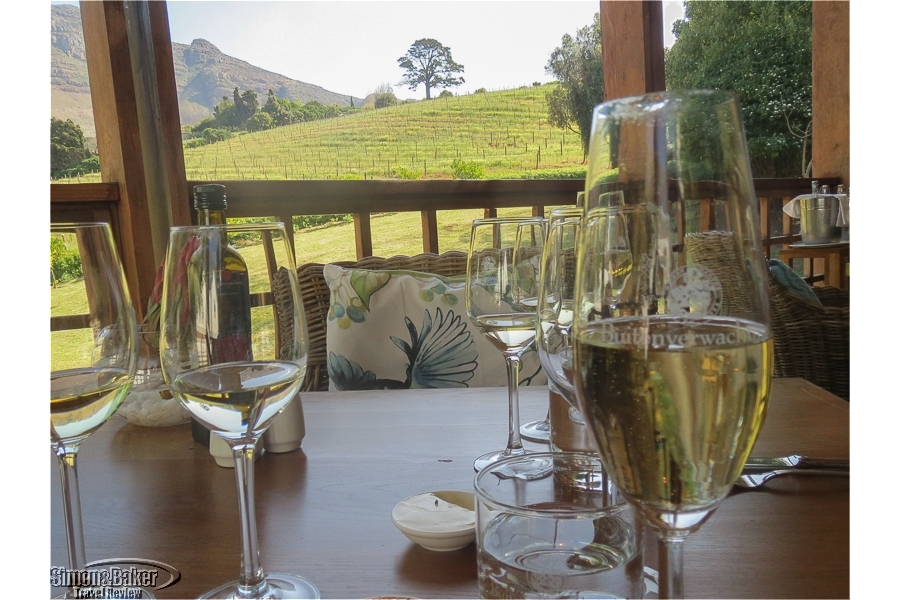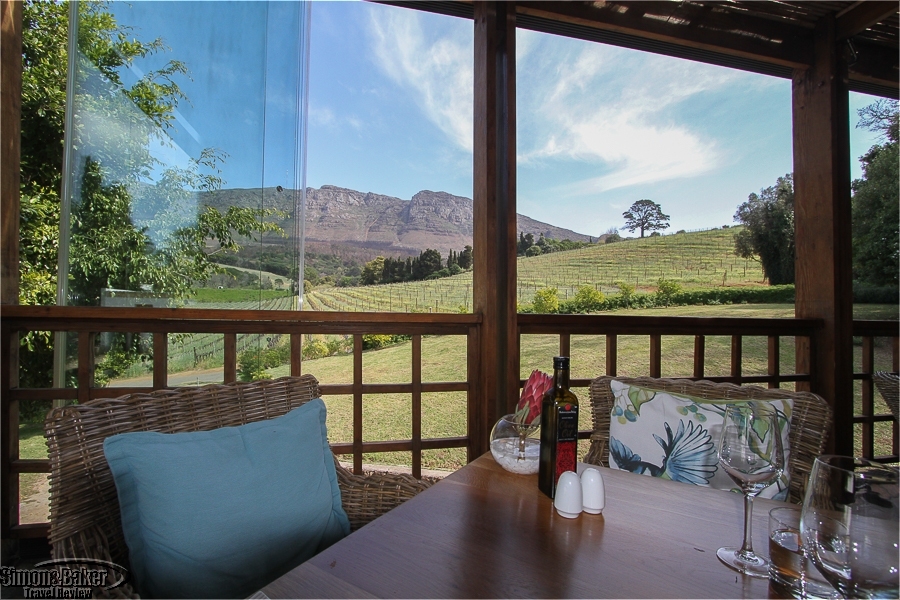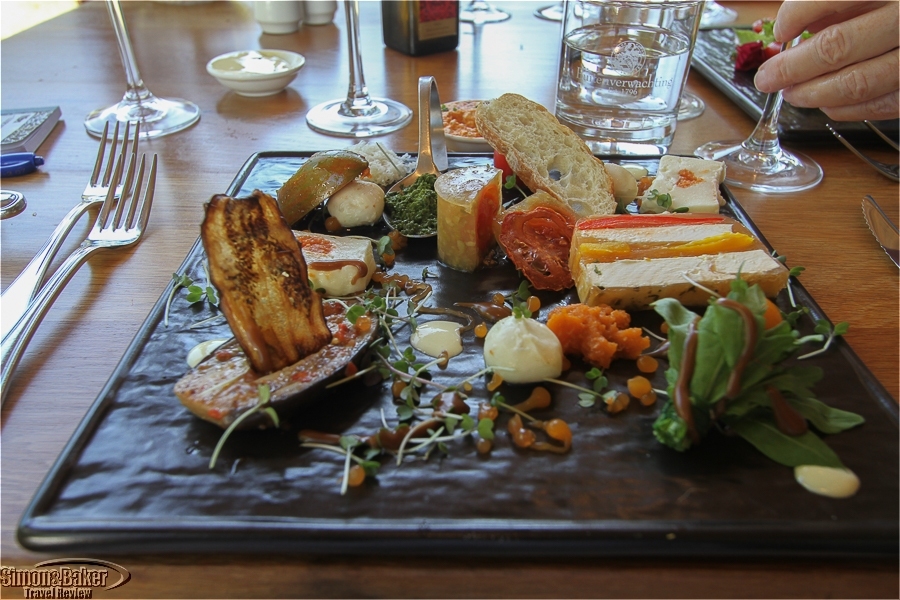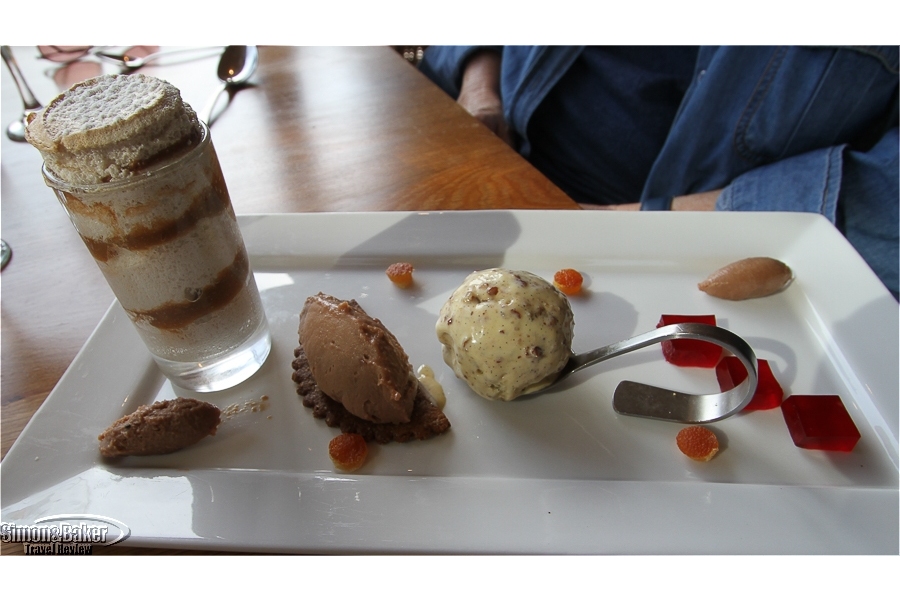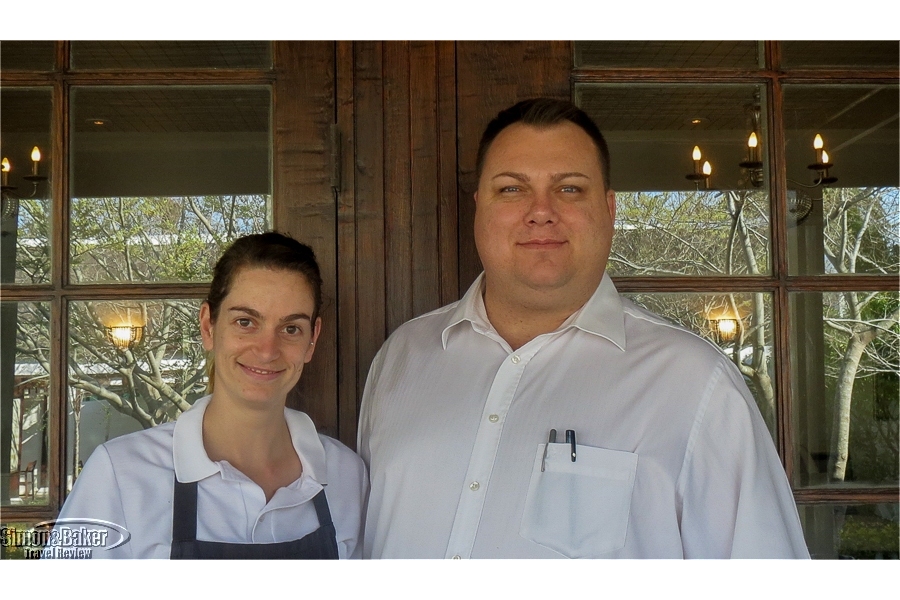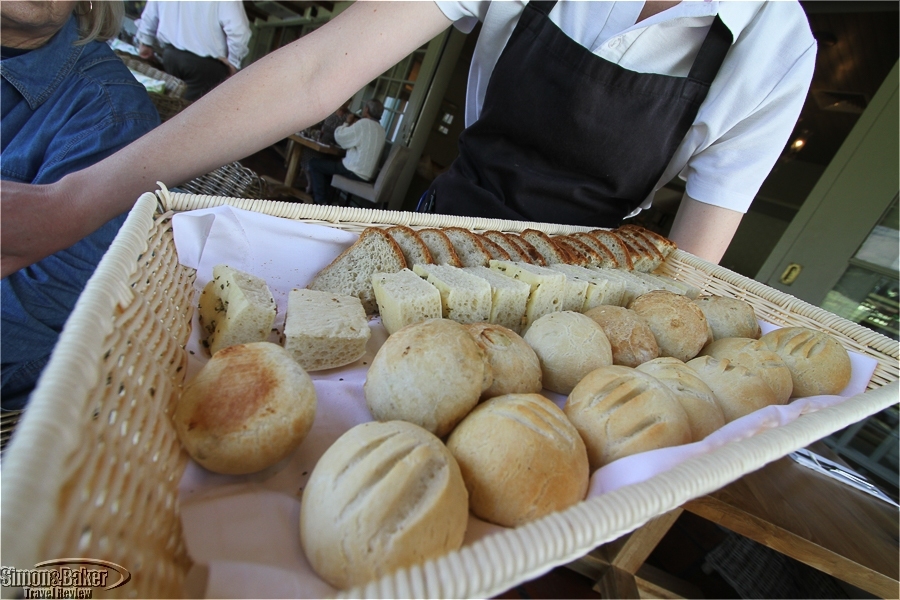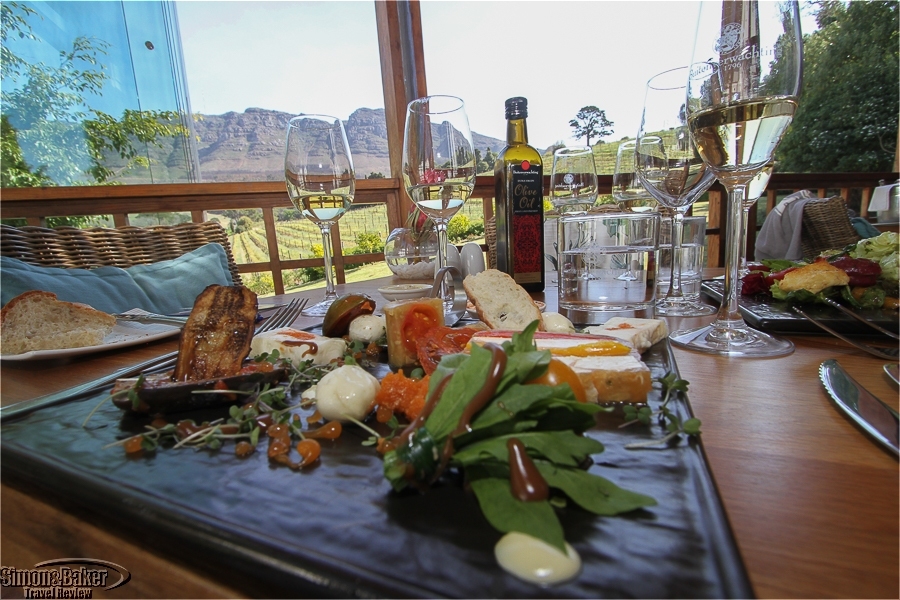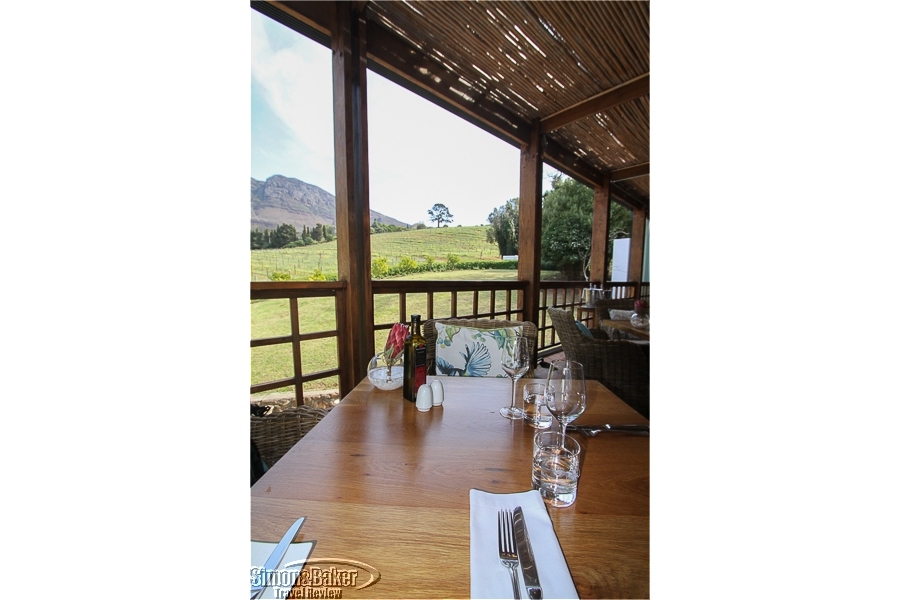 The marvelous setting, well cooked meal, and lovingly presented dishes paired with wines made onsite were a treat, leading to one of the best lunches I had that trip.
Overall Impression
Sitting in a corner table in the newly redone glass enclosed veranda I marveled at the beautiful view of the Buitenverwachting Estate's vineyards in the foreground and the Constantiaberg Mountains in the background. It was true to the property name, which I'm told translates to "beyond expectations." Even if the meal had been disappointing, which it was not, I would have enjoyed my time there.
After lunch, I had a chance to chat with the restaurant manager and chef. They explained that the restaurant's new menu offered Indulgent (gourmet style) and Rustic (comfort food style) options. That day after sampling several dishes from the Indulgent Menu I made a mental note to try the Rustic menu at the first opportunity.
The stiff dress code was out and a more relaxed ambiance was in, they said. In addition to the expert and careful preparation what I liked the most was the chef's emphasis on fresh and mostly (about 90 percent) organic products free of antibiotics and hormones, as well as grass fed animals. The marvelous setting, well cooked meal, and lovingly presented dishes paired with wines made onsite were a treat, leading to one of the best lunches I had that trip.
About the Executive Chef
The Austrian chef and partner (since 2004) had been at Constantia's Buitenverwachting Restaurant for a decade. He received a Professional Cooking Certificate from The Austrian Chamber of Industrial Economy. He completed a three-year Apprenticeship at Astoria Hotels in Austria before working at several restaurants in Austria from 1986 until 1995. In 2006, he participated in internships at Dieter Mueller and Le Verdome in Germany.
Executive Chef Edgar Osojnik
Handicapped Access The Restaurant was accessible by wheelchair. The restrooms had no wheelchair toilets.
Location The restaurant was some 20 kilometers from the heart of Cape Town
Opened-Renovated The restaurant opened in 1981. The most recent renovation took place July 2015 during the annual winter break. At that time the floors and Glass Veranda were renovated.
Owned-Managed Lars Maack
Pastry Chef Lewisa Baardman, a resident of Buitenverwachting Farm, had worked at Buitenverwachting Restaurant for 20 years, and trained under Chef Osojnik. Cakes were her specialty.
Restaurant Manager Etienne Bornman
Size The 350 square meter restaurant could accommodate 100 guests indoors. In the summer, an additional 50 could be made welcome on the Terrace. There were 30 staff depending on the season.
Type of Restaurant The restaurant offered casual and fine dining and served "Modern Retro Cuisine with a South African Touch."
Decor-Ambiance The restaurant's design with shades of cream was meant to emphasis light and air. There was original artwork from Irma Stern and Katherine Wood. The Restaurant Terrace had been redesigned to include opening glass walls.
Cellars Wine And Alcoholic Beverage Selection Before lunch we spent a few minutes with Thinus Botha, sales manager of the wine side of the business, who offered us a tasting of the 2015 Sauvignon Blanc and a 2012 3rd Time Lucky made from 100 percent vignonier grapes. The restaurant's focus was on wines from the Constantia Valley and especially Buitenverwachting's own wines. There were also spirits, craft, domestic and international beers, liqueurs, and cocktails.
Meal
We began with a glass of chilled Buitenverwachting sparkling wine. To accompany it the chef sent us an amouse bouche of tomato in garlic gelee with tomato pearls, balsamic reduction, garlic cream and micro greens. There were four types of bread on offer: garlic focaccia, sunflower seeds, and French and olive rolls. We could enjoy those with olive oil, butter or a homemade spread of crème fraiche, cottage cheese, paprika, capers, chives, gherkins, anchovies, parsley and red onion. I liked the butter best while my lunch mate preferred the olive oil. The still water we drank was from a spring on the farm.
I had a chef's choice three course menu that began with Vegetarian Antipasti of layered creamy feta-roasted peppers, mozzarella, tomato panna cotta, confit aubergine (eggplant), garlic cream, rocket, pesto granita, bocconcini, aged balsamico, roasted baby tomato in olive jelly and pine kernel-parmesan short bread. The main dish was Grilled Loin of Springbok (it was medium rare and cooked perfectly to heighten its flavor), Prune rolled Fillet, Port Wine Sauce with almond crème fraiche potato, baby beet roots, celeriac and vanilla confit baby carrot. We had it with a glass of Christine, a 2010 Bordeaux blend (a favorite), made on the estate.
For dessert the chef selected Citrus Tartelette with Chocolate served with lime mousse, oranges, Grand Marnier truffle and candied orange. It was a dessert for lovers of tart flavors and more of a palate cleanser than a sweet dessert. The staff served me a 1769 muscat de frontigan with dessert. My dining partner invited me to taste her rhubarb dessert, which was my favorite of the two. Later we had petit fours of custard fruit tarts, chocolate filled with caramel (my favorite), peanut butter (creamy and mild), and raspberry crème brulee macarons.
Other
The restaurant had received the American Express Platinum Fine Dining Award 2015 and prior to that for 18 consecutive years. It received the Trip Advisor Inducted into Hall of Fame Five-time Certificate of Excellence.
I especially liked the chef's emphasis on fresh and organic products where possible. He sourced free range meats and organic fruit and vegetables whenever available, and followed the SASSI (South African Sustainable Seafood Initiative) list, although he explained that occasionally that was not possible.
Date of Review
September 2015
Number of Visits One
Reviewers
Photos and Article by Elena del Valle
Service Staff were especially attentive at the beginning of the meal. As the dining room filled up service was slower although we were never neglected for long.
Would You Dine Eat There Again-Recommend It? Yes
Contact Information
Address:

Buitenverwachting Restaurant
Buitenverwachting Estate
Klein Constantia Road
Constantia, Cape Town
South Africa

Phone:

+27 (0) 21 794 3522
Facsimile +27 (0) 21 794 1351

Website:
Email: