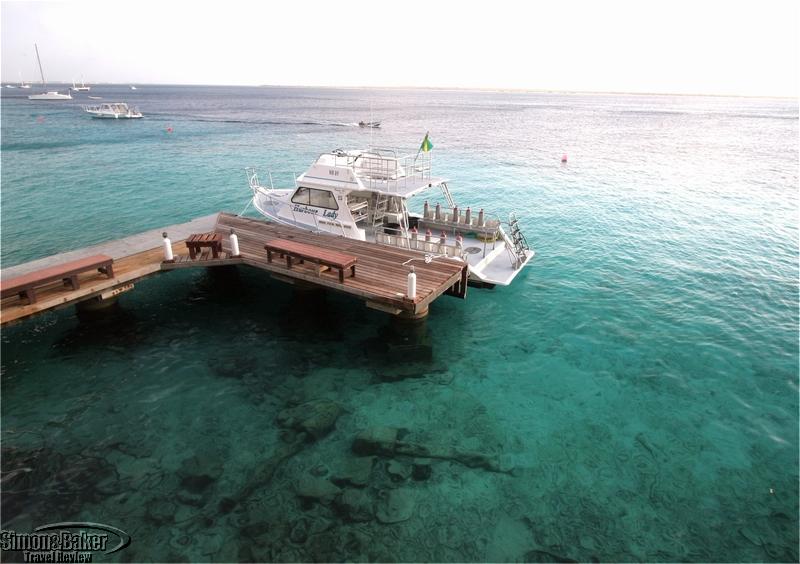 We appreciated the variety of course options available and look forward to sampling some of the specialty courses in the future.
Overall Impression
As part of its conservation efforts, Bonaire requires all divers, even those who have visited the island in the past, to have an orientation dive with a local; and purchase a license to enter the marine park (all the sea around the island is part of the marine park). To dive in Bonaire, we had to have the required orientation. At the same time, I hadn't gone diving since obtaining my certification and was feeling a bit anxious about diving again. Enter Buddy Dive.
The dive center, part of a waterfront hotel, provided diving opportunities for more than 8,000 divers a year and filled 1,000 tanks a day. Twenty two staff members, including 19 certified divers, looked after guests, offered orientation, refresher, and resort dives and dive courses. The facilities were a stone's throw away from our rental villa so it was easy to pop in for our orientation dive. Although there were lots of divers coming and going, staff were friendly and had a professional attitude. We instantly felt welcome.
The large dive center occupied a large chunk of waterfront space. Their facilities were spacious: there was a rental gear area, a walk in large storage room for guest use, a dock, six boats, an air conditioned dive shop with a classroom and plenty of open space with water access.
Our Bonaire orientation was short and sweet. Our instructor pointed out the marine park dos and don'ts and answered questions. Being in the water with a dive instructor helped me regain my sea legs and I felt bold enough to pursue additional diving courses. Following staff's recommendations, I took a Peak Performance Buoyancy course and an Enriched Air (Nitrox) course. Instructors Bart Linders (Nitrox certification) and Rob Verschoor (Peak Performance Buoyancy) were knowledgeable and patient. With their help I completed both courses successfully and gained confidence in my diving skills.
We liked Buddy Dive. The dive center was well run by friendly and efficient staff. We appreciated the variety of course options available and look forward to sampling some of the specialty courses in the future.
Description
The Buddy Dive Resort had three restaurants, three swimming pools, activity center, car rental fleet with pick up trucks for easy shore diving, a dive center and six boats.
Because I was the only student in the Peak Performance Buoyancy course that day, it was a private session. My Instructor, Rob Verschoor, and I spent most of the course time in the water next to the dive center. He patiently showed me how to sink following the giant stride or shore entrance. He also worked with me to reduce my weight and maintain buoyancy while I swam over the reef, ensuring I was buoyant and didn't sink or graze any of the precious coral beneath us.
The Nitrox class was more theory oriented than the buoyancy session. After playing a short Buddy Dive video for us, our instructor, Bart Linders, reviewed the materials with the class. There were four French divers and me. After completing the exams, we reviewed the results and Bart answered questions. It was especially interesting to see the differences between the metric and U.S. measurement standards and how they affected the dive table results. Once we finished the exams, we were required to go on two enriched air dives on our own to complete the course. Bart took my photo before the class started and input the student information into the system while we watched the introductory video. My Nitrox card from PADI arrived a few days after my return from Bonaire.
Established Buddy Dive was established in 1980. In 2006, the dive shop was upgraded and relocated to its current location. A PADI class room was added.
Handicapped Access Although the dock was not accessible to wheelchairs, the staff were willing to accommodate guests with special needs.
Location Buddy Dive was about two miles from Kralendijk, the island's main town.
Manager Augusto Montbrun
Owned Ingrid and Martien van der Valk
Size The dive center took up 600 square meters of waterfront space including a 180 meter air conditioned dive shop with a classroom. There were 22 staff members including 19 certified divers.
Souvenir Shop There was a 180 square meter air conditioned dive shop and class room in the rear of the dive center. There we found a selection of Buddy Dive t-shirts, dive gear and books.
Courses
Bonaire orientation, Peak Performance Buoyancy and Nitrox certification
Other There was a drive thru service where guests interested in shore diving could pick up and drop off tanks. Custom built boats included two Newtons, 36 foot and 30 foot, a 30 foot Island Hopper, a 42 foot Delta, a 36 foot Venezuelan made boat, and a 30 foot parasail boat.
The hotel restaurant was steps away from the dive center, making it convenient when we had morning and afternoon activities. The meal service at lunch was speedy allowing us plenty of time to be ready for afternoon diving without having to drive offsite in search of a meal.
Buddy Dive was selected Best Bonaire Dive Operation Readers Choice 2005 – 2006 by Scuba Diving Magazine .
Date Of Visit
May 2007
Reviewers Article by Elena del Valle
Photos by Gary Cox
Would You Visit This Attraction Again? Yes
Contact Information
Address:
Kaya Gob. N. Debrot 85
Bonaire
Netherland Antilles
Phone:
Fax:
Website:
Email: