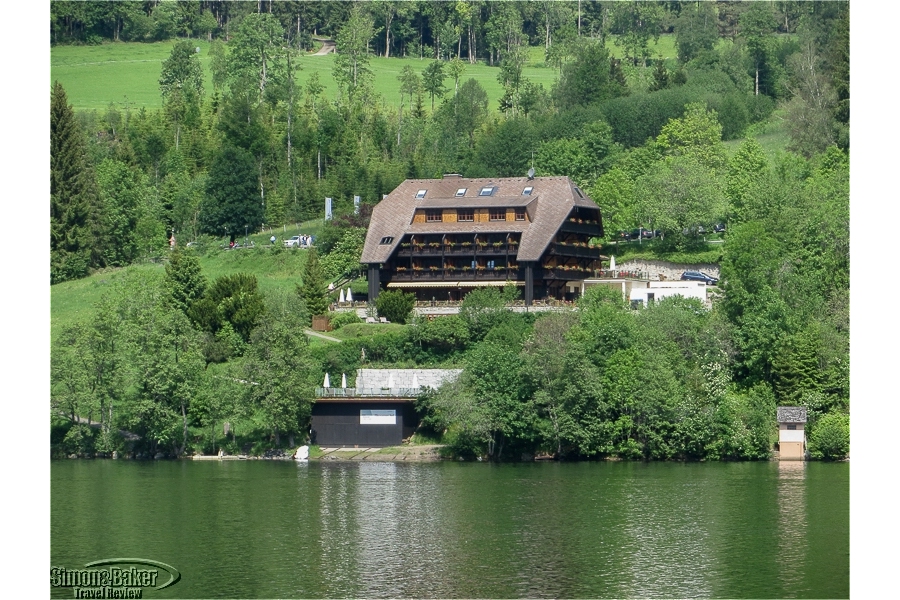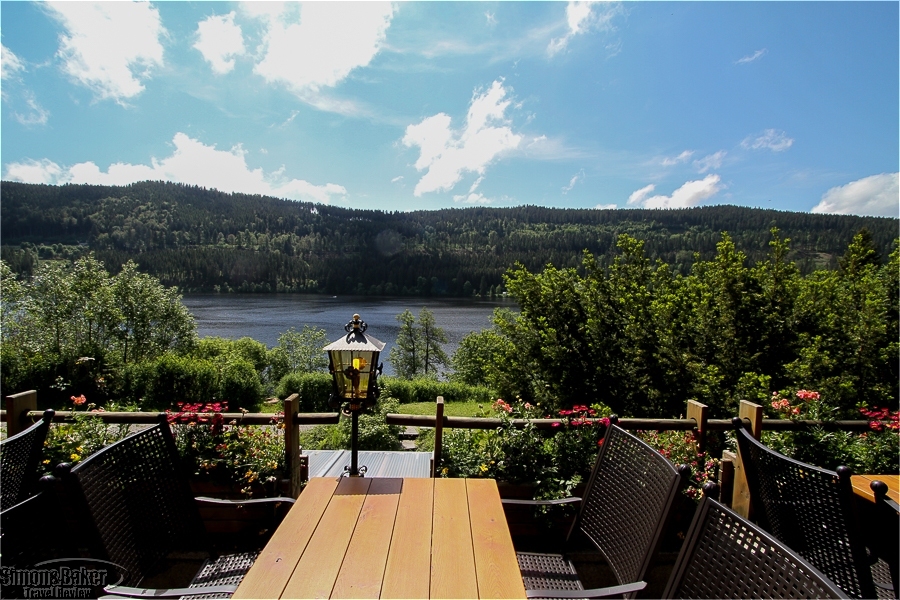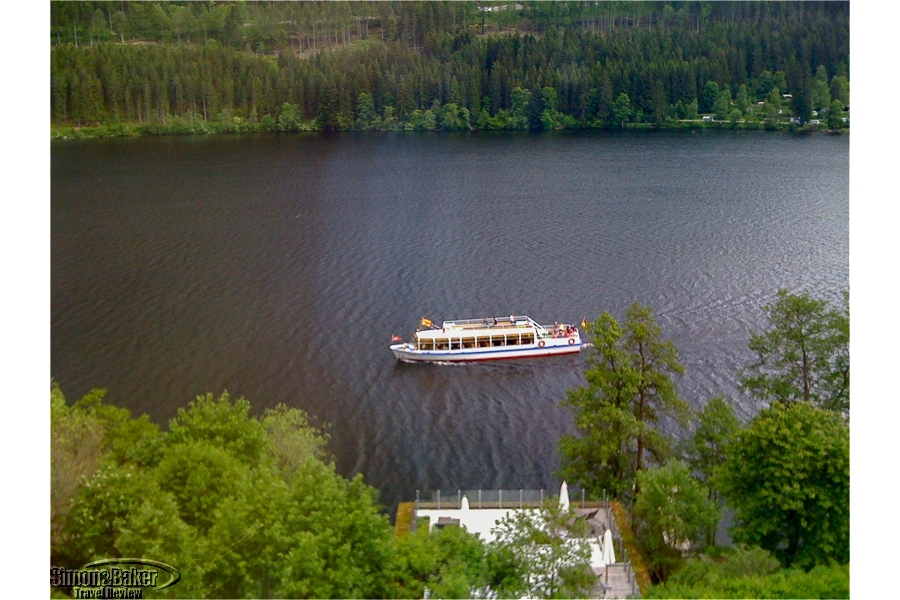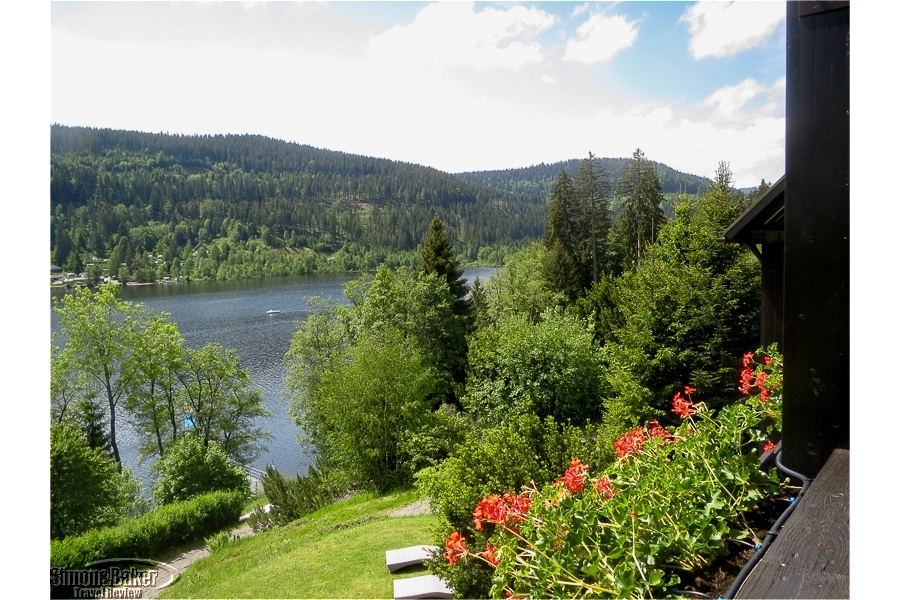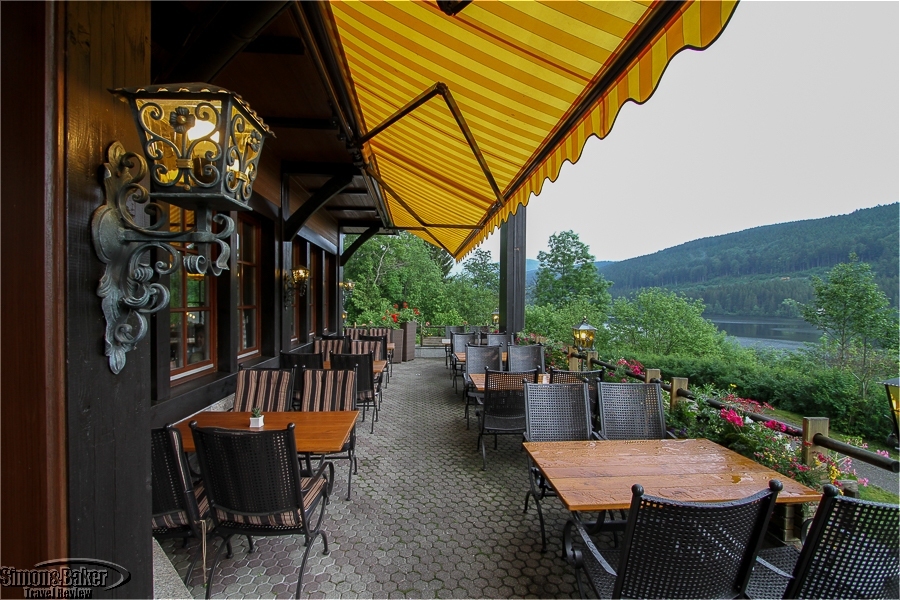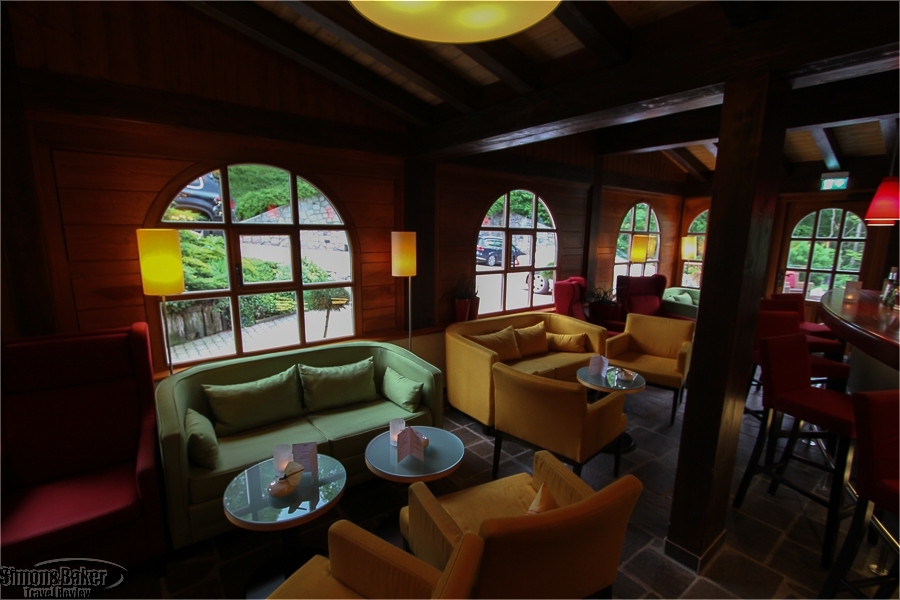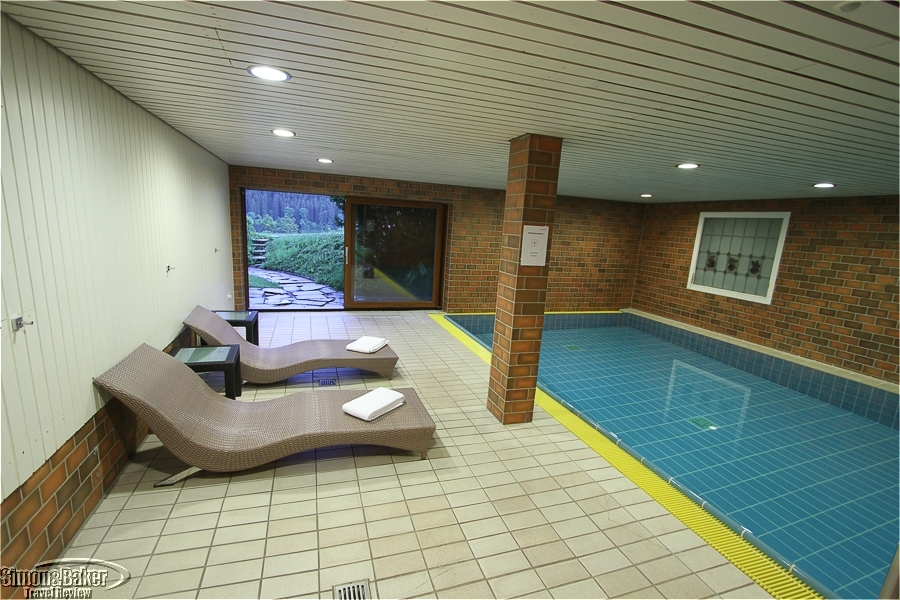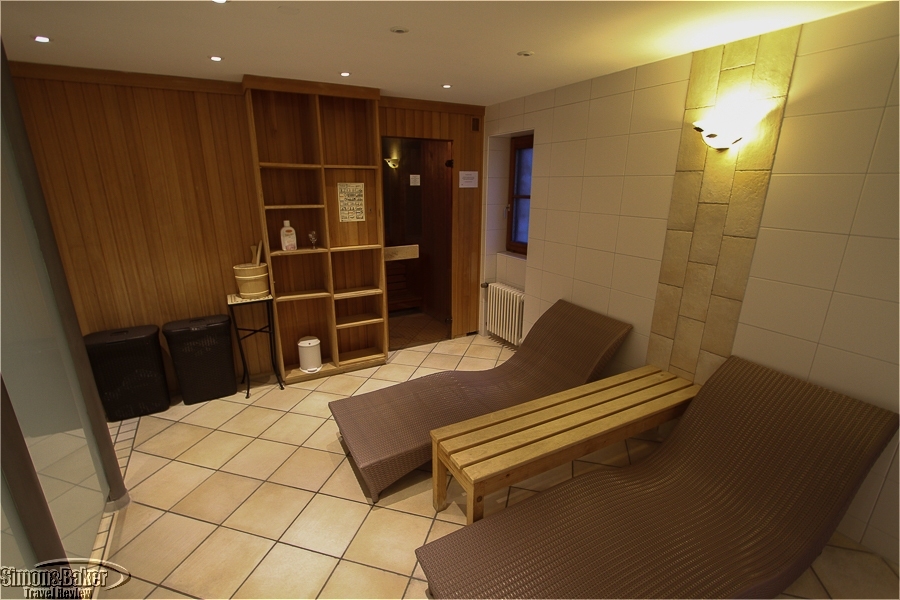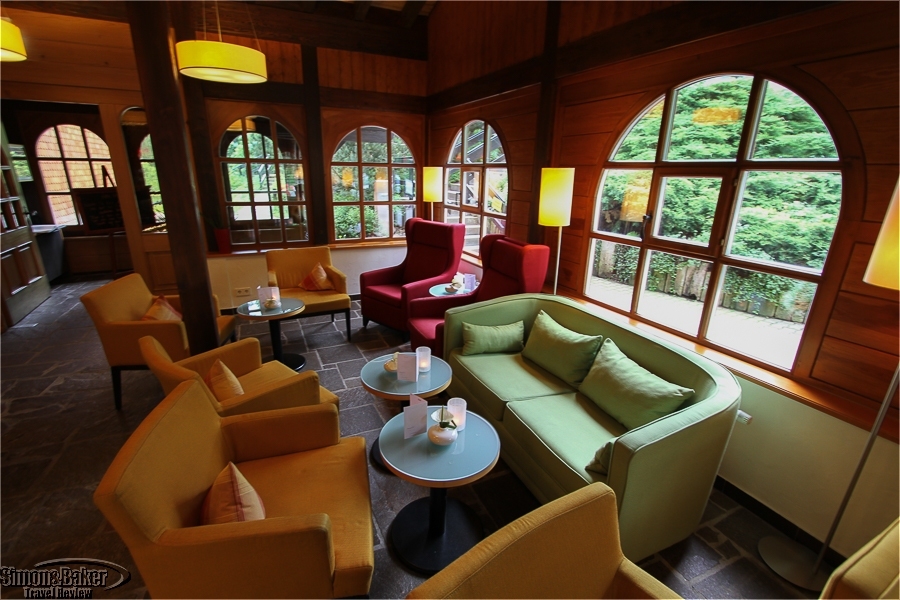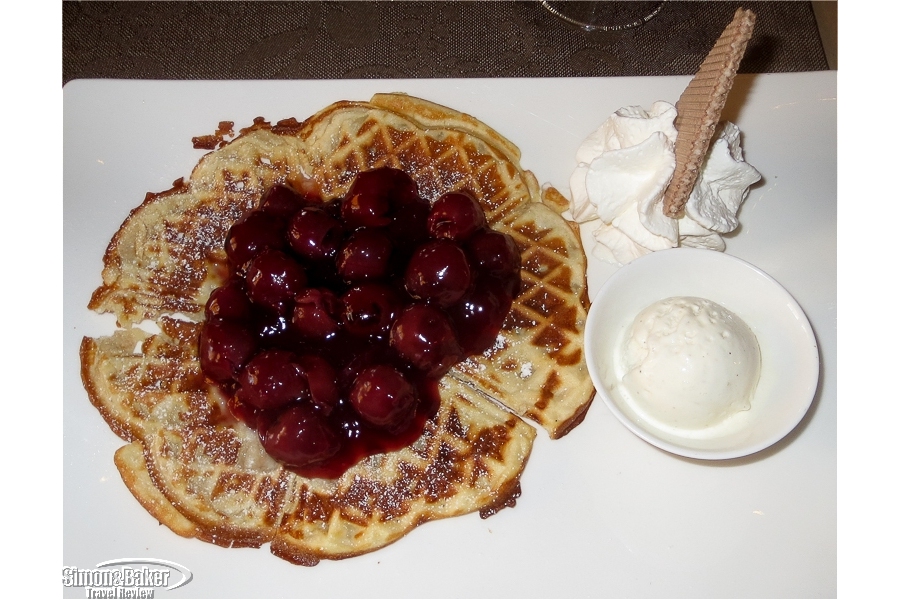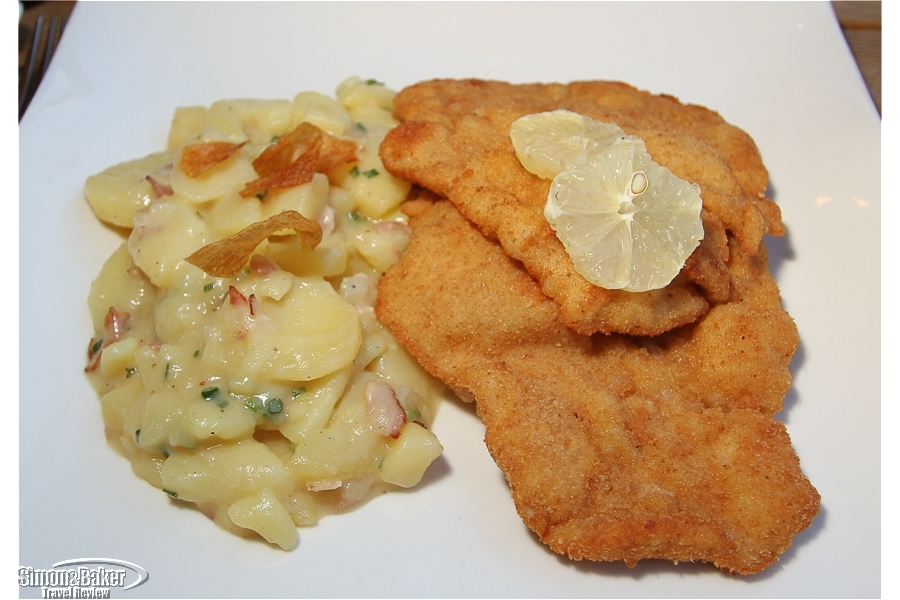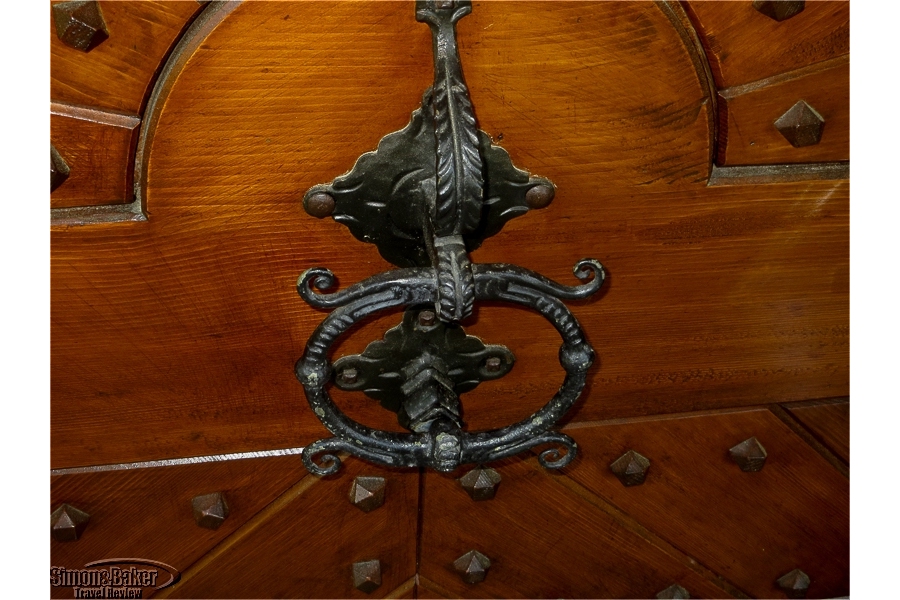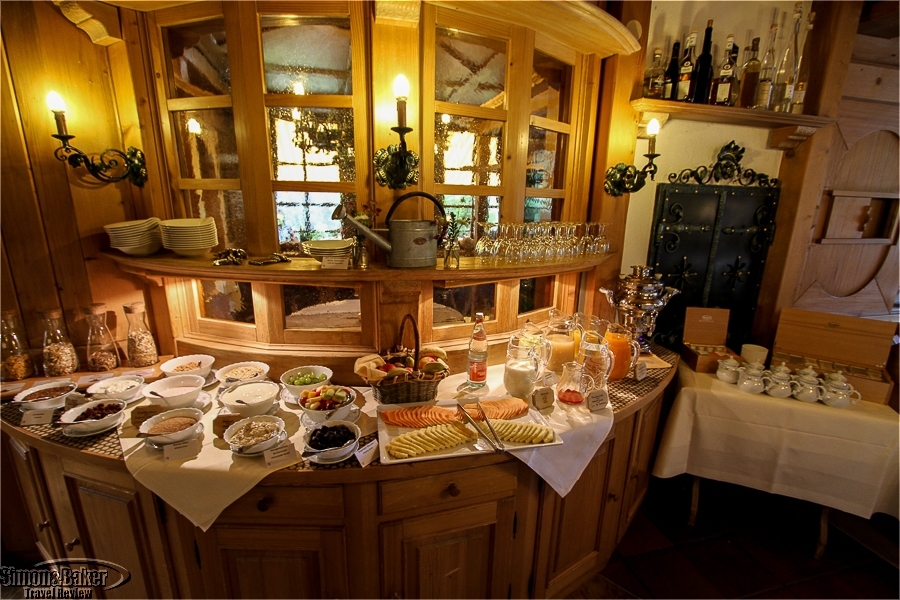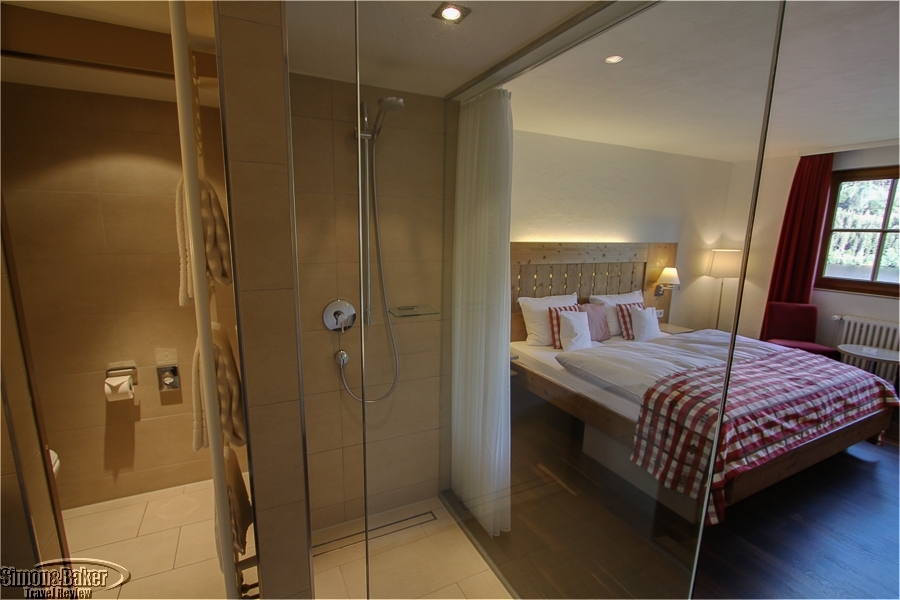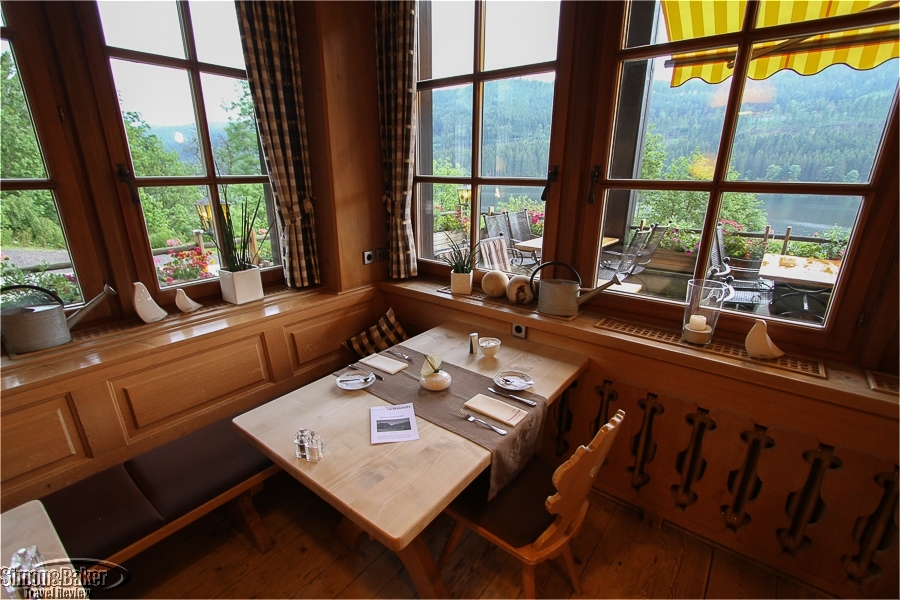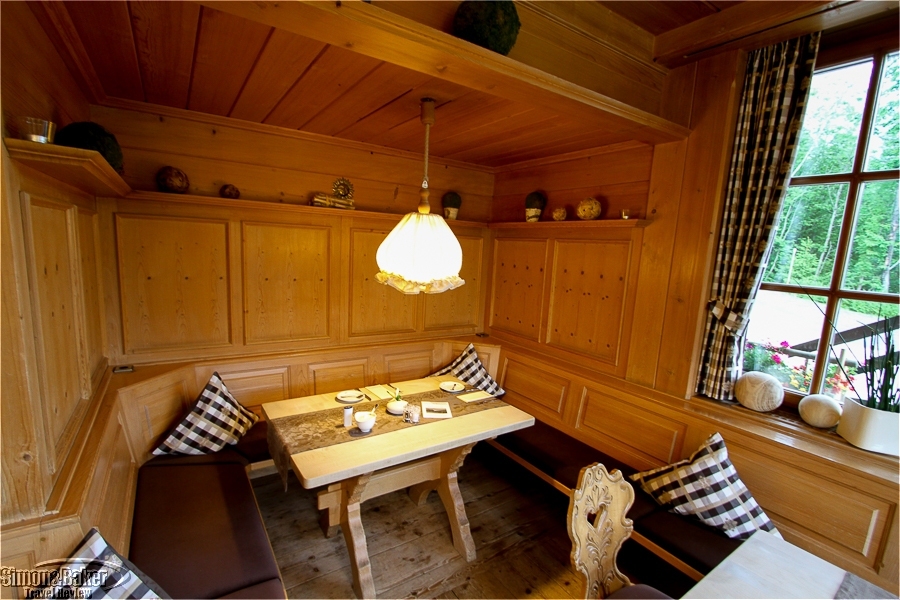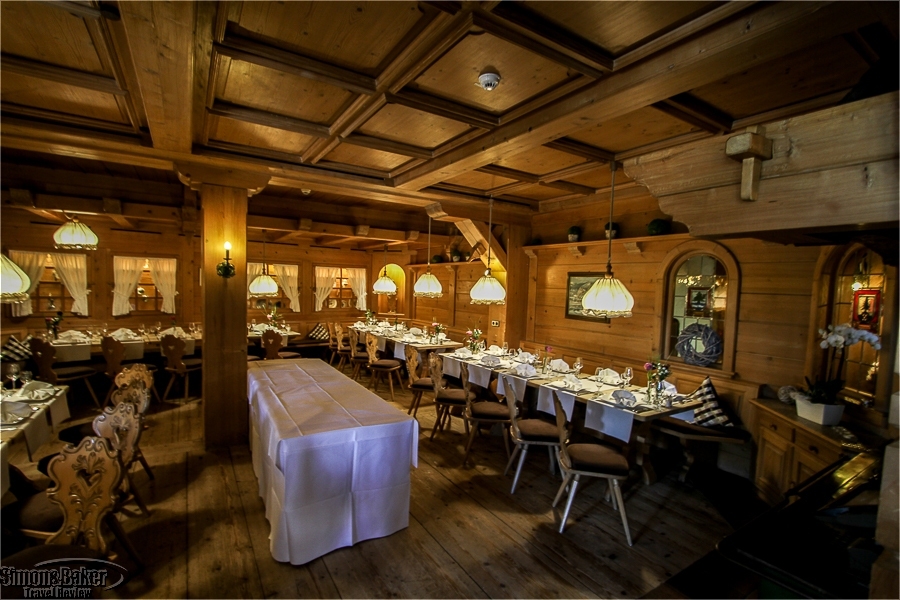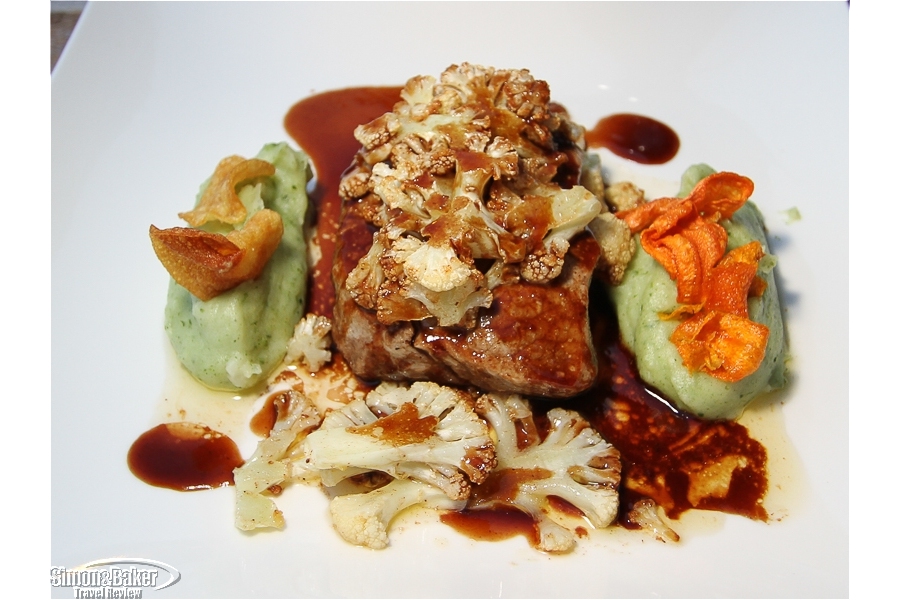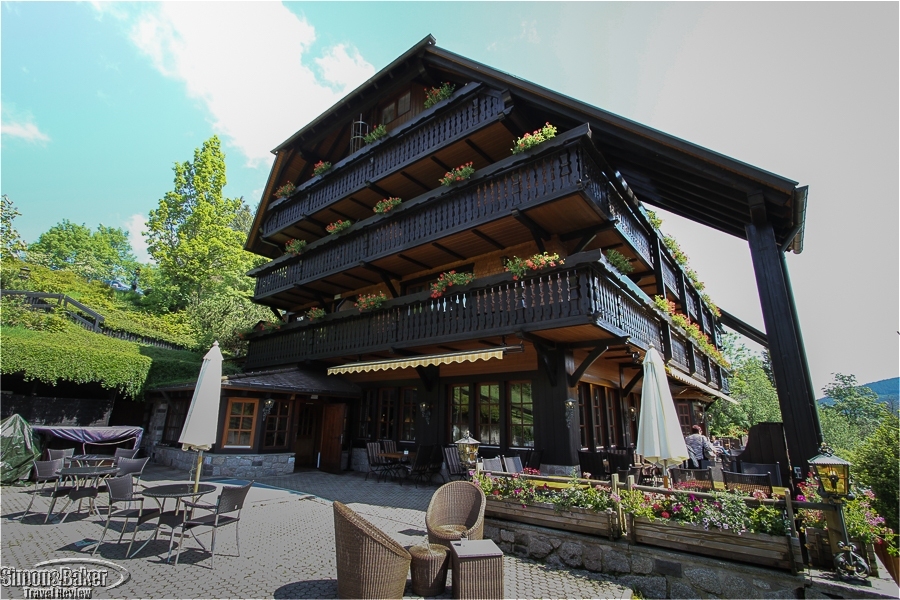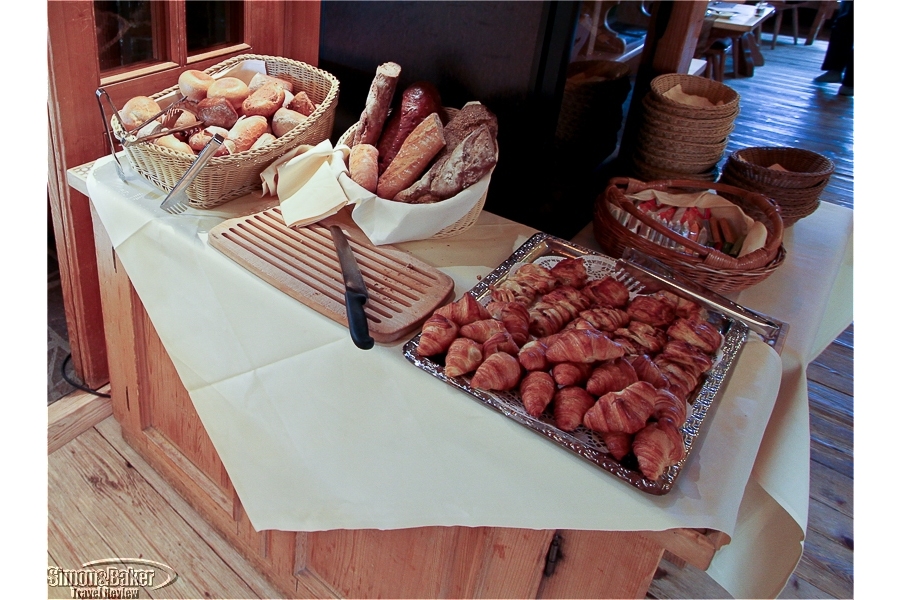 Should we return to Lake Titisee the Alemannenhof will be first on our list of luxury accommodations.
Overall Impression
In a week of travel in the Black Forest Highlands of Germany the Boutique-Hotel Alemannenhof stood out for its outstanding Lake Titisee views, cozy ambiance, warm and efficient service, modern, comfortable and spotless facilities, and good restaurant. The Black Forest oriented breakfast buffet was satisfying and diverse. Lunch and dinner with a lake view, weather permitting, were a blend of modern and traditional recipes, fresh local products and imports, and well prepared dishes.
Named Alemannen for a tribe in Southwest Germany who had in ancient times fought the Romans, the hotel was the labor of love of the local Drubba Family. We admired the patriarch's emphasis on historic authenticity. He had dedicated much effort to replicating historic details within the boutique property's roof, front entrance wood door and wood interiors.
We liked our pretty and functional 18 square meter rooms (what they lacked in size they more than made up for in lake views) and common areas, the hotel's efforts to blend into the lake scenery and reflect the area history, and the restaurant as well as its responsible tourism practices. While the weather was less than cooperative, hampering our ability to explore and spend time on the hotel terraces, we had a most pleasant stay. Should we return to Lake Titisee the Alemannenhof will be first on our list of luxury accommodations
Children
Yes
Class of Accommodation Four Star boutique hotel
Connectivity There was complimentary high speed WLAN WiFi although the connection was too slow for Skype calls. Also, Firefox rejected the connection without the use of a VPN (virtual private network) even to common sites such as weather and search engines.
General Manager Thomas Drubba
Handicapped Access Yes, there was one room capable of accommodating handicapped guests.
Length of Stay Two nights
Location In the outskirts of the village of Hinzerzarten on the shore of Lake Titisee in the Black Forest Highlands of Southwest Germany.
Owned and managed Drubba Family
Pets Allowed Yes, dogs were welcome (a 15 euro fee per dog applied).
Size The three story hotel with 21 rooms was built within a 1.5 hectare property and employed 38 staff.
Year Opened-Renovated The property opened March 1983. The most recent renovation was of the main building from 2010 to 2012. The hotel was renovated in three construction phases. All guest rooms were upgraded, the lobby expanded, the reception area redesigned and a bar and outdoor terrace were built.
Lobby and Common Areas The hotel was decorated with an eye toward Black Forest traditions as well as "contemporary aesthetics and urban chic."
Bathroom
The bathroom had ecru color tile on the floor and walls. It was divided into two. At the back, there was a separate commode with a sliding privacy door. The other half had, on the left, a sink atop a faux wood base with a built-in rectangular frameless mirror and see-through glass on either side that allowed me to see across the room to the lake. Below the sink, there was a shelf with a blow dryer and tissue paper. A well lit walk-in shower with glass doors was on the right.
Room We stayed in Rooms 323 and 324, nearly identical 18 square meter nonsmoking Superior-Double rooms. Both had beautiful view south across Lake Titisee. Features included dark wood floors, recessed lights, double curtains for privacy and shade from the sunlight, and quiet and well insulated interiors thanks to large double pane windows.
In the center of each room there were two single beds set against a single oversize wood headboard with built-in night tables and adjustable lamps on each side as well as convenient light controls. Across the room there was a built-in cabinet with a mini bar refrigerator, two drawers, and a desk with a lamp. A Grundig flatscreen television hung on the wall above the drawer space. To one side of the built-in cabinet, occupying the center in front of the windows, there were two red cloth armchairs (that matched the red curtains) with a small round table between them. To sit at the desk I moved one of the armchairs toward the opening. In lieu of a door the closet space had a white cloth cover that slid sideways to conceal or reveal the closet and provide privacy in the bathroom as well.
Food and Restaurants
The hotel restaurant, open from 7:30 a.m. to 9:30 p.m., offered indoor and outdoor seating. The terrace looked out toward the lake. The restaurant recommended guests reserve a table in advance. A breakfast buffet emphasizing local products was available from 7:30 a.m. to 10:30 a.m. It had fresh fruit (bananas, green grapes, kiwi), fruit salad, a variety of breads, jams, and honey, deli meats, smoked fish, cheese platter, several types of cereal, and chafing dishes of bacon, eggs, mini sausages.
For lunch, we sat indoors as a wedding party had reserved the entire terrace. Our server brought two types of butter, lard and anisette. There was also homemade passion fruit vinegar, a favorite. My travel partner had Variation of cheese spätzl with Fried onions, a favorite. It was served in two bowls. One portion, in a large bowl, was made with Emmental cheese. Another, in a small bowl, was made with local mountain cheese. I had a lovely Black Forest trout fillet with Lemon butter, Ginger carrots and Sesame potatoes. For dessert we tried a Schwarzwald Waffle made with cooked cherries.
In the late afternoon we had aperitifs on the upstairs terrace next to the Bar to once more soak in the pretty lake views. Following a local's recommendation, I tried the house cocktail made with champagne and cucumbers and it instantly became a favorite. For dinner, we sat on the terrace, enjoying the view while the last of the daylight lit up the lake. My travel partner had a Rump steak of Hereford beef with fried cauliflower, potato and wild garlic puree. I ordered the Breaded pork schnitzel with Warm potato salad (which the menu indicated had preservatives, phosphate and antioxidants as per German law). Once again, we had a Schwarzwald Waffle. We liked that the restaurant served free range chicken, meat from cows that roamed in the meadows, and local trout and that the ingredients for the restaurant were "fresh, local, carefully treated and lovingly chosen," according to the hotel manager. Our meals were abundant and satisfying.
Facilities
Lobby bar and terrace with lake view, indoor plunge pool, spa room, infra-red cabin, outdoor Seelounge sundeck, and restaurant.
Fitness Center and Spa Although wellness treatments were listed in the room materials, no treatments were available in the 25 square meter facility during our stay.
Pool A sauna and an indoor pool were open from 8 a.m. until 10 p.m. The pool was 4 meters by 8 meters large and 1.30 meters deep. There were some lounge chairs by the pool and additional ones on the lawn.
Amenities House brand cotton pads and swabs, nail file, shower cap, and individual size (15 grams) Pure Herbs soap. There were also French Payot shampoo and body milk in 25 milliliter plastic tubes. When we left they gifted us bottles of house brand herb flavored olive oil and passion fruit vinegar, which we had sampled at the restaurant. In the room, there was complimentary bottled water, a mini bar refrigerator, umbrellas, cotton bathrobes, slippers, front LED lit make-up mirror, electronic safe (my room did not have one, but my travel partner's did). On request there were pillow choices. There were German newspapers in the lobby and in the dining room at breakfast. It was possible to borrow an iPad from reception for onsite use. According to our room folder, there was room service (a minimum 5 euro service charge applied) from midday until 9:30 p.m., a sewing service for guests, and complimentary shuttle service within 2 kilometers from the hotel. Guests who stayed two nights or longer received a Konus –Karte Hochschwarzwald card (mentioned in Other as well) valid for complimentary rides on designated buses, trains and boats and admission to regional attractions. Guests also had complimentary access to a house rowboat and could rent an electric car, BMWi3, for local use.
Conference Facilities
The hotel had a 30 square meter meeting room with capacity for 10 people.
Other Responsible and green tourism efforts included waste separation, food leftovers sent to a biogas plant, electricity sourced from regional power generation, and use of high power efficiency such as LED lights.
It was possible to check in beginning at 3 p.m. and check out was at 11 a.m. There was a staff person at reception from 6 a.m. until 10 p.m. Guests out later than that had to take their room key with them to enter on their return.
Since we stayed two nights were received a Hochschwarzwald Card also known as a Red Card, which provided complimentary admission to 70 regional attractions. It had to be returned to reception on departure. Because it rained during a large part of our stay we were unable to take advantage of our card benefits.
The hotel offered same day laundry (washing and ironing) service. We appreciated the service in particular because it was the only one of four hotels we stayed at during our Black Forest Highlands trip which offered same day laundry service. The bar opened at 5 p.m. Hotel guests could take advantage of the hotel's private landing dock and complimentary transfers to and front the village of Titisee aboard its two boats. Although the hotel preferred payment via debit card it welcome major credit cards.
Cleanliness
Excellent
Date of Review June 2016
Reviewers
Article by Elena del Valle
Photos by Gary Cox
Would You Stay There Again? Yes
Contact Information
Address:

Boutique-Hotel Alemannenhof GmbH & Co KG
Bruderhalde 21, 79856
Hinterzarten am Titisee
Germany

Phone:

+49 7652 91180
Fax +49 7652 705

Website:
Email: