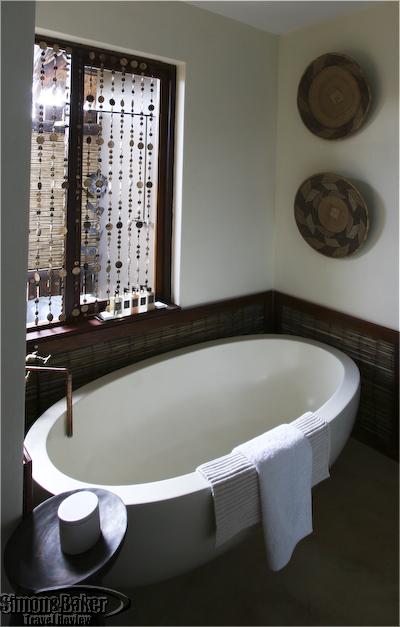 The next time we are in the Waterberg Botsebotse will be on our short list.
Overall Impression
We arrived at Botsebotse in the Zebula Game and Country Reserve following several weeks of travel to relax a bit and decompress. We were delighted to discover the property was for adults only (except when a single family booked exclusively). On our first morning there, eager to stretch our legs a bit after days of bush drives we set off on a stroll before breakfast that turned out to be quite a treat. Although our entire stay at the property was a pleasure that early morning walk is what I remember most fondly from our two-night visit.
A five minute walk from the house within the malaria free Zebula Reserve grounds we found a six kilometer hiking trail where we had close encounters with very relaxed giraffes and a herd of elands on that early morning hike. It was the closest we had ever been on foot to those graceful creatures. The walk and sightings made our whole day and visit memorable.
This newly opened luxury house was aptly named Botsebotse for the Tswana "a beautiful and graceful homestead." It was lovingly built, decorated and run by Christine Hall, a former corporate executive turned hospitality property owner and manager. We liked the combination of features on offer including the handsomely decorated house, nearby reserve grounds populated by relaxed game animals (no predators so walking was possible anytime), tasty and well presented gourmet meals, friendly staff, attractive and serene residential neighborhood and in room spa treatments. Christine especially stood out for her thoughtful attention to detail and warm hospitality way beyond the call of duty. The next time we are in the Waterberg Botsebotse will be on our short list.
Children
Families with children were welcome with group bookings for the exclusive use of Botsebotse.
Class Of Accommodation Luxury boutique guest house
Connectivity The only Internet access was via guest cell phones.
Handicapped Access Although there were no specially designed rooms for disabled visitors, the management welcomed handicapped guests depending on their individual requirements.
Length Of Stay Two nights
Location In the Waterberg region of the Limpopo within a comfortable two-hour highway drive from Johannesburg and Pretoria in South Africa.
Manager Christine Hall
Owned Christine and Jimmy Hall
Pets Allowed No
Size The four suite house was on an hectare lot situated within a 1,400 hectare residential fenced in development of 168 houses and 600 free roaming animals (no predators). In addition to the manager there were two full time employees, and five part time employees who handled laundry and gardening services.
Year Opened-Renovated The property was established January 2009
Lobby And Common Areas
The architectural design of the house was conceived and drafted by Christine Hall, the owner. A part time interior designer, she also supervised the property construction and was responsible for the interior design.
Botsebotse was designed to reflect exotic African and modern influences to create a calming and comfortable sanctuary. Salient architectural elements are vast thatch roofs, beams and natural elements such as rock and wood. Softer design elements are feathery edges of thatched roofs, textured natural materials and the interplay between round, square and angular building shapes. As a mark of respect for the environment, the exterior palette was selected from natural shades from the surrounding landscape.
The main lodge has extraordinarily high walls, a thatched beam roof and an open design structure. Teak, limestone, granite and vintage lumber were included to draw in light and warmth. Public space flows uninterrupted between two lounges with stone fireplaces and with a bar handcrafted in stone and solid wood; and a dining area that leads into an under roof outdoor lounge on the one side and an open air patio on the opposite side. With the wall-to-wall stacking doors opened onto the walkway the indoor and outdoor spaces combined into an indoor-outdoor area.
Tan, caramel, brown, black and beige tones predominated in the African contemporary interior design. Comfortable tan leather sofas with clean lines complemented the understated elegance while cane sofas, chairs upholstered in chocolate leather and textured pillows in animal skin and handcrafted patchwork rugs from Nguni cowhides enhanced the décor.
To complete the Africa theme the house was art filled including distinctive artifacts from across the continent: Nigerian Yoruba royal crown; Mashamboy Woot Helmet Mask from Central Africa; Baga serpent headdresses from Guinea; Bwa sun masks with Arabic influenced hand painted geometric designs of the Bwa people from Burlunka and Mali; Juju feather hats from the Bamoun, Bamileke and Tikar tribes of Cameroon; pygmy bed from the forest between the Congo and Cameroon; Senufo stools from the Ivory Coast; Kuba cloth from Tanzania; Bamoun royal bed and rare antique Bamileke stools from Cameroon; butterfly masks from Burkino Faso; and Fang Ngil Masks
Bathrooms Our 10 square meter bathrooms had indoor and outdoor areas with rustic elements and African accents, exotic stone, marble, wood and copper to embellish the cream interior. Frameless corner windows had stringed nutshell window treatments to enhance sunlight and warmth. There were hand crafted Cape reed panels behind an egg shaped stone bath and a double wooden vanity topped with an ivory stone slab and oval shaped stone basins combined with exposed copper pipes and simple brass taps. The extra large glass enclosed shower had shaded marble tiles. Private 16 square meter courtyards, screened with split pole walls with reed panels, had custom made traditional zinc baths and overhead showers. There were rustic arts and crafts items on the screens and African clay pots decorated with grass from the surrounding veld.
Rooms
In the rooms, queen beds were dressed with mosquito nets, white hand crafted cotton linen, faux fur throws and leather fitted base covers with scatter cushions while bedroom sliding doors led to rustic private courtyards. There was contemporary outdoor dining furniture as well as a cream umbrella, a trickling water feature and groupings of ornate rustic birds in our courtyards, making them pleasant areas to relax. Indoor temperatures could be regulated via remote controlled air conditioning and ceiling fans. There were also remote controlled and portable emergency lights.
My room, Thanda Room, was on the left side of the main area of the house and across from the Money Mask Room. A bold feature wall in deep red served as a backdrop to a cream safari net, a contemporary headboard in textured black leather teamed with a faux fur throw in light and charcoal gray, black leather frayed cushions and scatter cushions in red, black and cream with beaded embroidery.
Other stylistic touches were deep red suede curtains and a cowhide to coordinate with the black and cream cowhide frame of the mirror over a dark wood dressing table. There were two Chinese chests in muted red at the base of the bed, Indonesian chairs, a black Bamileke stool as coffee table, black and cream ox masks and decorative red Zulu hats.
My travel partner's room, Money Mask Room, was more masculine than mine. It had a chocolate brown, beige and cream theme to echo the neutral and earthy colors of the main lodge. There was a textured coir on the floor and the window had cream fabric trimmed with chocolate suede.
On the bed, a mosquito net in cream and a faux fur throw in brown, chocolate fray leather cushions, round scatters in raffia, pale cream cushions with subtle silver sequined detail and a fluffy cream throw. There was a contemporary headboard made from woven seaweed, matching slipper chairs, large mirrors in woven seaweed frames, a Senufo stool as a coffee table and a leather kist at the foot of the bed. There were money masks from Nigeria, bring wealth and prosperity, in dark wood with bright gold detail and gold and copper coins.
Meals We were pleasantly surprised to discover for ourselves how seriously good food was taken at this small property. We enjoyed plated servings at meals. During our two-night stay we had breakfast, lunch, three-course dinners, and high tea. There was also a full bar and refreshment stations (tea, coffee and snacks) in our rooms. Dinner the night we arrived, for example, was a four course affair on the pool deck: Black Fig, Goat's Milk Crouin and Seasonal Salad drizzled with Cape Lemon Olive Oil and Gooseberry Balsamic Reduction; Calamari, Crab, Mussel, Prawn, Portabellini Mushroom and Gorgonzola Tagliatelli; Lemon Grenadilla Cheesecake with Strawberry, Gooseberry, Blueberry and Kiwi Fruit; and Cheese Platter. Lunch the following day was a green salad with a fig dressing, fish cakes and half an avocado with chopped peppers and onion followed by fresh fruit (pineapple, papaya, strawberry, and fig) with honey. Our second dinner consisted of Avocado and Prawn Cocktail; Roasted Loin Fillet of Lamb basted with Moroccan pomegranate glaze, Moroccan spiced cous cous with apricot and mint, roasted butternut, brown mushroom and baby tomato; Chocolate and Nougat Ice Cream Cake with Belgium Chocolate Nut Curls, chocolate and chocolate liquor sauce and cappuccino wafer stick.
Amenities
There were two sets of bath robes for each guests (waffle weave and cotton robes), slippers, and two sets of swimming towels (bath sheet and bath towel). There were goody boxes in our rooms containing sewing kits, flash lights, a universal plug adapter, insect repellent, shoe horn and whistle for emergencies.On arrival, we received a portable buzzer to page Guest Relations, Kitchen and Housekeeping staff. There were candles, large bottles of Terra Firma toiletries in olive and honey scent including shampoo, conditioner, body lotion, body gel, foaming bath, bath salts, vanity kit. There were toiletry bottles in the shower, by the bathtub and by the out door shower so that it wasn't necessary to move them. There were complimentary fruit plates in our rooms. At night the staff brought complimentary bottled water, and surprise treats such as chocolates, hot cocoa and after dinner drinks.
Facilities In addition to the four rooms, set two on each side of the house, the common areas included two indoor lounges, a covered outdoor lounge, bar with DSTV, lapa boma and Bush Boma, Martini Pool (plunge pool) and Hot Tub Spa.
Pool The Martini plunge pool was 4 by 4 meters and about 1.6 meters deep. The pool was small to conserve water for the golf course and the reserve.
Activities Guests had access to self-drive safaris, game walks, cycle safaris, Zebula gym, golf course and tennis courts. On our arrival we discovered that Christine had graciously booked, provisionally, activities for our two-night visit including an afternoon of in room spa treatments, and ATV (all terrain vehicle) bush rides in a near by Big Five property.
Other There was covered parking on the side of the building. We greatly appreciated this feature at the beginning of the unforgiving South African spring.
Cleanliness
Excellent
Date Of Review November 2009
Reviewers Article by Elena del Valle
Photographs by Gary Cox
Service Our rooms were serviced twice daily. In addition, there were surprises at turn down time : hot chocolate with marshmallows, chocolate morsels, and rose petals strewn about the rooms and bathrooms.
Would You Stay There Again? Yes
Contact Information
Address:
Zebula Reserve and
Golf Estate
Bela Bela
South Africa
Phone:
Fax:
Website:
http://www.botsebotsebushretreat.co.za/
Email: