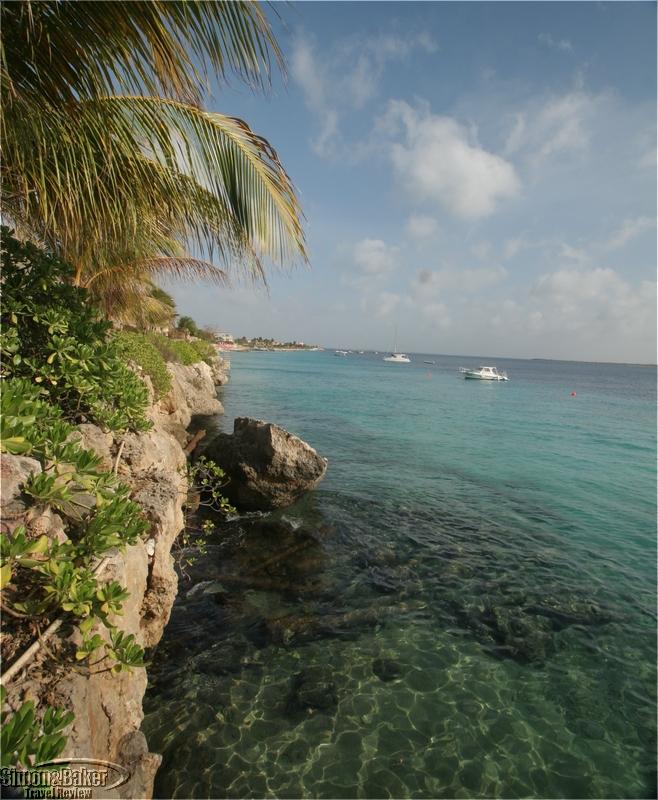 Bonaire has quickly become one of our favorite islands and our number one Caribbean diving destination.
Overal Impression
For a small island Bonaire really packs a punch. When few spoke about ecotourism in the Caribbean, Bonaire was busy establishing marine and national parks. Island authorities still oversee those areas with care, ensuring unspoiled waters for locals and visitors alike. At the same time, although for years it has been a diving Mecca attracting countless European and United States visitors, locals have not rested on their laurels. We observed pleasant, well organized, modern operations staffed by enthusiastic divers with a professional attitude.
When we visited the island, diving choices ranged from resort diving familiarization courses to advanced diving programs and Nitrox certification. There was a dizzying number of shore and boat dive options from a variety of dive operators. Feel like being spoiled and not making the 10 minute dive to pick up tank refills in the morning? Daily empty tank pick up and refill drop off service was available at rental accommodations. On request, dive masters could meet guests at their rental villas for private lessons. There was also the option of picking up regular and Nitrox tank refills at the Buddy Dive drive thru.
Not into diving? There were plenty of other activities on Bonaire including: fishing, snorkeling, horse back riding, and exploring the Washington-Slagbaai National Park, the flamingo sanctuary and the salt harvesting area. At meal times, we were pleasantly surprised to discover the diversity and high quality of the restaurants on the island. We enjoyed traditional French foie gras, onion soup and tarte tatin, delicate and memorable gourmet Italian dishes, paella, and fresh seafood dishes.
High speed Internet access at our villa and hotel allowed us to stay in touch with work and home during our two week visit. Getting to Bonaire from the United States was less than convenient. At the same time, part of the island's attraction was due in part to its limited accessibility and lack of mass market appeal.
We particularly liked the quiet island's pristine Caribbean waters, excellent diving, efficient and laid back locals and a wide variety of restaurants. Bonaire has quickly become one of our favorite islands and our number one Caribbean diving destination.
Cost Of Visiting
Affordable to luxury
CurrencyThe official currency is the Netherlands Antilles Guilder but U.S. dollars were widely accepted.
Electrical Current 127/220 volts, 50 cycles. Adapters were recommended in some cases.
Health And Vaccinations No mandatory vaccinations were required to enter the island.
Location The most eastern of the Leeward Islands, Bonaire is located 50 miles north of Venezuela and 38 miles east of Curacao.
Measures Metric system
Money Issues There was an ATM (automatic teller machine) near our accommodations allowing us the option to withdraw funds in local currency or U.S. dollars. It was possible to pay with credit cards at many of the attractions, restaurants and shops around the island.
Technology There was high speed Internet connectivity at our rental house and in our hotel room. The connection at the rental house was fast enough for a VoIP. The WiFi Internet connection at the luxury hotel was low and dropped frequently. Cell phones were widely available.
Time Bonaire time was Atlantic Standard Time, which is one hour ahead of Eastern Standard Time and the same as Eastern Daylight Savings Time.
Transportation Cars, jeeps and vans were available from a number of rental agencies. Valid U.S. driver's licenses were accepted. Island driving was on the right. Few cars and a small island made driving around the island easy. Taxis were scarce.
How To Get There
Direct flights to Bonaire from Holland arrived regularly. From the U.S. mainland, direct flights were only available once a week from Houston, Texas and Newark, New Jersey. We flew from Miami via Puerto Rico on American Airlines. Our flight from Miami was late arriving in San Juan, Puerto Rico. On arrival in Puerto Rico, we discovered that our connecting flight had left without us and there were no other flights to Bonaire until the same time the following evening. Disappointed, we and another 15 or so passengers, waited in line at the single service desk that was still open to find out if there was space on the flight.
We were relieved to find out that there was space for us for the following day. We later discovered several members of a group traveling to the island together were forced to wait two nights in San Juan until space became available for them on the Bonaire flight. The airline issued hotel, transportation and meal vouchers for us for the time we had to remain in Puerto Rico. That process was less than perfect.
Although we had two tickets we were given a voucher for one room at a hotel in the heart of the San Juan old town. The taxi willing to accept the American Airlines voucher threatened to leave us several blocks away from the hotel, luggage and all, if we encountered traffic. He explained the value of the voucher was not enough to make up for the lost time traffic would cost him. The driver charged us for each suit case beyond one check in bag saying the voucher only covered one bag.
Although the hotel was pretty and the staff pleasant, the air conditioning in our room didn't cool the room very well and they were unwilling to give us another room. Even for a light meal, the meal vouchers only covered a fraction of the cost for meals at the hotel restaurant. The next time we fly to Bonaire, we will consider another route and another airline.
Facilities
There was a small teaching hospital on the island, post office, local banks, grocery and convenience stores, gas stations, Internet café, souvenir and dive equipment shops and a supervised hyperbaric chamber in case of diving accidents.
Shopping And Souvenirs Duty free shops sold souvenirs, liquor, jewelry and perfumes. Grocery shopping was limited to products available at the time. We ate out for most of our meals so this was not a major concern.
Tourism Highlights
Twenty-four miles long and 3 to 7 miles wide, Bonaire has a total land area of 112 square miles and 13,000 residents, making it large enough to have basic necessities and small enough to be cozy and easy to visit.
The island's claim to fame is diving followed by snorkeling and ecotourism. Bonaire has demonstrated a longstanding commitment to preserving and protecting the environment above and below the surface. It was the first Netherlands Antilles Island to establish a national park. The island's environmental policies and strict government legislation have earned Bonaire and its marine park international recognition.
For tourism purposes the island is dived in two halves, north and south. The north is home to Gotomeer, a favored inland flamingo spot and Rincon, the island's oldest village. The 13,500-acre Washington-Slagbaai National Park, established in 1969 on land occupied by a former slaughterhouse, is situated in the northwest corner of the island. The spiny forest is home to Mount Brandaris, the highest point on Bonaire, as well as 210 species of birds, seven types of lizard (no snakes), cliffs, valleys, beaches and 14 kilometers of shoreline. It occupies one fifth of the island.
We wished we had more time to spend at the Washington-Slagbaai National Park, a popular shore diving area. It was also a good place for contemplation, mountain biking, hiking and birding. During our three hour morning drive we saw cara cara, parakeets, yellow warblers, yellow shouldered parrot, iguanas and goats.
Southern Bonaire is home to massive salt flats and the island's largest flamingo nesting ground. There are also primitive huts, once homes to slaves and a 30-foot obelisk built in 1838. Further down the coast is the island's oldest lighthouse, Willemstoren, built in 1837 and Lac Bay is well-liked area for windsurfing.
Since 1979, all of the waters surrounding Bonaire and the uninhabited Klein Bonaire (Little Bonaire) to a depth of 200 feet have been designated as a marine park, making spear fishing, collecting coral and reef anchoring strictly prohibited.
A result of submarine volcanic eruptions millions of years ago, Bonaire is the peak of a submerged mountain with deep reefs close to the shore. Many tout the nearness of the reef and excellent shore access for divers. Although underwater visibility is described as over 100 feet year-round, during our two visits to the island, visibility was closer to between 40 and 50 feet.
According to promotional materials, most of Bonaire's 86 marked dive sites can be accessed from shore or are a maximum 15 minute boat ride away from land. Thanks to its tropical climate, landscape and protected environments, Bonaire lends itself for mountain biking, hiking, diving, snorkeling, bird watching, kayaking, kiteboarding, landsailing, deep sea fishing, windsurfing, horseback riding, and walking.
Bonaire is considered by researchers one of the most species rich locations. Between December 1993 and July 1999, approximately 2,000 fish surveys were completed by Reef Environmental Foundation (REEF) volunteers on 77 sites surveyed on Bonaire and Klein Bonaire. The surveyors reported 362 species, making Bonaire one of the most species rich locations in REEF's database.
Favorites
Following is a list of our favorite places for quality, services, price or a combination.
Other There were construction projects in the areas where we stayed. Home, hotels and residential development were peppered around the desirable areas of the island and threatening to boost island prices. We hope this does not harm the pleasant island attitude and ambiance we enjoyed so much. Tiny no see 'ums bit us without mercy causing itching and some anxiety at the irritated spots they left behind. Eventually they faded and the itching subsided without lasting effects.
We were relieved to discover there was a well manned hyperbaric chamber and emergency facilities for injured divers. Although we had no incidents, we met a young woman who had suffered shock and had to be taken to the emergency room due to jelly fish stings.
Warning We recommend you avoid "The Mangrove Info Center".
Date Of Latest Visit
May 2007
Reviewers Article by Elena del Valle
Photos by Gary Cox
Would You Visit This Destination Again? Yes