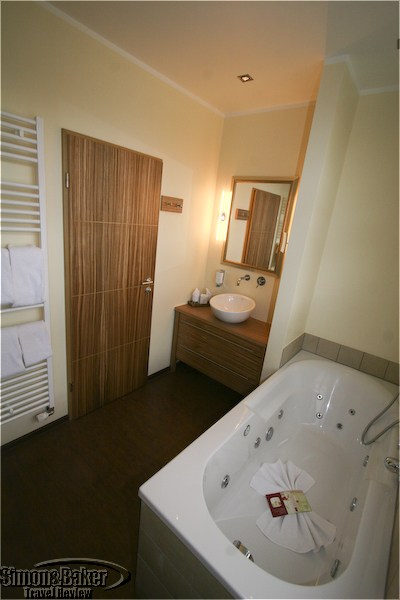 The hotel will be on our short list of options for a relaxing get away the next time we are in the area.
Overall Impression
An hour long drive from the Frankfurt Airport led us down highway and country roads to the BollAnt´s im Park Romantik Hotel and Vital Spa on the edge of Bad Sobernheim. Between the few words of German we knew and the reception desk staff person's English we were able to check in with relative ease. After a short wait in the adjacent bar while our room was readied (we arrived in the early afternoon) we settled into a centrally located comfortable room.
One of the characteristics we liked about the centenarian property was the quiet and serene ambiance. Although the family friendly property welcomed children of all ages, we only saw adults, mostly couples, during our late winter visit. Even though it was close to full while we were there the only time we became aware of other guests that was at meal times and at the very popular spa.
We appreciated the family owned and managed property's friendly and helpful staff, the ample and handsome spa facilities, our modern room with a view of the central courtyard and the property's gourmet orientation including a well stocked breakfast buffet as well as three on site restaurants offering vegetarian, gluten free and gourmet dining options. We especially enjoyed Passione Rossa, the gourmet restaurant and Hermannshof, its more informal neighbor. The hotel will be on our short list of options for a relaxing get away the next time we are in the area.
Connectivity
There was high speed W-LAN wireless connection in our room (15 euros for 24 hours, 15 euros for three hours and 5 euros for one hour). It was necessary to purchase the online time in 24 hour increments by going to reception. When the time expired it was necessary to open a new account by going back to reception. There were two computers in the cafe and bar area with Internet access for guest use.
General Manager s Jan Bolland and Janine Bolland-Georg
Handicapped Access The facilities were not enabled for disabled guests.
Length Of Stay Two nights
Location In the village of Bad Sobernheim, part of the Rhineland-Palatinatem state in the Nahe wine region.
Owned And Managed Jan Bolland and Janine Bolland-Georg
Pets Allowed The hotel welcomed pets with their owners ( 12.50 € per night supplement)
Size There were 65 guest rooms for a maximum of 130 guests in the 60,000 square meter property. Ninety-eight staff were employed at the hotel.
Year Opened-Renovated The hotel first opened in 1907. The most recent renovation, of all the rooms, took place in 2008.
Lobby And Common Areas The decorative style was a mixture of classical elements and modern design. The work of a local artist hung on the walls of our building and was available for purchase.
Bathroom The white colored bathroom had a sink with a mirror above it, a stand alone bathtub with Jacuzzi jets with chromatic settings and a hand held shower head, a toilet, and a separate shower with glass doors. The towels, a bath, hand and wash cloth for each of us, hung on a heated towel rack. Toiletries were set on both sides of the sink.
Room
Our Romantik Comfort 30 square meter room (Number 124 adjacent to the spa building) was the first room on the right as we entered the building. A card activated door led to a foyer, with wood laminate flooring, where we had to insert the card key to activate the lights.
Beyond the foyer was the bathroom; to the left of the foyer was the sleeping area and to the right there was a walk in closet. The bedroom had apricot color shaggy carpeting and eggshell color walls. The center of the room was occupied by a bed for two made of two single mattresses set together against a single beige headboard.
Night tables, each with a reading lamp and one with a rust colored large decorative vase, framed the bed. Across from the bed there was a brown leather sofa with two cushions, two wood stools, an upright lamp and a Gundrig CD player on a wicker table.
The central feature of the room was a set of three large windows facing the main courtyard of the property. The part of the building they were in was rounded and jutted at a slight angle from the building, enhancing our view. Each window had a privacy screen for daytime use which allowed us to see the courtyard without allowing people walking by to see inside our room. In the evening, there was a heavy curtain that provided privacy and kept out the morning light. There was a desk against the center window. On it there was a Avaya phone, a lamp and hotel brochures. In the center drawer there was a blow drier and a electric outlet where I was able to connect my computer. Against the opposite wall there was a credenza with drawer space, a mini bar including a miniature refrigerator, a lamp, and DVD player. A remote controlled Daewood HDMI flat screen television hung on the wall above the credenza. The furniture in the room was made of blonde wood laminate with black strips.
Food And Restaurants
We enjoyed a five course dinner at
Passione Rossa
, the property's gourmet restaurant, and also dined at Hermannshof. Both meals, prepared by the same staff in the same kitchen, were excellent. For breakfast we ate at the large and well supplied buffet breakfast that included juices, fresh fruits, yogurt and cereals, bubbly, excellent salmon and smoked fish, a variety of cold cuts and cheeses (a favorite), pre-made pancakes, scrambled eggs, sausage and bacon, a variety of crackers and breads, jams and honey.
At the Hermannshof restaurant we had a lovely Mediterranean "light German" meal. The dining room itself was adjacent to the gourmet restaurant dining room and similar in design and style. They shared a common reception area and some staff. The small room, a former potato storage shed, was rustic yet warm and inviting. We sat on cushioned wicker chairs at a rustic wood table for four. It was set with bright yellow runners and attractive dinnerware. We began with a secco, a local sparkling wine, for an aperitif. Friendly wait staff members looked after us kindly. They brought delicious parma ham to accompany our bubbly as well as three types of bread. Our three-course comfort food meal (they provided us with a menu in English) consisted of Tuna in a crispy coat with seasonal leaf salad and orange -Pommery dressing; Sliced veal and beef in cream with leek vegetables and "Rosti;" and Panna Cotta with exotic fruit ragout and homemade sherbert.
Amenities
We found a spa kit in our closet with two cotton bathrobes, slippers and a spa towel for each. In the bathroom, there was Hydro shampoo in squeeze plastic containers that hung on the wall of the shower and by the sink. There were also cotton swabs, a nail file and cosmetic cotton pads. There was an electronic safe and complimentary bottled water.
Facilities There were three restaurants, Passione Rossa, Hermannshof and Villa. The Villa restaurant offered Buchinger therapy (fastening cures). There was also a bar and a Medical Spa. It was also possible during the warmer months to take advantage of the outdoor areas of the property, sit in riverside by the Nahe River and the spa rooftop with a view to the vineyards.
Fitness Center And Spa The Bollant Spa had a 40 square meter fitness center with seven machines and a 2,000 square meter spa with saunas, steam bath, hot pool (outside and heated to 37 degrees Celsius), mini roof top pool (outside and heated to 34 degrees Celsius), indoor swimming pool (heated to 28 degrees Celsius), spa bistro, meditation room, cocoon lounge, silent rooms with open fire, aquarium and water beds, gym and mud bath. There was a homeopathic doctor at the Medical Spa which offered Traditional Chinese Medicine treatments as well as Felke, Buchinger, Kneipp, fastening and detoxing therapies.
Pool The pool was 8 by 3,73 meters and 1. 35 meters deep.
Conference Facilities
There were three meeting rooms for 2 to 200 persons, ranging in size between 39 and 186 square meters.
Other The hotel used photovoltaic cells for energy and 100 percent wood pellets for heating.
Cleanliness
Excellent
Date Of Review March 2009
Reviewers Article by Elena del Valle
Photos by Gary Cox
Service Staff were warm and friendly. Our room was serviced once daily.
Would You Stay There Again? Yes
Contact Information
Address:
Felkestraße 134
55566 Bad Sobernheim
Germany
Phone:
Fax:
Website:
Email: