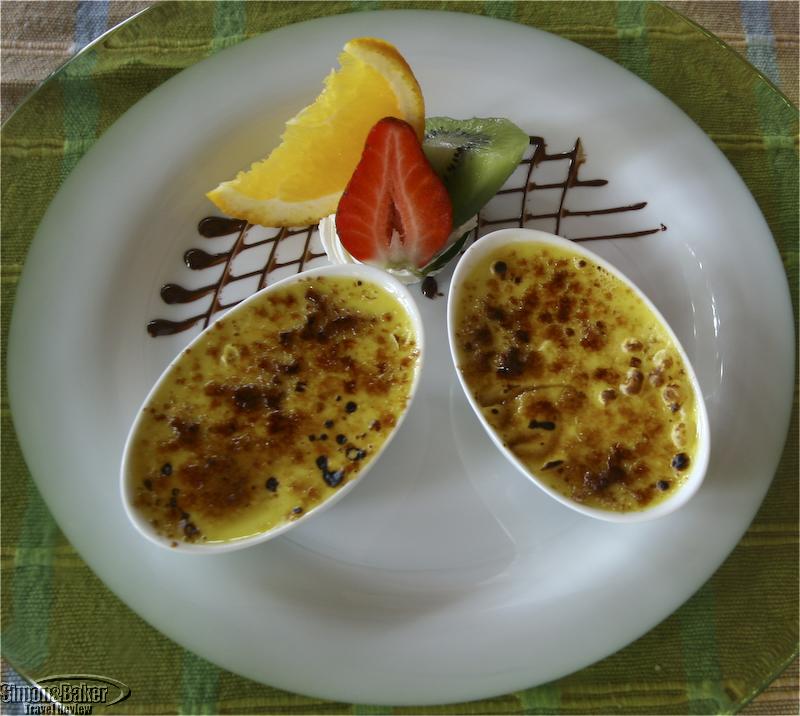 The next time I'm in Phuket a visit to The Boathouse will be among my foodie priorities.
Overall Impression
From the outside The Boathouse, named after an old painted fishing boat that stood near its entrance when it was established, looked like any other beachside restaurant. Even the interior of the open air restaurant with beautiful sea views was more informal than I anticipated. When we sat down to eat however the meal was more formal than the beach side setting implied. Each menu was distinctive and both were worthy of the special 45-minute drive each way I had made.
We sampled the two tasting menus on offer, the French and Thai menus with wine pairings.
I tried to be attentive to my table companions but every once in a while I would just focus on the meal and forget they were there. While foie gras is not foremost on my mind when in the islands The Boathouse foie gras from the French menu was well prepared and worth repeating.
At the same time, the scallops in the Thai menu were perfectly cooked. The raviolis were delicious as was the lamb and so the meal progressed through to Financier and Creme brulee desserts. While pairing French dishes was rather straight forward I empathized with the French sommelier and chef whose wine pairing task was rather challenging when it came to spicy Thai dishes.
Although both menus were good because of my preference for foods without chili I most appreciated the French dishes. The open air dining area facing Kata Beach provided a natural setting with the sounds of the surf and the smell of the sea to match the chef's delicately prepared and carefully presented dishes. The next time I'm in Phuket a visit to The Boathouse will be among my foodie priorities.
About The Restaurant Manager
A native a the Krabi Province, Pinyo Thippimas joined The Boathouse food and beverage team in 1991 as a busboy. He was quickly promoted to waiter, subsequently to captain, supervisor and assistant Food and Beverage manager.
In 2003, he became responsible for the organisation of all functions and took over related communications with travel agents, individual clients and suppliers. Over the years he has attended many educational programs in wine training and courses in personnel management and studied independently, extending his knowledge about wine and wine making theory. At the same time, his duties at hotel's Wine Tasting Club and wine maker dinners provided plenty of opportunities to learn first-hand from wine experts.
Chef De Cuisine Mrs. Rattana Pholtaisong
Executive Chef Tummanoon Punchun was the executive chef when we visited the restaurant. Shortly after that he transferred to Chiang Mai to assist with the property owner's interests in that area. Jean-Noël Lumineau, according to promotional materials Thailand's only Maître Cuisinier de France, was due to take his place as executive chef at The Boathouse for two years.
Handicapped Access There were wide entrance doors and a level floor but no special access. According to a spokesperson, the restaurant staff assists handicapped guests in wheelchairs down the two steps to the restaurant.
Head Sommelier Georges Ciret
Location The restaurant is on the south west coast of Phuket about 45 kilometers from the airport and 20 kilometers from Phuket City. My hotel, situated north along the coast on the same side of the island, charged me 2,700 baht roundtrip for the 45 minute drive (each way) to the restaurant.
Opened-Renovated The restaurant first opened in February 1989. In January 2005 (after the tsunami of December 2004), the restaurant converted the air-conditioned room into one single open-air space. At that time three large air vents were added to the roof.
Owned And Managed Mom Luang Tridhosyuth Devakul known as Mom Tri, a Harvard educated architect and artist who was a pioneer in the development of Phuket as a premier travel destination.
Restaurant Manager Pinyo Thippimas
Size The 650 square meter restaurant with 60 staff could accommodate 150 guests.
Type Of Restaurant The restaurant served French Mediterranean, Thai and seafood dishes.
About The Executive Chef
Tummanoon Punchun graduated from the European Food Program of the Hotel and Tourism Training College in Chonburi. His extensive on the job training began at the Bangsan Beach Resort and the Siam Lodge Group Hotel in Chonburi before he moved to the Phuket Merlin Hotel. In 1988, he joined The Boathouse where he continued training at sister properties The Phuket Yacht Club in Nai Harn and The Ban Boran Hotel in Chiang Rai. In 1990 he became sous chef.
In 1992, he became executive chef of the former Samui Euphoria Resort and the following year he returned to The Boathouse as executive chef. He started The Boathouse Cooking Classes that summer, mainly as a way of attracting low-season guests and in 1999 he published his recipes in The Boathouse Cookbook .
In Switzerland, he enrolled in courses on Hotel Hospitality. He also polished his skills regularly during month-long stays in France at several Châteaux of the Grand Etapes Françaises Group, Châteaux De Gilly, De l'Ile and Le Prieuré, De Divonne and Les Mas D'Artigny.
DÉCor-Ambiance The restaurant was directly on the beach. It had an open-air design and a seaside terrace overlooking the beach. The interior, designed by Mom Tri to be unassuming, comfortable and elegant, featured bamboo, wood, and terracotta tiles. It had a yachting theme with nautical flags, yachting paintings and hemp rope accents.
Cellars Wine And Alcoholic Beverage Selection
The restaurant had more than 6,400 bottles and 800 different labels including a newly expanded vertical selection and organic wines. Salient items from the restaurant's wine list included: Petrus 1975 – 1992, Château Latour 1982 -1990, Romanée-Conti Grand Cru 1991, La Tâche Grand Cru 1990, and Musigny Vieilles Vignes-Domaine Comte Georges de Vogué 1985 – 2000.
Meal We sampled the French and Thai menus. The French menu consisted of: Escalope de foie gras poelee a la minute sur un choux vert, sauce aux grains de raisins frais (Pan-sautéed escalope of duck foie gras with fresh grape sauce) paired with Ch. Marjosse, Bordeaux Entre-deux-mers 2005 France; Ravioli Crémeux aux fruits de mer sauce crustacées et morilles (Andaman seafood ravioli, morel mushroom and creamy shellfish sauce) paired with Chablis Louis Michel & Fils, 2007, France; Carré d'angeau roti aux herbes de provence accompagné de fenouil confit, de purée d'aubergine de d'olives (Grilled Australian lamb fillet, fennel confit black and green olive sauce, eggplant puree) paired with Château Villa Bel Air, Graves, 2005, France; and Financier aux mangues fraiches sauce caramel et sorbet fruit de la passion (Mango financier biscuit, passion fruit sherbet) paired with Muscat de Beaumes de Venise Domaine des Bernardin, 2005, France.
The Thai menu consisted of Tord Man Talay Prom Kab Nam Makam Lae Nam Jim Phed Wan (Crispy seafood cakes, duo flavours sweet chilli and tamarind sauce) paired with Chenin Blanc, Raats Family, 2007 South Africa; Phla Hoy Shell, Takrai, Prik, NAM Manaow Lae Saranay (Seared sea scallop salad flavoured with chilli, lime, lemongrass and fresh mint) paired with Qualitätswein Trocken, Robert Weil Riesling, 2007, Germany; Nuer Sannai Lae nuear Gung Yang Raad sauce Gang Kiew Wan (Angus beef tenderloin and rock lobster
flavoured with spicy green sauce) paired with Fromm, Pinot Noir, Marlborough, 2005, New Zealand; Takrai Sang Kaya (Warm Thai style lemongrass "Crème brulée") paired with Muscat de Beaumes de Venise Domaine des Bernardin, 2005, France.
Special Menus In addition to an a la carte menu there were four-course Thai and French Degustation tasting menus on offer. The price for the tasting menus without wine was 1,500 baht not including tax and service charge. The cost for the French Tasting Menu with wine pairing was 3,305 baht and the Thai Tasting Menu with wine pairing cost 3,308 baht.
Other In August 2010 The Boathouse was recognized by the Wine Spectator magazine for the fifth consecutive year with the Best of Award of Excellence. According to promotional materials , The Boathouse is the only establishment in the Kingdom of Thailand to have been recognized with this award since 2006.
Date Of Review
September 2010
Number Of Visits Two
Reviewers Article and photographs by Elena del Valle
Service Serving staff were vigilant, efficient and shy. They spoke a little English.
Would You Dine Eat There Again-Recommend It? Yes
Contact Information
Address:
Mom Tri's Boathouse
182 Koktanode Road
Kata Beach, Phuket 83100
Thailand
Phone:
Fax:
Website:
Email: