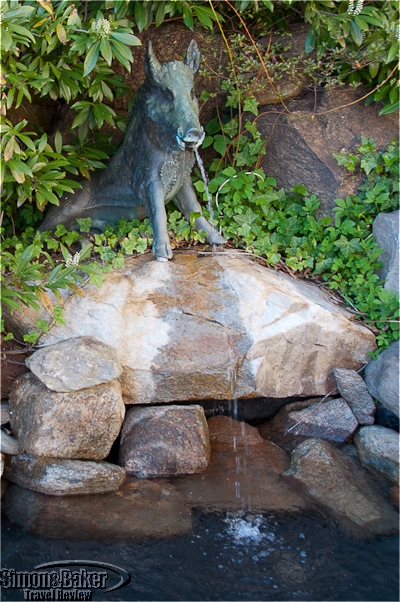 With its relaxing bucolic environment, comfortable accommodations and gracious Southern hospitality, not to forget its addictive spa, excellent restaurant and convenient location for touring the area's attractions, the Boar's Head became a de rigueur address for me in Charlottesville.
Overall Impression
In 1759, Terrell's Ordinary, a modest roadside inn that welcomed westward travelers, opened on land that was part of Virginia's 1734 land grant, at the exact location where the Boar's Head stands today. Since then, this lovely swath of rolling hills in the picturesque outskirts of Charlottesville, Virginia, has witnessed much history. It first became a country estate with a successful farming operation before enduring the ravages the Civil War. The property returned to life under a succession of owners before an inn, the Boar's Head, was once again created in the mid twentieth century. It was subsequently acquired in 1989 by the University of Virginia Foundation. Today, the unique 573 acre (232 hectare), 175 guest accommodations local landmark boasts a championship golf club, outstanding sports facilities with multiple tennis and squash courts, an in house spa and an award winning restaurant.
Since my preferences tend toward intimate properties, I was a bit daunted by these numbers when originally considering the Boar's Head for my recent visit to Central Virginia. Any doubts I may have had were dispelled as I passed through the gracious entrance gates of the property and found myself driving along a shaded country lane to the Georgian style manor that housed the reception foyer. The welcome was warm and attentive, and antique furnishings gave the public spaces the mellow atmosphere of a bygone era. Guest rooms were located on the upper floors of the historic main house and in rustic two story buildings on both sides of it. A central lawn dotted with mature trees evoked a town common of old. My own room in the Hunt Club Building, a few steps away from the main house, was decorated in muted neutral colors that showcased quality period furnishings. It also had many of the 21st century creature comforts I might have wished for, and an inviting covered balcony overlooking a tranquil lake with, on the other shore, a gentle hill dotted with flowering trees. I could have lingered there for hours.
However, there was also the property's location, within easy driving distance of the top attractions of the greater Charlottesville area: Monticello, home of President Thomas Jefferson, and another of his great local achievements, the University of Virginia. Then just a little farther afield there were numerous wineries, art galleries and artist studios. Faced by such a wealth of options, I set out to take them all in with unbridled enthusiasm, secure in the knowledge that the Boar's Head Spa awaited me when I returned worse for the wear at the end of the day. Rejuvenated by a most self indulgent relaxing treatment, I was ready to meet friends for a fine dinner at the award winning Old Mill Room housed in the 1834 historic mill house, the oldest structure on the property and part of the main house.
With its relaxing bucolic environment, comfortable accommodations and gracious Southern hospitality, not to forget its addictive spa, excellent restaurant and convenient location for touring the area's attractions, the Boar's Head became a de rigueur address for me in Charlottesville.
Children
The Boar's Head welcomed children of all ages.
Class Of Accommodation A luxury resort
Connectivity There was complimentary reliable high speed WiFi in my room and in the common areas. Mobile phone service was excellent throughout the property.
General Manager Matthew Harris
Handicapped Access There were two rooms especially designed to accommodate motion impaired guests.
Length Of Stay Two nights
Location In Charlottesville, Virginia, 115 miles (185 kilometers) southwest of Washington, D.C. and 70 miles (110 kilometers) northwest of Richmond, Virginia.
Owned-Managed The University of Virginia Foundation
Pets Allowed No
Size The 573 acre (232 hectare) property had 166 rooms and nine suites. It employed a staff of 350.
Year Opened-Renovated The Boar's Head opened in 1965. It was last fully renovated in 2011 and 2012.
Lobby And Common Areas
The common areas were in the historic main inn building. With its aged wooden paneling reception desk, the reception area set the tone for the back in time atmosphere that prevailed throughout the building. Behind the desk, the original room keys, their brass holders still embossed with boars' heads, were neatly lined up in a wall size key rack that provided an eye catching focal point (the keys have long been replaced by magnetic cards). A wooden signboard of a Boar's Head Inn of old hung next to it. The heart of the building was a 1830's gristmill relocated piece by piece from the banks of the nearby Hardware River to be integrated in the construction of the building in the early 1960's.
Heartwood pine beams over 40 feet in length extended upward from the Old Mill Room restaurant through two floors of guest rooms and downward into the Hearth Room, a lower level functions room. In the Old Mill Room restaurant, the floor's original planking still bore the scars of their previous working life and old grain bins had been reincarnated as wall paneling. Those ancient structural elements were offset by simple white plastered walls that provided an excellent backdrop for the many antique furnishings that decorated the common space. Intricately carved straight back chairs upholstered in crewel embroidery patterns sat next to early American tables, while high back rustic benches, their seat cushions covered in 18th century inspired patterns were an invitation to linger, and period credenzas displayed statues of the eponymous boar. The walls throughout held vintage photos and memorabilia that spoke of the rich history of the area, Thomas Jefferson and the inn's connection with the University.
Bathroom
The bathroom had a wall length veined marble vanity with white porcelain dropped in sink. An extra large glassed in shower occupied the opposite wall. Even the bathroom had its own historic references. A framed photograph of a close up detail of the gristmill water wheel hung above the commode and over the vanity the wall size mirror was etched with a quote by Thomas Jefferson.
Room My 300 square foot (28 square meter) room, Number 521 was located in the Hunt Club Building, just a few steps away from the Old Mill Room. It was decorated in a relaxing neutral palette of beiges enhanced by muted shades of blue and green. Its cream walls, taupe wall to wall carpeting and antique inspired furniture gave the space a timeless homelike feeling. Window dressings were a mix of rich cotton floor length draperies in a subdued floral design and translucent roman shades. A small entrance foyer with a floor to ceiling built in storage armoire led into the bedroom. The superbly comfortable king size bed with its high taupe upholstered headboard was clad in ultra high count cotton bedding. On both sides of it, pecan bedside chests held white reading lamps with linen drum shades. A matching bench with a cream and light brown striped cushion stood at the foot of the bed.
On the opposite wall, a white double dresser concealed a small refrigerator and served as a base for a large LCD television screen. A black desk chair with a sage green leather seat cushion and a blue damask medallion back stood in front of a mahogany writing desk with a pewter desk lamp. Above the desk, framed Jefferson memorabilia surrounded a round mirror in a thick distressed wood frame. A light green upholstered armchair with a circular footrest, a round contemporary black metal side table and a floor lamp completed the décor. At the far end of the room, a glass door opened onto a large covered balcony. On the opposite side of the room, an old style sliding door on a wrought iron rail separated the bedroom from the bathroom.
Food And Restaurants The flagship restaurant of the property, the Old Mill Room was open for breakfast, lunch and dinner. For 27 consecutive years it had received the AAA Four Diamonds designation "for its culinary excellence, distinctive Virginia ambiance and superior service".
Amenities
Room amenities included a coffee maker with caffeinated and decaffeinated coffee, ice bucket replenished twice daily, electronic safe and flashlight. Bathroom amenities included bathrobes and slippers, magnifying mirror, hair dryer, facial tissues, shower cap, and individual sizes of Molton Brown shampoo, conditioner, body lotion, hand soap and bath milk and honey body soap. A national newspaper was delivered daily to my room. Complimentary tea and pastries were served each afternoon in the Ordinary Room. On demand use of fishing poles, bikes and helmets was also complimentary.
Facilities The property included four restaurants, the Old Mill Room, the Café, the Birdwood Grill and Bistro 1834. There was also: 18 hole golf course, a sports club that featured 11 squash courts (eight single and two double courts, plus a fully glass enclosed show court with amphitheater seating for over 200 spectators), 26 tennis courts (12 indoor and 14 outdoor), three swimming pools, and a spa with seven treatment rooms, hydrotherapy room and nail salon.
Fitness Center And Spa There was a large fitness center in the sports club, appointed with cardio vascular fitness equipment and steam and sauna rooms. The in house spa was at the edge of the lake and a few feet away from the main building and the Hunt Club. In addition to the serene lounge with its central fountain where guests went to relax between treatments, it had six single treatment rooms including one hydrotherapy room plus one couples room. It employed a staff of eight massage therapists, three estheticians and five nail technicians. The spa appeared to be popular with local residents as well as guests and advanced reservations were a must. I felt fortunate that in spite of the short notice I could arrange a late appointment on the last day of my visit. After a full day of exploring the area and with only limited time before dinner I experienced an exceptionally effective dual treatment. While I enjoyed an exfoliating, deep cleansing and rehydrating Replenisher Facial under the expert fingers of Celia Hines, a master esthetician, Gary Sites, a massage therapist, administered a Reflexology Treatment and foot massage that relaxed my muscles instantaneously and relieved the pain in my joints. One short hour later, I felt fleet footed and positively glowing.
Pool The resort had a seasonal 64 foot by 28 foot (19.5 meter by 8.5 meter) adults only pool for guests 18 and older. Pool depths ranged from three to eight feet (one meter to 2.5 meter). It was being prepared for its annual reopening at the time of my visit. The aquatic facilities included a heated 25 meter Junior Olympic Pool with six lap lanes. It also had a seasonal round activity pool with slide and a children's pool.
Conference Facilities
The Boar's Head had a 22,000 square feet (6,700 square meter) meeting and event space with a total of 19 meeting rooms including two ballrooms.
Other The Birdwood Golf Course had been recognized as a Certified Audubon Cooperative Sanctuary since 2006 through the Audubon Cooperative Sanctuary Program for Golf Courses, an Audubon International Program. It was one of 881 courses worldwide to hold this distinction. In 2014, the Boar's Head received AAA Four Diamonds for the overall resort for the 13 consecutive year.
Cleanliness
Excellent
Date Of Review April 2014
Reviewers Article and photos by Josette King
Service My room was serviced twice daily. Every member of the staff with whom I came in contact was friendly and efficient.
Would You Stay There Again? Yes
Contact Information
Address:
200 Edman Drive
Charlottesville, Virginia 22903
Main Phone:
Toll Free:
+1 434-296-2181
+1 855-452-2295
Fax:
Website:
Email: