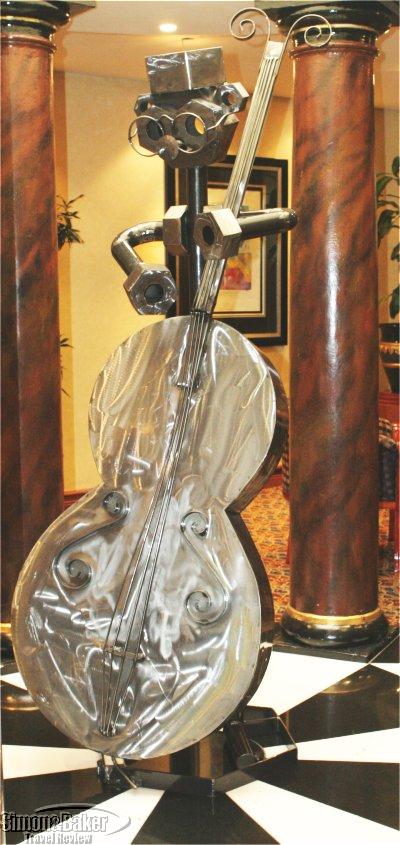 Making new friends and exchanging quality moments is, after all, what exceptional travel and The Blue Train are all about.
Overall Impression
A trip on South Africa's famous The Blue Train is the dream of a lifetime for many. On board, travelers celebrate birthdays, anniversaries, honeymoons or just long planned trips to South Africa. The 1,600 kilometer train ride affords guests the opportunity to see some of the South African countryside while basking in luxurious accommodations and enjoying appetizing meals and premium service. The Blue Train offered guests an out of the ordinary ride in luxurious comfort and style that they could reminisce over for years.
The leisurely 27-hour ride from Pretoria to Cape Town was a wonderful alternative to the Johannesburg Cape Town flight. It helped me recover from the 48-hour trip from the U.S. and related jet lag, providing hours of down time and the unhurried opportunity to enjoy the scenery, read or just relax. Although it was possible to make calls using the in-room phones or mobile phone, many passengers took advantage of the opportunity to relax making few or no calls.
The Blue Train mystique, the aura of luxury and history attached to one of the world's most famous trains, is part of the attraction for first timers and repeat guests. For others it's the many perks included in the fare such as a private departure and arrival lounges at the train stations; spacious private suite; three meals a day; snacks, drinks including house wines and alcoholic beverages; a butler per train car to service the suite and look after guests; and an excursion to the diamond city of Kimberley during the trip.
One of my favorite features was the opportunity the train ride offered travelers to meet each other in a convivial environment. I met several couples on board. We shared meals, drinks, differing points of view, recommendations for local attractions and many fine moments. Making new friends and exchanging quality moments is, after all, what exceptional travel and The Blue Train are all about.
Class Of Accommodation
Luxury train with Luxury and DeLuxe suites
Executive Chef Dicky Swanepoeh
Executive Director Dorcas Ledwaba
Handicapped Access Yes, there was one handicapped-accessible suite available aboard the train
Length Of Stay 27 hours
Owned-Managed Spoornet, a Division of Transnet Limited (South African government)
Size During our train ride, there were 74 suites accommodating 64 passenger in 18 cars and a staff of 27 including one butler per train car.
Train Director Lawrence Phalcathi
Year Opened-Renovated The Blue Train began operations in 1946. The most recent renovations took place in 2003
Common Areas The Blue Train was designed with elegance in mind. Public areas were decorated with mahogany and cherry woods with specially designed inlays. The club lounge and bar areas were upscale yet relaxed with an African flair and comfortable seating. There were signs of wear but I'm confident updates and upgrades were in the works.
Bathroom A door next to the full length mirror led to the bathroom. There was a small sink with a wood toiletry tray next to it and a large mirror above it. A full size bathtub with a handheld shower head occupied the rear of the bathroom. The sink counter and bathtub walls were of mustard yellow marble. There were plugs for 110 v and 220 v appliances next to the sink.
Room
My 150-square foot De Luxe Suite (No. 42) was elegant and well furnished. Small touches like foot rests, a television, a full length mirror, an electronic safe, embroidered linens, feather pillows and duvets made it especially comfortable and first-class. There was a small blue sofa with two foot rests facing in the opposite direction the train was traveling. A collapsible table extended from the wall and there was a yellow armchair next to it facing the direction we were traveling. When I arrived I found a welcome letter on the table. There was a folio with Blue Train stationary including two "B" embossed envelopes, three sheets of paper, two complimentary postcards (postage was included), a notepad and a pen.
Mine was the last suite in the last passenger car. Behind it were the staff cars. Although staff often walked by my cabin on their way to and from work, they were quiet. The only annoying noises were from the passengers in the two other cabins in the train car. They left their cabin doors open and yelled to each other across the divide. Several times they walked up and down the hallway talking so loudly at each other that I could hear them clearly with my cabin door closed. After I mentioned the disruptions to Jan, our train car butler, during a break, they stopped.
The inner walls were wood and the outer area was taken up in large part by a double pane window (couldn't be open). The patterned carpet was blue and burgundy. There was a full length mirror by the bathroom door. Next to the entrance to the suite there was a small closet with hanging space, an electronic safe and a drawer. Above it there was a Samsung 24" remote controlled television with movie selections. There were small night tables with drawers and counter space on either side of the wood wall in the rear of the cabin.
Although I had several weeks' worth of luggage, I was able to fit the suitcases in a corner. There was also storage space above the interior wall. For passengers with more luggage than they could fit in their cabin, it was possible to store extra luggage elsewhere on the train.
While I was at dinner, the suite was reorganized for night use. The sofa, foot rests, pillows and armchair disappeared and the table was folded against the wall. In their place there was an inviting bed with delicate white linen. The Blue Train logo was embroidered on the duvet cover
Meals
On arrival at The Blue Train Pretoria train station lounge in the early morning we were served a hot beverage. The waiter also offered us a choice of three bite size snacks from a small tray. On board, meals were served in two seatings. Before boarding we had to decide which seating we preferred. Lunch was at noon and 2 p.m. Dinner was served at 7 and 9 p.m. We had lunch, dinner, and breakfast during the 27-hour train ride. Breakfast included a cold buffet and made to order hot dishes. Lunch and dinner were served at the table from a limited a la carte menu. Lunch consisted of several starter options: Game Pate "Skukuza," described as "home made local venison pate" with Cumberland and red currant jelly; Tian of Smoked River Trout "Franschoek," Franschoek Valley smoked trout with cucumber tomato salad with yogurt and dill dressing; Chilled Tomato Soup "Magaliesburg," a gazpacho "finished off with bell peppers, cucumbers and a grissini stick;" and butternut soup (a favorite). The main courses were Fisherman's Choice kingklip (local fish) served with cous cous and seasonal vegetables; and Lamb "Karoo Style," encrusted with garlic and pistachio nuts with rosemary jus on a bed of
waterblometijes
and pan-fried potatoes. Dessert options were sorbet, "Cape" Pear and Walnut Bake and cheeses.
For dinner we sampled the Springbok Loin "De Aar," thinly sliced smoked springbok with calamata olive tepanade and pickled sun-dried tomatoes appetizer. The main courses we tried were Grilled Salmon "Nocab," salmon wrapped in bacon served over fennel with cream and lemon; Ostrich Fillet "Oudtshoorn," pan-fried ostrich in a cabernet sauce served with cubed thyme potatoes; and Breast of Chicken "Wine Route," a de-boned breast of chicken, filled with an asparagus and gorgonzola mousse and served on pan-fried greens. For dessert we tried the Chocolate "Grand Marnier," a chocolate spring roll with strawberry compote flavored with orange liqueur.
The breakfast buffet included fruit juices, yogurt, fruit platter, apple muesli, prunes and oranges in herb syrup with honeyed yogurt, and cereals. Hot made to order options were scrambled eggs wrapped in smoked salmon; eggs and omelets to order with bacon, mushrooms and tomatoes; Champagne Sausages; Hot Field Mushrooms on Toast; croissants and assorted breads.
There were a number of complimentary wine and beverage options including sparking wines. Our waiter, Peter Mfikde, was attentive.
Our affable chef, who had been working with The Blue Train for 15 years, whipped up delicious and artfully presented dishes and snacks.
Amenities
There were complimentary bottles of water, crystal glasses, bathrobes, writing paper, direct dial phone, and TV with entertainment system in the cabin. There was Blue Train brand shampoo, shower gel, body lotion, bath salts and a toiletry box with a sewing kit, two shower caps, cotton swabs and a nail file in the bathroom.
Facilities There was a restaurant for guests, and an on board boutique selling specially-designed jewelry and apparel. There was a Lounge Car and Club Car where guests gathered for drinks and conversation, each with a bar. Smoking was a permitted in the Club Car only.
Other
Visits to the small gift shop, located in suite 25, were by appointment. A maximum of two guests were allowed in the shop at one time. Options included African themed gold jewelry with distinctive designs including elephant hair and gold necklaces and bracelets. There were also bracelets, pendants, earrings and rings with diamonds and tanzanites.
There were also synthetic and silk scarves in a see through leopard print, and Blue Train themed ties, cuff links, playing cards, navy blue polo shirts and light blue shirts. The shop was open by appointment from 10:30 a.m. to 17:30 p.m. on our first day and from 9 a.m. to 10:30 a.m. the following day.
Cell phones were not allowed in the public areas. Smoking was only allowed in the Club Car.
Passengers usually visit the Kimberley Open Mine Museum which includes the famous Big Hole during the single stop between Pretoria and Cape Town. During our trip the museum was closed for renovations. Instead of the museum we were invited to the De Beers Mine and Rhodes Boardroom.
Route Pretoria to Cape Town
Cleanliness
Very good
Date Of Review November 2006
Ease Of Reserving A Room Though we inquired months in advance, our first choices of dates were unavailable. As a result, it was necessary for us to rearrange our entire flight schedule and hotel reservations. Advance planning is advisable to secure desired dates.
Reviewers Article and photographs by Elena del Valle
Service Staff were considerate and polite. They all dressed in handsome uniforms. Peter Mfikde, our waiter, Jan my suite butler, the bar staff and chef were solicitous and able.
Would You Ride It Again? Yes
Contact Information
Address:
The Blue Train
Pretoria to Cape Town
Minaar Street
Pretoria
Gauteng
South Africa
Phone:
Fax:
Website:
Reservations:
Phone:
Reservations:
South Africa:
The Blue Train
Phone: