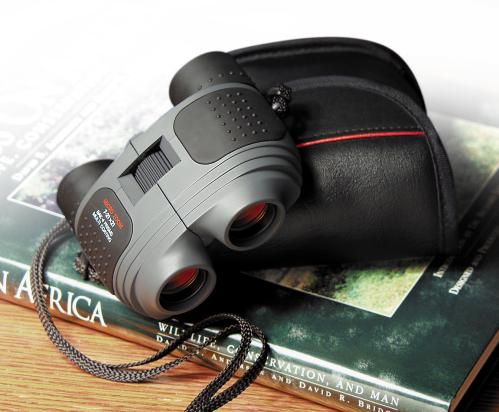 We plan to take the Micro-Zoom binoculars on future trips including our next African safari.
Overall Impression
When we were game viewing, we carried our Micro-Zoom compact binoculars everywhere – they still have the telltale African dust to prove it. Their light and practical design made them easy to carry and a pleasure to use. They were the perfect starting point for basic safari sightings. Whenever we wanted a higher magnification, we would pull out our much heavier second set of binoculars. Most of the time, the Micro-Zoom binoculars were just right for our needs and light enough to carry comfortably, even when we went walking for three or more hours in the bush.
The carrying case was lightly cushioned and a great place to store them when they were not dangling from our necks. The strap was sturdy and long enough to allow the binoculars to hang at a medium length where they were within immediate reach at any moment. The unattached lens cap was the only inconvenient feature. Though the lens cap returned home with us no worse for the wear, we thought we had lost it at least half a dozen times. We especially liked the U.V. (ultraviolet) protection and roll down eyecups. The eyecup design made the binoculars convenient to use while wearing sunglasses and equally suitable at night when we switched to eyeglasses. We plan to take the Micro-Zoom binoculars on future trips including our next African safari.
Included
L ens caps, carrying case, neck strap and cleaning cloth.
List Price $99
Made In Korea
Manufacturer-Distributor : Pacific Industries Development Corp . Sold by Magellan's
Release Date April of 2002
Size 3¾ x 3½"; 11 oz w/case
Type Of Product Compact binoculars
Warranty Lifetime warranty when purchased at Magellan's
Weight 11 ounces with case
Features Zooms from 7x to 21x instantly with a one-touch zoom lever, a specially designed ridge-support system holds optics in place even if the user is moving, ruby-tinted lenses provide U.V. (ultraviolet light) protection, a center focus knob with independent right diopter adjustment, and roll-down eyecups for users sporting eyeglasses or sunglasses.
Other Using the lever for game viewing was practical because it allowed us to locate the animals on our sight and then focus the binoculars easily with the lever.
Countries Tested
: U.S.A. , Botswana , South Africa and Zambia
Date Of Review : June 2004
Number Of Days Tested Six weeks
Would You Use This Product Again? Yes
Contact Information
Address:
World Headquarters
Magellan's International
110 W. Sola Street
Santa Barbara , CA 93101
U.S.A
Phone:
805-568-5400 (International)
1-800-962-4943
Fax:
1- 800-962-4940
+1 805-568-5406
(International)