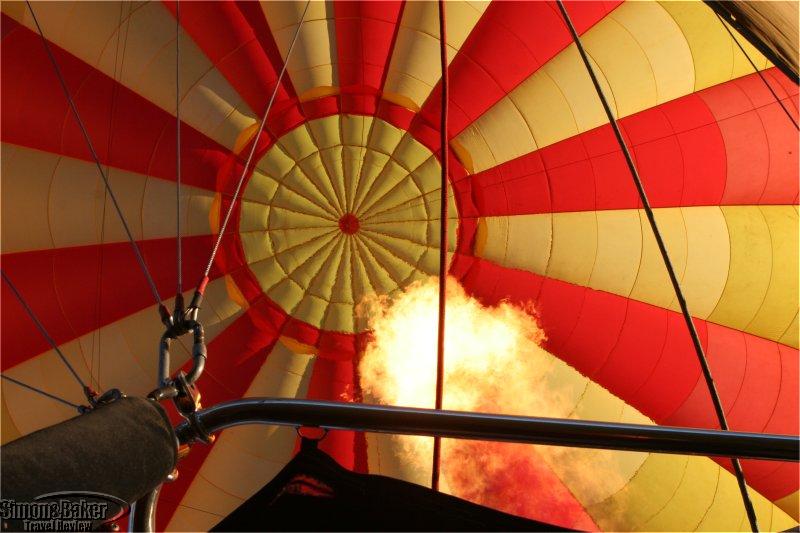 It was a superb and novel way to enjoy a morning in Johannesburg.
Overall Impression
It was 3:45 a.m. when my hotel room phone rang the day after my arrival in South Africa. A few minutes later I dashed out of the room in a whirl of sweaters, full of excitement and anticipation. What had me energized at 4 a.m.? A balloon ride in the Cradle of Humankind. A half hour taxi ride later I found myself at the entrance of a hotel in the outskirts of Johannesburg greeting Mary Harrop, wife and co-owner of Bill Harrop's Original Balloon Safaris. From there Mary described our upcoming flight with enthusiasm while we drove in a minivan to the picturesque Kloofricht Lodge from which we would be launching the balloon. We were only about 60 kilometers from Johannesburg and yet it felt like a world apart. Mary explained that the area boasted some of the safest and most reliable ballooning weather in the world.
At the Lodge we met two South African couples. One couple was celebrating a birthday. The others were newlyweds beginning their honeymoon with a balloon ride. After brief introductions and a warming beverage we were ready to go. We walked across the lodge parking lot to an open field where we found Mary's team preparing the balloon for our flight.
With barely suppressed enthusiasm the five of us watched fascinated while our veteran pilot, Felicity Clegg, and her young assistants readied our beautiful red and yellow balloon for departure. In what seemed like the blink of an eye everything was set.
Quickly we each climbed into our assigned compartment in the balloon basket. Felicity discussed safety, explained what we should do when we landed and answered questions. Take off was so gentle we could hardly tell when the balloon had left the ground. Up, up and away… we flew with the sunrise. Only the intermittent blasts of the balloon's potent burners broke the early morning silence. Soon we were soaring gently above the Lodge and its adjacent lake. At that hour the colors were muted and magnificent. We could see the balloon reflected in the water as we glided over the lake.
For just over an hour we rode the soft morning winds over the pale Cradle of Humankind and Mulsdrift landscapes, watching suburban neighborhoods and farms. In the background, enveloped in a layer of mist and smog was Johannesburg, indistinct and distant like a mirage. We could have stayed up there forever but the team and breakfast were waiting. Eventually Felicity brought down the balloon ever so softly. While Felicity and Mary directed the team to stow away the balloon and all the gear, we toasted our wonderful flight with sparkling wine, and headed back to the Lodge for a satisfying and delicious buffet breakfast. It was a superb and novel way to enjoy a morning in Johannesburg.
Average Duration Of Visit
Most flights last one hour but the duration depends on the weather. Ours, for example, lasted one hour and ten minutes. Others may last 40 minutes, if the weather conditions are less favorable. Guests were advised to set aside three to four hours to complete the excursion. Transport time to and from the departure location and breakfast following the balloon ride were built into the schedule.
Description The British made balloon we flew on was 210,000 cubic feet in size and could accommodate up to eight passengers. The attached wicker basket in which we rode was about 2.5 meters by 1.5 meters in size. It required 20-30 minutes to prepare for take off and another 20 minutes to take apart and store after landing.
Felicity had 20 years of experience, 13 of them with commercial craft.
Established It was established as a legally licensed balloon Air Transport Service in 1981
Location Our balloon ride took place in the outskirts of Johannesburg, about an hour's drive, from my Melrose hotel.
Open All year. They flew 86 percent of the year.
Owned-Managed Bill and Marry Harrop
Size The company owned five balloons operated by six pilots, including the only two women pilots in South Africa. It employed 30 staff of which 18 worked full-time.
Transportation Pick up in Johannesburg hotel's was included in the rate or guests could drive to the balloon site.
Restaurant After we landed, we feasted on a hearty buffet breakfast at the Kloofricht Lodge. Breakfast choices included fruit, yogurt, cereal, three kinds of fruit juice, breads and pastries, made-to-order eggs, cold cuts, and cheeses. There were also two kinds of sausages, bacon, sautéed potatoes with onions, scrambled eggs, and tomatoes.
Other
Mary emphasized that their number one consideration was safety. Every precaution, she said, was taken to ensure a safe and enjoyable flight. When we arrived, small balloons were sent up to test the direction of the air and while we had our warm beverages the team checked and rechecked the lines. Then there were pre-flight and pre-takeoff checks. Balloon riders were about 65 percent local and 35 percent foreign visitors.
Bill Harrop's was a member of the Southern Africa Tourism Services Association (SATSA). They received the 2005 award for Top Tour Operator by SATSA
Date Of Review
November 2006
Reviewers Article and photographs by Elena del Valle
Would You Fly With This Balloon Company Again? Yes
Contact Information
Address:
PO Box 67
Randburg
2125
South Africa
Phone:
+27 080 BALLOON
(080 225 5666)
+27 (0) 11 705 3201
+27 083 379 5296
+27 083 443 2661/2/3
Fax:
Website:
Email: