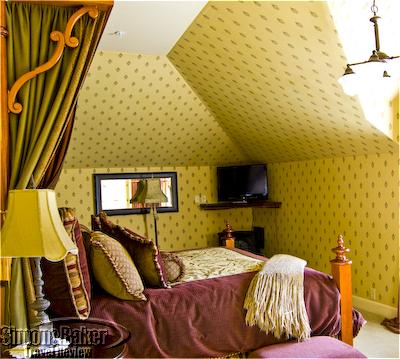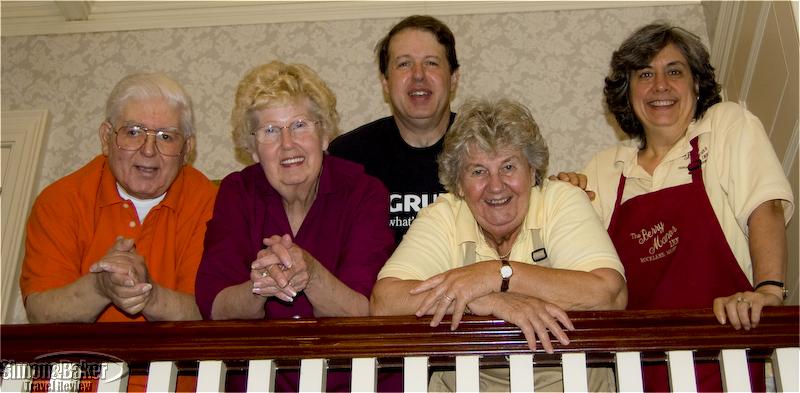 I will make sure to book well in advance to secure mine for my next visit.
Overall Impression
This striking Victorian gem was one of the most luxurious country inns I have ever come across! Set in a residential neighborhood of grand old 19th century homes shaded by venerable trees, this three-story gold-trimmed claret-colored clapboard beauty served notice at first sight that it was the grandest of them all. Its interior confirmed it. Expansive, coffered-ceilinged public rooms with inviting fireplaces opened onto a two-story center foyer with an elaborate staircase soaring to a wide second floor gallery; gleaming oak banisters; crystal chandeliers: this was a house meant for gracious living in a bygone gilded age. Built in 1898 by local business mogul Charles Berry as a wedding gift for his bride, the manor remained a private residence until 1998 when the present owners adapted it into an exceptional home-away-from home for their guests.
Both the main and the carriage houses are on the National Register of Historic Places. Innkeepers Cheryl Michaelsen and Mike LaPosta took great care to preserve the integrity of the design and architectural features even as they set out to create an inn of outstanding comfort. In addition to the common rooms, the main house comprised eight guest rooms, with another four in the carriage house. Each was uniquely decorated in the rich fabrics and warm colors of the Victorian era and furnished with period antiques and reproduction pieces (I couldn't resist peeking in when a room happened to be momentarily vacant during my stay!). I felt I was wandering through an Edith Wharton interior design, albeit one with oversized whirlpool baths and wireless Internet connections throughout.
While every corner of the buildings and the grounds exuded unquestionable elegance and charm, the innkeepers were what made the place irresistible. The generosity of their hospitality, the individual attention they lavished on me down to the smallest detail showed an interest that went well beyond professional excellence. From the moment I arrived, the warmth of their welcome made me feel like an old friend whose visit had long been expected. Then there was their secret weapon: "the Pie Moms." As Cheryl escorted me to my room, she casually pointed out the freshly baked pies lined on the counter of the nearby guest pantry and mentioned there was vanilla ice cream in the freezer. Pies! These were not mere pies; they were decadence on a plate! Towering fresh blueberry, cherry and raspberry pies, baked daily by "the Moms," Mike and Cheryl's moms, Janet LaPosta and Alice Taylor. These perfect pies would be waiting just outside my room, 24 hours a day! I wished for insomnia.
With its classic elegance, flawless comfort and superb hospitality, it was no surprise the Berry Manor Inn has built a loyal following. Half its guests have become return visitors, often being quite territorial about "their" room, which they request for each stay. I will make sure to book well in advance to secure mine for my next visit.
Class Of Accommodation
Luxury boutique country inn
Connectivity Complimentary wireless Internet connectivity was operational throughout the inn.
Handicapped Access The entire property was equipped with a horn and strobe fire alarm system for the safety of hearing and visually impaired guests.
Length Of Stay Two nights
Location The Berry Manor Inn was located in a quiet residential neighborhood, a 10-minute walk from Rockland's Main Street, harbor and museums.
Owned-Managed Cheryl Michaelsen and Mike LaPosta
Size The 6,800 square foot (632 square meter) main house included all common areas on the main floor and eight guest rooms on the two upper floors. The 1,800 square foot (168 square meter) second floor of the adjoining carriage house held an additional four rooms and a sitting room for carriage house guests. The inn employed a staff of four.
Year Open-Renovated The inn was fully restored prior to its 1999 opening and had been lovingly maintained ever since.
Lobby And Common Areas
The main floor reception rooms opened onto the central entrance foyer. The formal parlor was to the right, with its tall, white-lacquered carved wood fireplace the main focal point of the room. Next to it, a tall mahogany curio cabinet held a collection of antique china teapots. The polished hardwood floor was covered with a room-size claret-colored Aubusson rug with pale gray and rose medallions that recalled the motifs in the wall covering. The tall windows were covered with floor-length lace curtains and claret velvet draperies. Dark wooden armchairs upholstered in striped mauve and gray silk surrounded a white marble-topped coffee table in the center of the room. A small drop-leaf desk with a china lamp completed the décor.
The drawing room and dinning room were to the left of the foyer. In the drawing room, two overstuffed sofas faced each other in front of the fireplace. They were covered in dark olive velvet, with matching cushions and burgundy needlepoint accent pillows. A pale room-size oriental rug with burgundy accents covered the hardwood floor. Window treatments were color-coordinated to the broadly striped olive green wallpaper. On one side of the fireplace, a double bookcase held a collection of boxed and electronic games and reading materials. Between the two front windows a square table held a large puzzle in progress. Guests were welcome to participate.
A large doorway led to the formal dinning-room at the rear of the building. Its lace-curtained windows were draped in gold brocade trimmed with heavy claret silk fringe that matched the background of the gold-flowered wallpaper. The lower half of the walls and all the woodwork were lacquered in a pale cream that matched the antique room-size oriental rug covering the floor. Tables were topped with claret, sage, and gold plaid linens. On either side of the outer wall, corner cabinets with leaded glass doors showcased a collection of Victorian cut glass, and jewelry, and an assortment of silver candy boxes. On the opposite wall, a long mahogany sideboard topped with a large mirror in a heavily gilded frame was piled high with a collection of stuffed cartoon characters and mechanical dancing toys (many of which were contributed by returning guests pleased to have found a home for their own gag gifts).
In the center foyer, a taupe and claret upholstered bench was built into the side of the grand staircase. A small drop leaf desk nearby served as guest reception area. The wide, oriental carpeted staircase ran up the sidewall to end in an U-shape gallery leading to the guest rooms and to a library nook overlooking the front entrance porch. The library was furnished with two rose armchairs and a built-in floor to ceiling bookcase with a variety of fiction and local interest books and magazines.
Guests of the Carriage House had their own living room, furnished with tuft rose armchairs and a purple velvet wing chair, a writing desk, and an entertainment armoire that housed a TV, games and reading materials. The back wall was a built-in pantry complete with stocked refrigerator
Bathroom
The 80 square foot (seven and a half square meter) bathroom included an oversized corner whirlpool tub for two and a two-person shower with multiple body jets. The pedestal sink was topped with a framed wall mirror. Bathroom lights were on dimmers. There were candles around the tub, and a rubber duck standing guard. A copy of
Flushed with Pride, the Story of Thomas Crapper
, was left of the toilet seat for an added bit of whimsy.
Room My 350 square foot room (32.5 square meter), Number 9, was located on the second floor of the carriage house. The massive king-size half-tester bed was draped in a paisley tapestry of olive, merlot and camel, with a merlot velvet coverlet and a profusion of coordinated decorative pillows. It was flanked by a round table on one side and a small Queen Anne writing desk on the other. Both held candlestick reading lights with silk shades. A chaise covered in pale yellow wool faced the corner gas fireplace and the flat panel television. A sage velvet wing chair sat in front of the French windows made from the original hay doors of the carriage house. In addition to lace curtains, the windows were dressed with scarves of material matching the bed treatment. Built-in cabinetry housed a bureau, a mirrored vanity with a tufted vanity stool and a hanging closet. The grambrelled walls were papered in cream with discrete sage paisley motifs. Floor covering was a plush taupe wall-to-wall carpeting. A long antique mirror on the far wall and equine prints completed the décor.
Especially noteworthy were the supreme comfort of the custom-made mattress and the silky softness of the high-count cotton sheets. I also noticed my room was exceptionally quiet: while I knew there were other guests on the floor, I was never aware of their presence. I remarked on it to Cheryl the next morning. She confirmed that during the restoration of the carriage house, all dividing walls had been especially soundproofed with metal panels inserted inside the walls, then insulated on both sides. Cheryl confided that she kept sound machines available for city guests who sometimes found it difficult to fall asleep amid so much silence!
Restaurant Complimentary breakfast was served by the Pie Moms each morning between 8 and 9:30 A.M. in the formal dinning room. The menu was posted the evening prior to give guests a chance to identify food preferences or dietary issues in advance. Breakfast included tea, coffee and assorted juices, a fruit course (I especially liked the poached pear with yoghurt sauce), along with a still warm piece of lemon-poppy side seed cake, then a main course du jour with either sausage or bacon.
Amenities
In addition to the pies, the guest pantry featured a full-size refrigerator stocked with complimentary bottled water, soda, and ice cream. There was a coffeemaker with ground coffee, a variety of caffeinated and herbal teas, glasses, stemware, plates, cups and saucers, flatware and a microwave oven. The room's hanging closet held an ironing board and iron, extra pillows and throws. The room was serviced twice a day, with chocolates left on a silver tray on the bed as part of the turndown service.
Bathroom amenities included thick, plush bathrobes and towels, Caswell & Massey soap, shampoo, conditioner and bath gel, candles and a high quality hand-held hairdryer (and the rubber ducky).
Other
Berry Manor Inn was at the time of this writing the only AAA Four Diamond-rated historic bed and breakfast inn in mid-coast Maine.
The Inn was certified by the State of Maine as an Environmental Leader in the Hospitality Industry for the irnn'sits green practices.
Cleanliness
Excellent
Date Of Review September 2008
Reviewers Article and photos by Josette King
Service Outstanding! Cheryl and Mike were so attentive that they immediately became my personal round-the-clock concierges. They kept track of the schedule of my excursions and my dinner reservations more closely than I did, and made sure to send me off at the appropriate time with detailed directions. They were also always ready to share information about the city's history, lore, and latest happenings.
Would You Stay There Again? Yes
Contact Information
Address:
81 Talbot Road
Rockland, Maine, 04841
U.S.A.
Phone:
+ 1 800-774-5692
+ 1 207-596-7696
Fax:
Website:
Email: