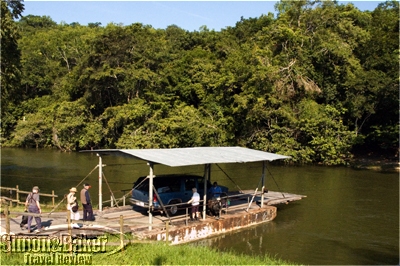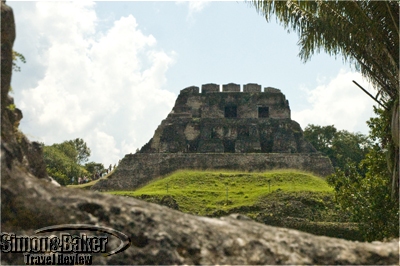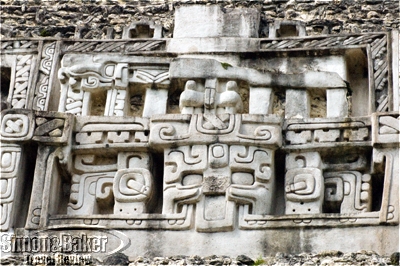 With its linguistic advantage, its unspoiled natural and archeological resources and its proximity to North America, Belize seemed well on its way to turning its western highlands into another thriving eco-tourism destination.
Overall Impression
A tiny country wedged along the Caribbean Sea between Mexico and Guatemala, Belize has long been recognized by water sport enthusiasts as a diving and snorkeling paradise. The country, the smallest in Central America (8,800 square miles or 23,000 square kilometers, slightly smaller than Massachusetts), boast the longest barrier reef in the western hemisphere (180 miles or 290 kilometers) along its 240 mile (386 kilometers) coastline. Until now, the sandy islands that straddle the reef (cayes in local parlance), reputed for their white coral sand beaches and spectacular underwater canyons, have been the country's greatest attraction. However, Belize is also blessed with a lush interior of unspoiled rain forests rich in wildlife, birds and Mayan archeological treasures. To capitalize on these natural assets, the country has designated 40 percent of its landmass as national parks and nature reserves. The Cayo District, with its 2,000 square miles (5,200 square kilometers) of verdant rolling hills along the Macal and Mopan rivers, offers especially scenic attractions. Home to the two most important Maya ruins in the country, Caracol and Xunantunich, as well as several nature reserves including the reputed Blue Hole and Guanacaste National Parks, it is increasingly becoming a favored destination of eco-tourists.
Formerly a British colony known as British Honduras, Belize is the only Central American country with English as its official language. But there is otherwise not much visible British influence in this sleepy little nation. Rather, its sparse population of less than 300,000 is a mosaic of ethnic diversity that includes Mestizos (Spanish-Indians), Creoles (African-Europeans), Garifunas (African-Indians) and Mayans, as well as a few Anglo-Europeans and Asians. All seem to cohabitate cheerfully, giving the country the laid-back feel of a mainland Caribbean enclave.
During my recent visit, although foreign visitors were still few outside of the coastal areas and the tourism infrastructure was somewhat limited,a number of small eco-resorts and lodges were beginning to appear in the interior. With its linguistic advantage, its unspoiled natural and archeological resources and its proximity to North America, Belize seemed well on its way to turning its western highlands into another thriving eco-tourism destination.
Climate
Average daytime temperatures were in the mid-to-high 80's Fahrenheit with fairly high humidity, as is typical in tropical regions. There are two seasons in Belize: dry (December through April) and rainy (May through November). While the sky was often partially cloudy during my during my early November visit, rainfall consisted mainly of an occasional short late-afternoon drizzle.
Cost Of Visiting moderate
Currency The local currency is the Belizean dollar (BZ$). It has been pegged to the U.S. dollar since 1978 at the rate of 2 BZ$ to $1.
Electrical Current 120 volt with U.S. plugs
How To Get There There were daily non-stop flights between the Philip Goldson International Airport in Belize City and the southern U.S. gateways of Atlanta, Dallas, Houston and Miami, via American, Continental and Delta Airlines. There were also direct flights from major Central American cities via local airlines such as Groupo Taca. At the time of my visit, U.S., Canadian and E.U. citizens were not required to have a visa to enter Belize. The departure tax was $35.
Location Belize is located on the eastern coastline of Central America. It is bordered on the east by the Caribbean Sea, on the north by Mexico and on the west and south by Guatemala.
Measures English measurement system prevailed
Money Issues Currency could be exchanged at the airport in Belize City and in banks in most cities and tourist locations. Automated Teller Machines were found in these same areas; U.S. dollars were readily accepted. Credit cards were only reliably accepted in establishments catering to tourists.
Technology Electricity and running water were available in all areas visited by tourists, as was high speed internet connectivity. Cell phone service was widely available.
Time G.M.T minus six hours (e.g. U.S. Central Time during Standard Time). Belize did not observe Daylight Saving Time
Transportation From Belize City, air connections could be made to various coastal destinations within Belize, including Ambergris Bay Caye, Caulker Caye, Chapel, Pacencia and Punta Gorda. The road network was in poor condition. Although there were about 1,800 miles (2900 kilometers) of roads in the country, less than a quarter of them were paved. There were virtually no traffic lights; speed bumps were used liberally instead, even on main roads. Buses provided regular service to and from all the main towns.
Facilities
Outside of the Belize City urban area, medical facilities were basic in hospitals and clinics in small towns
,
as were banks, grocery stores, post offices, gas stations and internet cafés.
Shopping And Souvenirs I found little shopping of note in Belize; only the usual souvenir shops with the ubiquitous local pottery and wood carving, obsidian plaques, jewelry and textiles. Basic necessities were readily available from local supermarkets.
Tourism Highlights For water enthusiasts, the coastal area of Belize had it all. With its barrier reef named as a UNESCO World Heritage Site, many considered the country a premiere scuba diving and snorkeling destination. Boating, fishing, windsurfing and parasailing were also popular activities. Meanwhile the mainland, with two-thirds of its land still forested, was reputed to be home to over 500 known species of birds. In addition to bird-watching, horseback riding under the forest canopy, river rafting and canoeing were favorite pastimes, as were archeological excursions. I especially enjoyed visiting the Mayan sites of Xunantunich and El Pilar. The partially excavated site of Xunantunich could only be reached via a picturesque 19th century hand-cranked ferry across the Mopan River. Once there, the largest pyramid, El Castillo, rose 132 feet (40 meters) to offer a circular view of the forest canopy of the Cayo District and nearby Guatemala. El Castillo also featured, on its east and west sides, the well-preserved remains of a spectacular frieze that had once surrounded the building. Straddling the Belize/Guatemalan border, El Pilar was a mainly unexcavated site where toucans far outnumbered tourists. Marked trails made it easy to explore the ruins while enjoying the fauna and flora that flourished in the mainly undisturbed jungle.
Date Of Last Visit
November 2007
Reviewers Article and photographs by Josette King
Would You Visit Again? Yes