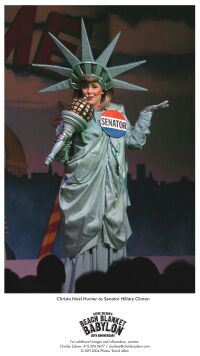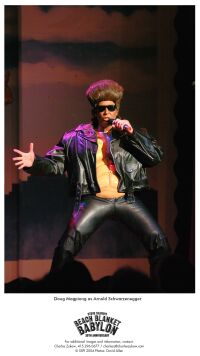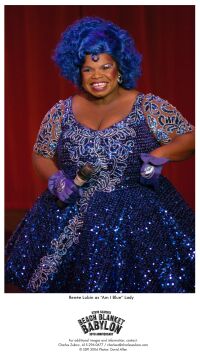 We found the tongue-in-cheek parody lively, colorful, and funny; the perfect show for our first weekend night in San Francisco in many years.
Overall Impression
Billed as "the nation's longest running musical revue," Beach Blanket Babylon®, an irreverent musical centered on Snow White looking for her prince (around the world) spoof, was the perfect entertainment for our jetlagged souls. All day travel and a three-hour time disconnect made us tired and sluggish; the Beach Blanket Babylon performance jazzed us up. We walked out smiling and ready for the scrumptious dinner we had planned.
We weren't sure what to expect from the adult (only adults 21 and over were admitted to evening shows) 30-year-old show that began in the 1970s with street performers. Its popularity proven by more than 11,000 performances and 4.5 million guests, the Beach Blanket Babylon® show we caught was creative, vivid and entertaining. The experienced performers seemed to enjoy each skit full of outrageous hats and spectacular costumes.
The Snow White theme was peppered with current events, famous politicians and pop culture characters such as President George W. Bush, figure, Vice President Dick Cheney, former National Security Advisor Condoleeza Rice, Senator John Kerry, Senator John Edwards, Teresa Heinz Kerry, Governor Arnold Schwarzenegger, Britney Spears, Donald Trump and Paris Hilton among others. We found the tongue-in-cheek parody lively, colorful, and funny; the perfect show for our first weekend night in San Francisco in many years.
Description
a zany and satirical musical with Snow White as the central character of a current events based series of spoofs, including 80 songs, of celebrities, sports figures, politicians, poodles, a French king and any number of wacky personalities.
Duration Of Show 90 minutes
Established June 1974
Handicapped Access BBB: "We accommodate wheel chair users on the main floor of the theater, sign language interpreted performances are held twice a year in April and November, there are assistive listening devices for hearing impaired patrons, and visually impaired guests may request a Braille program."
Location in the heart of San Francisco 's North Beach district
Lyrics Producer Jo Schuman Silver and Director Kenny Mazlow
Open Wednesday through Sunday
Owner-Producer : Jo Schuman Silver
Size seating for 393 in a two-story building and a total of 8,000 square feet of space
Transportation driving or taking a taxi were our best options
Vice President-General Manager David Lincoln King
Snack Bar drinks and snacks available including truffles, candy bars, pretzels and biscotti
Souvenir Shop Posters, coffee mugs, tote bags, t-shirts, sweat shirts, commemorative book of the first 20 years of the show, postcards, water in sports water bottle, caps, commemorative crystal pyramid from the 25th anniversary.
Music
Live music was performed by m usical director Bill Keck on piano and four musicians, synth, drums and two horn players
Other Established by Steve Silver in the 1970s, the adult oriented show welcomed minors for Sunday matinees only. Infants were not allowed. Tickets were nonrefundable and non changeable. All sections were sold on a first come first served basis except for Box & Center Balcony Reserved seats. The show boasts a long list of celebrities who have attended a performance including Hollywood stars and directors, comics, politicians, royals, singers, athletes and designers. The name of the show came from Steve's admiration of Frankie Avalon and Annette Funicello beach blanket movies and the Babylon came from "his fertile imagination."
Date Of Review
April 2005
Reviewers Article by Elena del Valle
Would You Attend This Show Again? Yes
Contact Information
Address:
Club Fugazi
678 Beach Blanket Babylon Blvd. ( Green St .)
North Beach
San Francisco , CA 94133
Phone:
Fax:
Website:
Email: