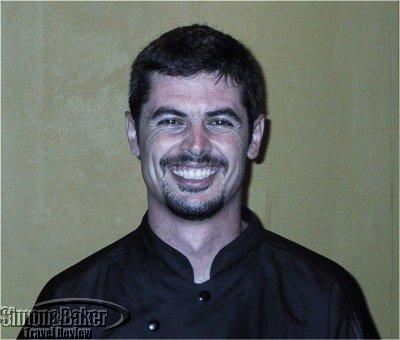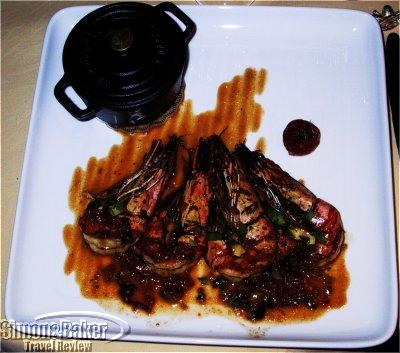 Barth and hope for mild breezes upon our return.
Overall Impression
Dinner at Bartolomeo was good. After a day of rain, multiple failed attempts at beach lounging and room service (the other restaurant at the hotel was holding a private function) we were ready for a treat and Bartolomeo made it possible. It was convenient to walk from our room on the opposite end of the Hotel Guanahani to Bartolomeo, named after Columbus ' brother. When we walked by earlier that day on our way to the beach, the bright orange sign with an adjacent menu and plain entrance gave no indication of the gourmet promises it held.
Once inside, we appreciated the relaxed ambiance with muted international background music. The dining room had an open air design with an adjacent landscaped area, which lent it a tropical feel. It also minimized the cigarette and cigar smoke from neighboring tables. Though we didn't mind dressing up to meet the smart causal attire requirement, our shoes and feet got wet walking along the puddle strewn path. By the time we arrived at the restaurant we were sweating profusely. We enjoyed dinner in spite of the intermittent rain and sweltering heat (the few rotating fans barely made a dent).
Subtle and well combined flavors made a worthwhile sampling of St. Barths French gourmet cuisine. The dishes were appetizing and beautifully presented on attractive dinnerware. Because it was so hot and muggy, we were unwilling to linger for after dinner drinks or, perish the thought, hot beverages. We look forward to a future dining experience in Bartolomeo on our next visit to St. Barth and hope for mild breezes upon our return.
About The Executive Chef
Nice, France native Philippe Masseglia, the director of food service at the Guanahani Hotel and Spa since 1995, was also the executive chef at Bartlomeo when we visited the restaurant. Chef Masseglia began his career in France at the Chateaux St. Martin de Vence. Following a brief stint at Mas d'Artigny in St. Paul de Vence he work with the Roux brothers in London. Then, he relocated to Los Angeles where he worked at the l'Orangerie restaurant in Beverly Hills from 1986 to 1989.
In 1989, he was named chef at the Hôtel Guanahani, where he spent two years. In 1991, Masseglia traveled to Polynesia where he worked at the Kia Ora in Rangiroa. He later returned to France where he worked for two years at the Golf Plaza in Ste. Maxime near St. Tropez before once again working at Le Guanahani. Chef Masseglia has worked with many world class chefs including Jacques Cagna, Marc Meneau and the Pourcel brothers.
Chef De Cuisine Sylvain Fernandez, who had worked at Guanahani for five years when we visited the property
Handicapped Access It seemed reasonably accessible
Head Sommelier Franck Toupin a 10-year Bartolomeo veteran
Location On the Hotel Guanahani grounds
Manager And Executive Chef Philippe Masseglia
Opened-Renovated In 1986 and renovated in 2004
Owned Hotel Guanahani & Spa
Size There was seating for 70
Type Of Restaurant French
DÉCor-Ambiance The restaurant's contemporary island decor was updated by Elisa Bally; the artwork was purchased from a French gallery owned by Raymond Solombre.
Cellars Wine And Alcoholic Beverage Selection
Bartolomeo had an ample selection of French wines. In addition to those, there were some international wine selections from Argentina, Australia, Chile, Italy, Spain and U.S.A. There also a full service bar adjacent to the dining area.
Special Menus There were two fixed price options: a two course meal (a selection of two options from the appetizer, main course, and dessert options) for 55 euros and a three course meal (appetizer, main course and dessert) for 80 euros.
Meal
First we were served a lovely though spicy chicken and vegetable salad
amouse
bouche.
For our appetizers we selected the
Foie
Gras Poélé fruits caramelizes au Xéres et jus de fruits de la passion
(liver with a caramelized fruit in Xeres and passion fruit juice) which was melt-in-your mouth good and a light
Qeues
de Gambas en Tempura fenouil et papaya verte
(shrimp tails and tuna fried in tempura batter with a fennel and green papaya salad). Our main courses were a
Rascasse
a La Bouillabaisse pomme de terre au saffron, rouille, parmesan
(Scorpion fish " á la Bouillabaisse" with potatoes, saffron, cripy mini-toasts and grated parmesan) and a flavorful
Grosses Gambas Flambées au Whisky
(whisky flambé shrimp with a light spicy tomato sauce and fragrant mint infused rice) dish. Three types of bread were available, plain French, with tomatoes or with olives. We accompanied our diner with half a bottle of Ruinart rose champagne.
We had to sample the desserts. We chose a Banana Island which was made of coconut and vanilla ice cream, liquor infused banana and banana mouse sitting on a pastry with a smattering of chocolate sauce and a passion fruit. We also had Mint Cake with Bellini Sherbert (peach ice cream floating in champagne). We sampled a tasty post dessert treat of raspberries, blueberries and blackberries in a chilled passion fruit juice.
Other Le Bartolomeo received the American Academy of Hospitality Sciences 5 Star Diamond for the restaurant and for the chef. In 1997, the Hôtel Guanahani launched its first Festival Gastronomique which featured a number of internationally-renowned chefs such as Marc Meneau from L'Espérance in Burgundy, Sylvain Humbert from the Hostellerie Le Baou in Ramatuelle, and Arnaud Viel from La Renaissance in Normandy. Chefs from New York 's Le Cirque and Cipriani restaurants participated.
Date Of Review
May 2005
Reviewers Article by Elena del Valle
Photos by Gary Cox
Service Although the service staff were eager, attentive, accommodating and polite, the service was disappointing the night we were there. For example, they took our drink order after they brought us our first course. That meant our champagne was warmish until the end of our main course. One of us had no fork when our main course was served so we both had to wait for someone to come to our area of the dining room to request one and that took several precious minutes during which our hot entrée cooled.
Would You Dine There Again-Recommend It? Yes
Contact Information
Address:
Hotel Guanahani & Spa
Grand Cul de Sac
97133 Saint Barthélemy, F.W.I.
Phone:
Fax:
Website:
Email: