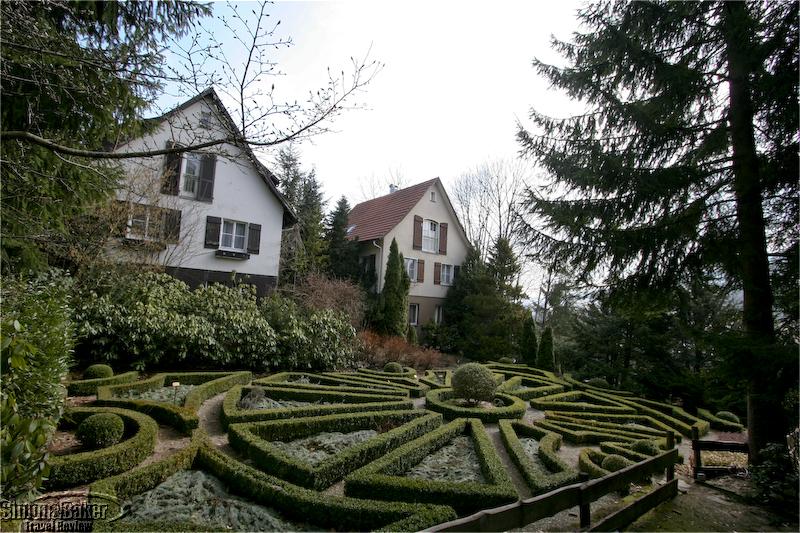 We would welcome an opportunity to return to this charming and well run foodie hotel.
Overall Impression
We much enjoyed our brief stay at the Hotel Bareiss, a family owned and managed resort with an emphasis on quality and being one of the best resort properties in Europe. From our arrival on a quiet late winter day we discovered an exceptional property.
Staff members, some of whom spoke English and French in addition to their native German, were friendly and helpful wherever we encountered them on the Bareiss grounds. One morning on our way back to our rooms, we ran into a young man from the staff in the elevator. He was on his way to deliver cookies and chocolates to the guest rooms on our floor and I commented on the chocolates on the plate he was carrying. He asked if I liked them and I said the chocolate covered pretzel shaped cookies were my favorite. He said he would remember that. I forgot about the encounter until to my surprise when I returned to my suite after it was serviced that day I discovered my petit four plate had a healthy supply of those cookies. He had remembered and found out what room I was in!
Good food was a recurring theme at this Black Forest property. We looked forward to every opportunity to sample items from the Bareiss kitchen. Every meal and snack we sampled was outstanding; from the enormous and diverse breakfast buffet to late afternoon German cakes at the hiking hut, and lunch or dinner at Dorfstube, a cozy regional cuisine restaurant near the main entrance. We especially savored the tasting menu at the Bareiss Restaurant, the hotel's much lauded and highly rated gourmet venue.
Beyond the service and meals the Bareiss facilities were extensive and handsome, and impossible to fully explore during our brief stay. My one bedroom suite was spacious and came complete with a striking Black Forest view and the kind of small details that make guests return. I especially appreciated the staff's thoughtfulness, remembering drinks, offering suggestions, as well as the fresh flowers in my suite and around the common areas. We would welcome an opportunity to return to this charming and well run foodie hotel.
Class Of Accommodation
Luxury resort
Connectivity There was WiFi in the room and common areas. We were able to connect immediately and had excellent and uninterrupted use of the connection during our two-night stay.
General Manager Vera Haueisen
Handicapped Access Although handicapped guests were welcome there were no special room or features to accommodate guests with special needs.
Length Of Stay Two nights
Location In the Black Forest municipality of Baiersbronn-Mitteltal about two and half hours drive from Frankfurt.
Owned and managed Hermann Bareiss and family
Pets Allowed Guest pets were welcome with prior arrangement and provided they bring their own dog basket. They were barred from the restaurants, sports facilities and day rooms. The price per day (without food) was € 18,50 .
Size The property, 10,000 square meters large, employed 250 staff and could accommodate up to 240 guests in 99 rooms and 230 beds.
Year Opened-Renovated Hermine Bareiss opened the hotel in 1951 by under the name Kurhotel Mitteltal. Her son, the current owner, has operated the hotel since 1973.
Lobby And Common Areas The décor was Light and Elegant Country House style. The owner was responsible for the décor.
Bathroom A small rectangular water closet with a mirror on the outside of the door was near the entrance. It housed a small sink, bidet and toilet. Further inside the room there was a separate area with twin sinks, a round glass shower and an extra large round bath tub with a skylight in the center. Added touches included three types of spray option in the shower: rain, waist height and hand held; and an electric magnifying cosmetic mirror. In the light filled room, the walls were tiled with large white marble and the floors with black marble.
Rooms
Our rooms, only a few doors apart down an indoor hallway, though different in size had similar décor and location within the hotel. My 85 square meter penthouse suite (number 104) and the second room (number 108) were elegant and warm.
At the door to the rooms there was a doorbell to announce visitors. Beyond the door to my suite there was an entrance hall. To the right of the entrance there was a water closet and to the left there was a door to the neighboring room that was locked during my stay. The interior of the spacious mountain facing suite was sunlit and decorated in shades of burgundy red, pale green and gold. It was divided into three main areas, a living and dining area, a sleeping area, and a balcony terrace as wide as the room. Both areas had floor to ceiling glass windows to take advantage of a striking mountain view, and doors with direct access to the balcony. The temperature was controlled via a wall thermostats, one in the living area and another in the bedroom, that adjusted the ambient temperature of the centrally heated and chilled rooms. The carpeting was burgundy with small square accents. The walls were eggshell color with red and green accents on the ceiling. The furniture and wood door and window frames were green. There were original framed watercolors on the walls of the suite.
Past the entry hallway, there was a wider area with several doors. One door led to a bathroom and the next to a walk-in closet with shelves, hanging space and an electronic safe. A third led to the sleeping room and the fourth was to the living and dining area of the suite. The center of the bedroom was taken up by two single beds set together to form a larger double bed set against a wood headboard and sandwiched between matching glass night tables. There was a phone on one of the tables. The mattresses had individual adjustable electric controls allowing me to lift the upper or lower half of the bed for my comfort. The entire right corner of the room was taken up by a closet with three sections, providing additional shelves and hanging space. Two doors opened from the bedroom onto the living area and closed at night and for privacy. Across from the bed there was a remote controlled Loewe flat screen television on a stand. Past the bed there was an armchair, small glass top table and upright lamp.
The entrance to the living area was through a glass and wood door and adjacent glass and wood window. To the left of the door there was a built-in cushioned seating area with a glass top rectangular table and two matching armchairs with seating for five or six people. A flower arrangement, fruit bowl, petit four plate and a plate and napkin were on the table. Just past the table there was a credenza with a telephone and a folder containing hotel information in three languages (German, French and English). In the bottom there was a mini refrigerator stocked with beverages. Next to the refrigerator there was a second space with additional small bottles and a can of nuts. A short step led to a living area with a two-seat sofa, two armchairs, a round coffee table and across the room there was an entertainment center with a second Loewe television, and a set of Onkyo radio and CD/DVD player with speakers. There were recessed lights with dimmer controls. The wide balcony had a small garden, a couple of plastic chairs and a wonderful view of the mountain. It was divided by plants from neighboring balconies, allowing some privacy and quiet. Had it been warmer I would have spent much time enjoying the balcony.
Food And Restaurants The large property had several restaurants. The Kaminstube was a 35-seat country-style restaurant, under the direction of maitre d´hôtel Heinz Braun, serving European specialities and classical dishes and Baden and Alsacian wines. The Dorfstuben offered regional dishes and original 19th century rustic décor. For gourmet dining we visited the Restaurant Bareiss. We also enjoyed dinner to the sounds of a local duo of musicians at the Dorfstuben.
Amenities
The room had direct-dial telephones, remote-control radio and TV, clock radio, minibar, safe, living room with comfortable sofa and chairs, desk, shoehorn, extra blankets and laundry bag. The balcony had sun chairs. There were stereo and VCR, a walk-in closet, doors and windows that open and close automatically, air conditioning, air flow regulator and light dimmers. The bathroom had a hair dryer, weight scale, bathrobes, extra telephone and a mirror for makeup or shaving.
Facilities In addition to the house restaurant for prepaid meals, the large property had several a la carte restaurants: Kaminstube Dorfstuben and Restaurant Bareiss. There was also a bar and a pool restaurant.
There was a men's and ladies hairstyling salon, a beauty salon with Sisley Paris, Gertraud Gruber and Thalgo cosmetics, a spa with Ayurveda treatments, fitness studio, tennis court, two indoor and one outdoor pools, a pond, a wading pool for small children, three saunas (Finnish, Bio, Irish-Roman, two solariums and a sanarium with a relaxation room. There was a shopping area with a high fashion and housewares boutique, fine jewelery, a walk-in wine cellar. There was also a library.
On a separate property there was a lovingly restored historic building where the hotel held special events, Der Morlokhof. On a hiking trail near the hotel we visited Sattelei, a cottage owned by the municipality of Baiersbronn and operated by the Hotel Bareiss where hikers could enjoy refreshments, hot beverages and Black Forest pastries.
Pool There was an indoor freshwater pool kept at 28 Celsius about 6 meters by 16 meters large with a depth between 1.20 meters and 1.40 meters. The freshwater open air pool was closed while we were there. It is 8 meters by 18 meters and the same depth as the indoor pool. There was also an indoor seawater pool heated to 32 Celsius, an indoor whirlpool heated to 36 Celsius, and two outdoor whirlpools (closed while we were there).
Other The Freizeit-Verlag Landsberg, a publishing house specializing in leisure and hospitality, awarded The Hotel Bareiss the 2007 Wellness Aphrodite in the Wellness Cuisine category. In 2008, the spa was recognized with the Relais & Châteaux Spa Trophy. The Hotel Bareiss was chosen one of the in the 100 best hotels in Europe in the February issue of GEOSaison , and among the ten best European wellness hotels within its category.
Cleanliness
Excellent
Date Of Review April 2009
Reviewers Article by Elena del Valle
Photos by Gary Cox
Would You Stay There Again? Yes
Contact Information
Address:
Gärtenbühlweg 14
72270 Baiersbronn-Mitteltal
Germany
Phone:
Fax:
Website:
Email: