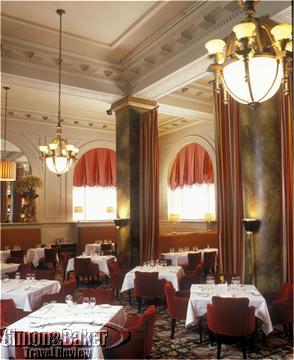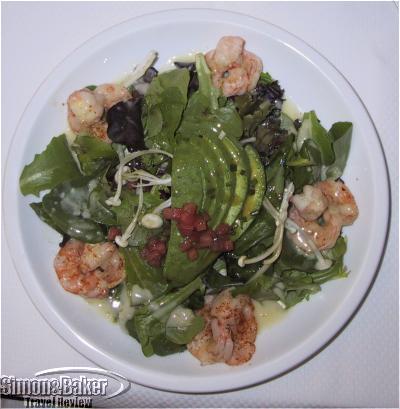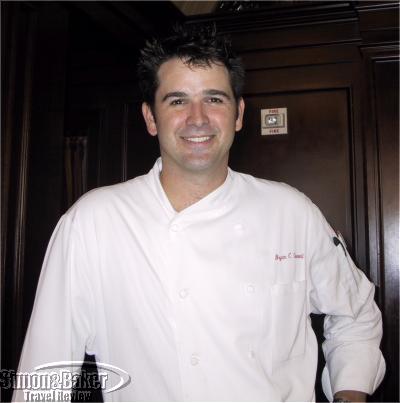 We look forward to repeat visits to Bank, a new favorite restaurant, when we are in the downtown Houston area.
There is a new restaurant replacing this one at the same location.
Overall Impression
: Dishes at Bank were expertly prepared and delightful. Though no one is perfect all the time, Bank's ability to consistently serve outstanding food on a regular basis was noteworthy. The décor was eclectic, warm and elegant with an exotic dash. The dining room, housed in a former bank lobby, was an inviting place to linger and savor our meal. Service staff were attentive and eager to please and the ambiance provided privacy including a relaxed and quiet atmosphere where meaningful conversation was inspired.
At lunch, it was possible to enjoy a leisurely meal or request a gourmet express experience. On one occasion we asked to complete our meal in an abbreviated time without giving up any of our courses. We left, glowing with the pleasure of the recently satiated, on time for our meeting across town. Regarding the food, the mix of flavors was refreshing and in harmony. The dishes were innovative, fresh, fragrant, and appetizing. Almost every meal we had at Bank was excellent. We look forward to repeat visits to Bank, a new favorite restaurant, when we are in the downtown Houston area.
About The Chef De Cuisine
Chef Caswell returned to Houston to open Bank after working with Executive Chef Jean-Georges as executive sous-chef at Dune at the Ocean Club hotel in The Bahamas. Prior to that, he worked in the kitchens of Jean Georges and Union Pacific in New York , Via Veneto in Barcelona and the Oriental hotels in Hong Kong and Bangkok .
Chef De Cuisine Bryan Caswell
Established January 2004
Executive Chef Jean Georges Vongerichten
Executive Sous-Chef Ashton Hall who was formerly the executive sous-chef at the exclusive Little Dix Bay, a Rosewood Resort, in the British Virgin Islands .
Handicapped Access Yes
Location In the lobby of the newly restored Icon hotel in the heart of downtown Houston
Manager Ron Bradani
Owned A partnership between the Hotel Icon and Jean-Georges Enterprises
Pastry Chef : Christine D'Angeli, formerly the pastry chef at the Ritz Carlton Boston Common. He has also worked in the pastry section at the Ritz Carlton New Orleans and Russian Tea Room in New York .
Size Seated 96 in the main dining room and 30 more in a separate lower lobby conference room.
Type Of Restaurant New American cuisine with Asian and French influences
About The Executive Chef
In 1986, Chef Vongerichten, a native of Alsace ( France ), was first recognized for his abilities at the now defunct Lafayette in New York . By 1991, he had established Jo Jo, a bistro. He later opened Vong, an Asian influenced restaurant, and the Lipstick Café, a midtown breakfast and lunch eatery. By 2001, the able chef had opened Jean Georges at the Trump International Hotel and Tower in New York , Vong restaurants in London , Hong Kong and Chicago and Vong's Thai Kitchen, which emphasized salads, noodle dishes and pizza. He had also opened Dune in The Bahamas, Prime Steakhouse in Las Vegas and Market in Paris .
Jean-Georges Vongerichten received twelve stars from The New York Times for his four New York City restaurants, Jean Georges, JoJo, Vong and Mercer Kitchen. In 1998 he was awarded three medals at the James Beard Restaurant Awards: Best New Restaurant, Outstanding Chef, and Who's Who of Food & Beverage. He is also the author of several cookbooks.
DÉCor-Ambiance : The interior, created by the award-winning San Francisco firm of Candra Scott & Anderson, who specialize in the historic reinvention of landmark buildings, was warm and elegant with rich reds and an oriental feel. The decorators worked to showcase the building's (landmark 1911 bank building) unique period detail, while incorporating the luxury of strong textures, plush fabrics and an eclectic collection of original European objects d'art, chosen specifically for the site. Notable features included two rows of 30-foot Doric columns, attractive ironwork, an intricately detailed ceiling, an original vault door in view of the restaurant, a dollar sign on the bread plates, menus in bank ledgers and bills presented in deposit envelopes.
Cellars Wine And Alcoholic Beverage Selection
There were several wines (e.g. 2002 Lockhart Chardonnay, 2002 Monchhof Riesling, a 2000 ZD Cabernet Sauvignon) and sparkling wines and one champagne ( Taittinger NV brut "La Francaise") by the glass including some moderately priced and affordable options. The wine vault held a collection of approximately 2,000 wine bottles. Bank also featured a full-service bar with an Art Deco motif. Bar seating was available at the counter and at adjacent banquettes and cocktail tables.
Meal Every meal we have had a Bank was satisfying. One of our preferred selections was the steamed shrimp salad. We also favored the brûlée style fois gras (French style duck or goose liver). First course style items like Ribbons of Tuna with avocado, spicy radish and ginger marinade; Steamed Shrimp Salad, avocado, mushroom and tomato-champagne vinaigrette; Fois Gras brûlée with slow roasted strawberries, blue crab cakes, and butternut squash raviolis were surprisingly good and satisfying.
The excellent "substantive" dishes: Maine lobster with Thai herbs; Grilled NY Strip Steak with gingered mushrooms and soy caramel sauce, and Seven Spiced Rack of Lamb with cucumber mint relish, were more adventurous and complimented the others. Favorite desserts included the refreshing Chilled Lemongrass Soup with summer berries and crème fraiche and the fun Lemon Meringue Composition.
Special Menus An excellently priced lunch menu ($20 for two dishes with $5 supplements for a couple of pricier items) was one of the best we've seen in a restaurant of this caliber, for the quality of the food, advantageous location and outstanding service. Though lunch portions were smaller than dinner portions we never left the restaurant hungry. A six course chef's tasting menu was available for $75 (excluding tax, beverages and gratuities).
Wines And Beverages Bill Floyd (director of food and beverages including wines)
Other
Parking for the restaurant was most convenient using the valet service of the Icon hotel. Bank was the result of a partnership between the Hotel Icon and chef Jean-Georges Vongerichten (
www.jean-georges.com
), who operates acclaimed restaurants in New York , Hong Kong , Shanghai , Paris , The Bahamas and Las Vegas . Bank awards included: Bon Appetit 2004 Where to Eat Now/Splurge-Worthy Restaurants, City Search 2004 Highly Recommended, H Texas 2004 Hot Spots, Houston Business Journal 2004 Executive Dining Survey #1 Best Décor/Atmosphere, Houston Business Journal 2004 Executive Dining Survey #2 Best Business Lunch, Houston Business Journal 2004 Executive Dining Survey #2 Best Hotel Dining, Houston Chronicle 2004 Ultimate Houston Food and Drink, Houston Press 2004 Best of Houston Downtown Restaurant, My Table 2004 Houston Culinary Awards Best New Restaurant, New York Post 2004 Critic's Choice in Houston, Texas Monthly 2004 Pat's Pick.
Date Of Review
November 2004
Service Unobtrusive, discreet, always available, helpful and willing are words that come to mind when describing the service at Bank. Champagne was bitterly cold as requested; meals were served in accord with our dining pace. Not once did anyone look displeased at any request we made. When a lamb dish was overcooked (kitchen's mistake), the staff insisted we allow them to replace it with another lamb. The second lamb arrived quickly and perfectly prepared. After it arrived, the staff went to pains to ensure we were satisfied
Would You Dine There Again-Recommend It? Yes