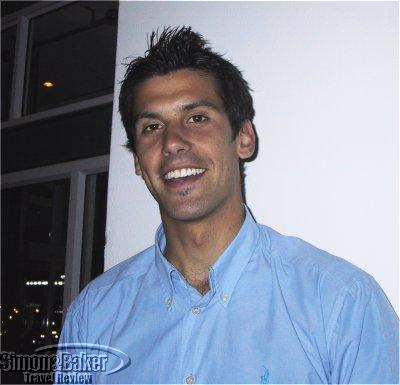 Add to that attentive and friendly service, casual atmosphere and million dollar view of the Victoria & Alfred Waterfront and Baia becomes our first dining choice in Cape Town.
Our last 3 meals at Baia have been less than stellar. Although we ordered some of the same seafood favorites from previous visits, the dishes weren't as tasty as they were when we first visited the popular mall restaurant. At the same time, the service was much less attentive and efficient. With so many dining options in Cape Town we had remained faithful to Baia because their seafood was exquisite. Unfortunately that was not the case the last few times we were there.
Overall Impression
: Baia was near full when we arrived for dinner around 8 p.m. We had discovered the restaurant, tucked inside the large mall, on a previous visit and wondered how it faired in our absence. We sat at a comfortable table in the outer deck facing the waterfront with a sigh of relief (glad we had thought to make reservations in advance). Having spent the day driving to Cape Town and running errands in preparation for our departure on safari we had no time for lunch. Dinner, when it arrived, was most welcome – and delicious.
One of the dangers of returning to a restaurant we have enjoyed after a long time passes is the likelihood the restaurant has changed. Another danger is that the meal during the return visit will not live up to the perfect meal in our memories. Our meal at Baia survived these dangers. It remains one of our favorite seafood restaurants anywhere.
Regardless of where we are, when we think of succulent, perfectly prepared langoustines and South African crayfish (cousin to America's lobster) with light butter sauce Baia is foremost on our minds. Add to that attentive and friendly service, casual atmosphere and million dollar view of the Victoria & Alfred Waterfront and Baia becomes our first dining choice in Cape Town.
About The Assistant Chef
T rained in Mozambique , where, he specialized in Portuguese Colonial Cuisine. He has worked with owner Luis Viana for 13 years, the first 10 years in Luis' earlier restaurant, Vilamoura .
About The Chef Chef Hawkes began his culinary career in 1991. His experience includes work at the Peninsula AllSuite Hotel in Cape Town, Plettenberg Park in Plettenberg Bay, Zevenwacht wine estate in Cape Town, Lord Charles Hotel Cape Town Sommerset West, two tours on the Festival Cruise liners in Europe, the Rhebokskloof wine estate Cape Town, Arrabella Sheraton Western Cape Hotel Cape Town and the Alphen Hotel Cape Town.
Assistant Chef Patrick Cumaio and Olaff Meintjes
Chef Matthew Hawkes
Handicapped Access Yes
Location In the mall on the V & A Waterfront in Cape Town 's main tourist mall
Opened 2001
Owner Luis Viana and Daryl Mendelsohn
Pastry Chefs Preston Liebrandt and Gayaat Bester
Restaurant Manager Carlos Vaz and Jean Roux de Villiers
Size Seated 110 indoors and another 150 on the outdoor terrace
Type Of Restaurant Seafood. They also served poultry, beef and venison.
Style Of DÉCor A spacious restaurant with 620 m2 (6,200 square feet) inside and 900 m2 (9,000 square feet) Baia provided guests ample room for intimate private conversations. The interior featured a m odern and comfortable dining room; the terrace though too nippy for dinner in the Cape Town winter, looked attractive for lunch. Decorative color highlights included lilac, silver, pink and fuchsia. There were large stylized prints of works by Modigleani and Henry Moore. Accents included a noticeable oversized sculpture of a head lying on its side at the entrance, a mahogany and stainless steel bar counter, faux purple snake skin chairs and mosaic floor in the bar area.
Food
: We began our evening with a bottle of wonderfully dry sparkling South African wine. Next were tasty seafood bisque appetizers. Our sampler platters included prawns, crayfish (South African lobster), linefish , squid, and langoustines (our favorite from the platter). They each arrived with three sauces: Lemon butter (our favorite), garlic and Peri-Peri . The platters were magnificent. Just when we thought we could not eat another morsel, the scrumptious Individual Baked Chocolate Pudding with butterscotch sauce arrived. It was the perfect ending to a most memorable meal.
Specialties Seafood platters including prawns, langoustines and crayfish
Wine And Spirits Details : A respectable assortment of domestic and imported wines including l ocal wines from approximately 90 estates, vintage wines from 45 estates, and French champagnes. A selection of local and imported vodka, brandy, whiskey, cognac, port, beer, and gin.
Other Our table had a great view of the Waterfront including the distinctive blue and white Victoria & Albert Hotel . The interior of Baia was designated nonsmoking.
Ease Of Reserving
: Good. Weekends were crowed and advance reservations were advisable
Latest Visit-Date Of Review November 2006
Reviewers Article by Elena del Valle
Photos by Gary Cox
Service Excellent. Our server, Oliver, and his team, were on top of every detail at our table in spite of a full restaurant. They answered every question, met every request and orquestrated an impeccably served meal.
Would You Dine There Again? Yes
Contact Information
Address:
6262 Victoria Wharf
V & A Waterfront 8002
Cape Town, South Africa
Phone:
Fax:
Email: