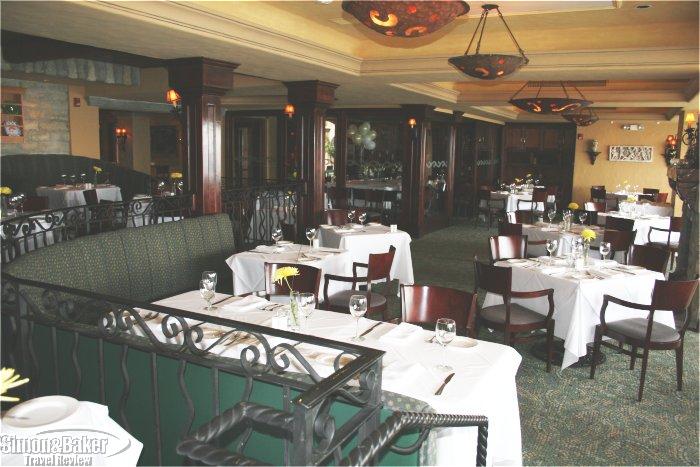 The next time I'm in La Jolla I will return to Azul to enjoy the chef's seasonal dishes and the remarkable ocean scenery.
Overall Impression
Azul offered fine dining with a magnificent ocean view. Because I arrived extra early I was able to take my pick of seats next to the floor to ceiling windows that draw the eyes of everyone in the dining room. I chose a front row seat to the Pacific Ocean. From there I could see the dark ocean waters and the beautiful landscapes of the La Jolla Cove to the south and La Jolla Shores to the north. Although the sun had been brilliant a few hours earlier, by the time I arrived at Azul mounds of clouds had rolled in and the colors were gray and muted. Even so the vista was inspiring.
Often restaurants with such extraordinary views disappoint when the meal arrives. This was not the case at Azul. Every dish was colorful, appetizing and tasty. Chef Balliet and his staff clearly work hard to serve 160 guests when the restaurant is full. At the same time I had the distinct impression they enjoyed their work and constantly strived to take it to the next level.
My favorite dishes were the tuna tartare (raw tuna) which was soothing with subtle layers of flavor and surprising textures; and the hearty roasted quail with a comfort food appeal. The next time I'm in La Jolla I will return to Azul to enjoy the chef's seasonal dishes and the remarkable ocean scenery.
Chef De Cuisine
Kevin Templeton
Executive Chef Chef Orion Balliet joined the restaurant in November 2003
Handicapped Access There was elevator access
Head Sommelier Summer Lang
Location On an ocean facing street in the heart of the town of La Jolla, California
Opened-Renovated Azul La Jolla opened in May of 1999. The company considers it the jewel of the Morton family's thirty-year San Diego success story.
Owned-Managed Brigantine Restaurant Corporation, established in 1969. The Brigantine Family of Restaurants operates eleven restaurants in San Diego County. There are six Brigantine Seafood Restaurants, three Miguel's Cocinas, Zócalo in Old Town San Diego, and Azul La Jolla. The company plans to open two more Zócalo's in early 2007.
Restaurant Manager Helen Nguyen
Size The restaurant could accommodate 160 guests in 5,000 square feet of door space. There was a casual dining outdoor section that could seat 60 in a space of about 1,000 square feet. There were 56 part and full-time employees.
Sous Chef Michael Lina
Type Of Restaurant California Cuisine
About The Executive Chef
At fourteen, Orion Balliet convinced his mother to let him home school to enable him to spend his "leisure time" apprenticing under a French Master Chef. He later enrolled in San Francisco's California Culinary Academy where he graduated with honors. Chef Balliet worked as sous chef under the tutelage of the "father of California Cuisine," Jeremiah Tower.
The chef's lust for knowledge sent him around the globe on a seven-month, twelve-country culinary education tour of Europe, including Southern and Mediterranean nuances. A subsequent two-month art and cuisine tour of Thailand provided significant influence for his menu creations.
Chef Balliet's list of credits included a position as executive sous chef of the Villagio Inn & Spa in Napa Valley. He was also executive chef of the 4-star, 4-diamond, Bellevue Club Hotel outside Seattle, Washington; executive chef of Café Pacific in Dallas, Texas; and executive sous chef of the Stars Café in San Francisco. In addition to an Associate in Occupational Studies from the California Culinary Academy, Chef Balliet holds certifications from the Foley Fish Institute in Boston, Massachusetts, and the Hotel Gritti Palace Cooking School in Venice, Italy.
DÉCor-Ambiance Mediterranean
Cellars Wine And Alcoholic Beverage Selection
There were 160 wines available including a selection of varietals from U.S., Australia, New Zealand, France, Spain, Italy, Germany, Chile, and Africa. Azul received the 2006 Wine Spectator Award of Excellence.
Meal Dinner began with a Butter Cracker Crusted Soft Shell Crab served with a red caviar and avocado terrine with Meyer lemon aioli. It was followed by California Ahi Tuna Tartare made with sashimi-grade tuna, Napa cabbage, toasted almonds, wasabi tobiko and soy-ginger vinaigrette; and Balsamic Fire Onion Roasted Quail served with butternut squash gnocchi and portobello mushroom confit. Then there was Gorgonzola Crusted Angus Tenderloin accompanied by roasted zucchini and a potato medusa with a port glazed shallot reduction. Dessert was Canadian Maple Crème Brûlée caramelized turbinado sugar and exquisite shortbread cookies.
Special Menus For lunch there was a Tapas Buffet for $16 per person
Specialties Giant Scallops, Green Eggs & Ham appetizer; Soy-charred Yellow Fin Tuna with wasabi mashed potatoes, cucumber moon salad and Asian rain vinaigrette; Ginger Glazed King Salmon with Chinese long beans, forbidden black rice and cilantro-peanut pesto; and Gorgonzola Crusted Angus Tenderloin with roasted zucchini and potatoes medusa, and a port-glazed shallot reduction.
Other
There was a glass-enclosed Wine Room with an ocean view and seating for 20.
Reservations Recommended especially on weekends
Date Of Review
September 2006
Reviewers Article and photos by Elena del Valle
Service The staff were friendly and efficient
Would You Dine There Again-Recommend It? Yes
Contact Information
Address:
1250 Prospect Street
La Jolla, CA 92037
Phone:
Fax:
Website:
http://www.brigantine.com/azul/index.html