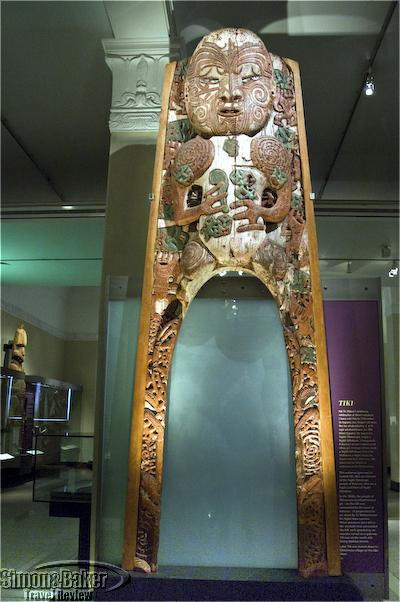 I envisage a return visit, where Auckland would be the starting point of an extended exploration of the vaunted grandeurs of the wilderness on both the North and South Islands of New Zealand.
Overall Impression
Perched midway up New Zealand's North Island on a narrow isthmus of rolling hills between two major bodies of water, Auckland is a city resolutely focused on the sea. On its eastern coast, the Hauraki Gulf leads to the South Pacific Ocean, while its western side overlooks the Tasman Sea. This privileged seaside location has fostered in Aucklanders a long-standing love affair with the sea.
The coastline bristles with expansive marinas. With over 80,000 privately owned boats, the City of Sails, as Auckland is called, is said to have more boats per capita than any major city in the world. The recognition of Auckland as a world-class yachting destination was further enhanced with the hosting of the America's Cup in 2000 and 2003. However, sailing was but one of the many options the area had to offer to water sports enthusiasts. Surfing, scuba diving, water skiing, jet boating, canoeing, fresh and saltwater kayaking, parasailing, black and whitewater rafting, wind and kite surfing were all popular activities in the greater Auckland area.
With 1.3 million residents (roughly one-third of the country's population) the City of Sails is also the largest and most densely populated urban center in New Zealand, its main commercial and industrial hub and multicultural center. While today the majority of inhabitants are of European (mainly British) descent, the Auckland metropolitan area is also a melting pot of South Pacific and Asian cultures. The Maori people in particular, thought to have settled here some seven centuries ago, still comprise close to 15 percent of the population. They are major contributors to the strong Polynesian flavor that permeates every aspects of city life.
At the supermarket, staples of Polynesian cooking like taro, kumera (a type of sweet potatoe) and guava abounded. The streets were bright with fashion that incorporated Maori and Pacific Island designs. For the past two decades, the Pasifika Festival, a celebration of Auckland's diverse Pacific communities has been organized annually (usually in March) by the Auckland City Council. It has developed into one of the South Pacific's foremost Polynesian cultural events. Over 200,000 people attend the one-day festival to enjoy performances such as Cook Island drums, Samoan and Niuean dances, Tongan war chants, Fijian love songs and other examples of Pacific Island heritage. Pasifika also hosts over 350 stalls selling a variety of Polynesian food, clothing and crafts.
While my recent visit to Auckland had been intended as a relaxing extended weekend stopover after the long trans-Pacific flight from the United States before continuing on to my Australia destination, I was quickly seduced by this modern South Pacific metropolis. Its sparkling seascapes surrounded by ancient volcanoes and stunning black sand beaches, its exotic multicultural environment and the laid back welcome of its inhabitants made me regret I hadn't planned a longer stay. I envisage a return visit, where Auckland would be the starting point of an extended exploration of the vaunted grandeurs of the wilderness on both the North and South Islands of New Zealand.
Currency
New Zealand dollar
Electrical Current 230/240 volts. An AS 3112 adapter was necessary when using electrical outlets (the kind used in Australia, with a rectangular grounding pin and two flat prongs forming a V shape. It was reminiscent of but not compatible with that used in the U.K.)
How To Get There Located 13 miles (21 kilometers) west of the Central Business District (usually just referred to as the "CBD" or "central city"), Auckland Airport was the largest and busiest airport in New Zealand with over 13 million (some seven million international and six million domestic) passengers a year. It received international flights from major airlines from North and South America as well as Europe and Asia. Non-stop flights from the U.S. originated mainly from Los Angeles, California and Honolulu, Hawaii. From Australia, there were non-stop flights to Auckland from Sydney and several other major cities, including Melbourne and Brisbane.
Location In the northern central region of the North Island of New Zealand in the South Pacific Ocean, 6,500 miles (10,500 kilometers) west of Los Angeles, California, 4,380 miles (7,050 kilometers) west of Honolulu, Hawaii and 1,337 miles (2,151 kilometers) east of Sydney, Australia.
Measures Metric system
Money Issues Money exchange was readily available at the airport, banks and tourist places. Funds in local currency could be withdrawn from automatic teller machines (ATMs). Credit cards were readily accepted almost everywhere I went.
Technology High-speed Internet connectivity was widely available. Cell phone reception was excellent wherever I went in the city.
Time GMY/UTC plus 12 hours
Transportation There were a number of ways to get around Auckland. The central city was sufficiently compact that it was possible to visit on foot or using the local bus system (known as The Link"). The Link ran every ten minutes throughout the day. Taxis were readily available and reasonably priced. To explore the countryside and western beaches beyond the reach of urban transportation, car rental was the easiest option. Roads were well maintained and clearly marked. Driving in New Zealand was on the left side.
In addition to road transportation, a reliable public ferry and water taxi service provided an enjoyable way to cruise around the harbor and view the city from the water.
Shopping And Souvenirs Auckland offered interesting shopping to suit a broad range of interests in a profusion of stores, shopping centers and boutiques scattered around the metropolitan area. Souvenir shops abounded, filled with the usual t-shirts and other tourist offerings as well as a variety of wool and sheepskin crafts and Maori-inspired wooden items. For the fashion-minded, original designs that fused influences from Europe, Polynesia and the Pacific Rim attested to the growing reputation of New Zealand's vibrant clothing industry. They could be found in stores and boutiques around High Street in the CBD and in Parnell. For those interested in outdoor activities, there were sporting good and backpacking stores all around the city, carrying a wide choice of the latest in outdoor gear. I also enjoyed window-shopping for antiques, jewelry and local art on Ponsonby Road in the city center.
Tourism Highlights
Located an easy bus ride from the CBD, the Auckland Domain was the city's oldest park, and at 185 acres (75 hectares) one of its largest. It stood mainly within the crater of the ancient (100,000 to 150,000 year old) Pukekawa Volcano, giving it the shape of a gently sloped crater ring, with a low rise in the center. On the crater rim one of Auckland's main tourist attractions, the Auckland War Memorial Museum dominated the park that included a great variety of exotic tree specimens planted in late Victorian times. With the later addition of many indigenous species, it matured into a superbly landscaped environment. It was an inviting place to enjoy a quiet picnic before a visit to the Auckland War Memorial Museum.
The Auckland War Memorial Museum (or simply the Auckland Museum) was considered New Zealand's most important museum and war memorial. Its collections concentrated on New Zealand history, especially that of the Auckland area, as well as military history. It also housed one of the most significant collections of Maori and Pacific artifacts and treasures ( taonga in Maori) in the world. Over 1,000 taonga artifacts dating back to the arrival of the Maori in the area were displayed in the main Maori galleries, He Taonga Maori (Maori Court) and Te Ao Turoa ( Maori Natural History Gallery). These taonga are considered the ancestral representations of all the major tribes of Aotearoa. They provide descendants with tangible links to their ancestral history and continue to be viewed as key symbols of tribal identity by Maori today.
Especially stunning were a number of original full-size Maori buildings including a large meetinghouse and the last great war canoe used in battle (carved from a giant totara tree). Other masterpieces included several intricate gateway carvings, including one dating back to the 12 to 14 centuries and thought to be the earliest surviving Maori carving in the world. Another display showed a number of everyday objects once used for living, hunting and fishing, and an impressive collection of fiber work including a number of early dog skin and feather cloaks.
Located between the Domain and the CBD, Parnell was a suburb dating back to the early British settlement of Auckland in 1841. After falling in disrepair over time it was revitalized in the late 1970's into a Victorian-like shopping destination. While the side streets remained residential, its main artery, Parnell Road, was lined with tony professional offices, trendy boutiques and eateries. With its gentle down slope toward the city center, Parnell Road was a pleasant place for a window-shopping stroll after visiting the Domain.
The Sky Tower was an observation and telecommunications tower located on top of one of the highest spots in the CBD, at the corner of Victoria and Federal streets. From the ground to the top of its antenna, it was 1,076 feet (328 meters) high, making it at the time of my visit the tallest free-standing structure in the Southern Hemisphere. The top of the tower housed two restaurant levels (one, Orbit had revolving seating that rotated 360 degrees per hour). The lower level café included an observation deck with glass flooring sections. The upper observation deck also featured a 630 foot (192 meter) SkyJump during which a jumper could reach up to 53 miles (85 kilometers) per hour. The jump was guide-cable-controlled to prevent jumpers from colliding with the tower in case of gusts.
Te Henga (sand in Maori, formerly Bethells Beach) was a starkly beautiful beach of black sand and white rolling surf hemmed by jagged rocky ledges rising from the water's edge. Located 18.5 miles (30 kilometers) northwest of Auckland, where the Waitakere River meets the Tasman Sea, it was reputed to be especially popular with surfers and scuba divers. However, I was happy to find it virtually deserted when I visited on a late summer's morning.
Cost of visiting Reasonable to high
Date Of Visit
February 2009
Reviewers Article and photographs by Josette King
Would You Visit Again? Yes