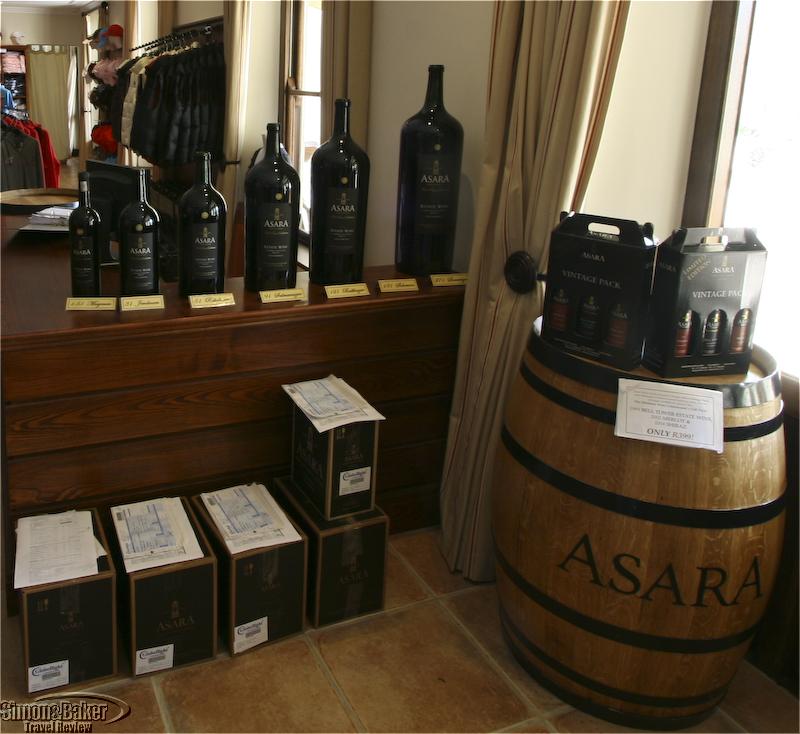 Named for the African gods of earth, sun and sky, it was a convenient and comfortable place to enjoy the South African winelands and visit the historic city of Stellenbosch.
Overall Impression
It was 10:30 on a Sunday night when we first arrived at Asara in the hotel's VIP vehicle, a new smelling Bentley. Even in my exhausted state (we had been traveling for more than 34 hours) I appreciated the beauty of the car and silently thanked the person who sent such an automotive jewel to collect us at the Cape Town airport. As we arrived at the property all I could think of was a comfortable bed. In spite of my tiredness I noticed the pretty light lined drive leading to the hotel's main entrance and made a mental note to explore the property the next day.
My handsome room, just upstairs from the reception desk, was an oasis of quiet. After adjusting the temperature and glancing at the double curtains that promised a respite from the early morning sun I turned my thoughts to sleep. The following morning, we throughly enjoyed breakfast at Raphael's, the hotel's gourmet restaurant with a stunning view of the vineyards before heading into Cape Town to run some errands. We returned to Raphael's in the late afternoon in time for an enjoyable tasting menu paired with Asara wines.
In search for perfection and following the property's motto (Out with the ordinary, in with the extraordinary), there was some repair and construction work taking place in the hotel part of the estate during our visit, causing one of the restaurants to be closed for remodeling (the swimming pool was also closed for the day). Although the work resulted in some minor noise and construction related odors to reach us at various times it hardly affected our enjoyment of the hotel.
We liked Asara for its luxurious style, spacious and elegant rooms, quiet ambiance, vineyard and pond views, gourmet orientation including a restaurant, wine cellar, gourmet shop, wine tasting and cookery course options, and friendly staff. Named for the African gods of earth, sun and sky, it was a convenient and comfortable place to enjoy the South African winelands and visit the historic city of Stellenbosch.
Children
The hotel welcomed children of all ages.
Class Of Accommodation Five star small luxury hotel and wine estate
Connectivity To connect to the Internet via the hotel's WiFi from my room I had to sit on my balcony. My travel partner had to visit my balcony or sit in a small lounge just above the reception desk. The connection was slow, about 54 megs per second according to a hotel representative.
General Manager Horst Frehse
Handicapped Access No
Length Of Stay Two nights
Location On the outskirts of the city of Stellenbosch, about 20 minutes drive from Cape Town International Airport. It took us about 30 minutes to self drive to Cape Town in our rental car.
Owned Markus and Christiane Rahmann and Asara Wine Estate and Hotel Pty Ltd. A motorcycle trip to South Africa led the couple in an unexpected direction, after spending 15 years in China.
Pets Allowed No
Size A 36-room hotel located within a 180 hectare, including 120 hectare under vine, estate. The rooms were spread across three two-story buildings. One hundred employees worked at Asara.
Year Opened-Renovated The wine estate dates back to 1691. In 2001, Verdun, the wine farm was bought and renamed by the Rhamanns who remain the owners. The outbuildings were in a poor state and had to be rebuilt. The hotel opened its doors to the public May 2008.
Lobby And Common Areas
Markus and Christiane Rahmann were involved in the design and décor of the property, selecting color themes, fabrics and lighting fixtures such as tiffany lamps and chandeliers sourced from their own China based export lighting business. We especially liked the larger than life oriental motif oil paintings in the reception area: Dream of a Lotus Flower (behind reception desk) a 1999 painting by Jiang Guo Fang, and Teasing the Newlyweds (opposite reception desk) a 1998 painting by Wang Yi Dong. Another note noteworthy seven panel oil on canvas painting, Festival of the First Full Moon by Zhu Yi Yong was in the hotel lounge.
The owners have a strong connection to China, specially Hong Kong. Their first business was founded in Hong Kong; their children, Henry and Lisa, were born in Hong Kong, where they witnessed Hong Kongs' handover from British colony back to China in 1997.
Bathroom
Elegant French wood doors divided the bedroom and bathroom. The bathroom was spacious and modern. Designed in varying stone shades it had a shower with a glass door, a stand alone bathtub with nearby heated towel rack, separate water closet and an ample twin sink vanity area.
Room Our Deluxe Rooms, 202 and 206, were about 45 square meters in size. Room 202 was upstairs and a few feet from the reception desk. It had a view of the porte cochere entrance to the hotel. From my window and balcony I could also see a small pond, nearby mountains and the vineyard lined driveway. A few doors down Room 206 had a slightly different view of the estate including the swimming pool, pond, nearby mountains and vineyards. Both rooms had the same layout, furnishings and color theme. The sober décor was softened by fine fabrics and elegant decorative touches. There was a king bed with matching night tables, lamps, and bench at the foot of the bed.
Food And Restaurants In addition to a very nice buffet and made to order breakfast while we were at the hotel we sampled lunch and a lovingly prepared tasting menu prepared by Chef Carsten Haertel: Butternut and coconut soup flavored with orange and a sauteed prawn skewer; Wild mushroom risotto with chicken roulade in Serrano ham; Sorbet from lemon, lime and vodka; Fillet of ostrich coated in herbs red wine jus and root braised vegetable; and Decadent chocolate trilogy. It was accompanied by the following house wines: 2009 Asara cabernet sauvignon blanc, 2009 Asara chardonnay unwooded, 2006 Asara shiraz 2006, and 2004 Asara noble late harvest.
Amenities
There were travel size English Penhalligon toiletries: shampoo, conditioner, and body lotion as well as bathrobes, slippers, sewing and shoe shine kits and an electronic safe. There was complimentary bottled water with the nightly turndown, a complimentary bottle of Asara wine and a complimentary fruit plate on arrival.
Facilities Sansibar Cigar and Whiskey Lounge, Raphael's restaurant, 50-seat wine tasting center, gift shop, swimming pool, steam room, and delicatessen and confectionary store.
Pool The heated swimming pool was 14 meters by 5.5 meters in size and 1.6 meters deep.
Conference Facilities
There was a 247-square meter 180-seat u-shaped grand ball room for meetings and special events. Additional meeting space was accessible at the 63-square meter Amber Terrace.
Other In 2009, Asara became the newest regional member of Relais and Chateaux, a membership organization that promotes calm, courtesy, cuisine, character and charm among member properties. The hotel was home to a 20,000 bottle collection of rare domestic and international wines. It received a 2009 Diamond Award from the Diners Club Winelist Awards.
There was a branch of High End Kitchens, the brainchild of Fortunato Mazzone a Pretoria chef, that sold utensils for foodies, kitchen connoisseurs and cooking amateurs such as Miele, Staub, Le Creuset, WMF, Tafelstern, and Kitchenaid.
Cleanliness
Excellent
Date Of Review September 2009
Reviewers Article by Elena del Valle
Photos by Gary Cox
Would You Stay There Again? Yes
Contact Information
Address:
Pokadraai Road (M12)
Stellenbosch
South Africa
Phone:
Fax:
Website:
Email: