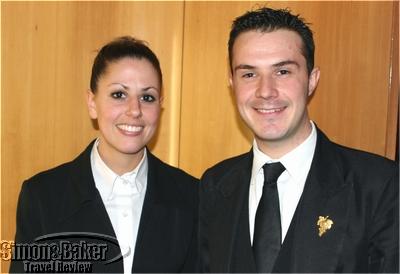 We look forward to more vegetables and culinary surprises on our next visit!
Overall Impression
For years Alain Passard has been recognized for his vision and culinary wizardry, especially with vegetables. Our last visit revealed a chef at the top of his game reveling in his ability to surprise and delight diners with amazing dishes that emphasize the essential flavors of the ingredients.
During our most recent visit we had an opportunity to taste his latest creations and some of the stalwart favorites. Like a gifted conductor Chef Passard rallied the members of his culinary symphony to a grand performance. The result was a series of delicious and elegant dishes with fresh and remarkable vegetables as the centerpiece or in a major role.
Our meal was extraordinary. While in the past Chef Passard tested our culinary boundaries and led us to appreciate the unexpected, this time we were thrilled with his confident yet comparatively restrained cooking style with still edgy and immensely satisfying results.
It was as if he took his huge palette of flavors and highlighted the best of the best. To say his dishes were simple is like saying Mozart's music is simple. He remains a leader in the increasingly rarified world of French independent chefs who own and operate world class restaurants.
In addition to the menu and cooking style, we noticed a marked improvement in the dining room team. A young energetic staff, including many women in senior roles, was responsible for the front of house success at Arpège. They were hardworking, professional, polite, vigilant, efficient and so stealthy we hardly noticed when cutlery and dishes were withdrawn from the table or wine glasses were refilled.
As we were nearing dessert, Chef Passard made an appearance in the dining room. After greeting guests at every table and checking on their state of contentment, he sat down to enjoy a meal with a fellow diner at our neighbor's table. This icon of French cuisine knows how to create harmony in the kitchen and enjoy it in style. Congratulations to Chef Passard and his new team for an exemplary dining experience. We look forward to more vegetables and culinary surprises on our next visit!
About The Executive Chef
Chef Passard was precocious expressing a desire to learn about food preparation at the age of 10. By the age of 26 he had already worked in kitchens of great repute and headed his own well respected and recognized restaurant. Later he trained with famous Chef Alain Senderens (Lucas Carton and later Senderns). He went on to purchase his former restaurant and renamed it L'Arpège in honor of his other passion in life, music.
Executive Chef Alain Passard
General Manager Hélène Cousin
Handicapped Access Limited to main floor. Restrooms were down a flight of stairs.
Location 7th arrondissement near the Rodin Museum
Maitre D'Hotel Laurent Lapaire
Owned Alain Passard
Size The 60-square meter restaurant could accommodate 60 people in the main room and a small room downstairs, a 17 century Parisian cellar. There were 35 staff members.
Sommelier Steeve Jicquel
Type Of Restaurant Gastronomic and French inventive based on vegetables (not vegetarian)
Year Opened-Renovated 1986
Style Of Decor A mix of modern and Art Deco styles with French Lalique design accents, wood and fabric throughout offered diners a simple yet warm ambiance. When we visited the glasses and decorative plates on the table matched the restaurant's design motif. Glasses were custom and inscribed " Fabrique pour Alain Passard."
Meal
As is customary in fine restaurants before a gourmet lunch we had an aperitif soon after settling down at our table in the center of the dining room. We succumbed to temptation and began our sumptuous meal with a glass each of Billecart Saumon Reserve from a magnum bottle. Crunchy country bread, Saint Geron water and pre-appetizers arrived shortly after our champagne.
We had a magnificent nine-course tasting menu. The first course was Fines ravioles potagères consommé végétal ; followed by Salade blanche moutarde d'Orléans (white salad with black radish and Orleans mustard); L'œuf a la coque , a house specialty we remembered from our last visit (a light and fluffy maple egg, slightly sweet); Couleur, saveur, parfum et dessin du jardin velouté de radis rose ; Sole au savagnin poireaux grilles (an artistically presented and darn good sole); Parmentier de céleri variété de légumes ( celery mousse with sweet meats); Gibier grillé aux herbes du jardin Betterave et champignons Coréen (wild boar with sea salt, beetroot, buttery Korean mushrooms. potato and light, sweet cabbage). These were followed by a cheese course, Fromage de Bernard Anthony affinés ; and dessert Millefeuille « Caprice d'enfants » Chocolat et poire caramélisées (chocolate millefeuille with chocolate coulis). We were also served wonderful hay ice cream, which was light and refreshing and somewhat reminiscent of green tea ice cream. The carrot and artichoke macarons that followed with coffee and a lovely herbal tea were memorable.
Special Menus-Pricing One set lunch nine-course tasting menu at 135 euros and one set 12-course dinner menu for 360 euros.
Wine And Spirits The wine list had 700 bottles to choose from, with emphasis on Burgundy and Bordeaux wines.
Other When we visited, fresh vegetables for the kitchen were brought daily by high speed train from a restaurant owned vegetable garden south of Paris. The only less than stellar moments were the result of one table's guests repeated smoking throughout their (and our) entire meal. We hope with the new antismoking laws in effect this will no longer be possible.
Date Of Last Visit
December 2007 /
December 2003
Reviewers Article by Elena del Valle
Photographs by Gary Cox
Service The service was excellent. Staff members looked after our every want with alacrity and efficiency. It was satisfying to observe the young team proudly and seamlessly serve food and look after diners, allowing enough time in between courses for conversation and appreciation.
Would You Dine There Again Yes
Contact Information
Address:
84 Rue de Varenne
75007 Paris, France
Metro :
Telephone :
Fax :
Email:
Website :