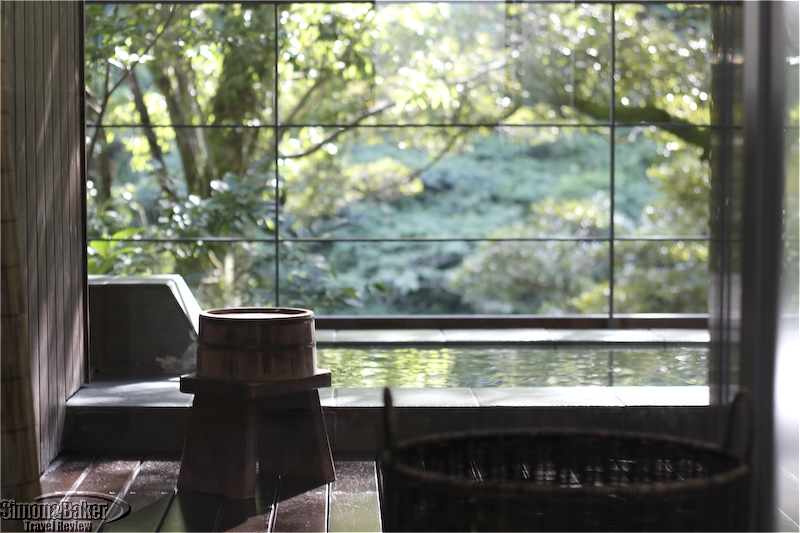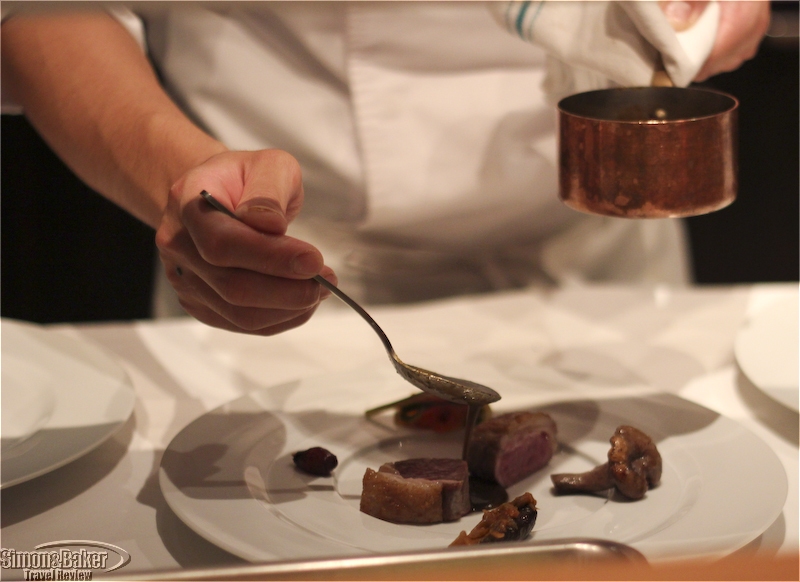 It tantalized my taste buds and spellbound my soul, a secret I can't keep for much longer.
Overall Impression
Hidden within the mountains of Izu rests Arcana Izu (the hotel writes it arcana izu all in lowercase letters), a small luxury Japanese hotel that bills itself as an auberge resort with a French influence. The inn, ensconced between the Mount Amagi forest and the Kano River, was designed as an interpretation of the ryokan (a traditional Japanese hotel) concept with modern and Western twists. During my stay, I bathed in an outdoor hot spring within the comfort of my spacious room, and later indulged in some of the finest French cuisine I have sampled in Japan at the hotel's Lumiere restaurant.
Arcana seemed ideal for couples escaping Tokyo for a romantic weekend or for creative types seeking a luxurious communion with nature. The hotel was designed for guest experiences to be centered upon the guestroom itself. For me, that meant I spent a majority of my time relaxing in my private bath, and sitting on the couch admiring the beautiful view of the forest and the sounds of the gushing river below.
Dinner and breakfast, included in my accommodations, were a special treat. Chef Atsushi Yamamoto and his staff cooked a wonderful variety of dishes that included local fruits, vegetables, and meats. I particularly enjoyed the Izu beef, and the plate of 60 vegetables appetizer. I never imagined that vegetables could be combined and crafted in so many ways, including as utensils!
A dedicated and attentive staff made staying at Arcana Izu especially relaxing. I hardly felt the language barrier, as many in the staff spoke English fluently. I especially enjoyed the thoughtful touches throughout my stay. For example, my butler left me a personable, handwritten note on the coffee table after cleaning my room, asking how my day was and if I had enjoyed my latest meal.
The inn's reinvention of the traditional ryokan with modern architectural design and French flavors was appealing to me. It tantalized my taste buds and spellbound my soul, a secret I can't keep for much longer.
Children
The hotel welcomed children aged twelve and older only.
Class Of Accommodation Modern luxury ryokan.
General Manager Tomoaki Tabata, president, Dress Co Ltd., was in charge of strategic property decisions. Momoe Nishimura, rooms manager, Arcana Izu was in charge of the day to day management of the property.
Handicapped Access No
Internet Connectivity My room had WiFi and broadband wired internet. Complimentary WiFi internet was available in the restaurant. The hotel planned to expand WiFi to all guest rooms within the next coming months.
Length Of Stay Two nights
Location Reaching Arcana Izu was easy using public transportation. This was especially the case for me since I am used to navigating Japan's public transportation system. From Tokyo Station the trip took me about two hours door to door. First, I took the bullet train from Tokyo Station to Mishima Station (sixty minutes). From there I transferred to the Izu-Hakone Railway line and disembarked at Shuzenji Station (thirty minutes). Finally, a fifteen-minute taxi ride landed me at Arcana Izu.
Owned And Managed Dress Co. Ltd.
Pets No
Size The hotel had sixteen guest rooms divided among three separate three-story buildings on a 4,814 square meter property. A fourth building housed Lumiere, a 32-seat restaurant. There were 30 employees.
Year Opened-Most Recent Renovation Arcana Izu first opened on July 3, 2007.
Lobby And Common Areas
There was no lobby area with a typical front desk. The check-in process was in my room. The restaurant's style matched that of the ryokan's modern design. It had a concrete and glass exterior, a wood-floored, expansive, rectangular interior, and a massive window with views to the forest and river below.
The consistent design aesthetic of the hotel stood out. The hotel's buildings had a modern design: the structures, made from stone, concrete, and wood, formed strong lines and blended into the building's natural setting. Also noteworthy was the hotel's selection of independent films and art books in the library. Even the well selected, soothing and soulful music billowing from the Bose speakers at breakfast added to the atmosphere.
Bathroom
The six square meter bathroom featured a glass-encased shower, one sink, and a Washlet, a brand of toilet famous for its heating and washing features. The shower had a hand-held showerhead with a powerful spray stream. The shower room itself had two glass doors, one leading from the bathroom into the shower room, and another leading to the private hot spring. The hot spring measured 157 centimeters by 97 centimeters with a depth of 60 centimeters. There were plenty of extra towels to encourage multiple trips to the hot spring.
The Thann products, natural cosmetics from Thailand, left my hair especially soft. The hot spring section had a bamboo mat, a wooden stool and a bucket. I found the water temperature a bit fiery at first, but I didn't feel the need to adjust the temperature using the cold water faucet. I loved taking in the view while dipping in the hot spring. In fact, I totaled about eight separate trips to my own private hot spring!
Room I stayed in the 51 square meter River View Suite 5 with a private open-air hot spring bath. From the front gate, I reached my room on the third floor of the building in about two minutes. I was impressed immediately by the view: door length windows outlined much of the room, including the bathroom and shower. I found it refreshing that there was no television set as no electronic screen could compete with this view. Inside, natural tones, from the furniture to the wood paneled outdoor bath, created a cozy atmosphere. The room included two comfortable Hollywood twin beds with feather pillows and a duvet, a serviceable couch, and a coffee table. There was a standard hotel size closet, a digital thermostat, and several lamps to supplement the ample natural lighting. Two nice touches were the Bose Sound Dock radio and a drawing kit with colored pencils, stationery, and postcards.
Restaurant
Lumiere featured a French menu created by Yasushi Kataro, the hotel's executive chef. I ate four times at Lumiere. The aesthetic matched the modern design of my room: a blending of structure and nature with expansive views of the river and forest. The Lumiere staff were very attentive, and explained each menu course in fluent English. I have a shrimp allergy, and Atsushi Yamamto, chef, Lumiere was able to adjust the menu to my dietary needs.
I dined on an eight course dinner the first night: truffle pudding with tomato and eggplant on top of parmesan cheese chips; marinated white fish with roots and jellies; mushrooms with caramelized cauliflower; fried risotto with sea bass; roasted lamb; a cheese plate; peach with balsamic ice cream and a sesame cookie; followed by herb tea with two pastries.
The following morning, I had a tasting of fruits and vegetables whipped and served in shot glasses with a fresh salad, croissant, and a butter cake. For lunch I ordered a tasty Wagyu beef burger. For dinner, Chef Yamato treated me to the six course Arcana Izu Four Year Anniversary Dinner: sea root soup; an appetizer with 10 types of fish and vegetables; 60 types of vegetables plate; mushroom puree with egg; Izu beef; cinnamon ice cream with sliced fried apples.
Shinjiro Kobayashi, the hotel's sommelier, guided me through the 12 page wine list. I didn't feel up for the 1985 Krug that night. For my last meal I had classic French toast with a side of fresh fruit and vegetables. From first bite to last, it was a symphony of tastes and textures, executed flawlessly by the chef and the attentive restaurant staff.
The restaurant was awarded one Michelin Guide star in 2010 and 2011. The entrance to the restaurant had a small library and gift shop where Lumiere condiments and Thann beauty products were sold.
Amenities
Room amenities included bathrobes and cotton pajamas, slippers, toothpaste, toothbrush, razor set, hair dryer, cotton swabs, and Thann shampoo, conditioner, and body soap. I used flaked soap to wash my hands. Inside the refrigerator were complimentary Kirin beers, bottled waters, fruit juices, and canned teas. A morning beverage set included an electric kettle, tea cups and glasses, tea and coffee packets.
Facilities The ryokan buildings themselves consisted only of guest rooms. The restaurant, the only common area on the property, included a gift shop and small library from which guests could borrow DVDs, CDs, books, games, and even a Lego set to take back into their rooms. I sampled some of the CDs and was very impressed with the variety of quality CDs available both classic and modern.
Other Arcana Izu was the result of a collaboration between Executive Chef Kataro, Shigeki Hattori, chief executive officer, Graf, and Ryosuke Uehara, a graphic designer.
Cleanliness
Very good. Everything was very clean except for some splotches in the carpet near the table, soap stains on a few shower tiles, some light mold on a couple of tiles in the hot spring, and a few cobwebs in the corner of the outdoor wall.
Date Of Review August 2011
Reviewers Article and Copyrighted Photos by Joachim Castellano
Service The service was attentive and efficient. The staff exceeded my own expectations by adding personalized service to the experience. Staff members greeted me by name, and I had my own personal butler who cleaned my room while I was dining, leaving thoughtful handwritten notes each night of my stay. Momoe Nishimura was a particularly gracious host.
Would You Stay There Again? Yes
Contact Information
1662 Yugashima
Izu City, Shizuoka
Japan 410-3206
Phone:
Fax:
Website:
Email: