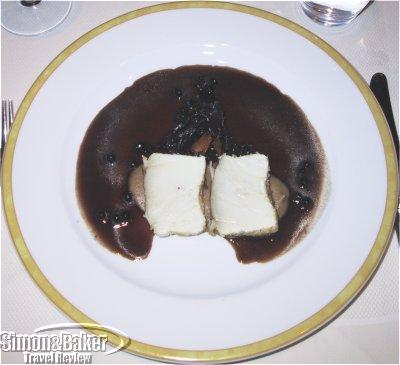 We look forward to returning soon to Aqua.
Overall Impression
: We arrived at Aqua, located on the ground floor of a restored post 1906 earthquake building, early on a Sunday night anticipating we would have the restaurant to ourselves. To our surprise, the popular restaurant was buzzing with the sound of diners' conversations and meals being served. It was already almost full and remained so the whole night. We floated effortlessly through our delicious multiple course meal while other diners completed their evening and new ones arrived. The large high ceiling dining room, was decorated in muted shades of sepia and gray which created an elegant yet casual ambiance. Two larger than life mirrors drew visitors' eyes to the side wall and enhanced the feeling of spaciousness.
The service was excellent. Servers had an eye for detail. They were polite and unobtrusive with just the right touch of interest to make our meal enjoyable. Timing in between courses allowed us time to savor the last dish and anticipate the one about to arrive. Chef Manrique's French influenced dishes, though not for the faint of heart, were playful and sober at the same time. Diner, reasonably priced considering the quality and quantity of servings, was delectable and fun. It was a food lover's delight and a credit to San Francisco . We look forward to returning soon to Aqua.
About The Executive Chef
Laurent Manrique, considered by many a
foie gras
specialist, was named corporate executive chef for Aqua in February 2003. A native of the Gascon region in France , he learned to cook from his grandmother Aurélie. In Paris , he cooked at Toit de Passy and Taillevent and trained with chefs Michel Rostang and Andre Daguin. In San Francisco , he cooked at Fennel and Rex. From there he went to New York , where he worked at the Waldorf Astoria's Peacock Alley and later at Gertrude's, where he became a partner. In 1999, he returned to San Francisco as executive chef of the Campton Place , where he remained until he became the new chef at Aqua.
Chef De Cuisine Peter Armellino
Executive Chef Laurent Manrique
General Manager Tony Marcell
Handicapped Access There was wheelchair access
Location In the heart of downtown San Francisco's financial district
Opened September 1991
Owned Charles Condy and Aqua Development Corp
Pastry Chef : Lionel Walter (trainee Lindsay prepared our desserts)
Restaurant Managers Mary Dicus and Lisa Robins
Size 120 guests
Sommeliers Mauro Cirilli and Sean Crowley and Mauro
Type Of Restaurant Contemporary seafood with a French influence
DÉCor-Ambiance Decorated in a contemporary American design, featured woods, onyx and marble in its furnishing, theatre-style lighting to heighten the understated feel inside. Enormous, up to 12-foot high, fresh flower arrangements were peppered throughout the large dining room and provided a subtle contrast to the temperate color scheme and ambiance. Eight flower arrangements (Florist Frank Lo), which took a crew of five workers six hours to prepare, were brought to the restaurant every week. There were two huge mirrors surveying the bustling large bar, which featured a 20-foot long maple countertop.
Cellars Wine And Alcoholic Beverage Selection
Some 310 wines were selected to compliment the chef's creations. Options from California , Oregon , France , Italy , Germany , Spain and New Zealand were available and updated bi-weekly.
Special Menus Five-course vegetarian tasting menu for $55 and six-course chef's tasting menu for $95
Meal Though the chef and assistant chef were absent the night we dined at Aqua, our dinner experience was outstanding. It's the sign of an extraordinary gourmet restaurant that it can operate well in the absence of its culinary leaders. Our chef's tasting menu was a delight, including subtle wine pairings that underlined the dish flavors without overwhelming them. We began with a glass of MV Krug Rosé Brut, Reims , France champagne and a caviar tart made with a caramelized onion tart, smoked sturgeon and crème fraiche . A tartare of Ahi tuna embellished with Moroccan spices, lemon confit and fresh herbs followed paired with a 2003 Dr. Loosen Riesling, Mosel-Saar-Ruwer , Germany . Then, we had a chilled lobster salad with braised endive, sliced persimmon and pomegranate vinaigrette with a 2001 Cotes du Rhone Blanc, chapoutier, Rhone Valley, France; an artisan foie gras with caramelized quince, shallot and caper fondue and duck bouillon and a 2002 Juracon Charles Hours, Uroulate, France. A marvelous Columbia River sturgeon with speck ham, chestnuts and black chanterelle mushrooms which went down nicely with a 2000 Muga Reserva, Rioja , Spain was next to last. A New York sirloin with Brussels sprouts, glazed cipollini and truffle beef jus and a 2000 Lancaster Cabernet Sauvignon blend, Alexander Valley . The meal culminated with a luscious Warm Chocolate Cake and Tahitian Vanilla Souffle and a 1985 Banyuls Domaine du Mas blanc, Languedoc-Rousillon , France .
Date Of Review
December 2004
Reviewers Article and photos by Elena del Valle
Service Staff were attentive, helpful, and knowledgeable providing excellent service in spite of a busy dining full of expectant diners and demanding regulars.
Would You Dine There Again-Recommend It? Yes
Contact Information
Address:
252 California Street
San Francisco , CA 94111
Phone:
Fax:
Website:
Email: