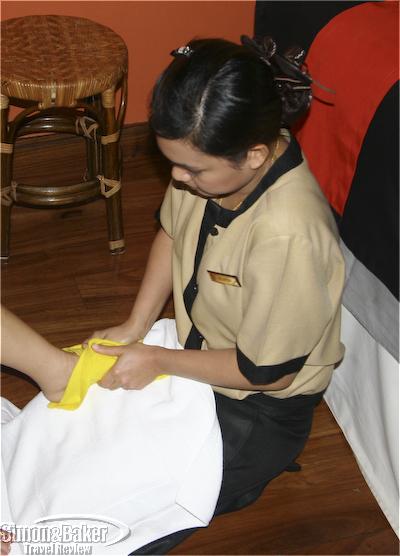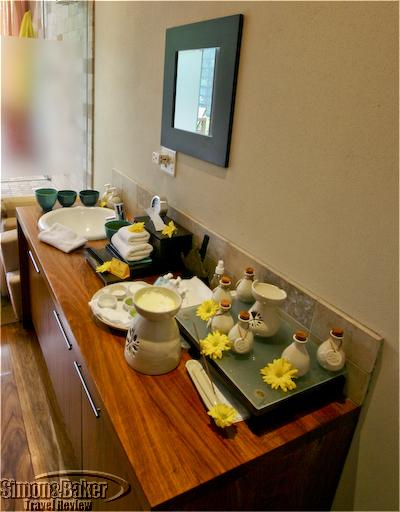 We look forward to a return visit to this quiet and charming spa the next time we're near the suburbs of Cape Town and in need of relaxing spa therapy.
Overall Impression
Our visit to Angsana Spa was a success. My husband and I arrived there just after a satisfying lunch at Myoga, an Asian fusion restaurant located on the same property. The reception area was quiet and we received a warm welcome from the staff. We spent a few minutes reviewing treatment options before a staff member escorted us to our double treatment room where we had the Duet Treatment Package, three hours of treatments including a scrub, massage and facial each and a shared milk and orange bath at the end.
We were pleased to be back at Angsana which was named for the flowering Angsana tree. We liked the light filled spacious reception area and attractive garden facing treatment room. Our therapists were polite and accommodating, delivering soothing Sesame Healer (for him) and Flower Petal (for me) scrub treatments and Ibu (for him) and Fusion (for me) massages.
We were served refreshing chilled hibiscus tea when we arrived and melon balls and warm ginger tea at the conclusion of our session. The milk and orange soak in a large Jacuzzi tub in our treatment room was the perfect ending to our spa afternoon. We look forward to a return visit to this quiet and charming spa the next time we're near the suburbs of Cape Town and in need of relaxing spa therapy.
General Manager
Yesi Effendi
Handicapped Access Handicapped guests were welcome at the spa. The staff advised guests with medical conditions to consult their doctor before signing up for spa services.
Location Adjacent to the Vineyard Hotel in the outskirts of Cape Town
Managed Banyan Tree Spas
Owned Banyan Tree Holdings
Size The spa employed 18 people and occupied 600 square meters (approximately 6,000 square feet) in a one story facility. It consisted of five double treatment rooms, including two deluxe rooms with steam and shower facilities; five single treatment rooms, and one signature Rainmist treatment room with twin beds. Double rooms were equipped with a spa bath and overlooked a garden.
Treatment Rooms Our garden facing treatment suite had twin treatment tables, a sofa with small tables on either side of it, a place to set our clothes, sinks, a Jacuzzi soaking tub and an extra large glass enclosed shower with waist length privacy glazing.
Year Opened-Renovated The Spa was established in 2004.
Special Training
According to a company spokesperson, Angsana spa therapists undergo training at the Banyan Tree Spa Academy in Phuket, Thailand, which is accredited by Thailand's Ministry of Education and Ministry of Public Health. The training was designed to emphasize the use of aromatherapy and the sense of touch in treatments.
The Academy's training and grading system had four levels of competency: Beginner, Intermediate, Advanced and Specialization. Each level included training, assessment and grading before the trainees passed on to the following level. The training was staggered and on-going; therapists were tested regularly and re-trained when necessary.
Common Areas Designed and built by Architrave Design and Planning, the architectural arm of Singapore-based parent company Banyan Tree Holdings, the spa had the signature Angsana trademark lime green with bursts of tangerine in its soft furnishings. It was designed to exhibit a fluid combination of "contemporary interior design, architecture and aesthetic beauty interspersed with charming Asian artwork." The areas we visited were in excellent condition and looked new.
Amenities
There were cotton bathrobes, plastic slippers, complimentary tea and fruit, and towels for guest use. The toiletries included Jasmine and Frangipani Shower Gel, Jasmine and Frangipani Body Lotion, Jasmine and Frangipani Shampoo and Jasmine and Frangipani Conditioners.
Facilities There was a small area next to the reception desk with items for sale. In it we found Thai incense, essential oils, candles, and wraps.
Pool The outdoor pool had a maximum depth of 1.7 meters and was 19.9 meters X 5.87 meters in size and the indoor pool was 6.7meters X 4.19 meters in size. Use of the hotel facilities was restricted to hotel guests and spa members.
Lockers And Bathrooms
There were no lockers. We changed and kept our belongings in the treatment suite. The challenge was that once the 180-minute session was completed we had to exit the room quickly so it could be prepared for the next guests.
Other There was secure parking in the building basement immediately next to the spa entrance. There was no clock in sight of the bathtub and our watches were across the room so we were unsure how soon we had to exit the bath. Fortunately, the therapists knocked on the door to let us know our time was up.
Cleanliness
Excellent
Date Of Review 2005 2008
Number Of Treatments Six treatments and a shared Jacuzzi bath
Reviewers Article by Elena del Valle
Photos by Gary Cox
Treatments Experienced We had a Duet Treatment Package, a three hour (180-minute) session in a shared double treatment room. Two pleasant women therapists provided simultaneous treatments: for him a 30-minute Sesame Healer (in lieu of the usual Jasmine Frangipani Sparkle) scrub, 60-minute Ibu Massage, 60-minute Angsana Facial and choice of bath; and for me a 30-minute Flower Petal scrub, 60-minute Fusion Massage,60-minute Angsana Facial and choice of bath. The bath was in a Jacuzzi tub. We picked the Milk and Orange Bath which lasted about 15 minutes. The facials were relaxation oriented without extractions.
Would You Return? Yes
Contact Information
Address:
Vineyard Hotel & Spa
Colinton Road,
Newlands 7700
Cape Town, South Africa
Phone:
Fax:
Website:
Email: