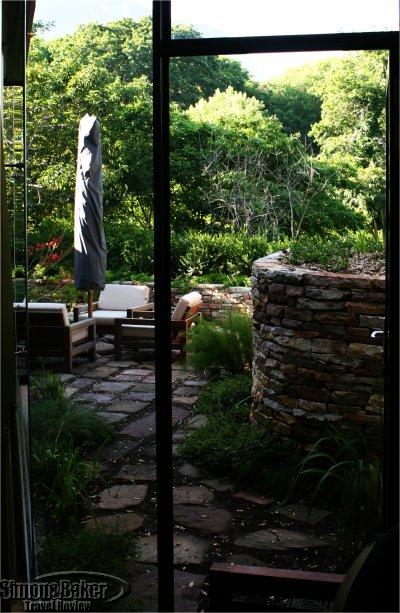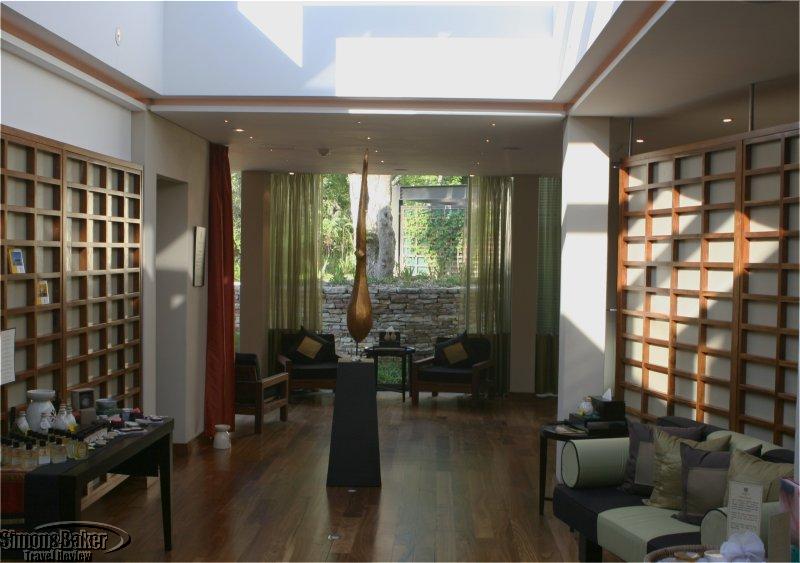 The next time we are in Cape Town, we will make time to visit Angsana.
Our most recent visit to Angsana is
here
.
Overall Impression
We arrived in Cape Town rushed and tired. Our flight had arrived late. By the time we collected our rental car and found our way to our hotel, a short drive from Angsana Spa, the afternoon was nearly over. When we called the Spa to ask for a slight delay, the reception staff invited us to reschedule for the next day at our convenience. The following afternoon found us sipping honey sweetened hibiscus tea and wearing plastic slippers while we waited for our therapists to collect us from the reception area. We liked the open design of the new looking lobby. Sunshine and light slid through the glass ceiling to brighten the room which faced a small garden area with water features. By the time we left we had found our smiles and were looking forward to the next stage of our trip.
Named for the flowering Angsana tree, the spa was charming. Our shy therapists were polite and accommodating. Although we had the same treatments, Ibu's Secret massages and Protein Perk facials, Gary's Thai therapist performed a firm massage with deep kneading which Gary loved. Mine had a light touch, even though I asked for deep massage when she asked my preference, resulting in a "relaxing" massage. Gary enjoyed his Thai massage so much that when we returned to Cape Town several days later we attempted to make an appointment for another massage with the same therapist for him. Unfortunately we called at the last minute and she was booked. The quiet yet lively ambiance with colorful touches appealed to us as did the spacious couples treatment room, welcoming staff and essential oils oriented product line. The next time we are in Cape Town, we will make time to visit Angsana.
Arrival Process Ease
Excellent
General Manager Suwapa Kaewkong
Handicapped Access Handicapped guests were welcome at Angsana Spa. The spa advised guests with medical conditions to consult their doctor before signing up for spa services
Location Adjacent to the Vineyard Hotel in the outskirts of Cape Town
Managed Heritage Spas South Africa (Pty) Ltd
Number Of Staff There were 14 staff members including the management
Owned The Angsana Spa was part of the Banyan Tree spa group
Size The spa occupied 600 square meters (approximately 6,000 square feet) in one story. It consisted of five double treatment rooms, including two deluxe rooms with steam and shower facilities; five single treatment rooms, and one signature Rainmist treatment room with twin beds. Double rooms were equipped with a spa bath and overlooked a garden.
Treatment Rooms Our treatment suite had twin treatment tables, a sofa with small tables on either side of it, sinks, a Jacuzzi soaking tub and an extra large glass enclosed shower with waist length privacy glazing.
Year Opened-Renovated The Spa was established in 2004
Special Training
Angsana Spa places special emphasis on the use of aromatheraphy and the sense of touch in the treatments offered. Spa therapists undergo eight weeks of training at the Banyan Tree Spa Academy, dedicated training facility, located in Phuket, Thailand.
Institutionally, the Academy provides a training and grading system for Angsana Spa comprising of four levels of competency: Beginner, Intermediate, and Advanced to Specialization levels. At each level, therapists undergo pre-determined duration of actual guest servicing that ties in with their training; they are then assessed and graded before they can move on to the next level.
Based on the grading system, the duration of the training is staggered. Adjustments are made where necessary. This is the case, for example, when candidates out perform minimum requirements and can be fast tracked. Training is on-going because therapists are tested regularly and recalled for re-training when the need arises.
Common Areas The interior of the spa was sunlit and bright with contemporary styling and vibrant colors accented by soft furnishings designed to reflect and complement Angsana's "vivacious outlook in life." Designed for the "outgoing spa enthusiast who believes in living life to the fullest," Angsana Spa presented a contemporary image focused on hues of lime green, tangerine, yellow and red.
Amenities
Plastic slippers, cotton bathrobes, complimentary fruit, hibiscus and ginger teas. Guest were offered slippers when coming into the spa, and offered a bathrobe during the treatment time. Complimentary toiletries were available for guest use including shower gel, shampoo and conditioner when taking a shower in the rooms as well as towels and a hairdryer if required.
Facilities There was an open shop next to the reception desk. In it we found Thai incense, essential oils, candles, wraps and a number of attractive items.
Pool The outdoor pool had a maximum depth of 1.7 meters and was 19.9 meters X 5.87 meters in size and the indoor pool was 6.7meters X 4.19 meters in size. Use of the hotel facilities was restricted to hotel guests and spa members.
Lockers And Bathrooms
There were no lockers. We changed and kept our belongings in the treatment suite.
Other There was secure parking in the building basement immediately next to the spa entrance.
Cleanliness
Excellent
Date Of Review 2005 2008
Number Of Treatments Four
Reviewers Article by Elena del Valle
Photos by Gary Cox
Treatments Experienced We shared a double treatment room and had simultaneous treatments: Ibu's Secret massages and Protein Perk facials provided by two young and smiling women, Desiree "Dez" from South Africa and Nan from Thailand.
Would You Return? Yes
Contact Information
Address:
Vineyard Hotel & Spa
Colinton Road,
Newlands 7700
Cape Town, South Africa
Phone:
Fax:
Website:
Email: