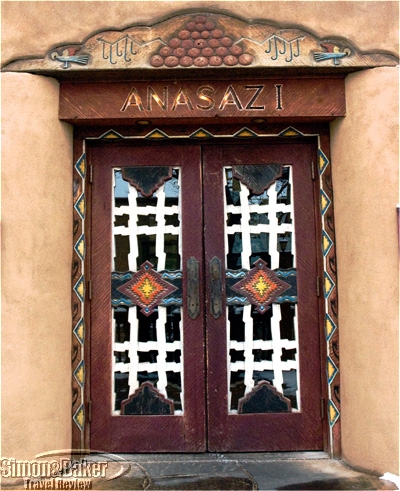 There are many reasons to yearn for return visits to Santa Fe; dinner at The Anasazi, with its superb food and service and its romantic atmosphere is definitely one of them!
Overall Impression
"You are in for a great dining experience" opined the passenger next to me on the shuttle from the airport to Santa Fe when I mentioned I had a reservation at the Anasazi Restaurant. He was right.
The menu reflected the contemporary global approach of talented and imaginative head chef Martin Rios who weaved together continental and southwestern flavors with oriental touches to conjure up unique dishes that kept my palate intrigued throughout the meal. The restaurant was an integral part of the Inn of the Anasazi hotel. Located just off the lobby, it was accessed either from the hotel or directly from the street through a small, friendly bar. While both the lobby and the bar offered a decidedly southwestern atmosphere, the décor of the restaurant reflected the dinning experience: a sophisticated fusion of the cultures that shaped the area and discrete cosmopolitan touches.
The walls were made of stacked stone and adobe to create intimate dining alcoves while showcasing contemporary murals reminiscent of Pueblo petroglyphs. The comfortable wooden armchairs around the generously spaced, formally set white linen-clad tables would have been at home in the residences of Anglo or Hispanic nobility of old. But the romantically subdued lighting that still allowed guests to read the menu and appreciate every detail of their artistically presented meals was definitely state of the art.
The service was worthy of the outstanding food, perfectly paced to allow leisurely conversation, while never letting us want or wait for anything. The friendly staff mastered the delicate balance between being omnipresent and never obtrusive. There are many reasons to yearn for return visits to Santa Fe; dinner at The Anasazi, with its superb food and service and its romantic atmosphere is definitely one of them!
About The Executive Chef
Born in a culinary family, Chef Martin Rios proudly recalls that the journey to his current position began in Guadalajara, Mexico, as a dishwasher in his grandmother's restaurant. He received his formal training at the Culinary Institute of America, before working his way up the gastronomic hierarchy as
chef tournant
at the five-star dining room of the Short Hills Hilton in New Jersey, and the Park Avenue Café in Manhattan (
chef tournant
, revolving chef, is an especially demanding position that requires proficiency in all culinary disciplines, from sauces to desserts). He went on to hone his expertise with an apprenticeship with renowned chef George Blanc, in Vonnas, France. While in France, he also worked with World Pastry Champion Jean-Marc Guillot. Prior to taking over at the Anasazi Restaurant in 2006, Chef Martin was executive chef at the Old House, then the only AAA four diamonds restaurant in New Mexico, and at the Eldorado Hotel.
Among his many accolades Martin Rios was one of seven chefs nationally, and the only one in New Mexico, to receive the 2001 Robert Mondavi Culinary Award of Excellence. Since joining The Anasazi Restaurant, he has garnered such coveted honors as both the New Mexico Restaurant Association Chef of the Year and New Mexico Lodging Association Culinary Professional of the Year in 2007.
Executive Chef Martin Rios
Handicapped Access The restaurant was located on the ground floor and wheelchair accessible .
Location Off the lobby of the Inn of the Anasazi hotel
Opened-Renovated The restaurant opened along with the Inn in 1991. It was completely renovated, and the menu refocused to its current level in 2006.
Owned And Managed Rosewood Hotels and Resorts Management Company of Dallas, Texas owned and managed the property.
Size The Anasazi Restaurant seated 92. It employed a kitchen staff of 15 and a serving staff of 20.
Type Of Restaurant Luxury gourmet dining, contemporary Southwestern cuisine with oriental influences and French flair.
DÉCor-Ambiance The restaurant was characterized by casual elegance, with refined Southwestern flair and romantic atmosphere.
Cellars Wine And Alcoholic Beverage Selection
The wine list included well priced selections from the main wine regions of France and Italy, as well as Spain, California, Chile and Argentina, in a broad range of prices. A variety of them was also available in half bottles or by the glass. There were several choices of Epernay and Rheims champagnes. Good quality California sparkling wines were available in half bottle. The restaurant also offered a broad section of bar drinks.
The wait staff was knowledgeable on the various offerings on the wine list. When in doubt they were prompt to consult with a more expert colleague to ensure that they shared correct information.
Meal
With Chef Rios' creativity apparent on the menu, selection threatened to become an insoluble dilemma. To sustain me through the decision stage, the chef sent a lovely
amuse bouche
(palate teaser): a seared giant diver scallop garnished with a julienne of leek and shitake mushroom topped by one crisp strand of emerald green broccoli for an interesting variety of textures. It was served on a silky tangerine-merlot reduction that developed to finish with a discrete bite. Its complex taste and generous size could have made it an appetizer in its own right.
Because I cannot resist the lure of an imaginative risotto, my appetizer selection was the Maine Lobster and Autumn Squash Risotto. It arrived al dente yet beautifully creamy, enriched with a duxelle of chanterelle mushrooms and flavorful truffle froth. While I relished every grain of my risotto, I may have been eyeing one of my dining companions' Leek and Pacific Oyster Bisque a tad too covetously. My own half portion of the velvety nectar materialized in front of me. It was enriched with a crisp lobster beignet for contrast. Sublime! For my entrée, I selected the Hawaiian Big Eye Tuna, which I requested very rare. It arrived flawlessly so, yet hot in its crunchy mustard-shiso crust, served with a caramelized julienne of sautéed English cucumbers and leeks.
For dessert, I was spared the trauma of yet another selection. The chef had thoughtfully prepared for our table an assortment of the most popular desserts on the menu. In addition to a Bourbon-Vanilla Crème Brulée with strawberry-mint compote, we enjoyed Maple Roasted Anjou Pear Dumplings served with Coconut-Banana Panna Cotta and a warm Mexican Chocolate Soup. Finally, there was the decadent Gianduja Chocolate Cake, a milk chocolate meringue cake topped with a white chocolate caramel cream. This merely served as a base for the chocolate ice-cream and cider-piñon purée. While this assortment was not officially on the menu, it could be obtained by prior arrangement.
I limited my dinner wine selection to one unusual California white: the Caymus Conundrum. This intriguing proprietary blend of sauvignon blanc, chardonnay and muscat canelli had a fragrant flowery nose. Its palate started pleasingly light to develop into a juicy medley of tropical fruit flavors with just the right amount of acidity to enhance my seafood and fish menu selections.
Reservations Strongly recommended, especially on weekend and during the summer season.
Date Of Review
February 2008
Reviewers Article and photographs by Josette King
Service Our charming waitress, the ever-vigilant Bailey went to great length to anticipate my wishes and answer my questions. While ordering my meal, I had stumped her with a query: "What is shiso?" (this seasoning was part of my main course). She later appeared at my side during a break in our dinner conversation with an Internet search print-out of the description and image of shiso (an herb of the mint family mainly grown in India and East Asia). That's service!
Would You Dine There Again-Recommend It? Yes
Contact Information
Address:
113 Washington Avenue
Santa Fe, New Mexico, 87501
Phone:
Fax:
Website:
http://www.innoftheanasazi.com/dine1.cfm
Email: