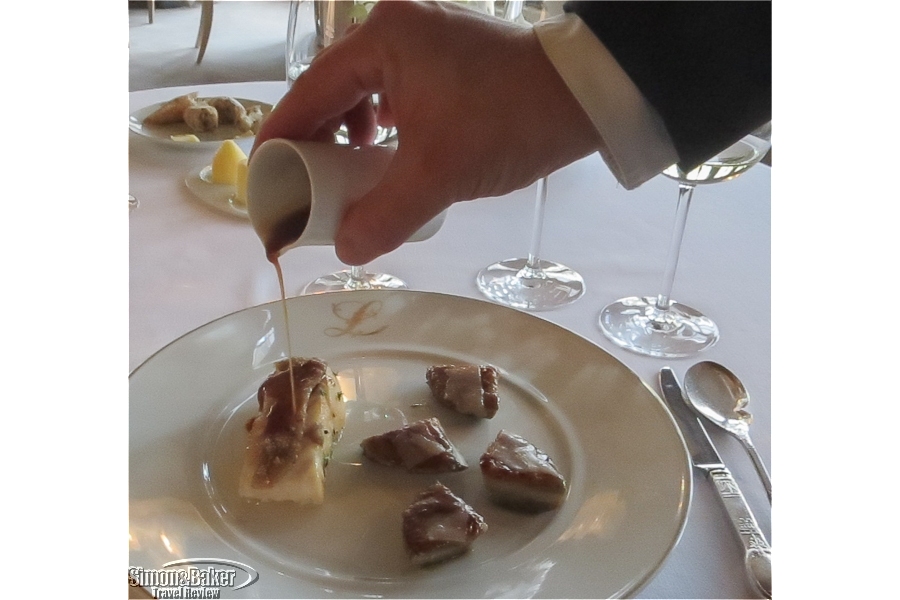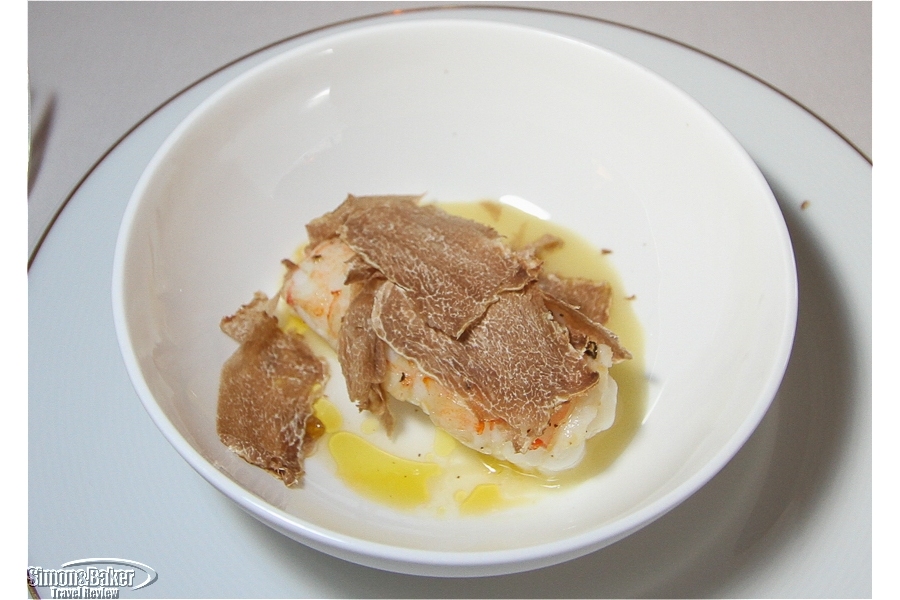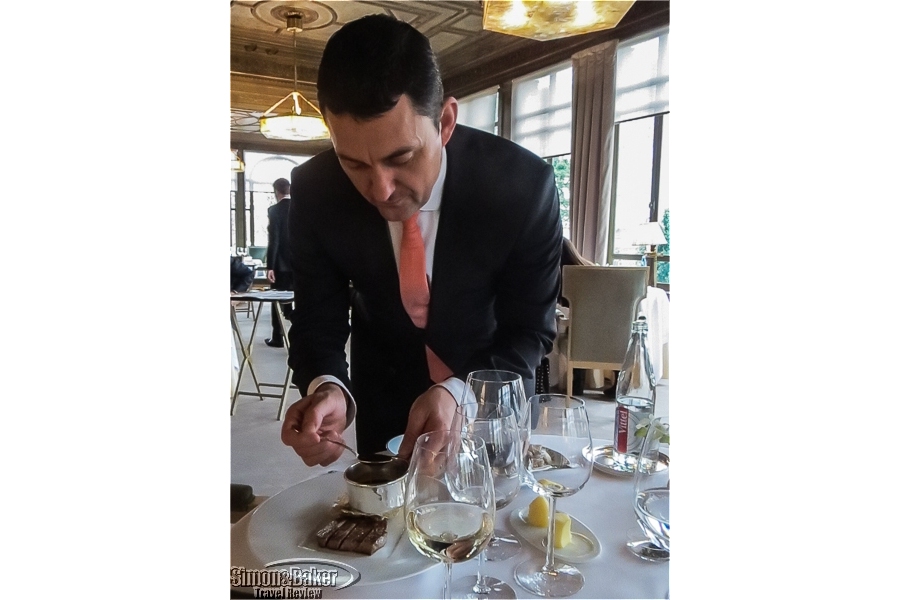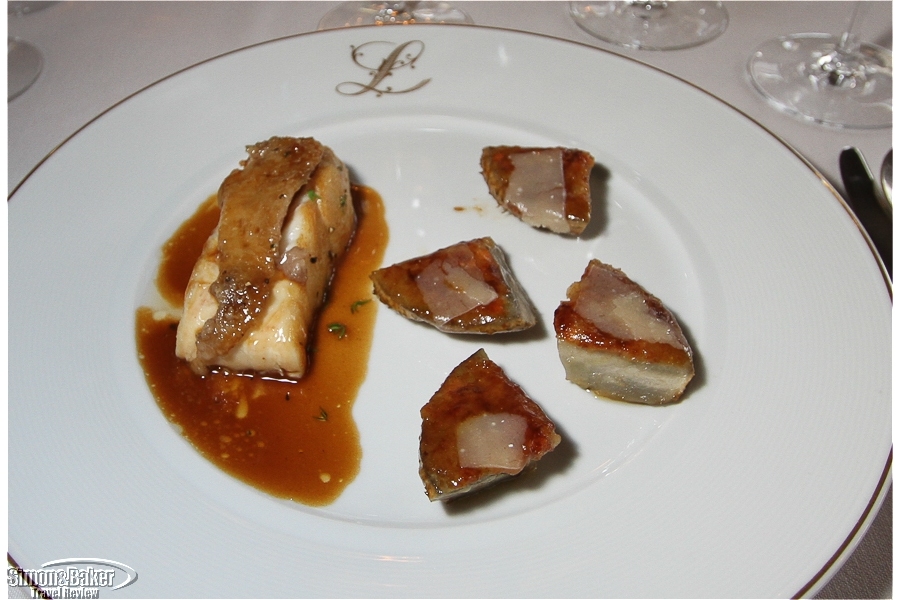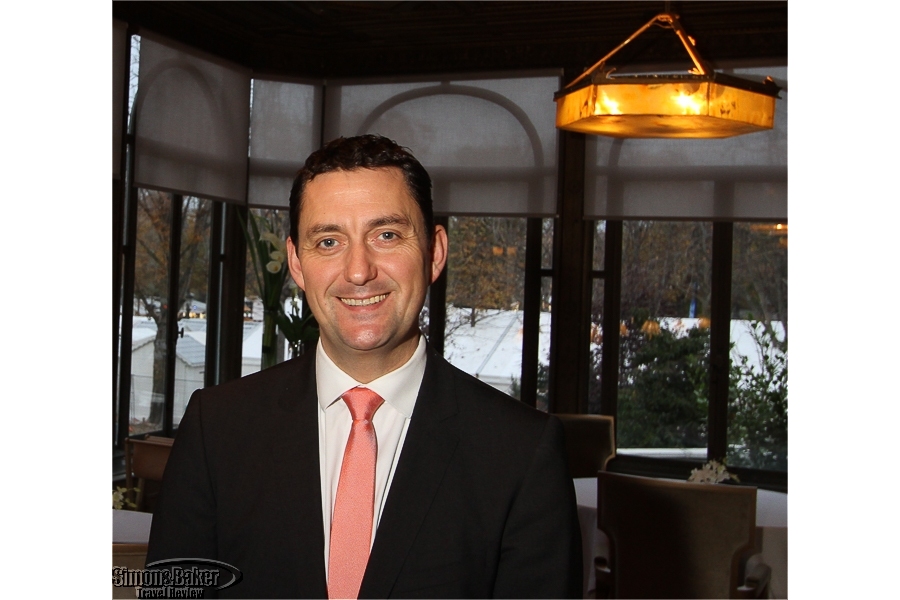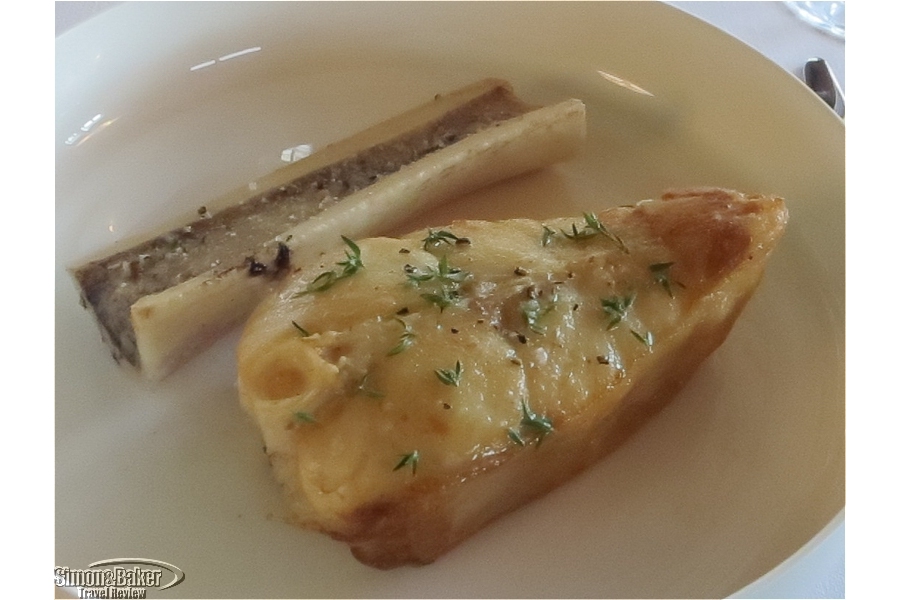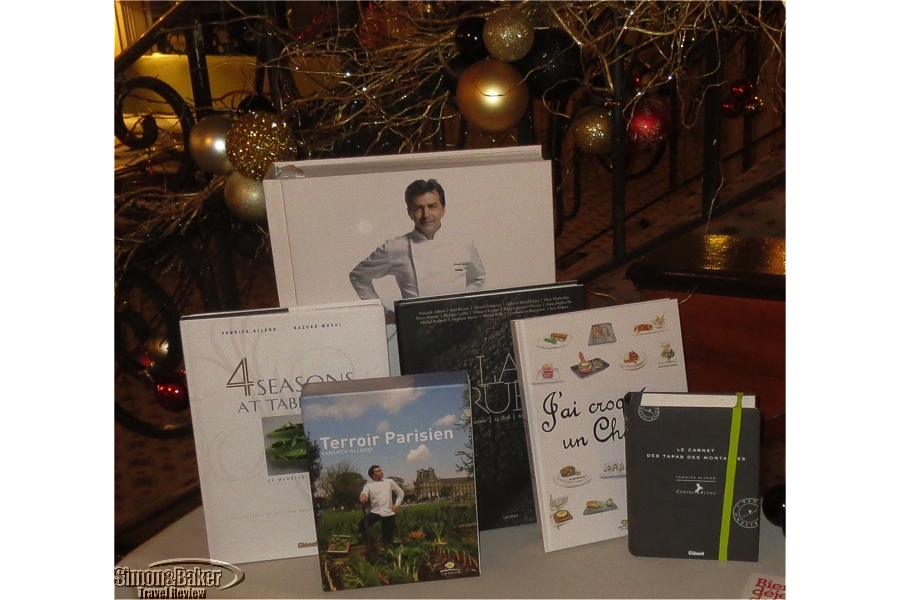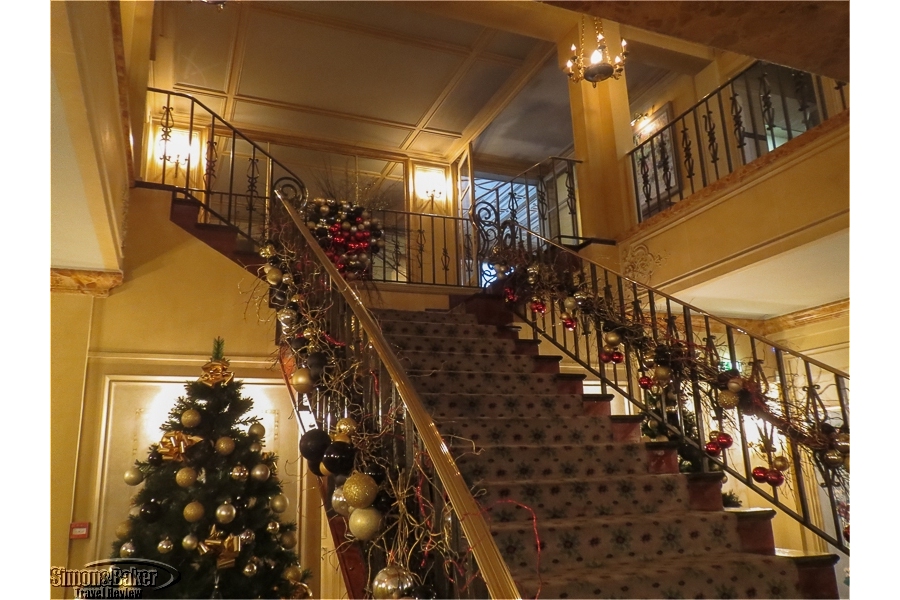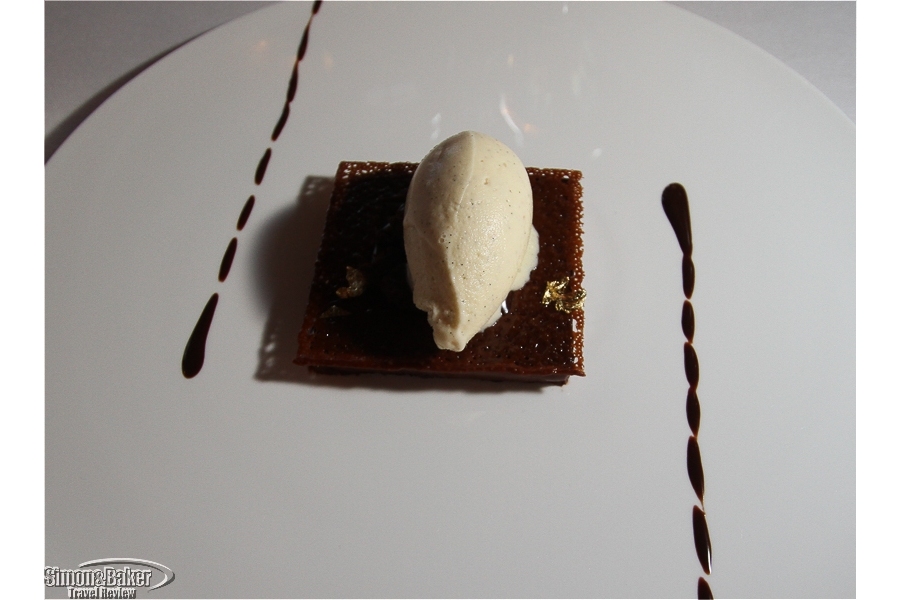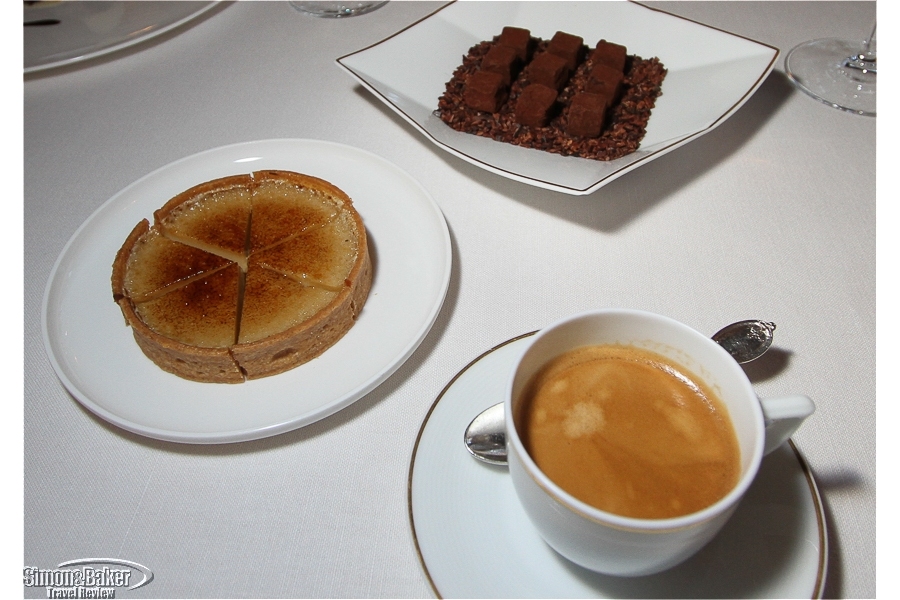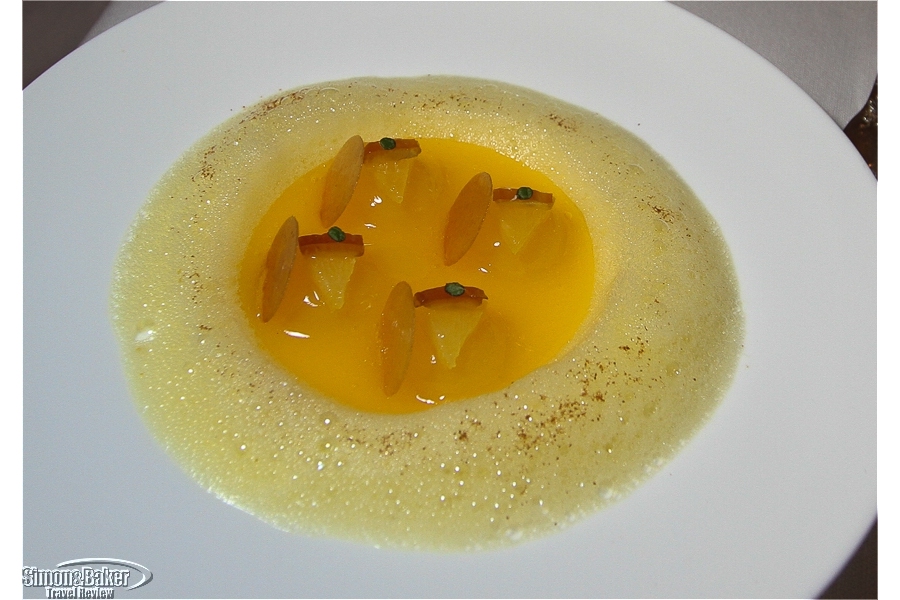 We congratulate him and his team on their success, and look forward to following them in the new restaurant at the Ledoyen Pavillon.
Overall Impression
While we had dined well at the same venue a number of times in the past that was our first meal since Chef Yannick Alleno had taken the reigns of the newly named Alleno Paris. Our multi course tasting menu was a most pleasant surprise.
Lunch was a blend of classical French cuisine yet modern at the same time. From the Krug by the glass to the final bite of sweets at the end the meal was a success. Delicious, refined and beautifully presented dishes paired with attentive, warm and detail oriented service matched the elegant setting in a historic building steps away from the famous Champs Elysees.
The chef's enthusiastic back to basics sauce centered culinary style was simultaneously rewarding and refreshing. Each dish was a journey of discovery far enough from the norm to be intriguing yet still close enough to our zone of comfort to be enjoyable and fun. We congratulate him and his team on their success, and look forward to following them in the new restaurant at the Ledoyen Pavillon.
About The Executive Chef
Yannick Alleno started his career at the Royal Monceau, working with Gabriel Biscay before joining the Hotel Sofitel Sevres and working with chefs Roland Durand and Martial Henguehard. Later he worked at Drouant with Chef Louis Grondard before moving on to run the Scribe kitchens. In 1999, he earned his first Michelin star, and in 2002 he earned a second Michelin star. In 2003, the Hotel Le Meurice entrusted him the chef position. While there in 2004, he received a second Michelin star, and by 2007 he received a third star.
In 2008, he established the Group Yannick Alleno "to offer his expertise to hoteliers and food professionals." At the time of this writing he managed food and beverage services at Cheval Blanc, Courchevel, at the Royal Mansour in Marrakech and at the One&Only The Plam in Dubai; and he promoted French art de vivre with his Stay concept at the Shangri-La in Beijing, in the 101 tower in Taipei and at the Hotel Sofitel Le Faubourg in Paris. He also launched Yam magazine for trade professionals.
In 2008, he launched Terroir Parisien to highlight the work of the Ile-de-France producers, products and recipes. After his departure from Le Meurice in January 2013, he worked at the 1947, his laboratory in Courchevel at Cheval Blanc, and started new work on sauces, which he considered the DNA of French cuisine.
In the summer of 2014, he took over the Pavillon Ledoyen renaming it Alleno Paris, Carré des Champs-Elysées. The following year he was named chef of the year 2015 by the Gault&Millau and chef of the year by Andrew Harper in the United States.
Chef De Cuisine
Nicolas Le Tirrand
Executive Chef Yannick Alleno
Handicapped Access No, the only access to the second floor dining room was up a staircase.
Head Sommelier Vincent Javaux
Location On a side street perpendicular to the Champs Elysees across the street from the Petit Palais. There was easy access from the Champs Elysees, especially on foot.
Managed Yannick Alleno took over the Pavillon Ledoyen on July 2014.
Opened-Renovated Established in 1792 by Pierre Ledoyen, the restaurant's most recent restyling updates were of the dining room in August 2014. A bar was opened in March 2015. Further renovations were planned for 2015.
Owned The city of Paris owned the building which was leased to restaurant owners Florence Cane and Yannick Alleno.
Pastry Chef Damien Cassart
Restaurant Manager Jean-Marie Tranchet, director of the Pavillon Ledoyen
Size The 120 square meter dining room was able to welcome 40 guests. There were 80 staff shared with the special events venues housed in the same building.
Type Of Restaurant French cuisine
Cellars Wine And Alcoholic Beverage Selection
The restaurant was in the process of building a new wine cellar following the loss of its previous cellar as a result of the former chef's departure. The new wine list, while thin, offered a variety of French options, and a few wines by the glass including Krug champagne.
Special Menus There was a three course fixed price Lunch Menu for 135 euros. The restaurant also offered a six course set price menu for 275 euros and a nine course Michelin Menu for 380 euros.
Meal
We began our meal with the usual chilled bubbly accompanied by three palate teasers. First it was egg whites with gingerbread. Then we had a morsel of beetroot and mushroom. The final one was a mushroom pastry with curry flavor. We had a choice of salted and unsalted butter, and three types of bread: olive, baby baguette and cereal.
Our menu: Salinites, Jus de courge rotie en fine gelee crème noix de muscade; Pain de brochet brioche extrait de champignon coraille; Moules de bouchot au jus extrait de cabillaud pommes voilees; Langoustine rotie sauce foisonnee a l'huile d'olive condimente; Turbot en troncon de nos cotes roti a l'os a moelle artichaut camus au gratin au parmesan; Boeuf Wagyu Gunma persille 4 planche de ravioles croustillantes olives et tomate verte confiturees; Chariot de fromage frais et affines salade d'aromatiques; Touches sucrees; Perles d'orange fleurees de cannelle ecume et petites arlettes; Ananas en pavlova au citron coques de meringue legere aux pralines roses; fuseau croustillant au chocolat et caramel truffe blanche d'Alba a la fleur de sel; and Palet de crème tendre au chocolat noir glace a la vanille bourbon.
We started with heavily distilled butternut squash with butternut seeds, cream and nutmeg. It had honey tones in the gelee style butternut dish and a strong nutmeg flavor. There was pike that reminded us of a souffle dish with a thicker density. We had lobster coral, melt in your mouth perfectly cooked muscles from Saint Michel, potatoes from central France, and shellfish juice chips. We tried langoustine with white truffle shavings. There was turbot with a kind of surf and turf artichokes and parmesan cheese "beefy" sauce and a large artichoke heart. Next there was tender Wagyu beef served with crisps and green tomato and olive jam sauce that complimented the beef well. It was a favorite among favorites. Then, we were served a pretty and flavorful micro greens salad with vinaigrette dressing. From the cheese cart we had four types of cheese.
A dish of slightly bitter and firm aloe vera with a sugar crunch followed the cheese course as a palate cleanser. It was accompanied by a lovely baked apple beignet with confectioner's sugar. It was well balanced in flavor and texture, lightly sweet and crunchy. I had a pineapple with lemon and meringue dish while my lunch partner had orange pearls with cinnamon atop a foam foundation. My partner had a chocolate with salted caramel and Alba white truffle dish. I had a cream and dark chocolate dessert made with Guarana chocolate from Honduras and served with vanilla bourbon ice cream. For post dessert there was a Guinness beer tart and chocolate truffles.
We began with Champagne Veuve Clicquot Rose 2004 and Champagne Krug Grande Cuvee 2011. To accompany our courses the staff selected the following wines: Bellet Le Clos, Clos Saint Vincent 2013; Meursault, Domane Jean Mac Boillot 2011; Margaux, Confidences de Prieure Lichine 2010; Cotes du Jura Les Champs Rouges, Julien Labet 2012; and Sauternes, Chateau Rieussec 2007.
Other The restaurant received three Michelin stars by the Michelin Guide in February 2015.  There were meeting rooms for private events and valet parking available.
Date Of Most Recent Review
November 2014
Dates Of Previous Reviews We reviewed a restaurant in this same location under a different name and management in 2005, 2007, 2010.
Reviewers
Article by Elena del Valle
Photos by Gary Cox
Service The service was attentive, warm and detail oriented. Our water glasses were refilled even during dessert which was memorable because at many other gourmet restaurants we have been to the water service ended with the salty courses of the meal.
Would You Dine There Again-Recommend It? Yes
Contact Information
Address:

Alleno Paris
Pavillon Ledoyen
8, avenue Dutuit
75008, Paris
France

Phone:
Website: