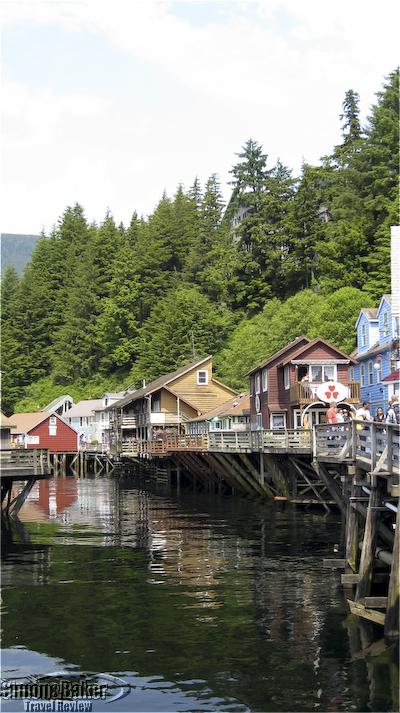 Guess we will have to take this cruise again!
Overall Impression
We had never been on a cruise before although both my husband and I enjoy sailing. The opportunity presented itself when my husband needed to be in Anchorage Alaska for business. We had the option of flying into Anchorage, via Vancouver, or taking the ship, departing from Vancouver Harbour up through the inside passage. This option intrigued us and we decided to look into it in more detail. Most cruise lines go to Juneau or Skagway and then passengers return via air to their point of departure. After much searching we were able to locate a cruise that continued two days further and landed in Anchorage for our pre-determined date.
We spent most of our time in the common rooms watching the beautiful scenery unfold. Our two favourite spots were the library, where afternoon tea was served, and the Jazz Lounge where a live band played nightly. We found the food to be delicious. The menu selection was varied: we could choose from seafood to steaks. A spa menu was also part of the selection as was a daily vegetarian dish. The food and the service were excellent, the waiters were most attentive and the wine steward was most informative about the selection of local and imported wines. Fortunately the gym facilities, on the upper deck, were spacious and had all the machines we could imagine.
Although there were activities on board during the day, the shore excursions were fascinating and allowed us to explore a part of our country that we had never visited. Having a naturalist and park rangers aboard, who were all passionate about the region, was an added bonus. We were pleased that, at the last minute, I had tossed our binoculars into the suitcase. We were asked to choose our shore excursions before embarkation, and we found it difficult to decide from among the many things to see and do.
We enjoyed this cruise because we discovered the spectacular scenery of the west coast of Canada and the United States. This cruise allowed us to visit many destinations that are not accessible by land. The great north is rugged and has a beauty that is very much its own. Although we took many pictures, we found that they did not do justice to the spectacular landscapes that unfolded before us. There was so much to see … Guess we will have to take this cruise again!
Built In
2003
Class Notation 100 A01 Passenger ship
Cost Although this trip was described as all-inclusive, alcoholic beverage as well as drinks and snacks outside of mealtimes were charged to our cabin. Land excursions cost extra.
Electrical Current The current was 110, standard North American voltage.
Handicapped Access There were 20 wheelchair accessible suites.
In Command Captain Roger Bilton
Internet There was a 24-hour Internet Café (wireless access available) for a fee. The further north we went, the spottier the reception became.
Length Of Cruise Seven days
Maximum Passenger Capacity 2,368
Normal Crew Compliment 810
Operated By Princess Cruises, Los Angeles
Overall Length 964.3 feet
Tonnage 91,627 tons
Total Distance Covered 1,820 nautical miles
Cabin (room) Since we had made our reservation quite late, we were not able to have a balcony suite; we were assigned a comfortable ocean view stateroom. It had a queen size bed with a wonderful duvet, desk, sitting area, TV, small refrigerator, closet and reading chair along with a small bathroom with a shower that was surprisingly well designed. As it turns out, the temperature was so cold as we travelled northward that we did not regret not having a balcony. Our 212 square foot cabin, suite 205, was on the Emerald Deck. We were amazed at the comfort and space it provided. On the far wall was a large picture window with an unobstructed view.
Head (bathroom) We were happy to discover our small bathroom had a full size shower.There were soft towels, bathrobes and Lotus Spa toiletries.
Dining
Eight casual dining areas were located aboard the ship. When we made our reservations for this trip, we were offered the possibility of Personal Choice Dining or Seated Dining. We opted for the Personal Choice, which allowed us to dine at any time. We found the food to be excellent and, because we were on the Alaskan cruise we decided to indulge in traditional foods such as venison, lobster, halibut and salmon. Vegetarian menus as well as the health-focused Lotus Spa menus were also available. Two formal evenings were scheduled and we were pleased to see that everyone dressed up. Cocktail dresses and long gowns and tuxedos and suit and tie were
de rigueur
.
There was a traditional, pre-set dining time in the Providence Dining Room and anytime dining in the Bordeaux Dining Room. There were also three specialty dining rooms; same day reservations were required as was a dress code.If we ordered a bottle of wine for our meal and did not finish it, the waiter would re-cork it and we could access our wine bottle at any of the bar locations throughout the trip. We drank some fabulous wines!
Entertainment
In the evening several bars, pubs and theatres offered continuous and varied entertainment. During the day, various activities were scheduled along with movie presentations. Each evening we received, in our room, a guide to the following day's activities.
Facilities There was a fully staffed health care center, spa, fitness center, Internet cafe, restaurants,library, two boutiques, several pool and hot tubs, and lounges on board.
Shopping There were two on board boutiques, open during standard operating hours at sea but closed when we were in port.
Spa The Lotus Spa, a relaxing Asian-inspired retreat, which offered body and facial treatments, steam and sauna facilities and hair salon was next to the fitness center.
Sports Facilities A large gym was located on the upper deck and next to the spa. Serviced by an elevator, we turned to the right for the spa and to the left for the gym. An array of elliptical, Stairmasters and other equipment was available. The gym staff was courteous and helpful. Towels were available along with filtered water. We particularly enjoyed watching the passing scenery. Step aerobics, stretching, upper and lower body conditioning and exercise classes as well as yoga, Pilates and spinning classes were offered for a small fee; registration was limited. It was essential to register the first day of arrival aboard ship as these places were taken quickly. We used the swim-against-the-current lap pool and the five heated outdoor hot tubs. We also enjoyed using the golf simulator. There was also a nine-hole putting course which was very popular.Most days, I'd walk four miles on the relatively quiet Promenade Deck (2.8 circuit equaled one mile). On the second to last day of our trip we participated in On Deck for the Cure, a 5 kilometer walk to raise money for breast cancer research. Fitness seminars were also offered. These focused on nutrition, living a balanced lifestyle and other related topics.
Cruise Stops
Vancouver, Ketchikan, Juneau, Skagway, Glacier Bay, College Fjord, and Whittier
Cruising Speed 22 knots
Day 1 Boarding and departure from Vancouver, Canada Place Cruise Terminal
Day 2 We spent the day exploring the ship.
Day 3 Ketchikan, Alaska – Located on the western coast of Revillagigeso Island, this town has earned the name of salmon capital of the world. Built on the site of a Tlingit fishing camp, Tlingit, Haida and Timshian peoples are represented. The name Ketchikan is said to mean Eagle River, which refers to the waterfalls on Ketchikan Creek. We chose the Rainforest Wildlife Sanctuary excursion, a half day hike through a protected forest with a naturalist guide.
Day 5 Skagway Alaska – Called the Gateway to the Klondike, this town was declared a national historic park allowing it to retain the flavor of the boomtown Gold Rush days. We arrived in Skagway for the July 4 festivities and participated in the annual egg-toss. We registered for the White Pass-Bennett Lake excursion and it was fabulous. Built in 1898 during the Klondike Gold Rush, this narrow gauge railroad is an International Historic Civil Engineering Landmark; The WP&YR (White Pass & Yukon Rail) climbs almost 3,000 feet in just 20 miles and features steep grades, cliff-hanging turns, two tunnels and numerous bridges and trestles. The steel cantilever bridge was said to be the tallest of its kind in the world when it was constructed in 1901.
Day 6 Glacier Bay National Park – Early in the morning, park rangers embarked on our ship to guide us through Glacier Bay National Park. Our nature guide, along with a park ranger, recounted the history of the area and pointed out to us the names of the various glaciers and how the area was discovered. We watched the glaciers calve and we could see black bears, seals, sea lions, porpoises and whales. We had to dress warmly as the temperature dropped drastically.
Day 7 College Fjord – College Fjord was discovered in 1899 by an expedition included Harvard and Amherst professors. Many of the glaciers were named after elite colleges. Once again, park rangers boarded the vessel and guided us through this 15 mile long fjord. The scenery was magnificent. The silence was incredible.
Day 8 Whittier – In the early morning, we arrived in Whittier, a small town of 290 residents located at the base of the Chugach Mountains and inaccessible by road until 2000. It is now linked by road to Anchorage, a two hour drive north. We disembarked here and continued our trip to Anchorage, where my husband had work related business. I continued on to Whitehorse, Yukon and enjoyed hiking in Kluane National Park and a cabin stay on Lake Laberge, Yukon. We flew home from our respective destinations.
Enrichment An on-board naturalist would give daily up-dates on local flora and fauna. Every afternoon she would give an outside deck lecture on the area through which we were sailing. Also, any interesting sightings such as whales, dolphins, bears on the ice bergs etc. were transmitted through the loud speaker systems. National Park Service rangers offered compelling live commentary on Glacier Bay as we passed through it. The 1985 Iditarod champion Libby Riddles shared her story about the gruelling dogsled race that put her in the history books. There was also an art gallery and a library well stocked with current best-sellers and board games. A SholarShip@Sea program, wine tastings and digital photography classes were offered.
Other Customs and check-in were surprisingly rapid. The cruise terminal is located in downtown Vancouver, at the port, and is highly visible by its architecture. The five large white sail-like towers dominate the waterfront skyline. Our taxi was able to drive right up to customs and embarkation. Cruise staff was at the door, waiting to accompany us through customs and registration. The whole process went quickly.
We were told that the weather can vary tremendously and it can be quite warm but on our seven day trip, although the sun was shining, it was windy and cold. As we travelled north, the temperature dropped and we were often surrounded by glaciers. The dress of the day was in layers. We wore sweaters and wind breakers, hats and gloves on deck. We found that the daytime code for dressing was quite casual. In the evening, the dress code went from cocktail to formal, suits for the gentlemen, as two formal evenings were programmed, and effectively everyone was quite dressy.
Our Itinerary
Ship Island Princess
Day 4 Juneau Alaska – Alaska's capital city was once part of Alaska's Gold Rush. The most cosmopolitan city along the Inside Passage, Juneau is also packed with history, a shopping district, and beautiful scenery. Juneau can only be reached by sea or by air as there are no roads at this time that go into, or out of, this city. We chose the Mendenhall Glacier excursion. As we had not reserved ahead of time, there was no room for us on the tour bus and so we located a tour operator at the port and took the local yellow school bus for the 20 minute ride to the glacier. We could stay as long as we liked as there were return busses every half hour. This turned out to be a better choice than taking the guided tour as we could spend time hiking and photographing. Our driver, Sonny, was most entertaining and gave us a running commentary on local life. The glacier is absolutely stunning. A Welcome Center is located at the entrance and maps were available. Forest rangers and volunteer guides, located strategically along the path, answered all our questions.
Date Of Review
July 2008
Reviewers Article by Andrea de Gosztonyi-McRae and Doug McRae
Photos by Andrea de Gosztonyi-McRae
Service A steward was assigned to us upon our arrival. Juan advised us on our land trips and also reminded us of special activities during our stay. We appreciated the on board newsletter which kept us abreast of the following day's activities. The cleaning staff was discreet and we were asked if we had a preferred time for maid service. We found the wine steward most knowledgeable about local and imported wines and he also informed us that we could purchase a bottle of wine and if we did not finish it, it could be resealed and stored in their wine cellar. In this way, if we wanted a glass of wine in the afternoon in the card room, all we needed to do was notify the serving staff and our wine was served with a minimum of delay.
Would We Go Again Yes
Contact Information
Address:
Princess Cruises
(Corporate Headquarters)
24844 Avenue Rockefeller
Santa Clarita, CA 91355
USA
Phone:
Website: