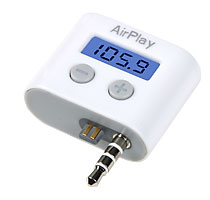 This is a great solution for travelers who want to listen to their iPods on the car stereo in rental cars.
Overall Impression
We wanted to be able to listen to music or audio books on our car stereo speakers when traveling with our iPod. This was possible with the Airplay, a tiny FM transmitter. It transmitted our iPod music on the FM channel of our choice allowing us to listen to music on our car FM stereo player.
We started by attaching the Airplay device to the top of our standard 20GB iPod player. No batteries are required to operate the Airplay because it uses power from the iPod. We then pressed the buttons to select a frequency, and started listening to music on our FM radio within minutes of getting the Airplay. The Airplay has its own small backlit LCD readout that allowed us to see which frequency we had selected.
There are other options for playing an iPod on car stereos like using cassette tape adapters. The advantage with the Airplay with the FM antenna is that it is likely to work on most rentals cars. A cassette tape player adapter will only work in cars with a cassette player and most rental cars have no cassette player.
If we used the Airplay in a single metro area we did not have to change the frequency. On long road trips we had to change the frequency several times because we would move into the range of a radio station that happened to be on the same channel as our iPod. This might seem like a disadvantage when compared to a cassette player adapter. Since it was easy to re-tune to a new station with the Airplay, we found this to be no problem.
This device was easy to use because it has a display for the FM frequency, and separate buttons to set the frequency. The display is backlit, a feature we found convenient at night; although those of us with poor eyesight would have preferred a larger display. Another advantage we liked was the possibility of retuning frequencies without stopping or interrupting the iPod player. Compared with other iPod FM devices using frequency switches (and often limited frequency options), or iPod software interfaces, the Airplay was definitely the way to go for us.
In addition to using the Airplay with a car stereo system, we have used it with a bedside clock radio and on a standard FM stereo system. We recommended the Airplay to our friends who want to listen to their iPod on their FM radios in their cars or at home. This is a great solution for travelers who want to listen to their iPods on the car stereo in rental cars.
Colors
White with blue LCD display
Made In Designed in Florida made in China
Made Of Plastic
Manufacturer-Distributor XtremeMac located in south Florida Operating Temperature -10 deg C to 50 deg C < 65% RH
Retail Price $39.95
Sizes 1.3" L x 0.54" W x 1.02" H
Type Of Product iPod accessory
Warranty 90 day limited warranty
Weight 1.1 Ounce
Features
Compatible with iPod and Mini-iPod; backlit LCD readout; frequency change buttons (up or down); runs off iPod Power and has a compact size.
No batteries, software or installation were required.
Country Tested
U.S.A.
Date Of Review April 2005
Number Of Days Tested 30
Reviewers Article by Chester Godsy
Would You Use This Product Again? Yes
Contact Information
Address:
15751 SW 41 Street, #100
Fort Lauderdale, Florida 33331
Phone:
Toll Free Sales
866-392-9800
954-385-9877
Fax:
Website:
Purchase: