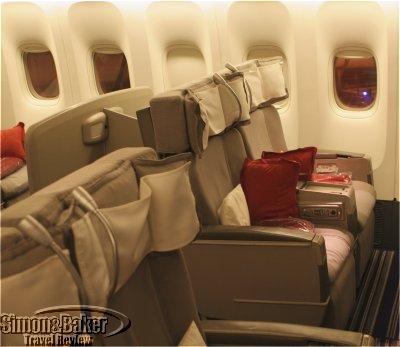 In spite of that, we found the benefits far outweighed the disappointments and would seriously consider rebooking these flights on first class aboard Air France.
Overall Impression
We had heard so much about the famous horizontal first class seats, when we finally encountered them we didn't know what to think. After four long flight segments on Air France first class, we say the seats alone are worth flying first class. There are other more subtle benefits such as the less crowded cabin (only 12-13 passenger capacity on our flights), less crowded first class lounge, in-flight loungewear, dedicated heads (bathrooms), extra legroom when the seat is in normal position, polite service attitude and guaranteed meal selections.
On board service was very good. Dedicated first class staff (ranging from one to three for the section) assisted us upon arrival and arranging the seats, brought drinks, meals, snacks, and inquired after our comfort. Ground service varied. At times it was appropriate and polite. Other times it was disappointing and substandard. On more than one occasion they demonstrated "it's-not-my-problem" attitudes and left us hanging. In spite of that, we found the benefits far outweighed the disappointments and would seriously consider rebooking these flights on first class aboard Air France.
Aircraft
Boeing 777-200 for transatlantic flights and 747-400 for Paris to Johannesburg flights.
Class Of Accommodation First class
Flights We began our trip in Orlando on a Delta flight to Atlanta (we were supposed to fly from West Palm Beach but the airport was closed following Hurricane Wilma). From Atlanta we flew Air France to Paris arriving in the morning and remaining there the entire day. That evening we caught a late night flight to Johannesburg. The return was similar although the layover in Paris was much shorter (only a couple of hours).
Length Of Flight The transatlantic flight to Paris was seven and one half hours and from Paris to Johannesburg the flight lasted ten hours. The return flights were similar in length.
Owned-Managed Air France-KLM, the company that owns Air France, was a public/private partnership at the time of this writing. Most of the stock was owned by private investors and the French government owned less than 20 percent. We flew Delta for the domestic flights and Air France for the international segments. Delta Air Lines, Inc. is a Delaware corporation with headquarters in Atlanta, Georgia.
Seats-Configuration Seats, which could extend to an almost completely horizontal position, were set in pairs. There were three pairs of seats from Atlanta to Paris (two on each side of the aisle) and one in the middle; from Paris to Johannesburg there were two rows of seats set in a two, two, two format across the nose of the plane. Each $5,000-seat was equipped with armrests, audio/video plugs, built-in Bose noise reduction headset, a pop up TV, electronic footrest and back controls and was capable of extending almost completely into a horizontal position.
DÉCor Red and gray seats
Bathrooms 777-200 had one extra large bathroom for first class passengers; 747-400 had two regular size bathrooms for first class passengers.
Meals First class meals included tournedos with foie gras (served as appetizer and main course), lobster with pineapple and curry sauce, sea bass or lamb main courses, fruit, cheeses, desserts including fruit sorbets such as apple, lemon and mango. Breakfast on arrival in Paris consisted of a hot dish selection (omelet or crepes), coffee or tea, bread selections. On the return flights the appetizer was bell peppers, cucumbers and parmesan, fresh and cooked celery with paprika foie gras with sage and puffed corn, radish and smoked salmon with pesto. Duck foie gras terrine with dried apricot and fig chutney accompanied by a roasted fig. For a main course we had the day's suggestion of fillet of free-range chicken with watercress cream sauce and the lasagna with eggplant caviar, tomato and fresh goat cheese. For cheese we had the Roquefort and camembert. The meal was accompanied by Poilane bread, country style bread or mini baguettes. Dessert was a fruit sherbert and petit fours. Prior to landing they served tuna and celery salad canapés with tomato vinegar dressing, home-style yogurt and a fruit salad.
Amenities
: Headrest covers, blankets, pillows, magazine and in-flight shopping brochure, first class amenity kit including socks, toot brush and tooth paste and Clarins facial products, slippers, complimentary gray Lacroix loungewear, noiseless headsets and use of pillows and light duvets during turn town. Also included on board were all meals, snacks, alcoholic drinks including fine wines, champagne and after dinner drinks. Ground amenities included access to the first class lounges which offered complimentary snacks, soft drinks and alcoholic beverages and the shower stalls in the business class lounges and the shower amenity kit.
Entertainment There was a wide music selection on the airplane system. There were also games, TV programs and movies (set times for the flight). Each seat had a dedicated small screen which popped up.
First Class Lounges
Access to first class lounges varied in its availability and quality and was limited to departure lounges (not once were we successful gaining access an Air France lounge on arrival). The first class Air France lounge in Paris shared space with the business lounge; each area had a separate entrance and inside a small half size partition divided them. Loud sounds carried from the business lounge (including children screaming). The biggest advantage and one we were thankful for was that there were fewer travelers by far in the first class lounge than in the business lounge which was bursting at the seems. This made it easy to find a seat. There were snacks and many refreshment options including wine, alcoholic beverages, and soft drinks. After a daylong layover, we had been looking forward to the famous lounge massage but it was not to be found anywhere in this or any of the other lounges we visited. We were also thrilled to find one Apple computer with high speed access to the Internet with which we connected and checked for urgent messages before our departure. On our return home we also found an Apple computer in the smoking section although it was occupied until our departure.
On our return we took a shower at the lounge. This process was smooth and handled promptly. The receptionist at the lounge took our boarding passes to request the shower appointment. Once we returned the key to the shower stall, our boarding pass was returned. We took advantage of one of two small shower stalls located in the neighboring business class lounge. Although adequate the stalls had paint peeling on the ceiling and plenty of mold on the shower door. There were clean towels, hot water and a convenient and appreciated amenity kit (l'Occitane spray deodorant, splash, shaving kit, shower cap, wash cloth and body lotion) in the shower stall.
Ground Service
Our worst disappointment was a day room fiasco at the Paris airport. Since we had a 12-hour layover in Paris, Air France was supposed to provide us a courtesy day room where we could shower and wait for our next flight (the arrivals lounge closed early in the day). We confirmed the reservation and arrival procedure with Air France three times prior to departing the U.S. An Air France representative was supposed to provide us with a voucher for an airport hotel upon arrival. Instead, the Air France staff representative we encountered at the first class desk was uninformed, less than helpful and downright rude, refusing to provide her name or connect us to her supervisor. She wasted two hours of our time and sent us on a wild goose chase to the Delta counter which was fruitless because the information she provided them, they said, was inaccurate. In the end, we received no voucher, not even assistance booking the dayroom or a discount offer. By then, it was too late and we were too tired to begin a hotel search.
Check-in was mostly pleasant although twice Air France staff had to deal with ticketing issues (or required that we do it) at another counter. This process took 10-15 minutes and was anxiety provoking because they said one of our reservations was missing (it was later found). When boarding for our flight in Atlanta we were amazed to discover the first boarding announcement invited passengers with children and disabilities only to start the boarding process. There was no mention of first (or business class passengers) at that point. When we asked, the gate agent responded rather tersely that we could stand in line behind the families and disabled passengers if we so chose. Boarding in Paris followed a similar pattern. When we arrived at the gate area in Johannesburg the line was so long we couldn't see the gate. When we asked the gate agent about first class boarding he apologized and said all classes boarded at the same time. A few moments later he approached us and invited us to the head of the line as a special favor.
Other Air-France-KLM is considered by some the largest airline company in the world (in terms of total operating revenues), and the largest in Europe in terms of passengers miles flown. Delta was, at the time of this writing, the world's second-largest airline in terms of passengers carried and a leading U.S. carrier across the Atlantic.
Route Orlando to Johannesburg with layovers in Atlanta and Paris, France. Johannesburg to Fort Lauderdale with layovers in Paris, France, Dulles and Atlanta.
Cleanliness
Very good
Date Of Review November 2005
Ease Of Reserving A Seat With several months advance booking, we were able to secure bulkhead seats for all the international segments. Other seats in the cabin were easier to secure.
On Board Service Two, and in full flights, three flight attendants provided polite, efficient and accommodating service to a maximum of 12/13 first class passengers. Our flight from Atlanta to Paris had two passengers; from Paris to Johannesburg there were seven passengers. On the return flights first class was near full although there were two disabled bulkhead seats on one of the flights due to an air conditioning leak.
Reviewers Article by Elena del Valle
Photos by Gary Cox
Would You Fly With Them Again? Yes
Contact Information
Address:
Air France Agency
120 West 56th Street
New York, NY 10019
Phone:
Website:
Phone:
Fax: