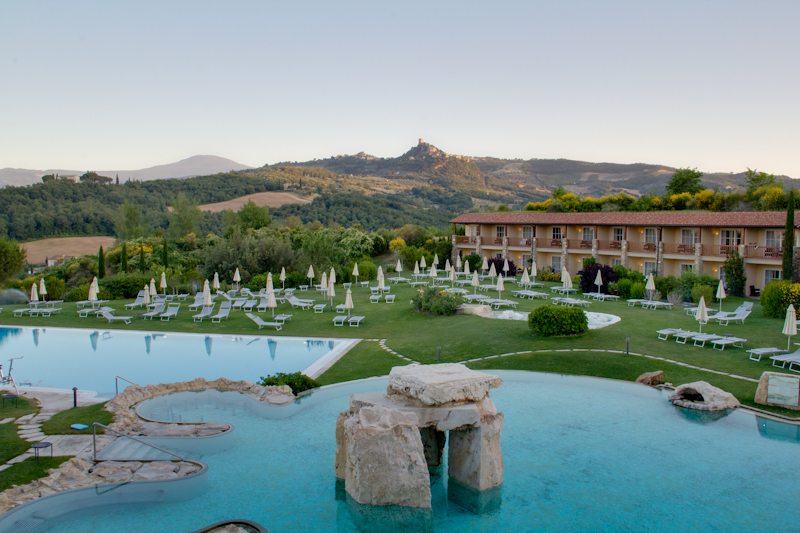 While unquestionably an upscale spa resort, I liked that the atmosphere was laid-back, unpretentious and family friendly.
Overall Impression
With seven generations of experience in the hotel business, the Sanoner family, who own Adler Thermae Spa & Relax Resort Tuscany in Italy, know a thing or two about running a high end luxury spa resort. The primary aim of the resort is for guests to relax, unwind and feel rejuvenated. Based on our experience, and the fact that 80 percent of their guests are habitual visitors returning two or three times a year, they do this very well.
When one of the owners, Klaus Sanoner, hurt his back his doctor suggested visiting the thermal baths in Tuscany for the healing elements of the mineral-rich waters. Following doctor's orders, he was quickly enamored with the region's beautiful surroundings and the thermal waters that were effective in his healing process. He thought it would be a perfect location to open another Sanoner family-owned luxury spa resort.
Built into a hillside within the Val D'Orcia region of Tuscany, a UNESCO World Cultural Heritage Site thanks to its beautiful landscape, the 90-room spa resort is situated in the heart of the Tuscan countryside and surrounded by picturesque rolling hills. As avid spa lovers, the Sanoner family have visited numerous spas around the world, and Adler Thermae Spa & Relax Resort Tuscany is a mixture of their favorite features that they have experienced as guests.
Some of our favorite aspects of the resort were the idyllic location with views that inspire relaxation and restoration, an attractive décor that tastefully mixed Tuscan villa charm with a clean modern feel, numerous exercise facilities that made working out thoroughly enjoyable, an impressive menu of spa treatments executed by dedicated and talented staff (I had three fantastic spa treatments and appreciated that the body products they used were made from organic ingredients), healthy food options with local fresh produce at breakfast and dinner, outstanding personable service, and complimentary goodies such as robes, flip flops and welcome cocktails. While unquestionably an upscale spa resort, I liked that the atmosphere was laid-back, unpretentious and family friendly.
Children
Children of all ages were welcome at the hotel. The only restriction was that children had to be at least 12 years old to enter the spa treatment area, which included the sauna and steam rooms. Children under 12 had to be accompanied by an adult in the fitness areas.
Class Of Accommodation Luxury spa resort
Concierge The front desk staff provided concierge services; they were friendly and helpful throughout our stay.
Connectivity There was complimentary WiFi in our room, as well as complimentary access to a computer in the lobby. We were given an individualized password for Internet access. On the first day, we had fast and consistent connectivity and intermittent connectivity on days two and three.
General Manager Anton Picher
Handicapped Access The hotel welcomed handicapped guests. There was an elevator in the lobby, as well as the option to use the hotel's mobile ramp in areas of the hotel with stairs. Four of the guestrooms were equipped for guests with wheelchairs, and the spa treatment rooms were wide enough for wheelchairs to pass through them. The only area where wheelchairs were not allowed was in the sauna, steam rooms and thermal pools, due to hygiene issues that the wheels presented. The staff indicated that they frequently had guests with disabilities since the thermal waters were considered healthy for bones and joints, and guests with disabilities were lifted into the thermal waters by staff members when needed.
Length Of Stay Two nights
Location In the town of Bagno Vignoni in Tuscany, the nearest international airports were Florence (approximately one and a half hours away), Rome (two hours away), and Pisa (two and a half hours away). From Siena, an hour's drive away, we were picked up by a private car service that the hotel had arranged for us. On our return to Florence, we paid 60 euros for a private car service (arranged by the hotel) to the town of Chiusi, which was roughly 45 minutes from the hotel, followed by a 45-minute train ride to Florence (17 Euros per person). It did not bother us that the train experienced delays because we found the journey to be an enjoyable way to take in the beautiful Tuscan countryside.
Owned And Managed The Sanoner family
Pets Allowed No
Size There were 90 rooms spread out over two floors on the 15 acre property. The hotel had 127 staff members, of which 42 worked in the spa.
Year Opened-Renovated Adler Thermae Spa & Relax Resort Tuscany opened in 2004. Each January, the resort shuts down for maintenance and upkeep of its facilities. The most recent additions to the hotel in January of 2012 included the poolside osteria, the outdoor fitness area and bocce ball area. In January 2013, hotel executives planned to add 10 new suites, a new restaurant and a relaxation room.
Lobby And Common Areas Blending in with its surroundings, simply and tastefully decorated, the resort building resembled a villa from the region. The outdoor entrance of the hotel had beautifully-landscaped bright colored flowers, green plants and cypress trees that nicely offset the red-tiled rooftop and the neutral hues of the resort. The sun-filled lobby had a contemporary Tuscan villa feel with white travertine marble floors and walnut wood panels on select walls. While the lobby was busy at times, the open space, simple decor and light coloring lent it a calm atmosphere. Paintings by artist Elly Sanoner, the matriarch of the Sanoner family, could be found throughout the resort's corridors.
Bathroom
Our bathroom was about eight square meters and immediately to the right of the entryway. In the main area of the bathroom there was a large mirror over the sink, toiletries, and an oversized bathtub big enough to accommodate two average-sized adults. I had an opulent bath one night, reclining in bubbles while watching the sunset colors change over the distant Tuscan hills through the window immediately above the tub. The bathroom also had a separate room for the toilet and bidet, and another room for the shower, which had a dispenser of Adler Spa red grape shower gel made from local products.
Room Our room was attractive and comfortable and we enjoyed spending time in it. The first thing I noticed when we opened the door to room 328 was the stunning view of the Tuscan countryside, with a Medieval military tower on the top of the highest visible peak. Our second floor 35 square-meter Superior Double Room faced the pool area of the hotel and had sliding glass doors that led to a small balcony. The entryway had green carpeting and immediately to the left was a closet hidden by mirrored French doors. In the middle of the room were two twin beds pushed together to make one oversized bed with individual duvet covers. We found the bed to be firm but comfortable. Adding a distinct flair, above the bed was a tastefully hand-painted fresco of the Tuscan countryside by Georg Mahlknecht da Palmer, the father-in-law of one of the hotel owners. Opposite the fresco was a flat screen television with 38 channels in numerous languages including Italian, German, English, French and Spanish. Just past the sleeping area was a small wooden step that led to the sitting area, which housed a wooden desk, chair, small sofa, chair and table. The sunny air-conditioned room was spacious, comfortable, and attractive, with tasteful echos of a contemporary Tuscan villa in coloring and decor. What really set it apart for us were the glorious views of the Tuscan countryside from the bedroom and bathroom.
Food And Restaurants
Our half board accommodations included breakfast and dinner (excluding drinks) at the Starlight Roof Restaurant, which was one floor above the lobby and run by Chef Gaetano Vaccaro. Breakfast was served from 7:30 a.m. until 11 a.m., and dinner was served from 7:30 p.m. until 9:30 p.m. Upon entering the restaurant in the evening, we were escorted to a table in the far corner from the entrance, our designated table for the next two nights. I was pleased to be near several windows that offered lovely views of the countryside at sunset.
The restaurant, which seated up to 210 guests, aimed to deliver healthy cuisine made from high quality local ingredients. Our waiter, Cristiano, placed the wine menu on our table, and rightfully joked that it was more like a wine bible. The house brick of a book included over 550 wines, all of which were Italian with the exception of French champagne. On the first night, I had a delicious red wine from the neighboring town of Montalcino, which was well known for its high quality wines. On the second night, Cristiano offered us a complimentary glass of Revi sparkling wine from Trento in the northeast of Italy made from pinot noir grapes; when I am craving a light and sparkling rosé during the summer, this is exactly what I want. Dinner started with an invitation to visit the buffet that included fresh greens, fruits, locally produced cheeses, and a wide selection of cakes and ice cream for dessert. I liked the bread buffet where I hand-selected a variety of breads (baked in-house) for our table's bread basket. In addition to the salad bar and dessert buffet, dinner included a four-course a la carte menu, which changed daily
On the first night, I skipped the salad bar and chose plates from the a la carte menu. I had the Soppressata of octopus and prawns on chive potatoes, cream of leek and pumpkin soup, Timbale of couscous and Caponata of vegetables on a tomato puree, and panna cotta for dessert. My husband also started with the octopus and prawns on chive potatoes followed by the risotto with cuttlefish and scallops with cherry tomatoes deglazed with Vernaccia, and the tuna with fennel flavored salmoriglio sauce and crispy courgette sticks. On the second night, I started at the salad bar where I loaded up on local greens, artichokes, sun dried tomatoes, locally produced pecorino cheeses, and beets. For my first plate from the a la carte menu, I chose the mixed mushrooms in a pasta bundle on a parmesan cream, followed by a quiche of potatoes and Asiago. My husband chose the Maccheroncini of the Val d'Orcia with pulp of red scorpion fish and swordfish on fresh tomatoes and aubergines. For his next dish he chose lamb in a spicy bread crust and olives with duchess potatoes and pan-fried Swiss chard. We finished the meal with a tasty 2003 dessert wine from the Bindella winery of Tuscany.
I particularly enjoyed the breakfasts because of the many healthy and flavorful buffet options. I started at the egg station, where one of the chefs cooked up a delicious omelet with vegetables, cheese and ham. I then visited the yogurt and fruit bar where I piled my plate with fresh passion fruit, pineapple, and kiwi and a creamy vanilla yogurt with whole wheat cereal. I skipped the cereal bar that included at least eight different options, but appreciated that there was cow's milk, soy milk and goat's milk. Next I went to the crepe station where the chef delivered a perfectly executed crepe that I topped with one of the five locally produced honeys. I picked up a freshly squeezed orange juice on the way to our table where a delicious latte macchiato was waiting for me. I made a mental note to return to the separate juice bar, which included six options of organic juices and a juicer next to a large bowl of fruits and vegetables where guests could make their own concoctions.
The decor of the restaurant, with an open retractable rooftop, was simple and tasteful, and designed to emulate a typical Tuscan plaza. While we enjoyed taking in the sunshine during breakfast, we learned quickly that sunglasses were necessary in the morning if we chose not to sit at a shaded table.
Because we found the breakfast buffet to be so filling, we were never hungry enough to justify eating lunch. The lunch menu, which was a fixed price of 17 euros and included hors d'oeuvres, salads, and a warm dish such as pasta or fish, was served in the osteria next to the pool area.
The maître d'hotel of Starlight Roof Restaurant, Manfredo Venditti, visited our table several times throughout our dining experiences to make sure we were happy and to answer any questions. Through Manfredo I learned that the outstanding restaurant's herbs came from the hotel's gardens on the rooftops of the guest rooms. Although the evening dishes were not as rich and sinfully delicious as some of the other meals we had in Italy, overall we had an enjoyable dining experience at Starlight Roof Restaurant and appreciated the numerous healthy options made from local Tuscan produce.
Amenities
On the way to our room, the bell hop walked us to the spa area where we picked up two terry cloth white robes selected based on our respective sizes, two large yellow towels, flip flops (ours to take) and an oversized beach bag to use throughout our stay. In our room, a generous basket of fruit and a 45-centiliter bottle of still water was waiting for us in the sitting area. There were also four types of complimentary teas: Adler Spa Re-lax, Adler Spa Legeresse, Adler Spa De-tox and Adler Spa Di-gest. Toiletries included 150 milliliter size bottles of the Adler Spa Honey line of shampoo, conditioner and body lotion. The Adler Spa Resort organic cosmetic line was made with locally produced Tuscan honey. Other amenities included two individual shoe shiners, two shower caps, and cotton tips and two small bars of Adler Spa soaps. There were complimentary fruit and mini-cakes from 4 p.m. to 5 p.m. in the bar and lounge area, and complimentary light nibbles such as pistachios, artichokes and olives just before dinner. On the first night of our stay we went to the bar area and had the option of drinking a glass of Prosecco, a mixed non-alcoholic fruit drink, a Prosecco and Martini rosé mixed drink, or a vodka with grapefruit juice as our complimentary welcome beverage.
There were excursions to local points of interests organized by the hotel, and a Kid's Club that included activities such as children's cinema, organized games, local walks and a children's wellness program.
Facilities Hotel guests had access to: restaurant, poolside osteria, wine cellar and tastings, bar and lounge with an observation area overlooking the Tuscan countryside, indoor and outdoor fitness area, indoor and outdoor thermal pools, outdoor sports pool, children's pool, spa and relaxation area.
Pools The indoor and outdoor thermal pools were 1.40 meters deep. The children's pool also had thermal waters but ranged in depth from 30 centimeters to 45 centimeters. Collectively, the three pools added up to about 1,000 square meters. Thermal waters were pumped in from local natural springs and mixed with cooler waters to attain a bathing temperature of 96.8 degrees Fahrenheit. Dating back to Etruscan and Roman times, these mineral-rich thermal waters were believed to have curative powers. In addition to the thermal pools, the 25-meter sports pool was 12.5 meters wide and 1.4 meters deep, with a water temperature of 82.4 degrees Fahrenheit. It was necessary to pay a supplement to enter the Grotta Salina, a separate thermal water pool with salt from the Dead Sea.
Fitness Center And Spa
There was an indoor and outdoor fitness area with unobstructed views of the Tuscan countryside. The indoor facilities had a variety of cardio and weight machines, as well as free weights, and an open exercise room where organized classes were held. The resort had an average of six exercise classes a day, including a stationary bicycle class in the pool. The outdoor fitness area included treadmills and stationary bikes just off of the pool area, a 13.5 kilometer outdoor jogging trail through the Tuscan countryside, an all-purpose sports ground including a mini-soccer, basketball, badminton, volleyball, tennis and bocce ball area, an outdoor yoga space, and a ping-pong and table football area. Guests also had the option of utilizing the resort's mountain bikes at no additional cost.
During our stay, we thoroughly enjoyed swimming laps in the sports pool, admiring the views while using the indoor or outdoor treadmills, jogging on the outdoor trail, and riding bikes in the countryside.
The hotel had a wonderful spa on the premise with 100 spa treatments to choose from. I experienced three excellent treatments and specifically enjoyed the distinctiveness of the Brunello Ritual. The treatment began with a soothing relaxation massage followed up with a hydro massage in which a pitcher's worth of Brunello wine was poured into the warm bath water to stimulate blood circulation. I was also satisfied with the Poppea Massage, which put me in a relaxed state and my favorite treatment was the Excellence Anti-aging Facial.
The spa had 21 treatment rooms, a Turkish-style steam bath in a cave, sauna rooms, a room specific for rasul clay baths, an underground salt bath, a relaxation area with two floors that housed leather loungers and individual waterbed loungers, a coiffeur and a beauty shop where guests could purchase products made exclusively for Adler Spa Resorts. After spending an afternoon in the Finnish sauna, the Turkish-style steam bath and relaxation area, my husband and I felt noticeably re-energized. The pleasant landscape and architecture of the garden area in which the humidity rooms were located made it easy for us to unwind. Although bathing suits and bathrobes were not allowed in the steam bath and sauna we wrapped up in towels and put our clothing on the hooks hanging immediately outside the humidity rooms.
Other The hotel was recipient of the 2012 Trip Advisor Travelers' Choice Award.
Contact Information
Address:
I-53027 Bagno Vignoni
San Quirico d'Orcia (Siena)
Italy
Phone:
Website:
Email: