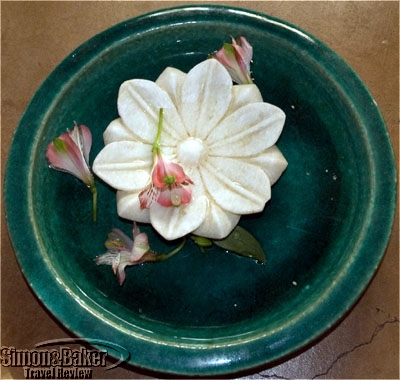 It raised my future spa experience expectations so high as to render mundane by comparison my subsequent visit to a conventional luxury spa.
Overall Impression
Nirvana is often defined as a state of bliss and delight. Absolute Nirvana, an intimate luxury Indonesian spa in Santa Fe, New Mexico, lived up to the promise of its name! I had been especially attracted by Absolute Nirvana's reputation for unwavering environment-friendly practices. The opportunity to experience a traditional Lulur, the sumptuous treatment once reserved for Javanese princesses on the eve of their wedding may have had something to do with my interest as well.
The spa was centrally located a few blocks away from the Plaza and a ten-minute walk from my hotel. The reception area was in a thoughtfully restored Victorian house. There, I was warmly welcomed by spa owner Caroline Lee and manager Jocelyn Stein who were reviewing the agenda for the day ahead when I arrived for my morning appointment. After a friendly chat with Caroline in the cozy, sun-lit parlor, she escorted me to the treatment building, a few steps along a garden path, where she introduced me to my therapist. Meanwhile, she shared with me how she had been inspired to bring Nirvana to Santa Fe while enjoying similar spa treatments during a visit to Bali. Upon her return, she turned to international spa consultant Christa Obuchowski to help her create the timeless enclave of oriental serenity where I experienced some of the most extravagantly self-indulgent treatments I've ever had.
As soon as I changed into an attractive cotton batik kimono, one that was actually the right size for me, such was the personal attention to details here; my day started with the traditional prelude to the Lulur: a ritual foot bath and massage and a few sips of pure essence of the Champa flower, a nectar that smelled and tasted of jasmine. Two hours of bliss followed. With its outstanding array of exotic treatments and its serene South Seas atmosphere, Absolute Nirvana was an impromptu holiday to Bali, without the inconvenience of a two-day air journey and with the added bonus of an eco friendly facility. It raised my future spa experience expectations so high as to render mundane by comparison my subsequent visit to a conventional luxury spa.
Handicapped Access
A few steps up were necessary to access the reception area. The registration process could be accomplished at the spa, a ground level building that was wheelchair accessible.
Location Four blocks from the Plaza, in the historic East Side of Santa Fe
Managed Jocelyn Stein
Number Of Staff Absolute Nirvarna employed a management team of three, plus two housekeeping staff. There were twelve licensed therapists available by appointment.
Owned Caroline Lee
Size The spa occupied a 1,500 square foot (140 square meter) one-story structure that housed four treatment rooms: one couple and two single treatment rooms plus a facial room, gathered around a central sitting room. There were three treatment rooms and five staff members.
Special Training While all therapists must have at least five years' experience at the time of hire, most ranged between 10 and 25 years experience. Stone massage therapists were LaStone certified. My Lulur therapist, Peggy Jo Rain, in addition to completing all necessary training and licensing in the U.S., also studied for two years with a master in Thailand. To qualify to administer any of the two-hour deluxe treatments (Javanese Lulur, Ocean of Flowers, Brown Sugar and Papaya and Balinese Boreh) therapists received eight hours of additional training from the spa's head therapist. They subsequently performed six practice treatments on other therapists and staff members before they qualified to administer the treatment to guests.
Treatment Rooms Each of the three spacious treatment rooms featured a hand-carved granite bathtub (for rose petal baths), a steam room with built-in shower and a fireplace. Windows draped in gauzy white curtains opened onto the garden to provide soft natural ambient light. When not in use, the massage tables were covered in colorful Balinese batiks. In each room a large hand carved credenza held treatment supplies and towels.
Year Opened The spa opened in 2005
Common Areas The reception was decorated with authentic Victorian carved oak furniture and inviting velvet-upholstered overstuffed sofas. Contemporary framed original watercolors offered a subdued contrast. The spa was a one-story contemporary structure, a few steps across a garden from the house. The large sitting room in the center of the spa featured Balinese hand-carved screens, a teak sofa and arm chairs covered with jewel-tone silk pillows. Throughout the building, walls were of white plaster with original framed Balinese watercolors. Ceilings were beamed and floors of brown polished concrete.
Amenities Cotton batik kimonos and sarongs imported from Bali and lightweight cloth slippers. An assortment of natural shampoos, face and body lotions and soaps were available in the showers and treatment rooms.
Lockers And Bathrooms
Guests had use of a private treatment room for changing, storing their clothing and showering.
Other In 2006, Absolute Nirvana was recognized as One of the Hottest New Spas in the World by Conde Nast Traveler
Owner Caroline Lee's commitment to incorporating eco-friendly practices in the management and running of the spa earned the spa recognition from the Green Spa Network. Absolute Nirvana was recently invited to become a member of the network. In addition to the use of the highest quality organic products for spa treatments, these practices include the exclusive use of natural, chemical-free and environmentally friendly products to clean the spa.
The facility was constructed with its own water treatment system. The process involves the continual circulation and purification of the water used in the tubs to conserve thousands of gallons of water each month. The heat from this water, as it circulated throughout the day, provided the majority of the heat for the treatment rooms during the winter months.
Cleanliness
Excellent
Date Of Review January 2008
Number Of Treatments Three
Reviewers Article and photographs by Josette King
Treatments Experienced My visit began with a Javanese Lulur. I also had a Purifying Cleansing Facial and Indo-Indian Hot Stone Massage. After a jasmine oil body massage, I was slathered with a yoghurt and honey concoction followed by a granular paste of rice powder, sandalwood and turmeric. This paste was then gently rubbed to exfoliate my skin before I settled into a steam shower. Ten minutes later, thoroughly rinsed off and baby-smooth, I was lounging in a fragrant rose-petal bath in a deep, hand-carved granite tub. Time came to a stand-still while I dreamily contemplated the flames dancing in the fireplace built into the wall at the foot of the tub, a chocolate truffle, morsels of tropical fruits and a cup of Javanese Ginger Tea close at hand.
In addition to the Lulur, I experienced with facialist Jade a thorough Purifying Cleansing Facial so gentle it was an invitation to dose off, before capping my visit with a deeply relaxing Indo-Indian Hot Stone Massage administered by Kellen. The facial included a thorough cleansing and exfoliation, followed by a relaxing facial massage and moisturizing treatment. It was 60 minutes long and left my skin feeling and looking visibly rejuvenated.
The hot stone treatment was one of the most relaxing massages I have ever experienced. For 90 minutes, as the warm stones were placed under and on my body, I could feel them erase all stress and cares from my muscles and psyche.
Following traditional healing and beauty care techniques practiced in Asia for centuries, Absolute Nirvana used exclusively organic massage and essential oils, plants, herbs and spices for all treatments. Their massage oils were a blend of organic jojoba, safflower and grape seed oils, enriched with sea algae and green tea extracts,
Would You Return? Yes
Contact Information
Address:
106 Faithway Street
Santa Fe, NM, 87501
Phone:
Fax:
Website:
Email: