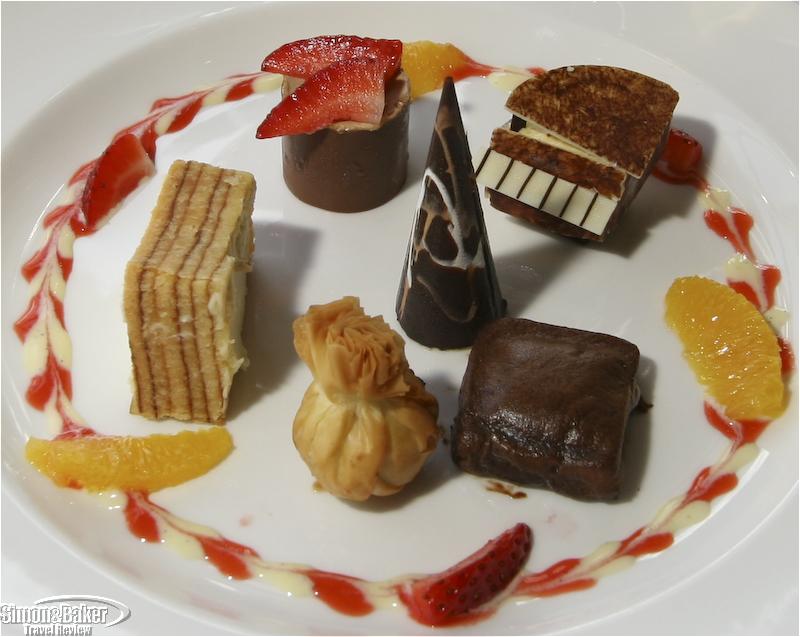 We look forward to following the progress of this lovely restaurant with the difficult-to-pronounce-name and hope to return on our next visit to that most southern of African cities.
Overall Impression
Although we had visited Constantia, an upscale Cape Town suburb, a number of times over the years we first heard about Buitenverwachting by chance while dining with a local foodie who mentioned that the restaurant had recently been refurbished. Lady luck was with us: we still had time to visit the restaurant before leaving Cape Town on our way to the Garden Route and the restaurant was able to accommodate us. It turned out Buitenverwachting, meaning "beyond expectation," exceeded our expectations.
Two things stand out about this understated find, the superbly prepared and presented tasting menu with wine pairing we sampled and the outstanding dining room seating with a dreamy view of the property's own vineyards. It was still early in the season and we had the pleasure of sharing the tastefully decorated dining room (our favorite area was the enclosed patio facing the vineyards) with only a handful of other guests on a sunny spring day. It was a most tranquil setting.
The Austria born and trained chef, who had unexpectedly fallen in love with South Africa, was doubly gifted, he was an outstanding chef and pastry chef. In his restaurant we had one of the best meals of our six week trip. We look forward to following the progress of this lovely restaurant with the difficult-to-pronounce-name and hope to return on our next visit to that most southern of African cities.
About The Executive Chef
A native of Villach, Austria Chef Osojnik received a certificate in professional cooking from the Austrian Chamber of Industrial Economy and a diploma in food and beverage management from the WIFI/Austrian Chamber of Industry. Prior to joining the Constantia restaurant twelve years ago, he worked at two reputed German restaurants Dieter Mueller in Bergisch Gladbach and Le Verdome in Bensberg.
Executive Chef Edgar Osojnik
Handicapped Access There was a ramp and ample space between tables although the restroom space was a bit narrow for wheelchair access.
Location Within a family run wine estate in Klein Constantia, a wine producing suburb of Cape Town, South Africa.
Manager Lars Maack
Opened-Renovated The restaurant was established in 1988 and underwent a complete refurbishment in July 2009.
Owned Christine Mueller
Size The 100 square-meter restaurant, located within a 150 hectare wine estate, had seating capacity for 100 guests with additional seating for 75 in the courtyard in warm weather. There were 25 full-time employees and 10 staff added during the season.
Type Of Restaurant Casual fine dining
DÉCor-Ambiance The restaurant was redesigned to blend the classic with the latest in furnishings. It was decorated in shades of cream to create an inviting aura and be light and airy. Original artwork by South African artists, including sculptures, was peppered throughout the lounge and elegant dining area.
Cellars And Wine There were 3,000 bottles in the cellars, mostly house and South African wines. Of course there were the obligatory French Champagnes and a few other international wines. Not surprisingly, the restaurant emphasized house wines.
Meal
We began our five-course Tasting Menu with house wine pairings with a glass of the house bubbly and savory
amouse bouche,
bite size morsels of white anchovy, bacon chip, parmesan foam, and poached quail egg on a pastry base. There were seven types of bread to choose from along with a pre-starter of cream cheese and chives, salted butter, and cottage cheese with dukkah (an Egyptian spice) as well as a pressed vegetable crunchy sorbet.
Then the meal began in earnest. Pressed Vegetal Tian with Balsamico Sorbet and Rucola with Buitenverwachting Buiten Blanc 2009; Pan-fried Crayfish, its own Ice with Ricotta Ravioli and Citrus with Buitenverwachting Hussey's Vlei Sauvignon Blanc 2008; Quail Saltimboca "Two Ways" set on Butternut crème Brulee and truffled Celery Salad with Buitenverwachting Merlot 2006; and Grilled Lamb Cutlets, its own Juice and herbed Potato with Buitenverwachting Christine 2003 (the most prominent of the Buitenverwachting wines).
Dessert, notable because it was pretty and delicious, and prepared by the chef, was Chocolate Variation "Buitenverwachting" served with a Buitenverwachting Muscate 1769 2006. There was a liquid almond pastry, white chocolate mousse, a tiny chocolate piano, a dark chocolate fondant and an ice cream cone. The wines were well paired to the tasting menu.
Other The restaurant received the 2010 American Express Platinum Fine Dining Restaurant and 2008 Diners Club International Diamond Award Wine awards.
Date Of Review
September 2009
Number Of Visits One
Reviewers Article by Elena del Valle
Photos by Gary Cox
Service Staff were pleasant and service oriented. Empty dinnerware and glassware were removed with alacrity and courtesy. What the staff lacked in sophistication they made up for in spades for with attentive and polite service.
Would You Dine Eat There Again-Recommend It? Yes
Contact Information
Address:
Klein Constantia Road
Constantia, 7806, Cape Town
Phone:
Fax:
Website:
Email: